How To Enable 2FA on Twitch: Two Factor Authentication
We discuss how to set up Two Factor Authentication on your Twitch account
Updated: Apr 5, 2023 9:50 am
It's better to be safe than sorry, which is exactly why we're showing how to enable 2FA on Twitch – and we advise you to set up Two Factor Authentication on Twitch as soon as possible. Just because Twitch is a massive brand owned by Amazon, that doesn't mean they aren't susceptible to password leaks and hacks in a breach of their website/databases every once in a while. So with that in mind, you don't want to waste any time if you wish to protect your Twitch account as securely as possible.
If you're not certain about what 2FA is, it's all about security. Two Factor Authentication adds an additional layer of security to your account, making it much harder for anyone to access your account, if they only have your Twitch password.
After you've set up Twitch 2FA, check out the best stream decks on the market.
With all those details out of the way, continue reading below for a nice and easy step-by-step walkthrough on how to enable Twitch 2FA, a.k.a Twitch Two Factor Authentication.
How to enable 2FA on your Twitch account
Setting up 2FA on your Twitch account is relatively straightforward – all you'll need is:
an email tied to your Twitch account which can be verified
a valid phone number
Follow the steps below in order and you'll have set up Twitch two factor authentication in no time.
Verify your email account
The first step of enabling Twitch 2FA is verifying your email.
You can find this by:
Clicking your profile icon in the top right of the Twitch homepage.
Selecting Settings in the dropdown menu.
Clicking on the Security and Privacy settings tab.
If your email is verified it should say so (most people's will be upon setting up their Twitch accounts). If not, click Resend Email, find the email within your Inbox (make sure to check your spam) and then click on the verification button within the email.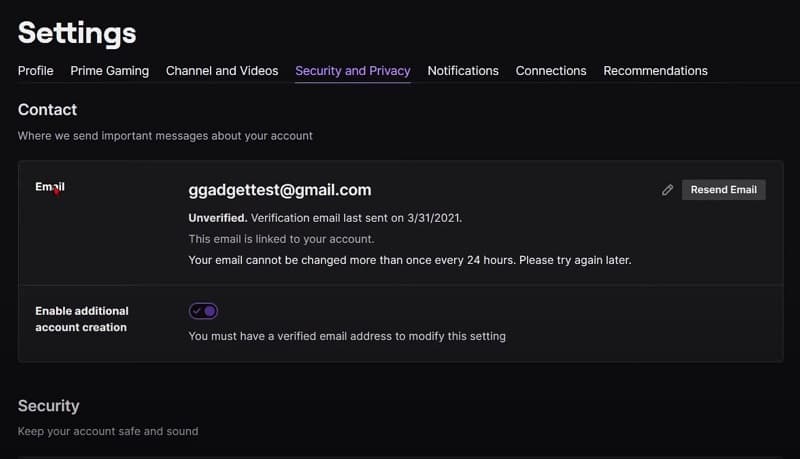 Go to Security and Privacy settings
Click your profile icon in the top right of the Twitch homepage.
Select Settings in the dropdown menu.
Click on the Security and Privacy settings tab and then press the Set Up Two-Factor Authentication button at the bottom.
Click on Enable 2FA.
Enter your phone number & the security code
Select your national region code and enter your phone number.
You will then receive a 7-digit security code to your phone which you will have to enter.
Authenticator or SMS verification for Twitch
To finish off, you are given two options for how you want to log in to your account each time – you can either use the SMS option, whereby a verification text will be sent to your phone each time you want to log in or you can use an Authenticator app to scan the barcode.
A list of suitable Authenticator apps is given below.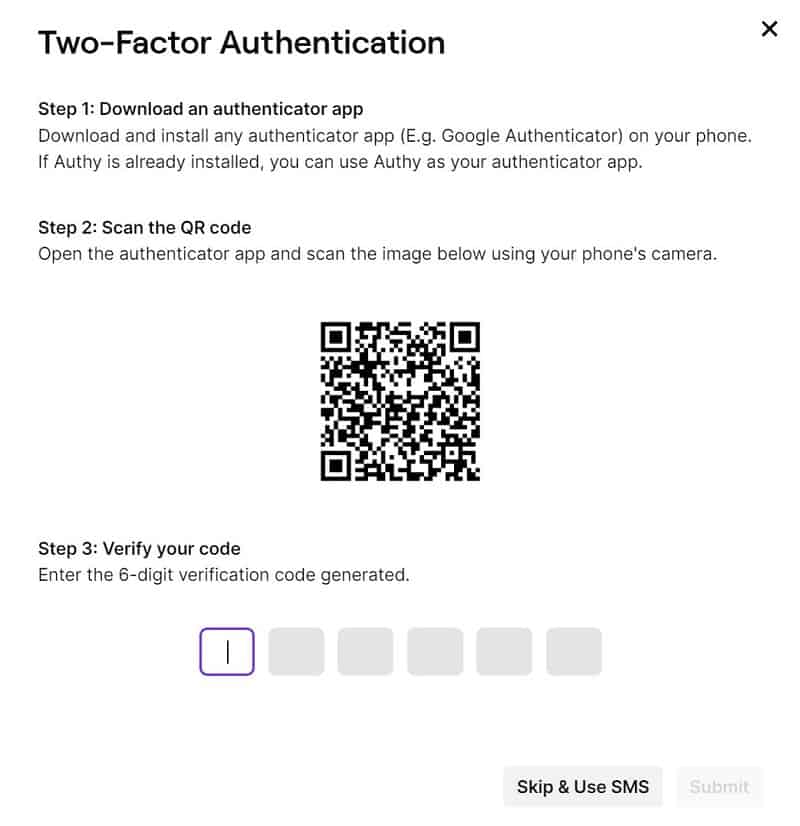 Authenticator backups for Twitch 2FA
Whilst two factor authentication on Twitch using your email and mobile is all well and good, if you lose your mobile phone (as most of us do at one point or another) you may find yourself locked out of your Twitch account. Gadzooks! In order to avoid this calamity, using an authenticator app to create an authenticator backup can prevent this from happening. See below for a list of authenticator software that support backups, and follow the links on each to learn more about how to use them:
Twitch 2FA emotes
Upon enabling two factor authentication on Twitch, you will be rewarded for your troubles through access to six exclusive Twitch 2FA emotes! You can see what these Twitch 2FA emotes look like above.
In order to access your Twitch two factor authentication emotes, go to the Unlocked menu of the emote picker within Twitch chat, and you should see them there.
Final word
We hope this article has been of use in helping you to enable 2FA on Twitch. Please check out our other Twitch pages, including How to change your Twitch password, the latest news on the Twitch password leak, and how to stream on Twitch.
---