Foldable OLED MacBook details leaked, foldable laptop news roundup
Apple's entry in the foldable OLED laptop market could be a way off yet
Updated: Apr 2, 2022 3:28 pm
Foldable laptops with OLED displays are starting to appear but when will we see a foldable OLED MacBook? In a report primarily focused on the development of OLED panels by LG for use in HP laptops and notebooks (specifically a 4K 17″ display that folds to 11″), TheElec also said of LG 'the company is also collaborating with Apple to develop another foldable OLED panel. The panel is being designed for tablets and notebooks with ultra-thin glass as the cover window instead of polyimide.'
This lines up with a recent report by Ross Young (a respected display analyst whose predictions have historically proved accurate), which says Apple is working with LG to create a foldable OLED laptop display of a multi-use device that could combine the elements of a notebook, tablet, and monitor.
Foldable OLED MacBook release date
Details are thin on the ground given these devices are still in the early stages of development, but the estimation for the regular non-folding OLED MacBook release date is expected to be sometime around 2025, according to TheElec which received information about the development of the OLED panels by LG. OLED iPads using the same panels will likely release around the same time.
The first foldable OLED MacBook release date will, according to Ross Young, probably be sometime in 2026 or later.
A Foldable 20-inch laptop?
Separately to the above leaks, well-known Apple tracker Mark Gurman has said, in a Bloomberg piece, that he believes Apple is working on a 20″ foldable display device that would completely omit a physical keyboard and trackpad and be entirely touchscreen-based. Mr. Gurman estimates 2026 as the most likely date we see such a device revealed, which correlates with Mr. Young's estimate.
Zenbook 17 Fold OLED & Lenovo ThinkPad X1 Fold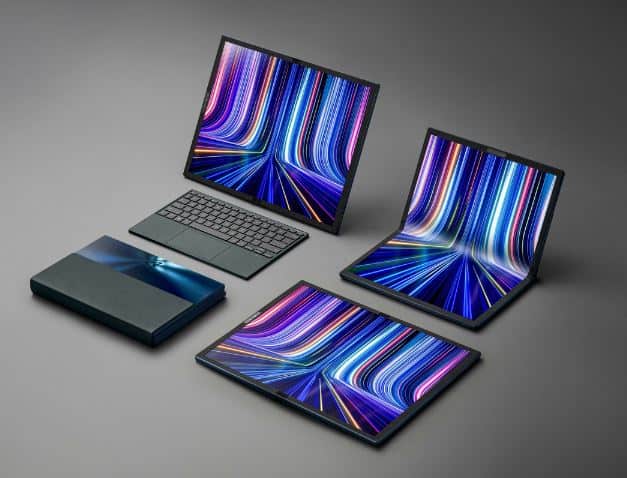 We've already seen foldable OLED displays released as early as 2021 with the Lenovo ThinkPad X1 Fold, a design the company referred to as a computer book, which is capable of being used as a 13.3″ laptop, half-sized 7″ netbook, tablet, or book-like surface. This is a very highly-priced, but premium product, which has exceptional build quality and touchscreen, though problems with connectivity between the detachable BlueTooth keyboard and trackpad as well as compatibility issues with the Windows 10 operating system. Still, it was an interesting early foray into foldable OLED technology.

The ASUS Zenbook 17 Fold OLED is an upcoming full-sized foldable laptop from one of our favorite laptop brands, and as they claim, the world's first 17″ foldable OLED laptop. The laptop was first revealed at CES 2022 and is scheduled to be released at some point in Q2 2022 (i.e. in the second half of this year). Folded up the laptop has the size of a somewhat thick 13″ laptop, but unfolds into a full-sized 17″ display which can be bent across the middle into whichever position is convenient for the job you are doing at the time. The laptop again comes with a detachable BlueTooth keyboard and the machine has us very excited about the possibilities it offers for flexible working and multimedia use on the move.
Will foldable OLED MacBooks arrive too late to the party to make an impression on the burgeoning foldable laptop space? We'll have to wait and see.
---