CES 2020 is in full swing now with the show floor officially being open and the crowds of around 180,000 people descending on the Las Vegas strip. Filled with all the latest products and innovations in the consumer electronics market, this is one of the biggest trade shows in the world. 
WePC is here all week, reporting live from the show floor to bring you the latest and greatest from CES. Our first stop today was at the LG booth after their exciting keynote speech yesterday.
LG At CES 2020
As expected, LG's main focus this year was on TVs and appliances. They have a range of interesting products out on display from smart doors to AI-infused wine cellars. But, we were more excited about their gaming-focused products.
The first of these was their brand new dual-screen gaming phone which we got a brief glimpse of during the keynote, then we moved on to their latest monitors both for home office and gaming. As always, LG brought some exciting and innovative new products to market, and we were excited to get hands on and see them in action.
LG G8X ThinQ Dual Screen Phone
First up is the LG G8X ThinQ Dual Screen phone. While it may not be a dedicated gaming phone, it can certainly hold its own in this market when compared to competitors. One of the biggest selling points is, of course, the dual-screen aspect of the phone, allowing you to have one screen for your game controls, and one as a monitor.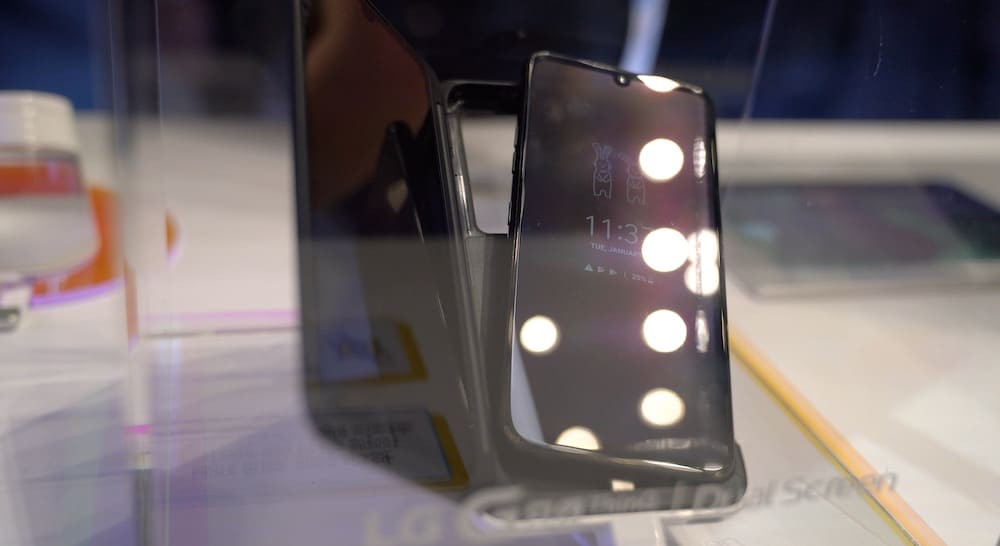 We had the chance to try it out hands-on at the convention, and it didn't even feel like gaming on a phone. We likened it more to playing on a handheld console like the Nintendo Switch thanks to the ease of use and space for the control pad.
We can't wait to get our hands on this for longer to really test it out, both for gaming and everyday use.
LG UltraFine Display Ergo (32UN880)
Next up we got a look at their latest monitors for home use with the LG UltraFine Display Ergo. This 32" UHD 4K IPS display monitor has been designed to work for you, however you like to work. The stand allows you to rotate the monitor around to share screens with colleagues, and even turns a whole 90° to work at any angle. 
LG UltraWide Monitor (38WN95C)
Next up was the LG UltraWide Monitor. Now, this one we really liked. This is a 38" curved monitor that is NVIDIA G-Sync compatible and great for heavy-duty tasks like video editing and multi-tasking. Again, the display on this monitor was stunning and the colors really looked intense and distinct - perfect for creative use.
LG UltraGear 27GN950 and 34GN850/ 950
Next up, we headed to the UltraGear section to test out some new gaming monitor models. Both of these models are NVIDIA G-Sync compatible and come with a 144Hz refresh rate (with room for overclocking too). 
The first was the 27GN950. This is a 27" UHD Nano IPS monitor that can even be wall mounted to make your setup look extra cool. We did notice some lagging while we were there, but as they were playing a video rather than using real-time gameplay, we're unsure if this was down to the monitor or the media. 
Next, was the 34GN850 and the more advanced 950 model. These were both curved gaming monitors with 21.9 QHD Nano IPS displays. The image quality on these was amazing, and they even had three of them set up as a racing sim (just like we do with our BenQ monitors here in the office) - and it looks amazing.
Gaming TVs
Finally, we had a look at their TVs that have been specifically designed with gamers in mind. The most impressive of these was the OLED 65CX TV. This was ultra-thin, we really couldn't believe how good it looked. The image quality was simply stunning and I wish I could have that in my living room next time I load up The Outer Worlds. 
We also got to see LG's first 48" 4K OLED TV in action. One of the staff from NVIDIA was there playing through Control so we really had a chance to see the power of the graphics. This would be an excellent choice for those gamers that want in on the 4K gaming experience but don't have a lot of space for a huge, widescreen TV in their homes. This more compact model will help to bring top-level gaming graphics to a smaller screen.
Our Verdict
We were, all in all, pretty impressed with LG's offerings at CES 2020. The new monitor line up looks set to bring in a good year for LG and gaming, especially with their partnership with NVIDIA to bring G-Sync to more models. And, honestly, I can't stop thinking about that dual-screen phone. You know, my phone contract actually runs out soon...