Next-gen GPUs in danger of overcurrent with adapters
Too much power for the poor lower spec cables to manage
Updated: Sep 12, 2022 10:07 am
Wccftech reports on a problem that the PCI-SIG organization has warned about with the Gen 5 PCIe power adapters. We expect to find these in at least the RTX 4000 series and what's already been shown on the RTX 3090 Ti.
The new connector is a new 12-pin power and 4-pin data standard. It would allow the PSU to communicate with the graphics card and decide the amount of power provided. The data allows up to 600W on a single cable or 450W without.
This new standard aims to deliver cleaner and less transient power. Hopefully ending some complications caused by the increasing power demand of GPUs.
Previously, the 8-pin PCIe connector is capable of providing 150W. So with the current generation, we saw the utilization of three of them on one card getting the spec up to 450W.
However, manufacturers tend to provide power adapters for this new spec. As seen with the 3090 Ti, this will provide 450W with three 8-pins. But this is where PCI-SIG and Wccftech show the danger of using those.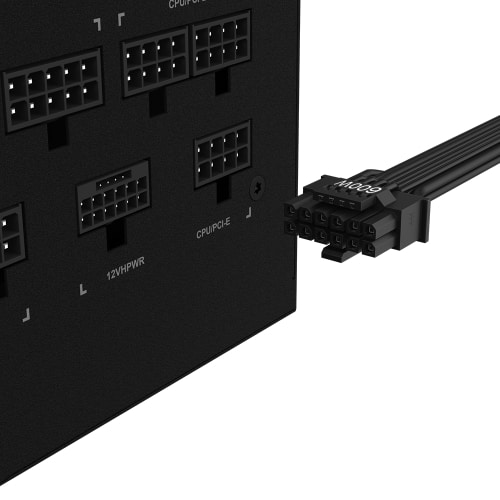 Why you should get a new power supply for the new GPUs
The initial information came from an email forwarded to Wccftech from PCI-SIG. The email was sent to the member of the organization. These include AMD, Intel, and Nvidia.
Please be advised that PCI-SIG has become aware that some implementations of the 12VHPWR connectors and assemblies have demonstrated thermal variance, which could result in safety issues under certain conditions.

PCI-SIG email to its members
The email states there is a risk to using these adapters. With a thermal variance, it means there is a possibility of damage. Either from the connector melting down or providing incorrect power to the card.
With this, Wccftech has carried out its own testing to see what the issues may be. There they loaded up a 3090 Ti with a 450W load test powered with the included 3-to-1 cable adapter.
You might expect the adapter to equally draw power from each 8-pin but it does not in fact. And Wccftech found a single 8-pin drawing 23.5A/282W whilst the other two were only doing 6-8A/80-100W.
Whilst a Gen 5 connector itself can sustain up to 55A or 600W, a singular 8-pin is not rated for such high consumption. These are only rated for 150W and that cable was being loaded 88% above that.
So if you are planning to get a new GPU with RDNA 3 or RTX 4000, and they do use a Gen 5 connector it may be wise to also get a new power supply with a gen 5 connector.
Especially as those cables will be rated for the power draw. As well as the overcurrent and transient spikes we might expect from the upcoming cards.
---