Steam Deck Q2 reservations begin to ship, according to Valve
Steam Deck shipments 'ramping up' according to Valve
Updated: Apr 6, 2022 4:57 pm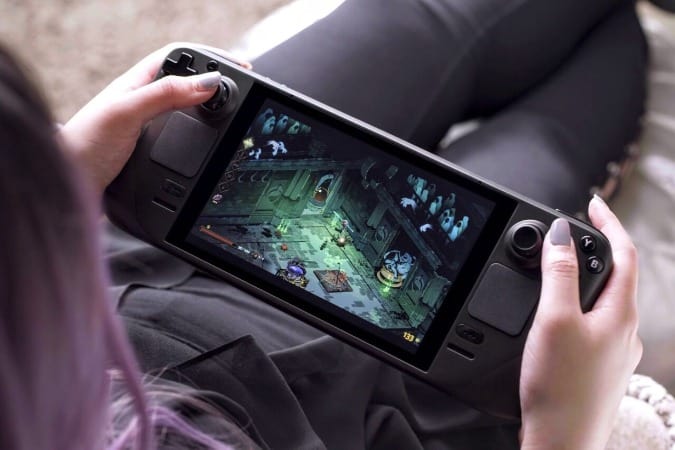 For those of you who have reserved a Steam Deck and are in the Q2 2022 reservation delivery date, you might want to stay glued to your shipment information, as Q2 is finally here, and Valve is beginning to roll out shipments to users who managed to get their hands on the first batch of Q2 orders. Once the email has been sent, you only have three days to respond and pay for your Steam Deck before it disappears and you lose your chance of getting one for the foreseeable future.
Shipments 'ramping up' states Valve
Valve has additionally put out several tweets stating that the first wave of shipments is coming up for Q2 orders and that there could be several shipments per week for the Steam Deck, meaning that more units than ever before are getting kitted out, and sent to users. Valve needs to make this business scalable if they want to make the Steam Deck improve in the future, but it appears that they are first gearing up for supporting their software, with improvements to the operating system steadily improving the experience.
Regardless, if you are looking for when your order might arrive, Valve has also continued to specify the month in which you might be able to get your Steam Deck reservation. But, for those looking for any miracles when it comes to what they might expect from when you can receive it. Don't expect a specific date, or anything like that, unfortunately.
Help, my reservation has a Q2, Q3 or After Q3 marking, what does it mean?
Dear reader, you seem to not be the only one who is endlessly frustrated at Valve's way of messaging out when you might be able to receive your Deck. They only communicated this out in quarters, which ended up making it seem like you were only were able to know a three-month window in which you might have been able to get your hands on a brand-new Steam Deck. However, they are now communicating out the month that corresponds to it, according to Valve's recent tweets, this ensures that you are going to be able to at least tell a vague timeframe without having to rely on the much more corporate moniker.
Unfortunately, this does not impact directly how much time you will have to wait until you get the fabled order email, which will hopefully come at some point this year for most people who ordered a Steam Deck. These shipments also seem to be additionally divided into regions, so each region will have its own queue and estimations. This is why there may appear to be some discrepancies between the time you reserved your Steam Deck and the estimations for delivery that users have managed to get across the world. For purely selfish reasons alone, Valve should totally speed up shipments to the EU alone.
Valve needs to get better at logistics
All Q1 orders should have all been hipped by now, with users now enjoying their Steam Decks, much to our extreme jealousy. So, Q2 orders should now be on the way, and then in July through September, you'll have a Q3 order. The final moniker that Valve puts on the orders is 'After Q3' which just means that it could be from any point from October 2022 onwards. It would be nice if there was more of a scope for the 'After Q3' customers who have reserved themselves a Steam Deck, but it's just not going to be easy for Valve to estimate beyond their capacity at this point. Though, they really should if they want those users to keep their reservations and get the Steam Deck more confidently in the hands of their users.
It's a shame that they have not figured out a day or week feature, but logistics is one of the most difficult things to range your head around, so we're not too sure that Valve has completely figured this out yet. We just need to give the company time to make sure that whatever they put out, they will be able to actually fulfil the orders within the timeframe given. This is most likely the biggest headache with the delivery estimations, which already got shifted at launch when the device was delayed.
Is Valve intentionally limiting shipments?
We've speculated that Valve is intentionally limiting the loss that they might be taking by selling the Steam Deck on a month-by-month basis but have potentially increased the number of units being sent out. It's likely not a manufacturing issue for them, but a Financial one. The pricing of the Steam Deck blows everything else in its class out of the water when it comes to price to performance, especially when comparing it to its contemporaries like AYANEO. When we interviewed the VP of OneXPlayer, they are actively 'working on' getting SteamOS up and running on their systems.
This is, of course, a huge part of Valve's master plan. We saw this with their Steam Machine efforts, and we're starting to see these ambitions coalesce with the Steam Deck. Valve recognised how unwieldy it is to run Windows to run on a handheld, and chose to develop their own OS, with standardisation across the board with hardware for the Steam Deck, which they hope will ultimately pay off when it comes to the number of users using Steam on a brand-new class of device.
Then, Valve will be able to make back the money lost on the 30% cut they take from all transactions on Steam, which is the source of much of their riches. By getting more people in the ecosystem, it spurs them on to list them in the store. For a good while, Steam was the go-to destination for getting your digital PC games before competitors like the Epic Games Store popped up to ruin their big old monopoly. So, Valve is always on the lookout for ways that they can deploy the Steam Store on as many handhelds as possible. There's where SteamOS comes in and helps to standardise a burgeoning product category, in addition to giving Valve further onus to spend the cash to potentially dominate the market with their software offering, which can offer a better experience than a normal Windows experience might.
---