Today we have the 'RDY SLIIRG201' prebuilt Gaming PC, sent from the guys over at iBuyPower. Now, we don't have an all-singing all-dancing rig for the enthusiast here, but it has some interesting components for a mid-range gaming PC.
This iBuyPower prebuilt gaming PC goes in for testing today, to see how this relatively low costing rig stacks up against other prebuilts around $800. While this is one of the cheaper options, it features a powerful CPU/ GPU combination to tackle those AAA games in mid to high settings at a stable 60+ FPS.
How We Tested
We received this system as a gift from iBuyPower, and just as we do with all the products we receive, we put this build through its paces. This means a series of tests to measure their performance and build quality.
We like to begin by benchmarking a variety of games and then record the average FPS scores across a selection of different resolutions and settings. To provide us with a better overall picture of the gaming PC, we then put it to work with general tasks. To speed this process up, we run the system through applications such as Cinebench.
Below, we see this prebuilts full specification and exactly what the "RDY SLIIRG201" has to offer:
Specifications
| Hardware Device | Model Description |
| --- | --- |
| Case | iBuyPower Slate 2 |
| Power Supply | 500 Watt - Standard 80 PLUS Bronze |
| CPU | AMD Ryzen 5 3600 Processor (6x 3.6HZ/32MB L3 Cache) |
| Motherboard | ASUS PRIME B450M-A |
| Cooler | ENERMAX 120mm T40FIT CPU Cooler |
| Memory | 16GB [8GB x 2] DDR4-3000MHz ADATA XPG |
| Primary Solid State Drive | 500 GB Western Digital Blue SSD |
| Graphics | MSI VENTUS GeForce GTX 1660 Ti - 6GB |
| Operating System | Microsoft Windows 10 Home Advanced 64 Bit |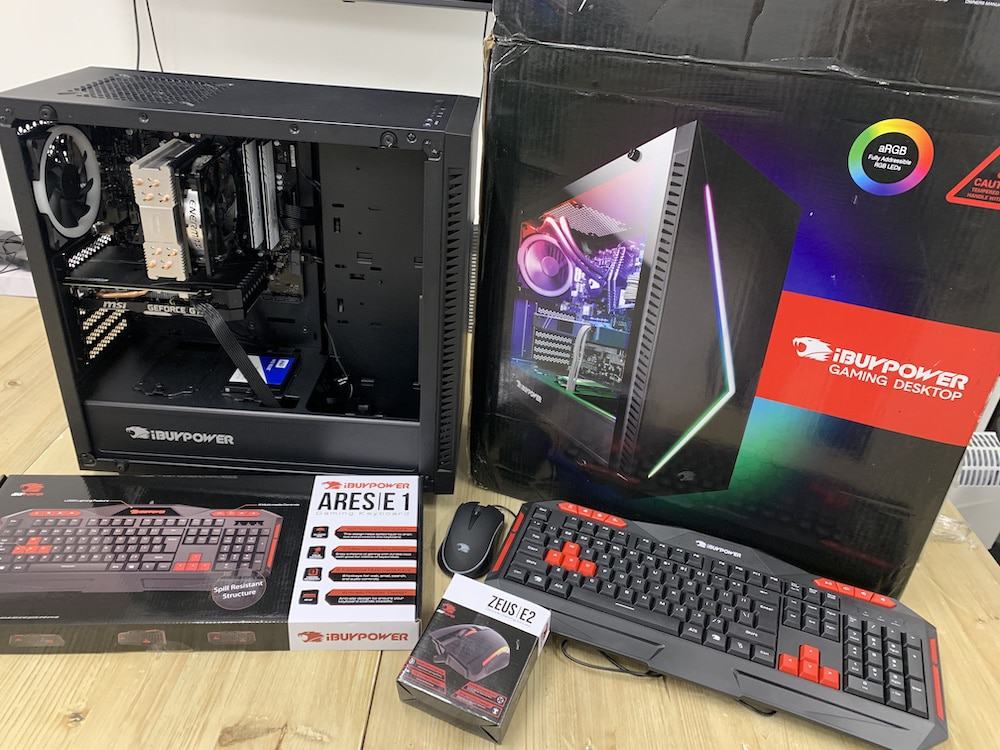 Build Overview
As you can see from the specs, you get a prebuilt gaming PC that can handle pretty much any game. For the money (which is budget territory), you can play your games in the highest settings while still achieving 60+ FPS. This PC will smash games in 1080p and has streaming capabilities too.
This iBuyPower PC may be considered closer to the budget end of the price scale, but it can still provide you with excellent gaming performance. A PC of this level may not be for the enthusiasts out there, due to the components being mid-level. While this gets some great results, you aren't going to be able to play in 4K with this system and can only just about play in 1440p.
The 3rd-gen AMD processor goes a long way in a build of this price, as it brings multithreading to the table. The CPU enhances more than just gaming, with multitasking being much smoother too.
Features
Now it is time to talk about the main features of this iBuyPower prebuilt gaming computer. While it may be considered budget, you still get some decent features for the price.
VR Ready
VR has been revitalized over the last few years, and thanks to technology advancements, it is becoming widely accessible too. Virtual Reality may not be able to compete graphically just yet, but that doesn't mean it isn't a fun feature to have!
VR requires a bit of power to run, and that can sometimes get budget PC owners a little bit worried. That being said, with this iBuyPower machine, you can rest assured it will handle VR gaming. The bottom line is that you can get a taste of what VR, but don't expect the highest levels of performance.
Aesthetics
Generally speaking, aesthetics can suffer when you buy a PC in this price range. However, that is not the "case" with this one. The build is put together in iBuyPower's Slate 2 PC case, and it does a great job of looking good for what is mostly considered a budget case. The ARGB on the front of the case looks superb when switched on and pairs nicely with the RGB fans inside.
Along with the dashes of color, we see a PSU shroud built-in, which hides the power supply cables nicely.
Product Highlight
Before we explore exactly how this gaming PC stacked up in our testing, let's go over the pros and cons of the system that we experienced during its time here.
Pros
Plays AAA game titles at 1080p with ease
RGB case and fans improve the looks
Good price to performance
Cons
Little time spent on cable management
More graphically demanding games will struggle in 1440p
The components in this iBuyPower PC build are clearly geared towards 1080p gaming, which it excels at. Once you take in the performance data we will go through shortly; you start to see that for a budget gaming PC, it has some decent potential.
You will, of course, get iBuyPower's one year warranty as standard, and any issues with the PC will be taken care of by them. Our system came without any physical damage, and it all worked well. These systems are softwared and tested before arrival, and this one features excellent price to performance.
While the case looked quite good, it is rather basic, and there seemed to be little time spent on cable management. That being said, this is considered a budget PC, so we expected cable management to take a back seat as these kinds of systems need to be built at speed.
Hands On Results
We have showcased what this iBuyPower prebuilt gaming PC should be capable of, we have taken a look at some of its best features, but what are the physical results? This system was sent to us from iBuyPower, but it still goes through the same benchmarking and testing we use for our custom builds.
During testing, we wanted to see exactly how the PC handled a wide variety of games and what kind of FPS counts we could expect. We wanted to check loading times for a few different applications and, of course, the operating system itself. Other than gaming, we wanted to see how this PC dealt with streaming and 3D rendering.
Let's dive straight into how this machine performs in real-world situations. Firstly, we need to talk about the gaming performance of the iBuyPower "RDY SLIIRG201 Gaming PC". We set about the rig, installing six games with varying levels of graphical demands. The benchmarking included taking FPS results from lowest to highest graphics in resolutions of 1080p to 2160p.
Gaming
The six games we tested on this prebuilt gaming PC were:
The Witcher 3
Shadow of the Tomb Raider
Far Cry 5
Rainbow Six Siege
Total War Warhammer II
CS: GO
Before we get into the numbers, it is important to note that we expected solid results in 1080p from the GTX 1660 Ti. After all, it is a brilliant mid-range card. What surprised us most from our testing was the PC's ability to not only play in 1440p comfortably, but also in 4K, depending on the game.
Shadow of the Tomb Raider and The Witcher 3 were more demanding on the system than others when looking at the average FPS scores.
Shadow of the Tomb Raider showed us you can play in ultra settings even at 1440p and still achieve an average FPS of 40 plus. While there was little performance decrease when changing the settings in 1080p, any FPS dips were much more noticeable at this resolution when compared to the 4K results.
Our testing showed that you don't really want to be 4K gaming on SOTTR, as it can only handle this resolution with the settings on medium or lower. The PC launched Shadow of the Tomb Raider and had you playing at around the 20-second mark.
The Witcher 3 produced similar-looking results during the benchmarking tests, with 4K being a little bit more achievable. This PC produced some great results in 1440p resolution, with an average 10 FPS more in ultra settings. The Witcher was the quickest game to load, as the PC had us on the menu in seven seconds.
Our testing in Far Cry 5 and Total War: Warhammer II yielded similar results, with 4K being out of the question. Again, playing in 1440p with the settings maxed out showed some good FPS counts. The average FPS for both games was between 45 and 66 FPS and of course, even better with the graphical settings lowered. Most of the games loaded in around 20-seconds or faster; however, TW Warhammer II took nearly 40 seconds to boot. To put that load time into perspective, Windows 10 only took 23 seconds to load, so Total War possibly not as well optimized.
Rainbow Six Siege and CS: GO brought some slightly different results, thanks to them being less demanding on the system. Both games showed that in 1080p, you could game comfortably in max settings and benefit from technologies like G-sync. The PC breezed through both games while in 1440p, even in maxed-out settings.
The PC began to falter as we would expect, at the higher resolution. That being said, it is entirely plausible to play CS: GO in 4K (not that you would), but it is the oldest game we tested.
For the competitive players out there who want to take advantage of a 240Hz gaming monitor, it is entirely possible when gaming at 1080p.
Multi-Tasking And Media Editing
We know this is a gaming PC, but we wanted to check and see what else the system could do. The AMD Ryzen 5 3600 is a brilliant CPU and is from one of the best CPU families we have ever seen. This PC owes its success in 3D rendering and general multi-tasking to the CPU and its multithreading power.
To give us a good overview of the PC, we carried out tests on Cinebench, Blender, and Handbrake. We also investigated how the PC handled tasks on applications like Photoshop and Premiere Pro.
The results weren't that surprising, I mean we have a very good CPU at the helm here. Of course, better computers will carry out these tasks with greater efficiency, but for the money, this PC will bring you more than just gaming.
While we wouldn't advise streaming on a build like this, it was refreshing to see it is actually quite possible. It may not be the best experience for you and your viewers, but that is subject to the game you chose to stream. Of course, you may not want to stream gaming, in which case the build would perform well enough thanks to its quality CPU.
Would We Recommend?
As we can see, our data shows this iBuyPower prebuilt gaming PC handles 1080p gaming without a sweat. You can pretty much game in max settings in 1440p resolution, and on the less powerful titles, there is some 4K wiggle room.
That being said, you probably wouldn't be going for this if you were after an enjoyable 4K gaming experience. This PC has the specs to give hardcore and casual gamers alike something to think about as the only real area it struggled in was high resolutions.
Would we recommend it? Well, as many know in tech, a speculative question like that has a similar answer;  it depends. For the money and the added perks of what you will get from the manufacturer, yes, this is worth it. That being said, if you are capable of building your own, then you can easily get a lot more power for your money.
Remember, there is a build cost factored into these computers, which means they have to make more compromises on the components than you would.
The build-in general actually surpassed expectations from a performance and aesthetic point of view. Thanks to the CPU/GPU combination, you get a solid gaming experience that will last for some time. Aside from gaming, you have a PC that can multitask and features snappy boot times, too, giving you a premium experience on the cheap.
Final Word
For anyone considering getting into PC gaming or looking to upgrade an older system, this could be the PC for you. The iBuyPower "RDY SLIIRG201" Gaming PC brings you all the power you need to destroy games at 1080 and 1440p. While you may not be able to play in 4K without issues, you can play in max settings in the lower resolutions for most  AAA titles.
This PC features streaming and VR capabilities and comes wrapped in RGB illuminations. Then overall build felt of high quality in the system we received, and there were no problems with the PC upon delivery.
Have you ordered a prebuilt from iBuyPower? Please share your experiences with the manufacturer below!