BenQ EX3501R Review | 35″ Ultrawide Gaming Monitor
Updated: Mar 14, 2022 4:46 pm
Today's the day we finally get to sit down with BenQ's epic EX3501R ultrawide monitor to see how it operates under the pressure of the WePC testing lights. The guys at BenQ were kind enough to send one over, and we can't wait to see how it performs against other premium ultrawide monitors like Alienware's AW3418DW and LG's 34GK950F-B.
BenQ's 35-inch ultra-wide display is another excellent addition to the already cramped monitor-marketplace. It brings high-end features like HDR, high resolution, fast refresh rates, and B.I technology to the table. It does have a couple of minor down points, but for the most part, it's one of the best all-round gaming monitors we've tested this year.
If you're looking for a large display with beautiful color accuracy and great gaming performance, the EX3501R could be exactly what you've been looking for. Beware though, like most premium monitors; this one comes with a price tag that's as large as its display.
How We Tested
Now, before we get into the specs and features of this monitor, let's quickly brush over how we tested this thing. We always like to ensure our readers that our thoughts and recommendations are based on real-world testings. So, that being said, how exactly did we test the BenQ EX3501R?
We've tested a bunch of premium monitors here at WePC, so when BenQ decided to send us the EX3501R, we were readily equipped to take it for a spin. Once we finish taking stock images, the monitor gets sent to the review team. The review team tests the monitor in a number of scenarios ranging from in-game performance, entertainment value, and eye-care factors.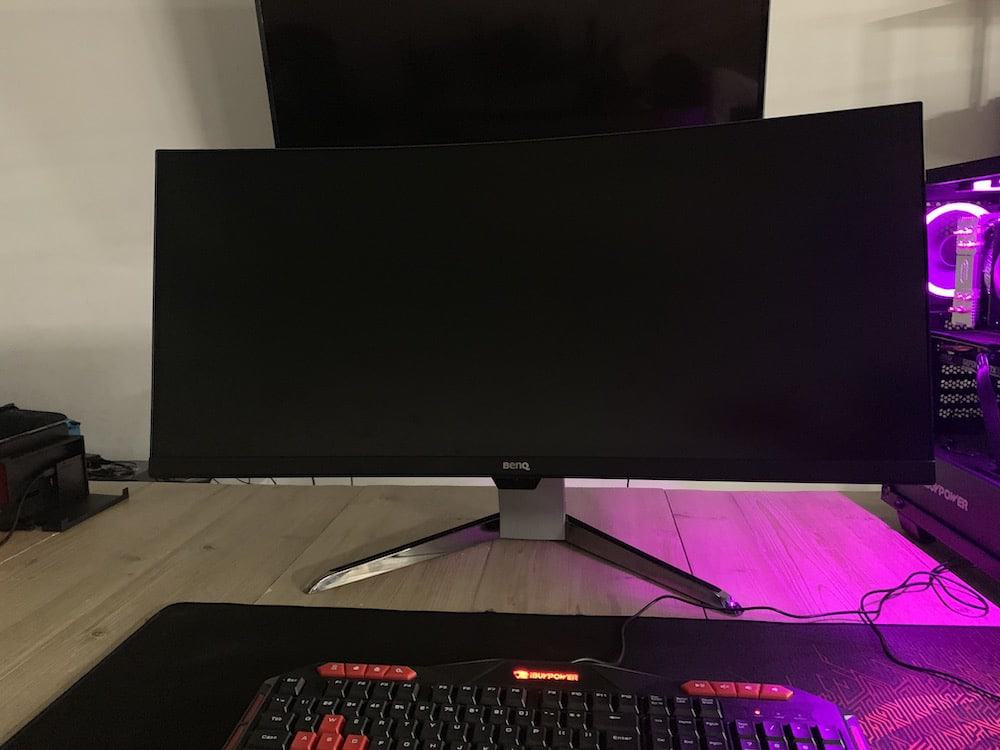 Being gamers, we understand the important role a monitor plays. And no, I don't mean for viewing the pretty pictures. There's a huge difference between a budget monitor and a premium monitor, and it's much more technical than the size of the display and the cool design. For that reason, we take our testing process very seriously, and it takes up the majority of our reviewing time.
Once we've tested the monitor in-game for ghosting, screen tear, color accuracy, and general immersion, it gets put through several different editing tests to see how accurate the color recreation is. We do inhouse tests on flicker and B.I technology as well.
We also use the monitors throughout the day for average computing tasks over periods of eight hours or more. This helps us to assess whether the monitor does enough to combat eye strain and test out any built-in eye care technology.
Specifications
As we mentioned above, the difference between budget and premium monitors can be huge. That being said, let's take a look at the key specifications of this monitor.
Pay particular notice to the refresh rate, panel type, max resolution, and response time. These are key factors that might affect overall gaming performance and its entertainment ability.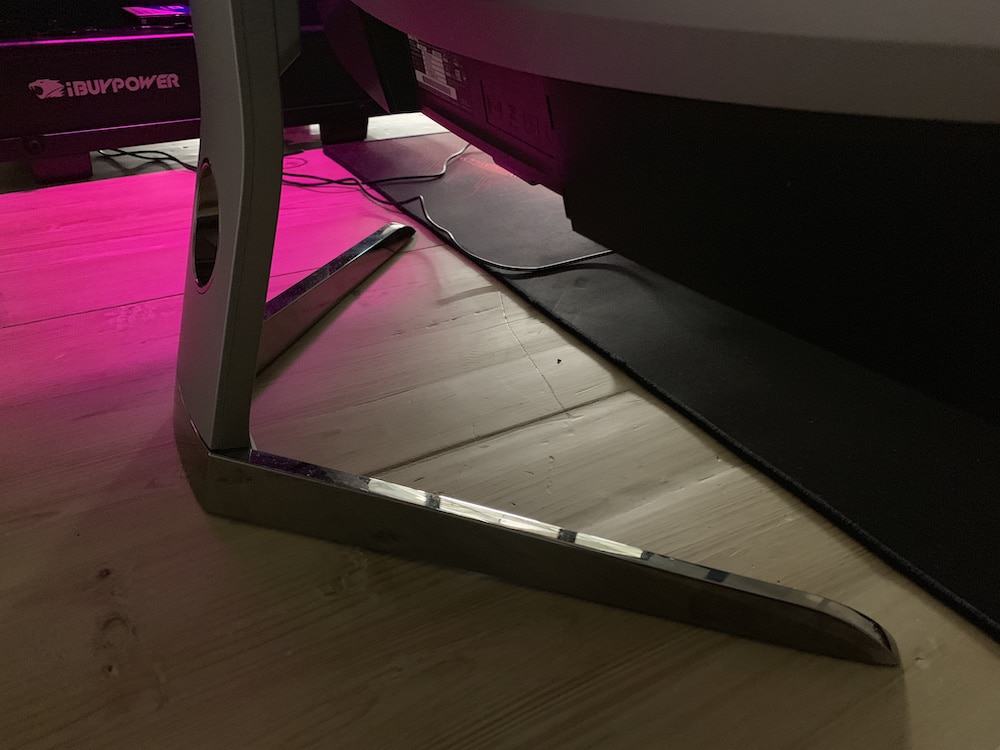 Physical Size & Weight
The BenQ EX3501R's display sits at an impressive 35-inches with the monitor's physical dimensions being 17.48″ X 8.82″ x 32.83″. That makes the monitor pretty hefty, to say the least. That being said, it doesn't feel as big as it actually is. Let me explain. The stand has been designed in such a way as to not take up huge amounts of room on your desk. Furthermore, the 1800R curvature creates the feeling of additional space and a tonne of immersion when gaming.
Size aside, the EX3501R weighs 21.3lbs, which isn't too bad when you consider other monitors of similar size. It's still a chunky old display though when you compare it to regular 24-27″ displays. Having said that, thanks to the well-designed stand, the monitor feels rock-solid during testing and everyday usage. So thumbs up for that.
Resolution & Refresh Rate
Whether it's a premium monitor or a sub $300 display, screen resolution, refresh rates, and response time are three of the most important factors to consider if you're thinking of upgrading your current option.
For those who are less than familiar with the importance of these factors, we've outlined how each of them impacts your viewing experience below.
Resolution
A monitor's resolution is an extremely important aspect to consider, as it will ultimately affect your overall experience in two fundamental ways. Firstly, 'resolution' refers to how many physical pixels your monitor can display. So, in this case, 3440×1440 (otherwise known as 4k) is 3440 pixels horizontally by 1440 vertically.
Having a larger screen resolution is great for picture quality and immersion, but can be problematic for users with less than competent gaming rigs. It affects your in-game performance as it requires much more computational power than lower resolutions. This usually leaves you with lower frame rates that end up looking worse than they would on a smaller display. Just keep this in mind when considering a large display.
Response Time
The response time of a monitor is another critical factor in its overall quality. It refers to the amount of time it takes the pixels to change color. Response time can be measured in a few different ways, but in the BenQ EX3501R's case, it has been measured in GTG (grey to grey). The response time is measured in milliseconds and has a direct impact on how much ghosting occurs on your display.
Ghosting is when the video your displaying changes color faster than the response time of the pixel. It creates a washed-out image with a ghostly wave-like impression behind it. This monitor hosts a 4ms response time, and after extensive testing, we concluded that no ghosting was experienced.
Refresh Rate
Finally, we come to the refresh rate. This tells us how fast a monitor can physically refresh the images it's displaying. In gaming, a higher refresh rate is always more desirable than a low one. Anything over a 100Hz is pretty good, but ultimately you want to be leaning towards 144Hz and above. This monitor has a 100Hz refresh rate, which is great for a monitor of its size.
It's also worth mentioning that if your PC's FPS isn't synced with the refresh rate of your monitor, you might experience screen tear. This is when your PC isn't producing enough frames for a smooth video. Luckily, a lot of premium monitors, including this one, come with some FPS syncing technology, which pretty much eradicates screen tear.
Inputs
Before we do a more in-depth analysis of the features and benefits of this monitor, let's take a quick look at some of the inputs this monitor has to play with.
3.5mm headphone jack
2x HDMI 2.0 inputs
1x DP 1.4 input
2x USB 3.0 inputs
USB Type-C
So, as far as inputs are concerned, this one is pretty standard. However, there are a few pointers that are worth touching upon. If you want to achieve the higher-end refresh rates, we definitely recommend using the DisplayPort option over the HDMI ports. Furthermore, the USB Type-C (when hooked up to a Mac) doesn't seem to transfer the full refresh rate either.
Apart from that, though, the inputs are pretty water-tight and relatively standard.
Features
Features are up there with the most important aspects of a monitor and can decide whether or not a display is right for you. With that being said, let's take a look at what the impressive BenQ EX3501R has to offer and discuss how each feature impacts your experience.
AMD Free-Sync
AMD's Free-Sync technology is certainly nothing new, however, thanks to the recent rise in graphically demanding games, it's becoming increasingly more popular amongst premium monitors.
Free-Sync is a technology that synchronizes your monitor's refresh rate with your computer FPS output. Why? Well, because of a little thing called screen tear. Now, we touched on this earlier but not in great detail. So, what is screen tear?
Screen tear is when your PC's FPS doesn't match the refresh rate of your monitor, ultimately leading to misplaced frames and tear lines in the video. In simpler terms, your PC is sending an irregular amount of frames to the monitor leading to a split in frames on your screen. When FreeSync is enabled, your monitor will match the refresh rate to your FPS to encourage a much cleaner visual. This, in turn, creates a far greater picture and better levels of immersion.
We tested the Free-Sync feature using a Radeon 5700XT, and the resulting image was a lot smoother.
1800R Curve & Viewing Angles
HDR is a term that stands for High Dynamic Range and is a feature that we've seen across modern televisions for years now. However, in the last 5-10 years, we've started to see HDR creep into consumer-level monitors as well.
For readers who are unfamiliar with the high dynamic range, its primary purpose is to create a more realistic image by balancing the contrast between bright and dark colors. An HDR display will make use of a much wider color gamut, which allows the monitor to display a richer, wider range of colors.
A monitor with HDR will undoubtedly have better color accuracy and should provide a more immersive display overall.
Eye-Care Technology
Having eye-care technology built into your monitor is extremely important, especially if you use it for both day-to-day purposes and gaming. It's been documented that extensive usage of monitors without built-in eye-care technology will lead to eye damage over extended periods of time.
The BenQ EX3501R comes with a couple of different eye-care features such as a flicker-free display, brightness intelligence technology, and low blue light filter. All of these combined create the perfect environment to enable hours of seamless usage without running the risk of permanent eye damage.
Flicker-Free Technology is the first part of this eye-care triad package. Screen flicker is extremely harmful to our eyes and is completely undetectable when looking at a monitor. It means you may have been damaging your eyes without even knowing. Fortunately, many high-end monitors come with flicker-free technology these days to help prevent this invisible damage.
B. I. Technology has been implemented within monitors for a good while now and is a feature that automatically adjusts the brightness of your screen based upon natural ambient light. A small sensor can be found on the front of the monitor, and it will sense the change in light over time. As your room starts to darken, the monitor will reciprocate.
Low Blue Light Filter is the last technology that makes up the eye-care package this BenQ monitor has to offer. This feature protects your eyes from harmful blue light by physically removing it from the display. It does this without compromising the quality of the image in any way and can be altered in the OSD.
Hands On Results
So, let's answer the big question everyone has been asking, how does the BenQ EX3501R perform in a gaming/entertainment setting. Well, the short answer is: remarkably well.
Firstly, let's talk about setting this thing up. Unlike other ultra-wide monitors, this one came pre-assembled, and that's definitely a good thing. We simply took the monitor out of the box, and it was pretty much good to go. The stand can be adjusted vertically, about 2.5″, and has a tilt radius of 20 degrees, which is more than enough for a monitor of this side. It has zero swivel functionality, which is a little disappointing but doesn't really take anything away from the monitor's quality. Overall, the stand feels rock-solid, and I noticed very little screen wobble during gaming.
As far as looks are concerned, this monitor looks utterly superb. The ultra-thin, flush bezel only takes up 10mm of your display, which is extremely competitive when compared to other similarly priced ultra-wides. Having a bezel this small also helps to create an even more immersive experience while gaming. The stand has been finished with a chrome-like plastic that works exceptionally well with the matt grey aesthetic the rest of the monitor accommodates. Oh, and let's not forget that monster 1800R curvature. It really adds to the styling of this monitor and is fantastic for both gaming and movies. I can't praise the design of this monitor enough, it suits my workspace perfectly and is sure to add style to anyone's setup.
From a color point-of-view, the BenQ EX3501R displays extremely realistic and vivid colors. It has a wide color gamut and supports the most common form of HDR; HDR10. This means there should be no shortage in HDR content this monitor can display. The color this screen offers goes beyond the standard RGB (sRGB) spectrum but doesn't quite reach the 90% DCI-P3 levels we expect from HDR monitors. That being said, it still provides 80% of P3 and provides most of the color needed for Ultra HD Blu-ray.
We trialed the monitor over a number of different games, which included CS: GO, PUBG, Shadow of The Tomb, Far Cry 5, and The Witcher 3. All of which looked fantastic. We hooked the EX3501R up to a 3900x/RADEON 5700XT build to take advantage of the FreeSync technology, and it did not disappoint. Even when playing Far Cry 5 on high settings at around 40FPS, we still didn't encounter any screen tear or ghosting. The 100Hz refresh rate is plenty of speed for day-to-day/low-competitive gamers. It's worth mentioning, however, that you will need a pretty beefy PC build to push the frame rates you would need to get the most out of this monitor. If that isn't a problem, though, you're going to absolutely love using this display.
Our Verdict
So, there it is, our comprehensive breakdown of the BenQ EX3501R ultra-wide gaming monitor. Annoyingly, it's arrival has just made purchasing an ultra-wide monitor a whole lot more difficult. I mean, do you go for an all-out gaming monitor that hosts rapid refresh rates, adaptive sync, and super-fast response? Or, do you go for something a little more pleasing on the eye and opt for premium HDR and a wide color gamut? It's a tough one.
We feel like the BenQ EX3501R combines both worlds in a way that no other monitor is currently doing. It offers a truly immersive experience thanks to that 1800R screen and its ability to display 80% of the DCI-P3 color gamut. Furthermore, 100Hz refresh rate, 3440×1440 resolution, and FreeSync technology create a smooth tear-free gaming experience all the same.
Ultimately, if you're looking for a monitor that offers the best of both worlds, then look no for further. The BenQ EX3501R is an excellent display that ticks both boxes.
Let us know in the comments section below what you thought of the BenQ EX3501R monitor. Furthermore, why not pop over to our community and start a thread asking any further questions you might have.
---