Best B460 Motherboards
Difficult to get hold of at times but worth hunting down
Updated: Feb 6, 2023 2:29 pm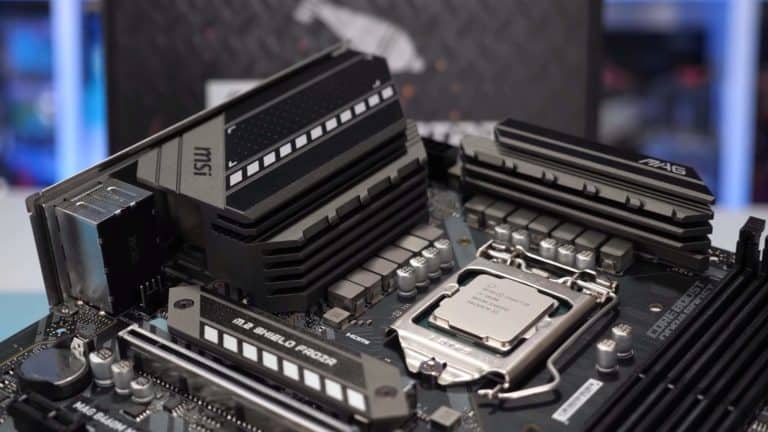 Alongside the arrival of Intel's shiny new 10th generation Comet Lake CPU lineup comes a whole plethora of exciting new motherboard chipsets for consumers to sink their teeth into. Whilst Z490s took center stage, budget PC builders will be more than happy to hear manufacturers are also releasing a whole bunch of cheaper alternatives under the B460 chipset.
Whilst the B460 won't be as premium as its Z490 cousin, it'll still come with plenty of features and benefits worthy of your time and consideration. For that reason, we've decided to scour the web and find only the best B460 motherboards the market has to offer.
We'll be comparing price, performance, aesthetics, and features to showcase only the best B460 motherboard manufacturers have to offer.
All being said, let's waste no further time and dive straight into it!
B460 motherboards are pretty old now, but that's not to say that they don't have value. Older hardware is a great way to adhere to a lower budget. These recommendations still hold up today in our eyes, here are the best B460 motherboards.
Our Top Picks
01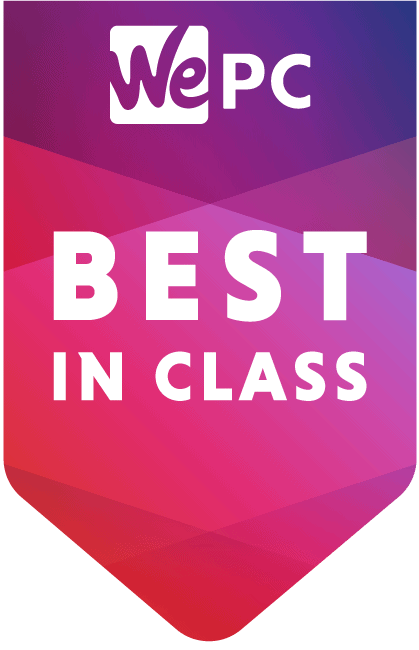 Another great addition to the TUF range
ASUS TUF Gaming B460-PRO WiFi 6
02
High quality as expected
ASUS ROG Strix B460-H Gaming
03
ASROCK B460 Phantom Gaming 4
How We Choose
When it comes to motherboards, it doesn't matter whether they're high-end or budget, the same amount of careful consideration and research goes into every choice we make. Choosing a B460 motherboard specifically can be tricky, especially when you consider the endless list of specifications that makes one better than the other.
While we couldn't test all the B460 motherboards personally this time around (for obvious reasons), we did make sure to read as much information as we could about them to get the best indication of how they will perform. In most cases, this involved reading as many reviews as possible as well as poring through the product pages to see exactly what they had to offer.
We know just how tricky it is picking up a new product, especially if you need to do a lot of research beforehand. Only once we've gone through all of the information we can find can we be confident in putting it in an easy to understand guide for our readers. We aim to make our guides as informative as possible and would never recommend something that we wouldn't include in one of our own builds.
Things to Consider
Like always, we've gone ahead and outlined the most important factors of a B460 motherboard below. By understanding these fundamental factors and specifications, your next motherboard purchase will be more informed and greater suited to your requirements and needs.
B460 Motherboard Pricing
As mentioned above, the B460 was brought to life to give budget PC builders a cheaper alternative over the more premium Z490 options. That being said, it's still worthwhile understanding how a motherboard's budget affects the overall price of your build.
Whenever we put together one of our custom-build PCs, we use rough guidelines to ensure gaming performance is prioritized in the process.
Below are some general guidelines that we like to follow when choosing motherboards.
Budget Build – $65-$100
Mid-range Build – $100-$200
High-end Build – $200+
Generally speaking, if you stick to these rules you'll be able to get what you want from your motherboard without spending too much of your budget on it.
Furthermore, for people interested, motherboard specifications such as form factor, expansion support, RAM support, VRM quality, and RGB can all impact the cost of the motherboard exponentially. So, just keep that in mind if you're a first time builder working with a strict budget.
Form Factor
Form factor, for the most part, is a fairly simple concept to grasp. Like other hardware components, a motherboard's form factor literally refers to how big/small the motherboard is – in physical dimensions. At this stage, you're probably asking yourself, why does that even matter?
Well, for a number of different reasons. The first involves your case. A case that only supports M-ATX motherboards isn't going to be compatible with a full ATX alternative. The same ideology can be applied for the other form factors in the range. Making sure your PC build is compatible with your motherboard's form factor should be one of your main concerns.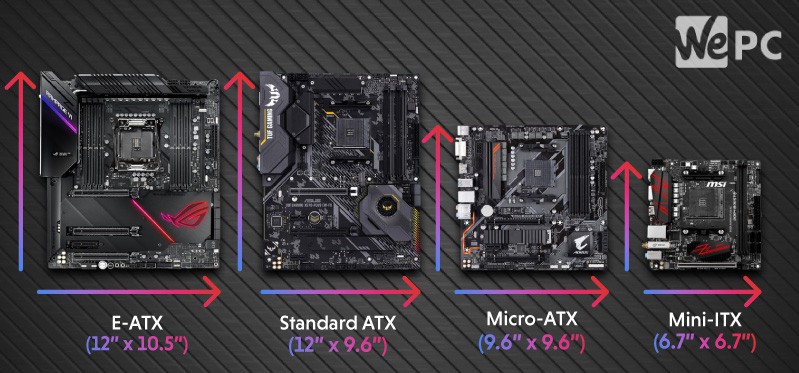 Another reason to be concerned with a motherboard's form factor is support and hardware compatibility. What I mean by that is, if you plan on loading your build with several SSDs, a sound card, and a dual GPU setup, you're definitely going to want to purchase ATX and above. Smaller form factors cater to small builds, therefore losing out on expansion versatility.
Fan Headers
Many modern-day builders like to equip their builds with intricate fan systems that far exceed the stock configuration found within most cases. That being said, if you plan on filling your case with say, six fans, you definitely need to check your motherboard's fan header support to ensure it can actually accommodate your cooling needs.
Whilst more premium ATX (and above) B460 motherboards will probably be able to support such elaborate cooling configurations, not all will. That being said, there are ways around this problem. Users have the option of buying a fan hub that effectively doubles or triples your motherboard's fan capacity. Just be sure to check this on the motherboard manufacturer website if you do plan on using additional fans.
Memory
Memory support can be broken into two very clear and distinct categories; speed and capacity.
When you purchase a motherboard, you must ensure that it supports the RAM speed you plan to buy. With RAM becoming much more affordable, more people seem to be steering towards higher speed RAM modules. That being said, it's very easy to find yourself purchasing a motherboard that doesn't support your RAM speed. Be sure to check with the motherboard specifications to save yourself a real headache.
Next, is capacity. Most motherboards will be able to handle up to 64GB, more than enough for most people's needs. That being said, there is the odd occasion where individuals need an excess of 128GB of RAM. In this scenario, it might be better looking for a workstation style motherboard instead.
PCI Slots
PCIe slots are probably one of the last things you should consider before purchasing a motherboard – unless you plan on having a fairly elaborate setup with multiple expansion cards. Depending on how much you plan on spending on your motherboard will usually have a direct impact on how many PCI slots it has to offer.
It's also worth considering how much space you have between each PCI slot. In some scenarios, a thick GPU will block the other PCI slots on the motherboard, so just be aware if you do plan on using multiple expansion slots.
Price
The price of a motherboard is a key consideration when choosing one for a computer system, as it directly impacts the features and quality that the motherboard offers. Higher-priced motherboards tend to have more advanced features, such as support for multiple graphics cards, high-speed memory, and advanced audio and networking capabilities. On the other hand, budget-friendly motherboards often have fewer features and lower-quality components, but can still provide sufficient functionality for basic computing needs.
When determining the price of a motherboard, it is important to evaluate the specific needs of the computer system and weigh the cost against the desired features and performance. A high-end motherboard may be overkill for a basic home PC but may be necessary for a high-performance gaming or workstation system. It is crucial to find a motherboard that balances the desired features and performance with the budget constraints of the system.
Why does motherboard choice affect PC performance?
Motherboard choice affects PC performance because it determines the capabilities and limitations of the system, as well as the data transfer rates and stability of the power delivery to the components. The following are some of the ways that the choice of the motherboard can impact PC performance:
CPU socket compatibility: The motherboard determines the supported CPU socket type, which affects the choice of processor and its performance potential.
RAM compatibility: The motherboard determines the type and maximum capacity of supported RAM, which can affect system performance and stability.
Expansion slots: The number and type of expansion slots on the motherboard determine the ability to add additional components such as graphics cards, sound cards, or other peripherals.
Storage options: The motherboard provides the connections for storage devices such as hard drives and solid state drives, and the choice of the motherboard can affect the performance of these devices.
Power delivery: The quality of the power delivery system on the motherboard can affect the stability and overclocking potential of the system.
Therefore, choosing a high-quality, compatible, and capable motherboard that meets the needs of the build can enhance the overall performance and potential of the system.
The Best B460 Motherboards
In-depth Review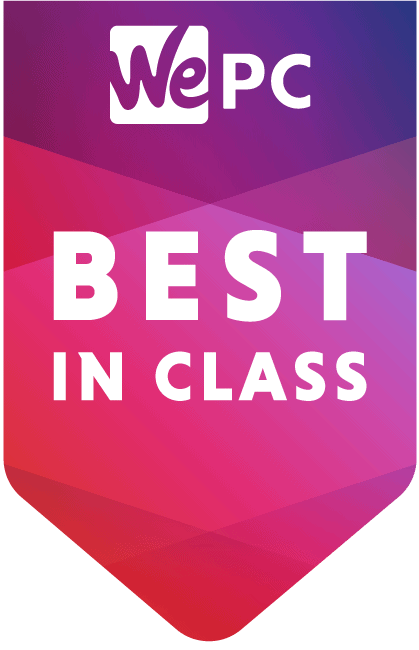 01
Another great addition to the TUF range
ASUS TUF Gaming B460-PRO WiFi 6
Intended Build
Intel 10th Gen Mid-range Build
PROS
Great value for money
Nice aesthetics
Excellent build quality
WiFi included
CONS
Might out price some individuals
Many of you will already be fully up-to-speed with the TUF Gaming motherboard range from ASUS. It's one of their flagship models across all chipsets, bringing with it fantastic build quality and features that really do elevate it above similarly priced alternatives. Keeping the same aesthetic flair as the rest of the TUF family, this thing not only performs well but looks great too.
The Intel 10th Gen compatible motherboard comes equipped with a bunch of cool features geared towards gamers, including tailored heatsinks, a solid VRM design, WIFI support, and RGB. It also comes equipped with a steel re-inforced PCI slot for added durability, an enhanced power solution, military-grade TUF components, and pristine audio quality too.
The TUF Gaming B460 gives your mid-range PC build the perfect blueprint for reliability and durability, offering up some of the best construction at this particular price point.
02
High quality as expected
ASUS ROG Strix B460-H Gaming
Intended Build
Intel 10th Gen Mid-range Build
PROS
Very attractive design
Features geared towards gaming
Fantastic build quality
Excellent cooling support
CONS
Can be considered pricey by some individuals
Next up we have the ROG Strix B460-H Gaming from ASUS, a motherboard that feels instantly recognizable thanks to its stunning design. This high-performance motherboard comes packed with all the features you'd want as a gamer, including sturdy build quality and intuitive ROG software.
Fans of Intel's latest 10th Gen CPU lineup will be pleased to hear this board has been designed with combined high-side and low-side MOSFETs, providing the power and efficiency these CPUs require. Cooling has been a big input into this motherboard design, implementing ProCool power connectors which help with heat dissipation.
Internal fan headers shouldn't be an issue, with support for an AIO and a number of additional fans elsewhere. The intuitive ROG software allows even the least technical-minded individuals to control the setup with ease. It offers preset options, including a gaming first mode which helps reduce jitter and ping issues.
03
ASROCK B460 Phantom Gaming 4
Intended Build
Intel 10th Gen budget Build
PROS
Stripped back design
Gaming-oriented features
Sturdy build construction
Plenty of expansion
Great price
CONS
Lower end motherboard that doesn't offer many premium features
Next up is the ever-popular ASrock B460 Phantom Gaming 4 – a motherboard that offers a no-thrills design and solid performance.
If the first two choices in this guide were on the pricey side, then fear not, the ASrock B460 Phantom Gaming 4 is a little more affordable. It retails for under $100 and, if I'm being honest, you can see why – especially when compared to the two above. That being said, this one still comes with some handy features that will install confidence in your build.
Like the other two motherboards in this guide, this one offers a steel re-inforced PCI for durability, 7.1 HD audio, and an abundance of expansion possibilities. It also comes with M.2 support for lightning-quick SSD compatibility and DDR 2933MHz RAM. Whilst the latter may not seem that impress, fear not, Intel chips don't respond in the same way AMDs do to fast RAM.
Whilst this is by no means the best B460 motherboard out there, it still offers up plenty of potential for those looking to put together a budget Intel 10th gen build.
04
MSI MAG B460M Mortar WiFi Gaming
Intended Build
Intel 10th Gen budget Build
PROS
Gnarly aesthetics
Great build quality
Durability and performance in mind
Cooling is efficient
Decent price point
CONS
Lacks more premium features
Last but not least, is the MSI MAG B460M Mortar Wifi gaming motherboard. If you haven't heard of the Mortar range before, you'll be happy to hear this is designed for maximum performance potential – leaving thrilly aesthetics and RGB behind.
For me, this is one of the most well-rounded motherboards in the B460 category, providing a gnarly design and some excellent features to boot. MSI has designed this motherboard with hardcore durability in mind. It offers an extended heatsink for the PMW, opening this motherboard up to high-end processors within the 10th gen range.
More heatsinks can be seen in an around the motherboards general makeup, utilizing high-end shield Frozr heatsinks for one SSD and a 7w/mk thermal pad for more efficient heat dissipation.
Operating the BIOS and MSI's user software is extremely easy, allowing less technically-minded to alter profiles without frying their hardware.
Overall, a nicely put together motherboard that offers a lot of pros.
Final Word
So, there you have it guys, our full breakdown of the best B460 motherboards that are currently available in today's market. We tried to keep descriptions as short as possible, however, that isn't always possible with technical hardware such as motherboards.
For those that found the above all a bit too much to take in, here is the final roundup in short:
A well-rounded board that offers good aesthetics, great reliability, excellent build quality, and good value for money.
If aesthetics are more your cup of tea, maybe take a look at the ROG STRIX B460-H gaming. It looks stunning and will be excellent for any mid-range PC build.
Stripped-back and built for performance is the ever-popular Phantom gaming B460. Whilst it doesn't offer nearly as much aesthetic appeal as the other two options, it still brings the goods in terms of performance.
Lastly, we have MSI's B460M Mortar. This motherboard is infamous for its striking aesthetic design and cooling support. A great board that ticks a lot of the right boxes.
As we come to the end of our guide, we hope that this has made choosing your next motherboard that much easier. Whilst we've tried to choose the best b460 motherboards in today's market, we understand that they might not suit your needs. Luckily, we've also given you the tools to go out and find something that does suit your exact requirements.
That being said, if you have any questions regarding motherboards or B460s, feel free to drop us a comment in the section below. You can also head on over to our Community Hub and discuss everything PC related with like-minded individuals.
---