Best 32 inch monitor 2023 (gaming, editing, 4K, G-Sync)
We find the best 32 inch gaming monitor.
Updated: Nov 2, 2023 4:32 pm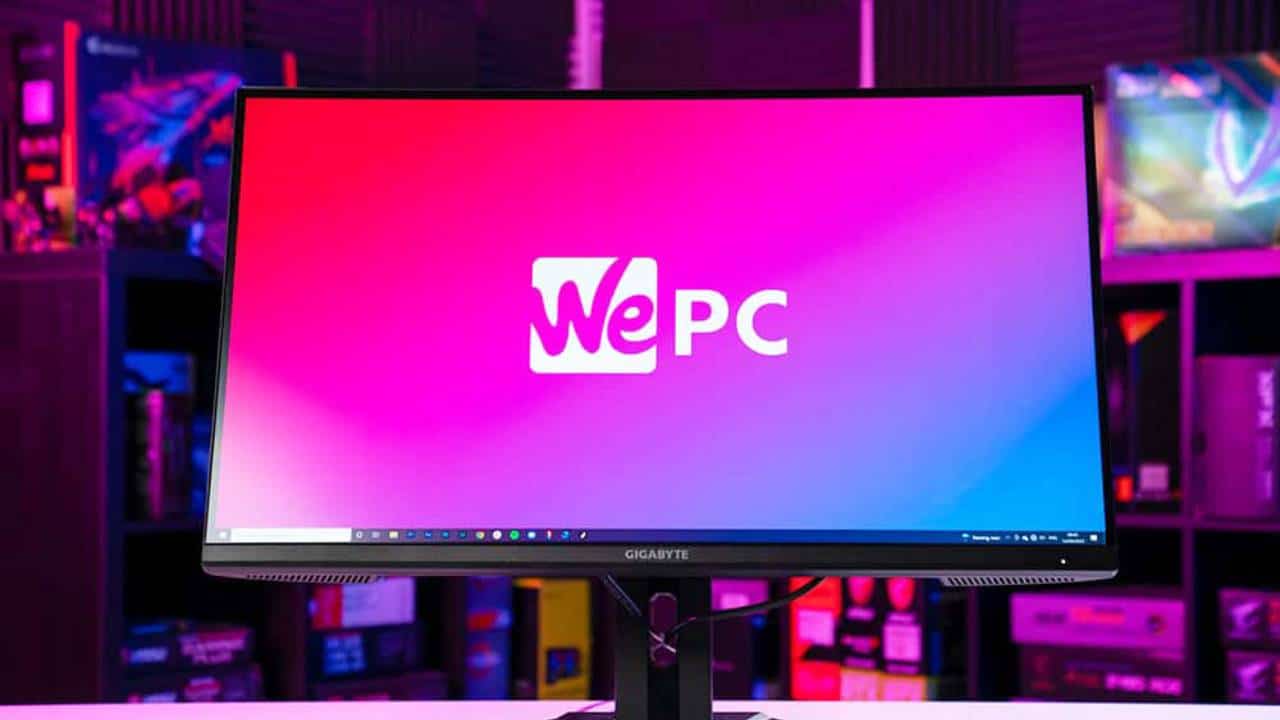 When checking out high-quality monitors, the best 32 inch monitor may come into question. Over the last couple of decades or so, we've seen monitors evolve from small CRTs to stunning larger-format LCDs. During that time, the 32 inch monitor became one of the most popular choices when it came to both gaming and everyday usage. Anyone in a particular hurry should know that the Gigabyte M32U and BenQ Mobiuz EX3210U are two of our top picks right now.
The 32 inch monitor is easily one of the most popular sizes amongst creatives and editors, providing a large canvas for multi-tasking and workflows. That said, 32 inch monitors are still incredibly desirable when it comes to gamers – especially high-resolution 4K 144Hz options. No need to worry though, we keep this guide up to date with the best picks – taking quality, specs, and value for money into consideration.
01

Best 32 Inch Monitor

Gigabyte M32U

02

Best 32 inch gaming monitor

BenQ MOBIUZ EX3210U

03

Best 32 inch monitor for editing

BenQ PD3220U DesignVue Designer Monitor
Today's best Christmas gaming monitor deals
Best 32 inch monitor 2023: in-depth reviews
With today's market offering a sea of 32 inch monitor options, we thought it was about time we create a comprehensive rundown of the best in the market right now. Whether you're looking for an immersive gaming monitor, a color-accurate editing panel, or something that falls in-between, our guide will have a 32 inch monitor that suits your exact needs.
All the monitors we recommend have gone through a strict selection process that considers price, performance, aesthetics, build quality, and overall value for money. You can find the best 32 inch monitors in the following section; we review what makes them worth your time and consideration.
Best 32 inch monitor: Gigabyte M32U
Pros
90% coverage of DCI-P3 color gamut
IPS panel with 144Hz refresh rate
Flicker free technology
Supports HDMI 2.1 interface
Next-gen console friendly
MSI takes the top spot in our best 32-inch monitor guide and for good reason – this panel really does tick all the right boxes. Their Gigabyte M32U is a fine example of a 32 inch monitor that's perfectly balanced for both gaming and everyday use as well. Before we discuss performance, though, let's take a look at the design.
The M32U is part of Gigabyte's new range of products and comes to the table boasting a stylish (yet understated) design that isn't garish nor boring. A sleek and stylish design is accented by thin bezels and a cool-looking V-shaped stand. Gigabyte has kitted the back with some Gigabyte branding but not much else – keeping it as subtle as possible. The stand is both robust and extremely versatile – offering swivel, height adjustment, and tilt.
Looking at the specs, the M32U does not disappoint. It comes to the table boasting a bunch of high-end features geared towards gaming, including; 144hz refresh rate, a 1ms response time, and AMD FreeSync support as well. That's a great combination for a smooth, screen tear-free viewing experience. Better yet, the M32U has been equipped with an IPS (Innolux) panel that produces incredibly accurate color reproduction and great viewing angles to boot.
Speaking of gaming, console gamers will be happy to hear that the M32U also offers full support for 4K 120Hz gameplay thanks to its HDMI 2.1 interface. Overall, if you're looking for a 32 inch monitor that offers great aesthetics and solid gaming performance, all wrapped up in an impressive IPS panel, the M32U should be high on your list of considerations.
Best 32 inch gaming monitor: BenQ MOBIUZ EX3210U
Pros
144Hz refresh rate
4K resolution
1ms MPRT
Cons
Color accuracy is questionable
If you're looking for the best 32 inch gaming monitor, look no further – the BenQ EX3210U is sure to impress. During our time reviewing the EX3210U, we found this monitor performed exceptionally well in most areas, including competitive settings. Unlike other similar monitors, the EX3210U delivered an immersive gaming experience across various genres.
This is mainly thanks to the monitor's 4K screen resolution and 144Hz refresh rate, making it great choice for both console and PC gamers alike. The monitor features a comprehensive OSD that allows complete customization of the visual experience, saving profiles, and setting hotkeys for ease of use.
The fully adjustable stand and well-made build quality add to the monitor's value, although the styling may not be for everyone. Picture quality, color accuracy, and motion handling were premium, resulting in excellent overall gaming performance. Despite initial skepticism, the monitor proved to be one of the better 4K 144Hz options in the market, providing good value for money. While it may not have the latest OLED or mini LED technology, the monitor still performs highly in most scenarios.
Best 32 inch monitor for editing: BenQ PD3220U
03
Best 32 inch monitor for editing
BenQ PD3220U DesignVue Designer Monitor
Pros
Huge screen real-estate
Eye care technology
Large color gamut
Attractive aesthetic
Cons
Refresh rate not high enough for gaming
For the more creative types out there, the BenQ PD3220U is our stand out pick as far as 32-inch monitors go. It offers a refined design and a ton of high-end features to boot. Speaking of aesthetics, the PD3220U loses all of the gaming feel and opts for a more sophisticated look that would sit nicely in an office/workstation space. The fully functional stand offers ergonomic features such as pivot, height, swivel, and tilt adjustment – allowing you to find the perfect viewing angle.
Moving onto the specs is where this monitor really excels. Creatives will be happy to hear this monitor offers 10-bit color, 100% coverage of the sRGB, and Rec.709 color gamuts as well. Pair that with the impressive picture clarity that a 4K resolution offers and the excellent contrast for superb realism.
Another cool feature this monitor offers is the hotkey puck found at the base of the stand. It offers quick changes in picture color, brightness, sRGB modes, and more. Unfortunately, this monitor isn't geared up for any kind of competitive esports. Having said that, if you're into light gaming, the 60 Hz refresh rate will allow for some smooth gameplay in single-player titles. Ultimately, though, this monitor is tailored towards creatives. If you're looking for stunning picture quality, highly accurate colors, and deep blacks, this could be exactly what you're looking for. Interested? Read all about it in our BenQ PD3220U review.
Best 32 inch curved monitor for gaming: Samsung Odyssey Neo G8
04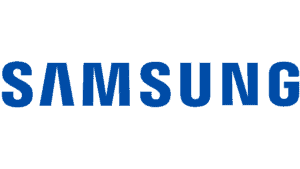 Samsung Odyssey Neo G8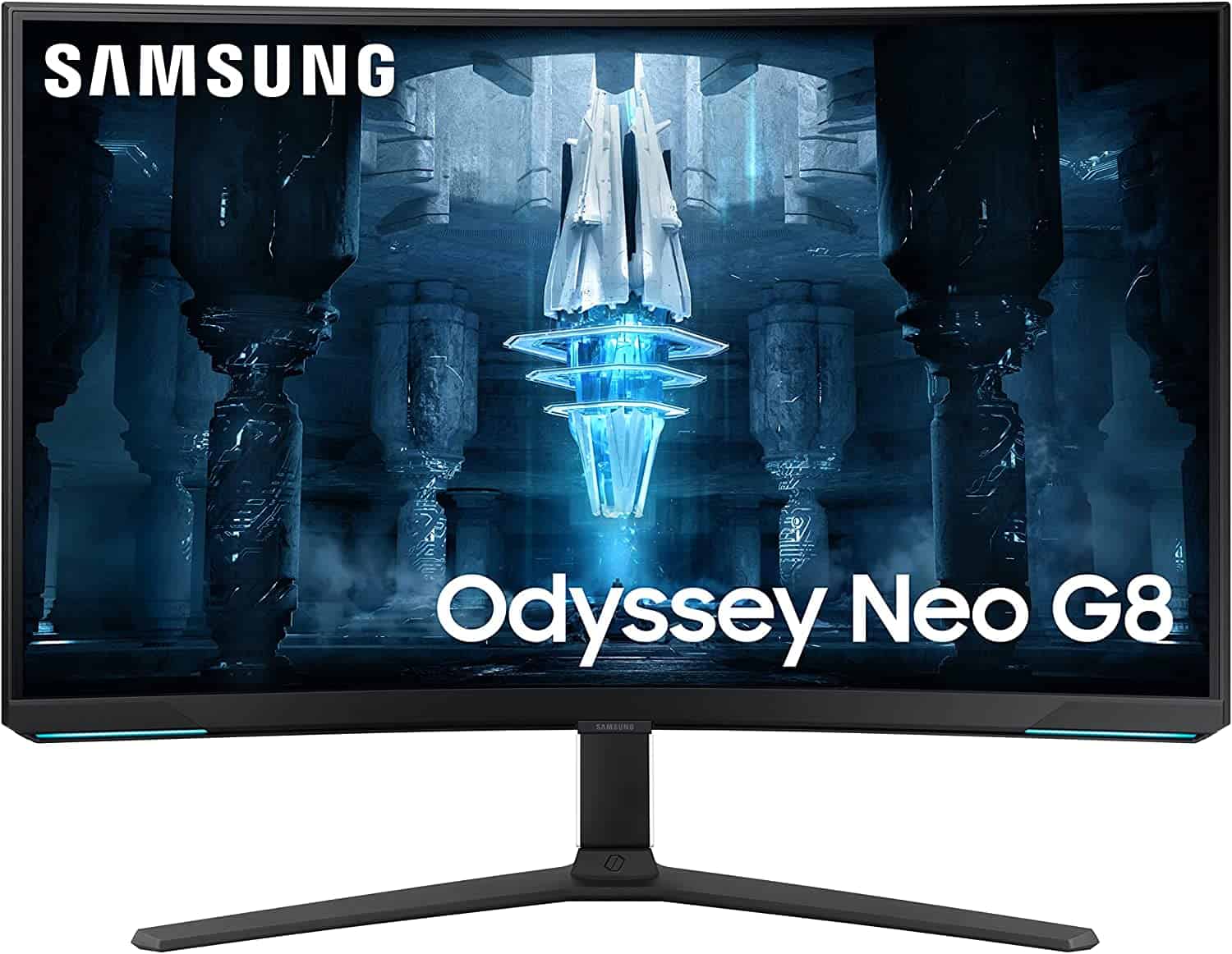 Pros
Best gaming performance with 240Hz refresh rate
High-end VA panel with Mini-LED backlighting
Beautiful 4K display with 2000 nit peak brightness
If you're instead looking for a fantastic curved gaming monitor, then the Samsung Odyssey Neo G8 is the perfect match. The Neo G8 has a lot going for it, and is purpose-built for gaming, featuring a beautiful curved 1000R 4K screen. As you can see from the specs, the gaming performance is top-notch with a 240Hz refresh rate and quick 1ms response time. That's backed up by the visual fidelity of a 4K screen resolution, which is perfect for such a large display like 32-inch.
This gaming monitor really is great for all kinds of genres, whether you want pure immersion to compliment the 32″ display, or competitive FPS gameplay which require snappy reactions which feel natural and fluid. This is again enhanced by the AMD FreeSync Premium Pro on board to provide variable refresh rate (VRR) support – negating any ghosting or screen tearing effects you may overwise experience.
Overall, this is one of the most high-end gaming monitors available right now, before you jump up to ultrawide monitors like you see in the Neo G9 for example. Either way, the Neo G8 is hard to beat at the moment, but it will set you back a pile of cash, and native 4K 240Hz gameplay is difficult to achieve.
Best 32 inch 4K monitor: ASUS ROG SWIFT PG32UQX
Pros
Immersive 32″ display
A low 4ms response time
Great colour accuracy
Large aesthetic design
Comes with G-sync Ultimate technology
Next comes a monitor that falls at high-end of the 4K monitor price spectrum – the ASUS ROG SWIFT PG32UQX. This is a monitor that not only offers a stunning 4K display but also decent gaming performance and color recreation as well. Before we get into that though, let's take a look at the aesthetics.
The ASUS PG32UQX offers all of the stylish quirks and adornments you'd expect from a ROG SWIFT monitor. With an angular stand that offers height, tilt, pivot, and swivel adjustments, the PG32UQX certainly looks like a gaming monitor. Even more so when you consider the stylish color theme ASUS has used. Like most monitors in this guide, the bezels on the ASUS are thin (under 12mm), helping to add immersion and an additional layer of styling.
In terms of specs, the PG32UQX comes boasting a 4K UHD resolution, 4ms response time, and a 144Hz refresh rate all wrapped up in a mini LED IPS panel. Now, even though those aren't the best specs as far as competitive esports is concerned, this monitor is more geared towards slower-paced single-player titles. 4K isn't a resolution you would necessarily use in competitive gaming but is definitely something you'd try with more immersion single-player titles. Pair that with the excellent color accuracy of the IPS panel, and you have a very good gaming experience – if you're capable of driving the 144 frames per second required. It also comes with G-Sync support as well, something you're definitely going to want to use if 4K gaming is something you're interested in. Inputs include HDMI 2.1, DisplayPort, and USB hub.
Overall, a superb monitor that offers great colors and a decent gaming experience to boot – just be careful of that price tag, it's easily one of the most expensive monitors in today's market.
Best Budget 32 inch monitor
06
Best Budget 32 inch monitor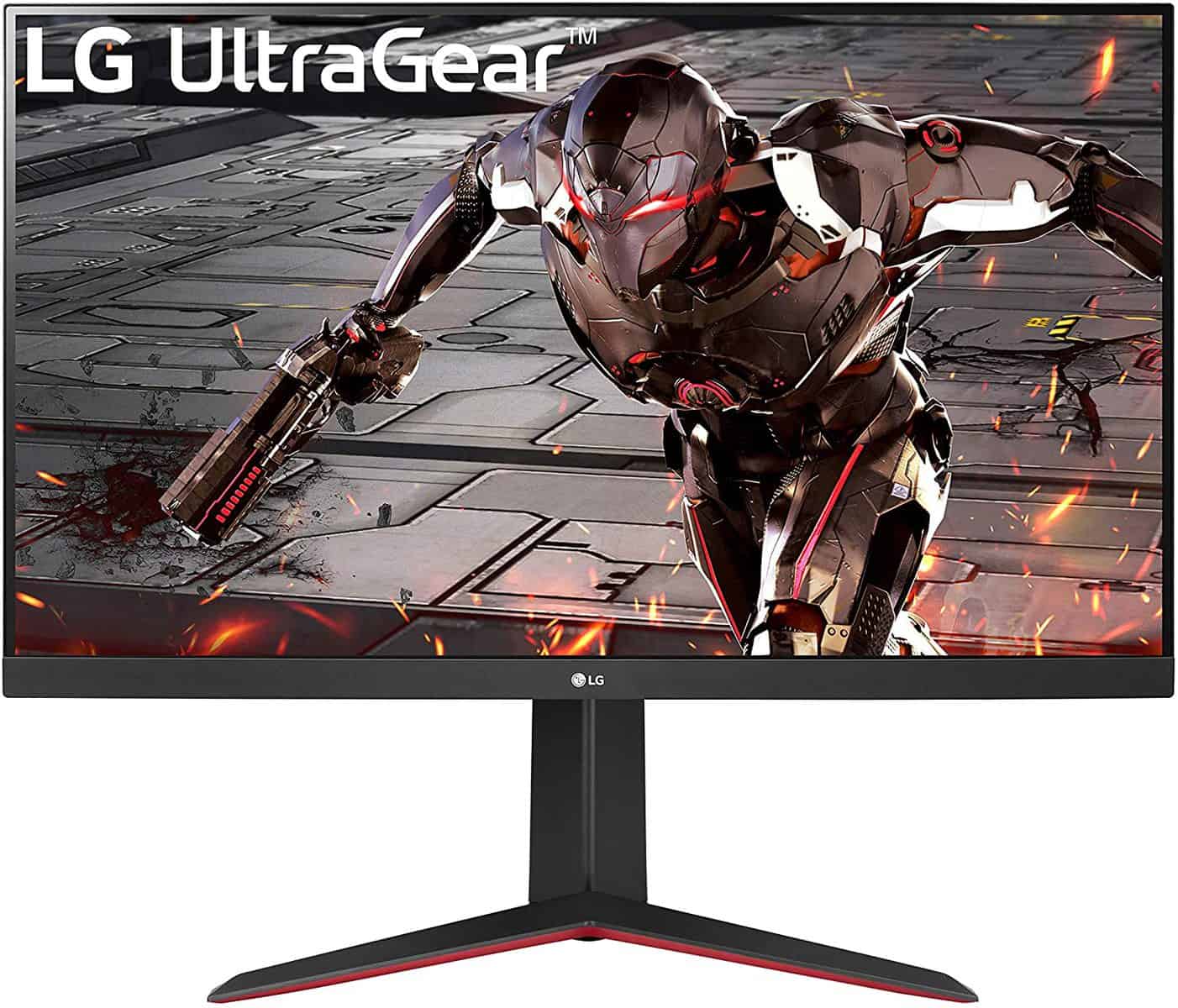 Pros
HDR support
Eye care technology
Freesync
3000:1 contrast ratio
Cons
Low refresh rate for gaming
Next is the LG 32GN650-B, the best budget 32 inch monitor. LG has always provided excellent value for money computer monitors and the 32GN650-B has this factor in abundance. From a design point of view, the 32GN650-B looks incredibly similar to the other LG panels in the UltraGear lineup. The stand is fairly large and offers a stylish V-shaped design, which I really enjoyed. The back is fairly simple, and the stand is quite basic – offering excellent ergonomics and adjustability.
Even though this thing is the cheapest in our guide, it still has a bunch of high-performance features to offer. The stand-out feature, however, has to be the 1440p 165Hz refresh panel at its heart. Not only does it offer stunning picture clarity, but it also gives creatives a huge amount of screen real-estate to work upon. From a gaming standpoint, the LG 32GN650-B is a pretty decent choice if you're looking for a budget 1440p option. With a 165Hz refresh rate and 1ms response time, the LG really does offer a lucid gaming experience that ticks a lot of the right boxes.
The VA panel it's equipped with doesn't offer the best colors nor the best viewing angles, having said that, they're certainly not the worst when you consider the price point.
---
How we test and choose
Whether it's a best-of guide or a single product review, we ensure every monitor we recommend has been through a strict testing process. We don't just search Amazon for the top sellers, we hand-pick the market's best monitors, and each one is tested with the same meticulous care and attention as the last. This ensures that we can present you with the best products the market has to offer and gives our readers confidence that they can trust any gaming monitor we do recommend as having been through the same impartial review process.
As part of the monitor review process, we like to test each for color accuracy, responsiveness, panel uniformity, build quality, and overall gaming performance. We use a number of specifically designed tools to capture the data for each monitor, ensuring only the highest levels of accuracy are recorded during testing. This process allows us to hand-select the best gaming monitors from both a performance and value standpoint, whilst also enabling us to compare the latest models with last season's best sellers.
Click here if you want to see our in-depth explanation of how we test each and every monitor.
Things to consider
When it comes to buying the best 32 inch monitor for your specific needs, there are a few factors you must consider. By taking the time to learn and compare these elements, you'll ultimately save yourself a ton of time when it comes to purchasing your next panel. You might even save yourself a chunk of cash along the way as well.
Below are the most important factors to consider when looking to purchase a 32-inch monitor. Let's dive straight into it:
Panel types
Almost every modern-day gaming monitor has been manufactured based around a TFT-LCD (thin-film transistor – liquid crystal display) technology. There are a bunch of different technologies to choose from, and each one has its own set of pros and cons. Each panel type also performs differently in unique scenarios. For example, some panel technologies offer faster responsiveness, whereas others come to the table boasting better viewing angles and better color accuracy.
The three main panel types that are used within today's monitors are TN (Twisted Nematic), VA (Vertical alignment), and IPS (In-plane Switching). To better understand the pros and cons that each come equipped with, take a look at the table below: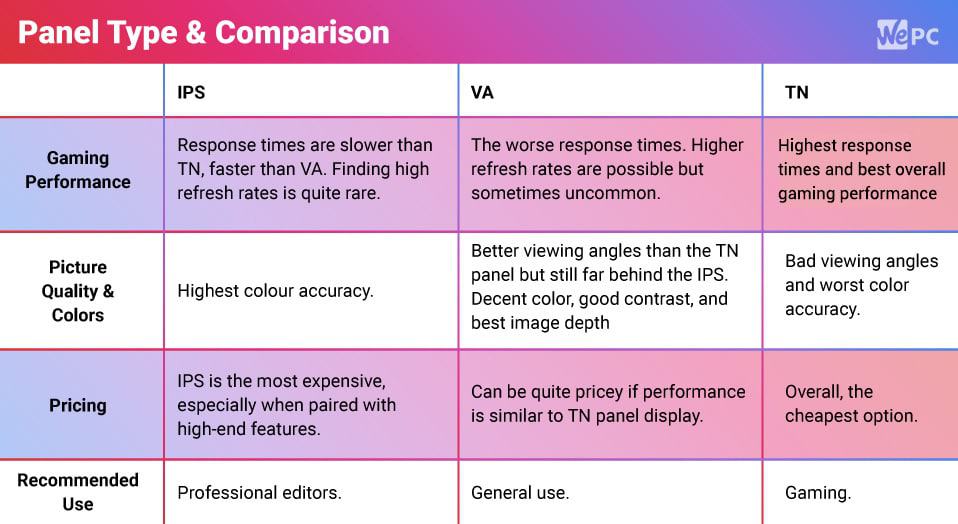 See our full IPS vs TN vs VA comparison here.
see our best portable monitor guide here.
Refresh rates
One of the most, if not the most important factor when it comes to a monitor (especially one for gaming), is the refresh rate. Refresh rate is displayed in Hz (hertz) and is a way of measuring how fast the monitor in question can refresh the image it's displaying. Refresh rates vary in today's monitors and can range from 60Hz up to 360Hz, respectively.
Refresh rate guides:
As a general rule of thumb, a faster refresh rate is usually better. Having said that, some scenarios really don't require a speedy refresh rate at all. Let's take a closer look at some of the most popular refresh rates out there and see which are suited to what tasks:
60Hz is ideal if you plan to use your monitor for:

Everyday usage – emails, Google, etc
Office work
Creative workflows
Old school gaming that isn't fast-paced

144Hz is ideal if you plan to use your monitor for:

Fast-paced FPS titles in particular – CS2, PUBG, CoD

240Hz is ideal if you plan to use your monitor for:

Competitive esports
Playing games on a high-end gaming rig that can produce 240Hz in numerous titles

360Hz is ideal if you plan to use your monitor for:
Response time
Response time is another important factor in gaming monitors. It's the 2nd part of the gaming spec triad, and it tells us how fast the monitor can change the color of its pixels – usually using the GTG (gray-to-gray) transition.
Response time can vary dramatically depending on the quality of your monitor, but most showcase at least a 5ms response. As a general rule, the faster the response time, the better the monitor will be for gaming and fast-moving imagery. Lower response times are susceptible to visual artifacts such as motion blur, so faster is generally more desired by most parties. Having said that, a lot of monitors these days come with motion blur reduction technology or low response time anyway.
Ultimately, general users should aim for anything below 5ms. If you're into competitive esports at a high level, maybe opt for something closer to 1ms instead.
Check out our complete guide on overdrive.
Screen resolution
Screen resolution is a huge factor when it comes to a monitor purchase as it affects gaming performance, price, screen real-estate, picture clarity, and the graphics card you'll need. It's hugely important for most types of users and needs to be carefully considered depending on what you plan to use your monitor for.
The resolution is an indication of how many pixels your monitor is able to support. I.e., a monitor that offers a 1440p resolution (2160 x 1440) displays 1440 pixels vertically by 2160 pixels horizontally. Compare that to a 4k monitor (3860 x 2160), which can display 2160 pixels vertically by 3860 horizontally, and you soon start to understand why a 4K display has better image quality.
It's not all about picture quality, though. When you change the resolution settings of the game you're playing from 1080p to 4K, you are physically asking your PC to handle much more graphical data. This will have a huge impact on the performance of your gameplay. So make sure your PC has the performance power to handle that boost.
FreeSync and G-Sync
FreeSync (AMD) and G-Sync (Nvidia) are adaptive sync technologies used within today's monitor to help increase the smoothness of gameplay and reduce screen tear. They do this by synchronizing the refresh rate of the monitor to the frame rate of the game your playing. This, ultimately, almost fully eradicates screen tearing and improves smoothness dramatically.
That being said, there are some factors to consider when you look to buy a monitor that's been equipped with this tech. Firstly, is the FPS your computer provides in-game. Even though adaptive sync technology operates within a range of 40Hz to 144Hz (in most cases anyway), you should still aim to hit at least 144FPS to experience the best results. If you're gaming at 40FPS, adaptive sync technology will help smoothen out your gaming experience. However, you'll still effectively be getting 40FPS. Want to experience the best of FreeSync and G-Sync, make sure your PC is up the test first.
What should my budget be?
Finally, we have the budget. Just because we've left this till last doesn't mean it's the least important factor – quite the contrary. It's probably the main contributing factor when it comes to a new product purchase.
When it comes to a monitor purchase, you need to ensure the panel you're considering showcases good value for money. A lot of monitors in today's market are grossly overpriced, finding one that isn't can be a little tricky.
Below we've outlined some simple guidelines regarding different price points and usages so that you don't find yourself purchasing an overpriced monitor:
Low-end gaming monitor – $0-250
Mid-range gaming monitor – $300-450
High-end gaming monitor – $500+
Office monitor – $100+
Entry-level editing monitor – $200
High-end editing monitor – $400+
Low-end ultra-wide monitor – $250
High-end ultra-wide gaming monitor – $700-1,000+
Low-end 4K monitor – $300
High-end 4K monitor – $700+
Why buy a 32 inch monitor?
32-inch monitors tend to be great for people that have a bit more desk space and want to be able to fit a lot of things onto their screen simultaneously. If you find yourself often working with a great number of different tasks, having a bigger monitor with a larger resolution will improve your efficiency.
However, 32-inch monitors aren't exclusively suited for creatives, editors, and multi-taskers. They're fantastic for gamers too. These days, 32-inch screens come with as good a set of specs as their smaller counterparts, so don't worry about missing out on anything. As long as you have the means and space for one, a 32-inch monitor is sure to serve you well; it's the ultimate addition to a solid PC setup.
32 inch monitor FAQs
Are 32 inch monitors too big for gaming?
If you want to play single-player titles – and some competitive games for that matter – a 32 inch monitor is a perfectly fine choice. Of course, it all comes down to the specification of the monitor in question. If a 32 inch monitor offers a fast refresh rate, low response time, and decent pixel density, you can achieve a very respectable gaming experience from it.
However, you won't see competitive esports players using these panels as they can be difficult to drive higher-end frame rates. If you want the smoothest gaming experience, you want to get the most frames possible – and that often comes with a smaller 24-27 inch 1080p panel.
How far to sit away from a 32 inch gaming monitor?
The experts say that an individual should sit between 1.5 and 2.5 times the diagonal measurement of the display you're looking at. This should give you the most comfortable viewing experience with little eye strain or neck issues.
What is the best resolution for 32 inch monitors?
The ideal resolution for a 32 inch monitor is 1440p – offering up good picture quality and pixel density. However, 32 inch monitors are perfectly adept at utilizing the 4K UHD screen resolution, with little detail loss due to a high pixel density.
Is 1080p full HD enough for 32 inch monitors?
If you're viewing a 32 inch monitor with a 1080p screen resolution you will be able to noticeably see the image degradation – due to low pixel density. While it is possible to use a 1080p 32 inch monitor, it is a much worse viewing experience than both 1440p and 4K.
Is 32 inches good for a monitor?
That all depends on what you plan to use the monitor for. However, generally speaking, 32 inch monitors create more immersion during gameplay and provide excellent clarity when watching movies. 32 inch monitors are also very versatile, offering up great desktop real estate for creatives and editors.
Is there are big difference between 27 inch and 32 inch monitors?
Well, I ain't the best at maths… but I'd say around 5 inches. Jokes aside, there actually is a good amount of difference when comparing the two main monitor sizes. Firstly, the pixel density of a 27 inch monitor will be completely different than that of a 32 inch monitor using the same screen resolution. That's why 32 inch monitors are utilized more often with the 4K screen resolution.
Furthermore, 32 inches produces more immersion and creates additional desktop real estate which is great for having multiple windows open at the same time.
Final Word
So, there you have it guys, our comprehensive breakdown to the best 32 inch monitors currently available right now.
It was a pretty tough task picking out five of the best, mainly because there is a tonne of 32 inch monitors to choose from in the modern-day. However, we feel the monitors we did recommend showcase the best performance, aesthetics, build quality, and value for money as well.
Let us know what you thought of our guide by leaving us a comment in the section below.
---