Battlefield 2042 cross-gen explained — next-gen dual entitlement
Electronic Arts is the next developer to make our skin crawl with the phrase dual entitlement.
Updated: Oct 8, 2021 5:22 pm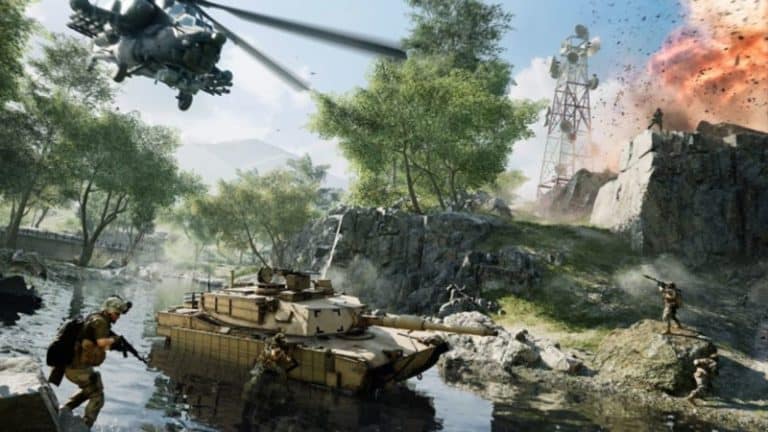 Battlefield 2042 cross-gen details have been confirmed, and they're using next-gen dual entitlement distribution model made popular by Activision, Sony and PlayStation Studios. The game is coming out on Xbox One, Xbox Series X/S, PlayStation 4 and PlayStation 5, which has had gamers wondering how the game will handle cross-generation support on each platform. Sadly, it's now been confirmed that Battlefield 2042 does not use the revolutionary Smart Delivery feature on Xbox, and will instead require an additional fee.
You can get out of that fee (sort of, but not really, as next-gen versions cost more) if you buy the Xbox SX, Xbox SS and PS5 digital editions of the games, which will include copies of the game for both current gen and last gen.
So, how will EA handle Battlefield 2042 cross-gen upgrades?
Upgrades to the current generation versions of Battlefield 2042 from older consoles like PlayStation 4 and Xbox One sadly won't be free. EA have confirmed that "Dual Entitlement" —ick— will provide older versions of the games to those that mostly don't really need them, while last-gen players will have to buy the game again if they'd like to feel the advantages of the newer machines when they eventually get them.
The difference in price is roughly $10, which is the gap in price between the two $60 and $70 game versions, but we're still wondering what we're paying extra for at all — and no upgrade path? Really, EA?
Previously, it was announced cross-gen "Dual Entitlement" would only come with the Gold and Ultimate Editions of Battlefield 2042, but a package upgrade was announced on the EA Answers HQ by Adam Freeman from DICE. The announcement read as follows:
"We realize that for many, next gen hardware is still hard to come by.
We want as many Battlefield fans as possible to start the journey with us on day one, and we want to give those players the peace of mind that their progress carries over if they get a new system this holiday season, or beyond.
Battlefield 2042 supports full cross progression, and alongside our Digital editions of Gold, and Ultimate, the Digital Standard Edition on PlayStation 5, and Xbox Series X|S is also now able to access the Cross-Gen Bundle.
So if you've already pre-ordered the Digital Standard Edition on new hardware, you're automatically being upgraded to also receive access to the previous generation of the game.
If you're otherwise still playing on older hardware, and are on the fence as to what version of the game you might want to buy, here's a new option for you – we hope it helps!"
As people who have played a video game on PC, paying more to use the power of your new hardware will always feel a bit ridiculous to us. Basically, we hope that "Dual Entitlement" goes away. Long live Smart Delivery!
---