Windows 11 gets new video editor and search features in insider dev build
Windows 11 is getting some exciting new features
Updated: Mar 11, 2022 11:11 am
Premiere Pro not up to snuff? Long are you yearning for the days of Windows Movie Maker with its iconic deep blue background and shonky transitions? Well, Microsoft is adding a host of new features in the latest insider preview build. since Microsoft's own built-in video editor in Windows 11 isn't quite up to scratch, Microsoft has been hard at work making yet another of those acquisitions that we keep hearing about, but this time they've purchased Clipchamp, a browser-based application that allows you to get up-close and personal with the content that you're cutting. In addition to this Microsoft has also made a number of improvements to other areas of the OS, too.
Clipchamp video editor
The app allows you to trim, split, transition and even screen-record your desktop to make life a little easier if you're not dedicated enough to be using a paid-for solution like Premiere. Apple has long since been the king of casual video editors, but Microsoft, adamant about not falling behind is now going to include Clipchamp in the list of default Windows 11 apps. Since it uses intuitive features like multi-track audio, Azure-powered text-to-speech solution and more, which all allows you to get the most out of your videos, and edit them like a pro.
This is pretty huge, as Microsoft has always lagged behind its competitors, mainly Apple, when it comes to packaged creative software, there's a good reason why many creatives default over to a Mac, and the pre-packaged software is a huge part of that. Windows will never be what MacOS is, but they are looking to equal the footing somewhat, especially now as content creation for various platforms becomes much more widely used amongst most people, instead of simply being restricted to the professionals. This is not only a good thing for Microsoft, but also good for any budding creatives who might want to try their hand at something that looks and feels like a traditional video editor, without having to actually commit to using one, or shell out for a hefty subscription.
Clipchamp may have some elements of monetization built into it, however, which could undermine its usage when it comes to people looking for a little bit more than what they are getting. Many casual users will simply default to editing apps that they can find on their phones, instead of opting to port the footage over to their desktop and edit from there. So, it's a strange space for Chipchamp to inhabit, but getting in Microsoft's 'inbox' of preinstalled apps will undoubtedly do wonders for their user numbers, and potentially their revenue, if enough people actually find Chipchamp to be useful.
Search improvements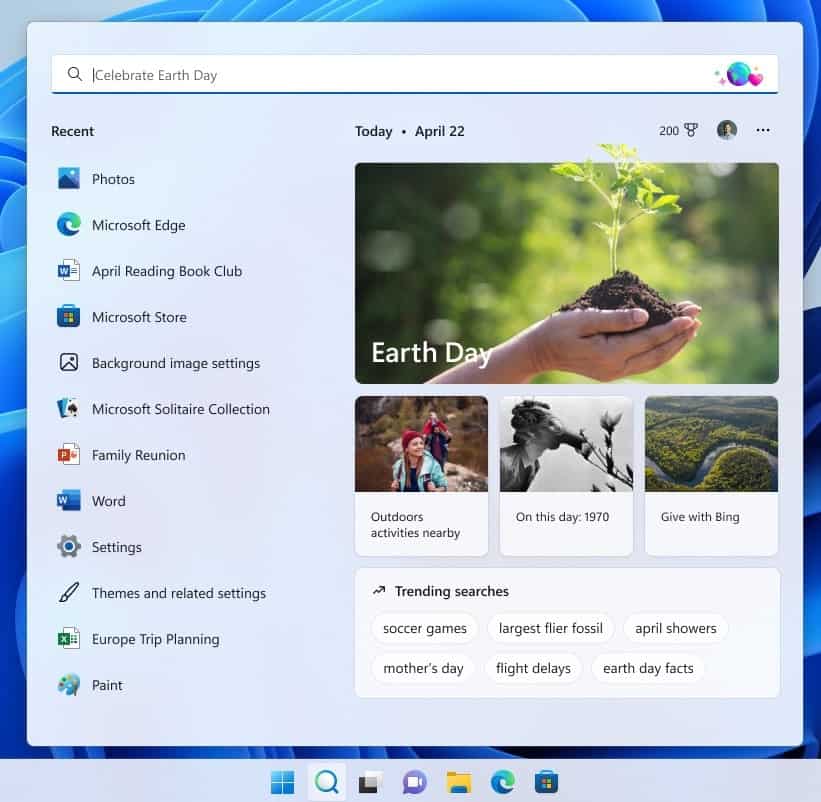 But, that's not all for Microsoft's bevy of new features coming to Windows 11, they're also changing up the search function, allowing you to see more highlights and files, synced up to your calendar. This is great news to those who use the Microsoft suite of applications and utilities, but for the rest of us, this is very much pretty superfluous.
As these changes begin to roll out to users over a number of months, dependent on their location, you can expect to see more out of Windows 11's features as the OS matures. Microsoft may have lifted the lid on this one a little bit early, but you can expect them to continuously provide updates to the OS that give us some new funky fresh functionality as it matures into the 'default' OS for most new users looking to build a new system.
Unfortuately, this interstitial portion of search could also give Microsoft the opportunity to sell advertorial, or advertising space in general, we're hoping that Microsoft actually gives users less intrusive advertising or even no advertising at all. This is a prime position for interstitial advertising, tucked somewhere many users won't think to find. But, it could be used in a helpful manner, and deliver content relevant to the user's settings or history, if you've given Microsoft access to those things.
If they use these search functions to see what apps you've opened, like the Xbox app for example, then shows you an advert for a new addition to Xbox Game Pass, that's pretty perfect, and a pretty harmless ad. But, if instead we begin to see adverts for a new set of speakers, or some sort of VPN software, essentially acting as some sort of display ad, then we'll be less than impressed. Regardless, these features will be tweaked and changed as it rolls out, so we're like to see some sort of experimentation when it comes to these new changes to Windows 11.
File Explorer changes
One of the handiest things about this latest Windows 11 update is the fact that you'll now be able to get a tabbed version of the File Explorer once again, so you'll not be having to mess around with flicking between tens of windows looking for that single file you're actually looking to copy over to somewhere. This is one of those major quality-of-life improvements that you shouldn't turn your nose up at, since such a small change can make such a big difference when it comes to actually make this OS work well for you, and gradually increase adoption among enthusiasts in addition to the casual audience.
There's also a big list of improvements that can be found if you're looking for them in the form of various bugfixes and stability changes, but reegardless, its great to see that Microsoft is looking to continually improve on the OS, and making refinements that we will hopefully see bear fruit once more of the userbase is essentially forced off of Windows 11 to join them. If you are looking to upgrade over to Windows 11, now might be one of the best times to do it, as you will be able to experience these new, flashy updates as and when they roll out to all users. Though, you might have to put up with more than a few of the teething problems since the OS is still essentially in its infancy.
Looking for a new GPU? You might be in luck with the following:
---