XMG RTX 3070 Ti, 3080 Ti laptop reveal plus OASIS external water cooling
XMG announce new 2022 versions of their premium NEO 15 laptops, with the latest GPUs, 240Hz QHD displays & external cooling
Updated: Feb 10, 2022 10:22 am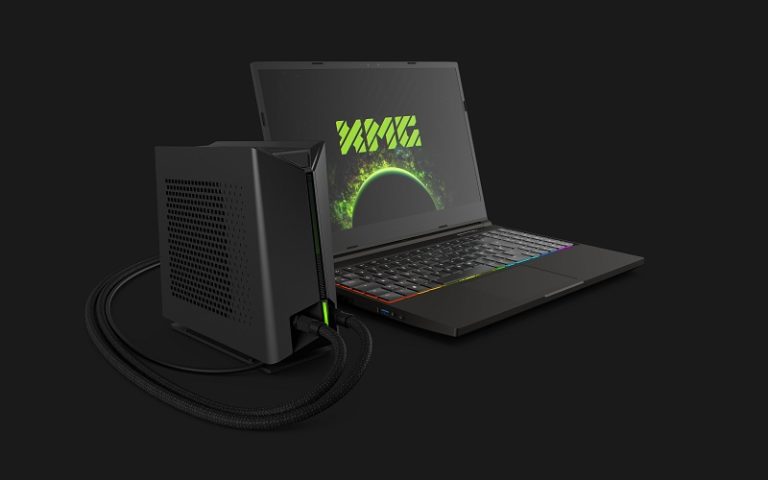 Update: Read our review of the OASIS water cooling system and XMG Neo 15 / Eluktronics MECH-15 G3 gaming laptop with RTX 3070 Ti.
XMG is one of the best gaming laptop brands around for those looking to get the most raw gaming performance out of their laptops, and the company has just announced RTX 3070 Ti, RTX 3080 Ti versions of its XMG Neo 15 (E22), which all come with a new 12th Gen Intel CPU. Each will also have the option of a new 240Hz QHD screen as well, which is great news for gamers. Not only this, but there is an additional surprise in the form of external water cooling.
Neo 15 RTX 3070 Ti and RTX 3080 Ti laptop performance
The 2021 iteration of the XMG Neo 15 is one of the best gaming laptops we've reviewed, with some of the most powerful, high TGP laptop graphics cards you can find, capable of churning out impressive FPS even in the most demanding games. Indeed, the Nvidia GeForce RTX 3070 option has performance that equals that of many RTX 3080 laptops, such is the high voltage power of the machine.
As a result, we're very excited about the possibility of getting our hands on the RTX 3070 Ti and 3080 Ti versions to see just what they're capable of. With various laptop brands announcing 2022 releases of updated models with these new laptop graphics cards, it will be interesting to see whether or not XMG can continue to offer the most high performing options.
All the above will come equipped with the powerful new Intel 12th gen Core i7-12700H CPU, which should complement the GPUs nicely. See below for a comparative list of the specs of each GPU variant next to their existing counterparts and what we know about pricing. Note that we expect to see E22 variants of the RTX 3080 and RTX 3070 laptops at some point as well.
XMG Neo 15 model specification comparison
| generation | CPU | max CPU power | GPU | max GPU power | approx starting price |
| --- | --- | --- | --- | --- | --- |
| E22 | Intel Core i7-12700H | 115W | RTX 3080 Ti | 175W | unknown |
| E21 | AMD Ryzen 9 5900HX | 54W | RTX 3080 | 165W | €2,600 |
| E22 | Core i7-12700H | 115W | RTX 3070 Ti | 150W | €2,500 |
| E21 | AMD Ryzen 9 5900HX | 54W | RTX 3070 | 140W | €2,200 |
| E22 | Core i7-12700H | 115W | RTX 3060 | 130W | unknown |
240Hz QHD laptop display
One of the very few drawbacks of the XMG Neo 15 (E21) that we reviewed was that the 2560 x 1440 QHD display version was capped at a 165Hz refresh rate, with those looking for something faster having to opt for the 1080p 240Hz version. Well, with the E22 generation, XMG has now upped the refresh rate of the 2560 x 1440 model to the same 240Hz, giving flexibility for those who want to both maximize their frames in competitive gaming and also enjoy a crisper, hi-res image in slower-paced games or for multimedia/creative use.
XMG OASIS external liquid laptop cooling
Along with the latest Neo 15 models, XMG has also unveiled a new product aimed at helping squeeze the maximum amount of performance from its high-end gaming laptops – an external water cooling solution. Named OASIS, the device works by plugging its liquid tubes into the back of the new XMG Neo 15 laptop, connecting it to the pipes which run through the inside of the body of the laptop, and connects via BlueTooth to their internal software, enabling detailed control of the pump speed.
Rather than water, the OASIS uses its own custom green cooling liquid. XMG claims up to -20 C temperature reduction when using the device, which should help to reduce any thermal throttling on the highest powered graphics cards (the RTX 3080 Ti in particular), maximizing FPS in-game. Additionally, internal fan speed when using the external cooling can be reduced by up to 50%, making for a quieter gaming experience and putting less stress on the laptop's internal components.
The company also makes clear that (in its own words) the inclusion of the internal piping will not noticeably interfere with those who just want to use the onboard cooling of the new Neo 15s, and that the use of the OASIS is not a necessity, but rather an optional extra: "Compared to last year's model, the number and diameter of the air cooling heat pipes have remained constant. Overall, the air cooling has even improved again, as even stronger fans with 71 fins are now used (previously: 67 fins)."
Will external laptop cooling be worth it?
It remains to be seen whether or not the XMG OASIS, which will retail for up to €200, will be worth the asking price or not in terms of its performance uplift. At a dry weight of 1.18kg the pump isn't particularly heavy, but will definitely be more cumbersome to carry than just a laptop, and we can't see it fitting into a conventional laptop bag. Still, for those looking for desktop-replacement performance, it could be the answer if you're struggling to find a desktop PC with RTX 3080 or higher, or those who want the extra flexibility a laptop provides outside of gaming.
We do like the way XMG are pushing the envelope in terms of gaming laptop performance though, and the company has so far earned our trust. We're really excited to get our hands on this piece of kit and see what it can do.
---