Dedicated Vs Integrated Graphics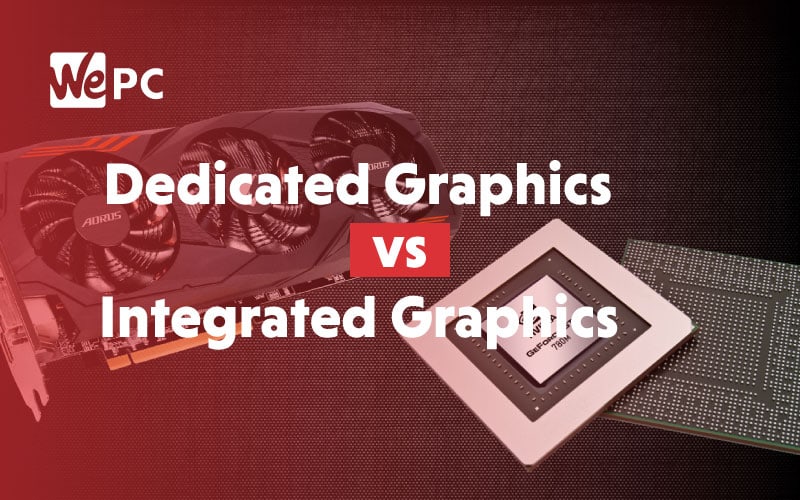 When it comes to graphics, there are two main types; dedicated graphics, and integrated graphics. Laptop users and budget builders will have come across the term "integrated graphics" before, with it basically meaning the CPU features some level of onboard graphics ability.
So what is the difference between dedicated and integrated graphics? To help find out what your graphical needs are we are going to first go over exactly what dedicated and integrated graphics are. This article aims to assist you in your decision and what you need to know before making that all-important purchase or upgrade.
What are Integrated Graphics?
Integrated graphics refers to a computer or CPU that uses the onboard graphics. Integrated graphics can be useful for PCs that don't need powerful graphics cards and can also save a lot of space; especially if you are buying a laptop.
Intel Integrated Graphics
HD Graphics 630
UHD Graphics 630
Product
Details

Intel i9-9900K

core threads: 8/16
speed: 3.6GHz/ 5GHz
socket: LGA1151

Check Current Price

Intel Core i7-9700K

core threads: 8-8
speed: 3.8GHz up to 5.1GHz
socket: LGA1151

Check Current Price

Intel Core i7-8700K

core threads: 6-12
speed: 3.7GHz up to 4.7GHz
socket: LGA1151

Check Current Price

Intel i5-9600K

core threads: 6-6
speed: 3.7GHz up to 4.6GHz
socket: LGA1151

Check Current Price
While integrated graphics will save you a lot of money (hundreds of dollars), they do come with a massive downside, and that is a lack of graphical power. It's true, integrated graphics have greatly improved in recent years, but they are never going to be good for anything more than casual gaming at low FPS and general computing.
AMD Integrated Graphics
Depending on the game you can get some good gaming experiences from integrated graphics, and they are more than good enough for 4K video. Graphic intensive programs and games will be very taxing on your computer, though, and this is partly down to the integrated graphics sharing memory. Integrated graphics don't have the luxury of their own memory like a dedicated graphics card, so they will need to share your systems. While sharing is generally fine, it is worth noting that you will have less memory for general tasks if you use integrated graphics.
Most Intel CPUs feature integrated graphics while only specific AMD CPUs (APUs) have this technology.
What are Dedicated Graphics?
A dedicated graphics card is a piece of computer hardware that plugs into the motherboard and manages the graphical processes of the computer. The dedicated card features a GPU (graphical processing unit), video RAM, and some fans for cooling. Because a graphics card features its own RAM onboard, it can leave your system RAM for other tasks.
Graphics cards, especially high-end ones, usually come with a high price point. While being expensive, they also consume a lot of power and generate a lot of heat, so extra thought is required in regards to airflow.
The Best Dedicated Graphics Cards
Product
Details

ASUS ROG Strix GeForce RTX 2080TI – 11GB

clock speeds: 1650 MHz
vram: 11GB GDDR6
memory bus width: 352- bit

Check Current Price

MSI Gaming Geforce RTX 2080 8GB Gaming X trio

clock speeds: 1515Mhz - 1860 MHz (OC Mode)
vram: 8GB GDDR6
memory bus width: 256-bit

Check Current Price

ASUS ROG STRIX RTX 2070 8GB Overclocked

clock speeds: 1410 MHz - 1845 MHz
vram: 8GB GDDR6
memory bus width: 256 Bit

Check Current Price

XFX Radeon Rx 5700 XT 8GB

clock speeds: 1605 MHz - 1755 MHz
vram: 8GB GDDR6
memory bus width: 256 Bit

Check Current Price
For any gamer looking to get a high amount of FPS (frames per second) in a game, you are going to want a dedicated graphics card. This goes for anyone looking for enhanced detail (nice looking graphics) as integrated graphics will only give you a basic graphical experience. Even if you only plan on some casual gaming, or just plan on using that PC for work-related tasks, it can still be a good idea to get a graphics card. There are many different models of graphics cards available with varied power and prices. An old graphics card could be enough to power your system for your needs while also being relatively cheap.  You often see dedicated graphics cards in mid to high-end system builds and in most gaming laptops too.
As mentioned earlier, dedicated graphics simply means better graphical performance. Even the lastest integrated technology can't compete with a dedicated GPU unless you haven't upgraded for a very long time.
Dedicated graphics cards use a lot more power than their integrated counterparts and can obviously get quite hot in the process. Under heavy load some graphics cards can get close to 100  Degrees Celcius so will need adequate airflow in the case to prevent any damage. If gaming isn't your primary interest, then a CPU with integrated graphics can be a much more efficient choice.
If you have ever used a laptop, then the chances are you have experienced integrated graphics at work. While gaming laptops will almost always feature a lower profile graphics card, normal laptops use a powerful processor with onboard graphics to get the job done. The main reason why we see the use of integrated graphics in most low-end systems and laptops is thanks to the fact its a cheaper option.
Dedicated Vs Integrated, Which Should you Choose?
This decision ultimately depends on what you are going to use your PC for. Most, if not all, modern computing tasks such as browsing the web, document creation, and watching media files can be handled with ease from integrated graphics. Gaming, video editing, and rendering can require a significantly higher amount of power, so a graphics card that meets those needs would be the better choice.
In the end, the choice is up to you but for anyone who values a bit of gaming time, get a dedicated GPU!