Private Internet Access: Get 83% off total anonymity this Black Friday
Private Internet Access is offering 83% off its 2-year plan this Black Friday
Updated: Nov 22, 2022 12:59 pm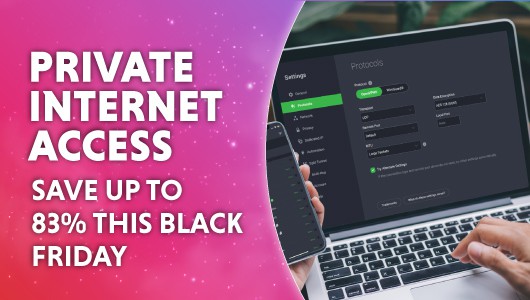 Private internet access is the world's most downloaded VPN application, with over 15 million satisfied customers worldwide. If that impressive metric alone hasn't sold you, let us delve into a little about what makes PIA tick.
WePC Exclusive: Get a 2-year VPN plan plus 4 months FREE with PIA for an 83% discount here. 
Private Internet Access is a VPN provider that has more than 10 years of experience providing Virtual Private Networks to millions of satisfied users. Calling PIA a VPN provider is almost selling it short, as this is one of the most advanced, easy-to-use, and comprehensive VPN services we have ever seen here at WePC.
Private Internet Access – 2 Year plan
Country server locations
over 83 countries
Logging type
NO logging whatsoever
Over the years, PIA has done nothing but build upon, and improve its services and security. This year is no exception, with PIA introducing a plethora of new features with versions 3.2.0 and onwards, with the most recent update being v3.3.1 on April 06, 2022, as of the time of writing.
---
What is a VPN and why do I need one?
That's an incredibly good question, and there are two main reasons you might want to consider subscribing to a VPN. These reasons are privacy or getting bored of your own country's streaming services, and wanting to take a peek at what's on offer overseas.
Let's break down these two reasons to allow you to consider whether they line up with your use case.
Privacy
The internet never forgets, everywhere you go your data is being tracked, logged, and utilized. Whether that be for completely innocent targeted ads, or something more nefarious. This happens everywhere to an extent and unfortunately, is the curse of the modern world. It would be nice to have a little privacy. Wouldn't it?
A VPN provides you with that privacy, it does this by masking your data and making sure nobody other than you and the recipient of that data, whether that be a website, your bank, or a friend, knows what's what.
There's a bunch of complex mumbo jumbo that goes on to make this happen, and we'll get to that in a minute. But for now, all you need to know is that internet privacy is a very valuable thing in this day and age.
Streaming services
We've all done it, had a little too much free time during Covid, and completely finished Netflix. Now, what are you supposed to do in your free time? Well, PIA's VPN allows you to connect to the streaming services you love, whilst appearing to the system to be in a different county.
The result of this spoof is that your streaming service of choice gives you all the programming intended for the country you are pretending to be in. Possibly stuff that isn't available in your country.
You pay for the whole of Netflix, so you should be entitled to use it!
---
How does a VPN work?
A VPN is a Virtual Private Network, as we now know. The way it works is the VPN routes your traffic through an encrypted tunnel to another server (or multiple servers). These servers act as intermediaries between you and the destination of your data.
This means that neither your Internet Service Provider nor your network administrator can log or track your data. It also keeps those pesky hackers from launching things like MIM attacks on you.
This is also beneficial for locating yourself elsewhere in the world, as the servers can mask your true location and virtualize it to anywhere you desire. This is all thanks to PIA's 100+ server locations.
---
Don't criminals use VPNs?
Maybe, Criminals also sometimes use cars to commit crimes, but that doesn't mean you popping to the shops in one to get a pint of milk should be seen as a suspicious act. VPNs are not a sign you're doing anything illegal online, it's a sign you're wise enough to want your privacy.
---
What's new with Private Internet Access?
There have been some vast improvements over the years to PIA's services and technologies. And these are some of the latest and greatest features PIA offers to you when you sign up for its next-gen VPN service.
This information comes directly from PIA themselves.
Independent audit by Deloitte
Deloitte conducted an audit on PIA and found that its servers and services are completely private, and not designed to pinpoint users or track their activities.
Server upgrades to 10gbps servers and covering more countries/locations
PIA has upgraded the network cards in their servers to a 10Gbps network card, as opposed to a 1Gbps network card. Theoretically, this offers the potential to operate at 10x the speed as before.
Speed improvements and more co-located servers
Thanks to improved MTU probing features, PIA has improved connection speeds for VPN connections across the board. And with the introduction of co-located servers, can provide stronger and more stable connections across PIA's most in-demand locations.
Improvements to split tunneling on all client apps
Split tunneling is a core feature of VPNs and is one that's difficult to get right, that's why PIA has worked tirelessly to perfect its split tunneling technology.
PIA is one of the very few VPN services to offer more advanced split tunneling features. Such as
Inverse split tunneling
This is the opposite of traditional split tunneling. Users can choose the apps that go through the VPN rather than bypass it.
IP-based split tunneling
Users can specify which IP ranges bypass the VPN. Also supports IPv6 addresses.
App-based killswitch implemented via split tunneling
This allows users to block traffic on specific apps when the VPN connection goes down.
DNS split tunneling
DNS requests from apps set to bypass the VPN also go outside the VPN. No other VPN provider supports this, as far as we know.
Routed packet split tunneling
Users can choose whether routed packets (from VMs) go through the VPN or bypass it. (Linux exclusive)
Antivirus optional add-on
PIA recently integrated an antivirus into its Windows application. PIA's Antivirus can scan your PC in real-time, protecting you from Spyware, Malware, Adware, and all the other nasty "wares" you don't want infecting your PC.
---
Private Internet Access Black Friday sale
You can save big right now on Private Internet Access' 2-year subscription plan. PIA is offering 83% off the total price, billed annually. That's only $2.03 per month! 
Not only that, but PIA is offering 4 months of free access when you purchase a 2-year plan through this special link below: 
Private Internet Access: Get 4 months free when you buy a 2-year plan at 83% off.
This is the deal of a lifetime, Imagine paying as little as £65 for something that lasts 3 whole years.
---
Private Internet Access – 3-year plan
Private Internet Access – 2 Year plan
Country server locations
over 83 countries
Logging type
NO logging whatsoever
---
Is Private Internet Access worth it?
Yes, resoundingly, if you are worried about your anonymity online, or you're just looking for a secret gift for your incredibly tech-savvy partner. PIA will keep all of your internet escapades completely private, known only to yourself. And for this monster of a deal too, you'd be silly missing out.
You can find out everything you need to know on PIA's FAQ page. Just in case you still had some burning questions. The FAQ page features a thriving community of helpful users and members of PIA staff to help you through any query.
---