Best gaming chair for hardwood floors 2023
Keep those floors scratch-free with these chairs
Updated: Jan 4, 2023 10:55 am
Today, we're going to find the best gaming chair for hardwood floors. It's a handy thing to consider to be honest, after all, if you've paid a premium to walk on actual trees, there's no sense in scuffing them up with crap casters from a cheap chair.
So, we're going to be looking for chairs with decent casters, built carefully enough so as to avoid scratches. Unfortunately, that means that the chairs on this page will be quite expensive as even medium-priced chairs tend to come with nasty wheels.
It's also worth mentioning that a chair mat can help protect fancy flooring, so you can get away with a cheaper chair if you're using one. However, it's all too easy to inadvertently roll off of one of these mats, so we strongly recommend getting a chair that won't require one.
Best gaming chair for hardwood floors: Secretlab Titan EVO 2022 Series
As far as we've tested, Secretlab has the least scratchy casters out there, and given that the Titan EVO 2022 Series is their latest and greatest, we're going with this chair.

Secretlab Titan EVO 2022 Series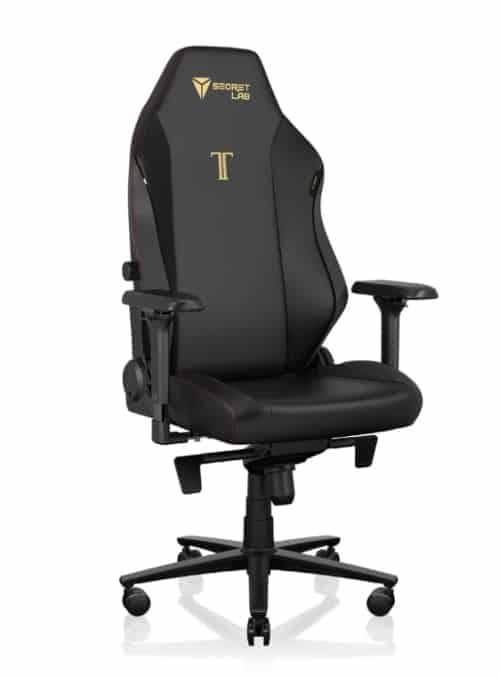 Height range (Medium Size)
Additionally, razor scooter/rollerblade wheels are available for an extra fee, that glide like no other casters can.
Aside from the casters, the Titan EVO 2022 Series is still our favorite gaming chair overall, it just so happens that it's also the least likely to scratch all that expensive cherrywood, you've bought.
Second-best gaming chair for hardwood floors
It might seem like a cop-out, but as we've mentioned, Secretlab's wheels are the least likely to grind holes into your Armenian Oak floorboards.
Secretlab OMEGA 2020 Gaming Chair
So, we've chosen our second-favorite gaming chair from Secretlab, the Omega 2020. It's not quite as ergonomically comprehensive as the Titan, but it's still a healthy place to sit for long hours of work, gaming, or admiring your Kashmiri Beech floors.
It's also widely acknowledged to be a bit squishier than the Titan, so if you value cushy comfort more highly than ergonomics, it might be a better (and cheaper) option.
---