Best Gaming Chair with Speakers 2023
Finding you the best musical gaming chairs on the market!
Updated: Jan 3, 2023 3:32 pm
A gaming chair with a dash of extra audio can really take your gaming immersion to the next level, so we thought we'd find the best gaming chair with speakers for you today. Some of these offerings might be a bit pricey, but if you've never tried a gaming chair with integrated speakers, you're missing out big time.
We've ranked and reviewed five of the best gaming chairs with speakers in the business, and we've even composed a 'Things to Consider' guide to make sure you find that sweet seat for your sweet cheeks. Let's get started.
---
01
The best of the best
GTPlayer Gaming Chair with Footrest
02
Best ergonomic gaming chair with speakers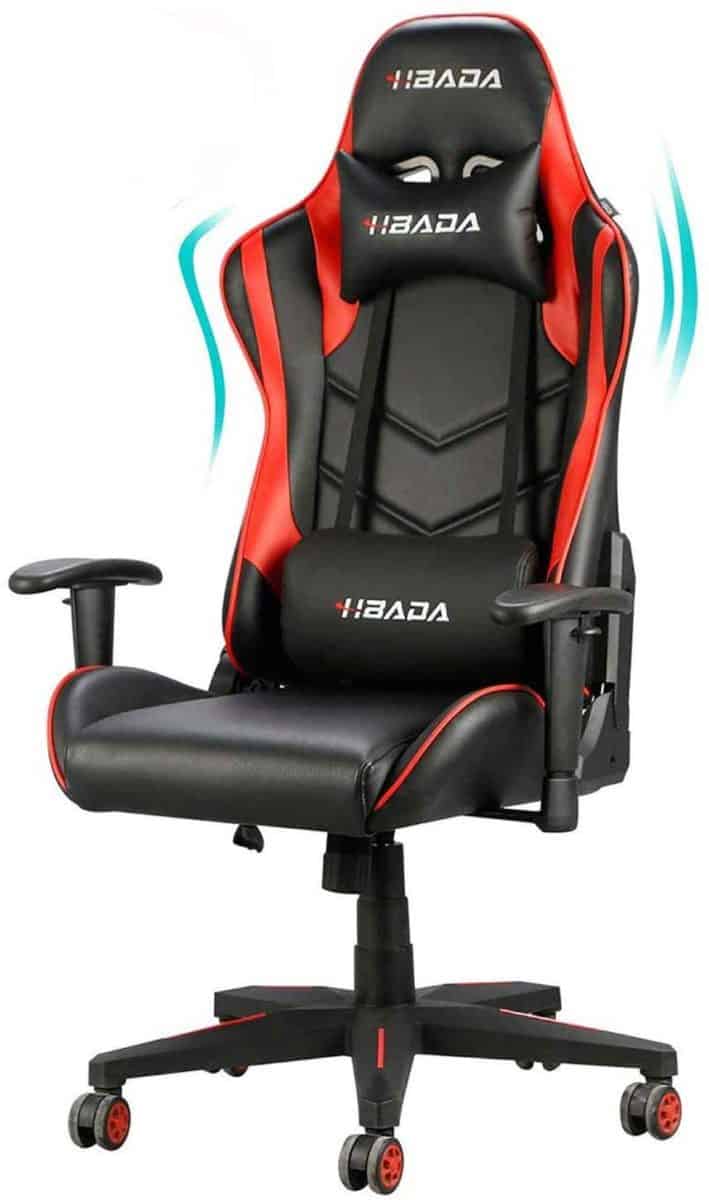 Hbada Ergonomic High Back Racer-Style Gaming Chair
03
Best gaming chair with speakers for absolute units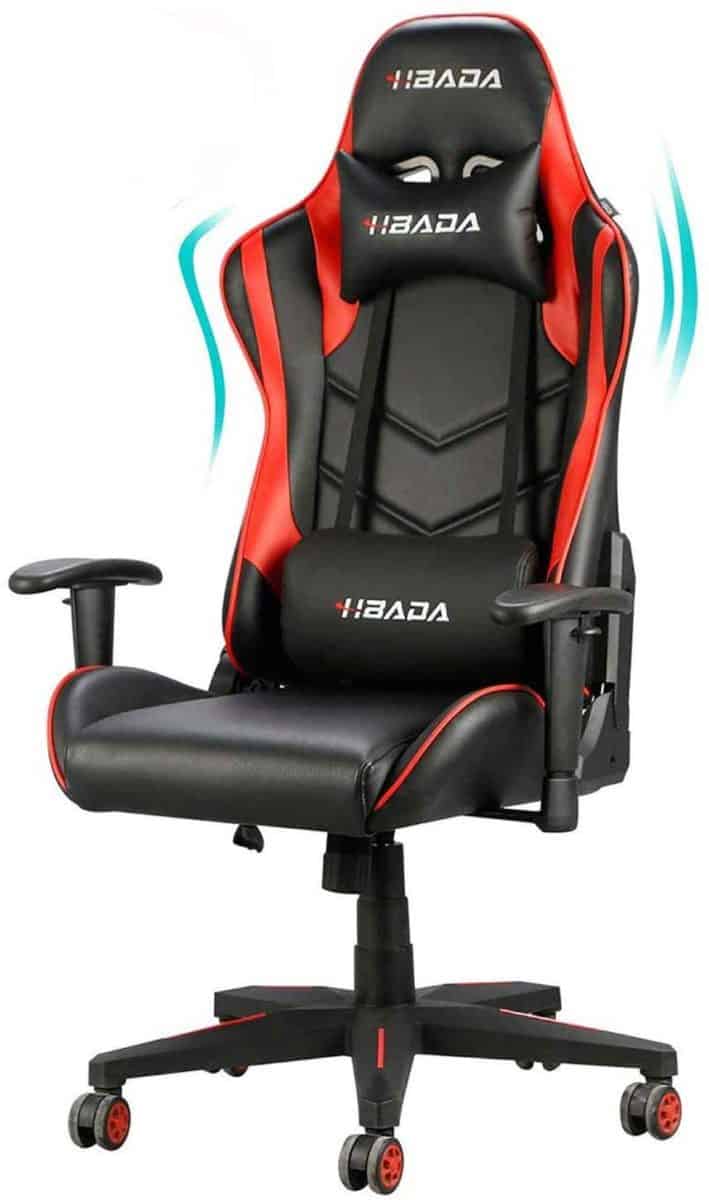 Southern Wolf SW2 Gaming Chair
---
How We Choose
Here at WePC, every single one of us is a consummate and dedicated gamer with years of experience behind the desk, and through this, we've learned a thing or two about the requirements of gaming chairs.
We look for innovation in a chair, asking ourselves if it does something entirely different to others or if it does the same thing in a fresh and exciting way. Obviously, comfort is king, but we're also trying to get a feel for the durability of a design too. Value for money is another top priority because we want everyone to have access to the products we love.
Our diverse team of gamers doesn't just test these products for single articles, we're engaging with them every day of our lives because we too are searching for the latest and greatest.
Things To Consider
There are a few key things to consider when shopping for the best gaming chair with speakers, so before we dive into the reviews, let's get all the essential basics covered.
Size
Your first port of call when shopping for a gaming chair is to check if it's the correct size for you, as it's not going to be too comfortable if it only accommodates half of your bum, and your head rises higher than the headrest.
You'll need some up-to-date measurements of your height and weight. Then all you have to do is match those measurements up with a chair that has the capacity to support them. Many leading brands make chairs that can accommodate gamers up to 6 feet 8 inches, and support up to 400lbs.
Ergonomics
Given the number of hours we all spend sitting in chairs these days, you must ensure that your chosen chair is designed with ergonomics in mind. Within this, we are looking for two things specifically: Neck and lumbar support. These two aspects of ergonomic design are crucial for comfort, health, and productivity. It is worth noting here that these chairs won't compare to more ergonomically-focussed things like office chairs designed specifically for back pain, but some of them can get close enough that they'll prevent pain.
This is the most important area of ergonomic consideration. Most of you will already be aware that when standing up straight, your spine assumes a natural S-shaped curve. This is the ideal spinal alignment as it allows for a fully open chest, and equalizes pressure amongst the vertebrae. In order to properly align your spine this way, the chair in question must have good lumbar support that will gently coax your spine into the correct position. Most chairs use an additional lumbar support pillow to do this, more premium chairs like the Secretlab Titan EVO 2022 series utilize a built-in adjustable system for this, but a cushion is also acceptable and helps keep the overall cost of the chair down.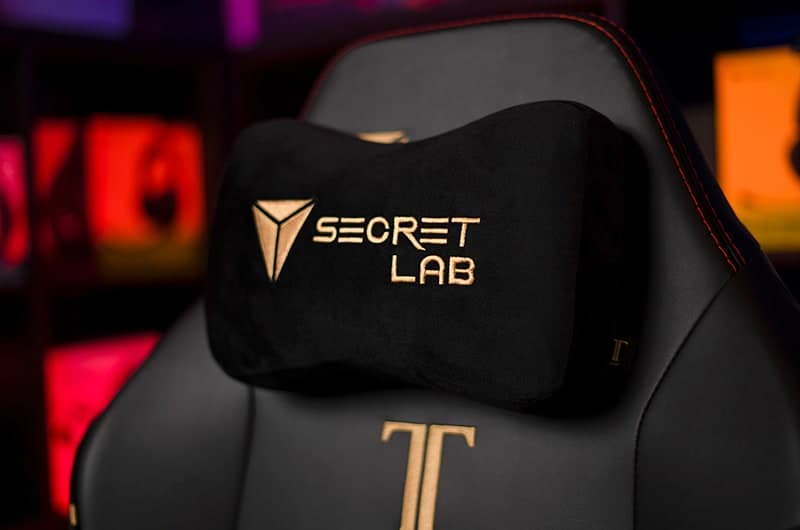 The neck support is handled in a similar fashion, with an adjustable cushion that sits just below your skull. This helps prevent your head from rolling too far back, which would affect the aforementioned spinal alignment.
Wired/wireless Connectivity
This is a big deal for gaming chairs with speakers as it'll inform you how exactly you can connect your device to the speakers. Broadly speaking, there are two ways this can be done: Bluetooth, or a 3.5mm headphone jack.
Bluetooth has the obvious benefit of being wireless, which allows for more freedom and removes the possibility of cutting your music off mid-ballad with an errant chair spin. However, you also have to consider the battery life of the device, as Bluetooth, despite being pretty efficient these days, is still a known battery killer. So you'll have to figure out whether the increase in freedom is worth the risk of battery failure.
3.5mm is a standard we all know and love at this point. Despite modern smartphones' bullish attempt to remove it. It has the advantage of not using any additional power so you can pump those tunes all day long without fear of interruptions. It's also such a widely accepted standard that almost all legacy devices will work without issue, also 3.5mm connections have no additional latency, which is always a bonus, particularly if the soundtrack matches the video games you're playing.
Some gaming chairs even have an RCA output. These output jacks allow you to integrate the chair into a wider, more comprehensive audio setup with multiple audio sources. As an aside, Rocker's pro series of gaming chairs with speakers sometimes have both of these inputs, allowing for more flexibility.
Overall we prefer a 3.5mm jack, as it ensures compatibility with PlayStation, Xbox, and Nintendo, pretty much any gaming console works with a 3.5mm jack, in addition to MP3 players. This allows for long gaming sessions with correspondingly long periods of uninterrupted music listening.
Design
There are three main gaming chair designs: traditional, a five-legged build on casters; pedestal, a fixed, round base; and rocker, similar to the pedestal, with a rounded base and no foot.
Companies are always trying to augment their chairs with the newest ergonomic technologies, so there can be a variety of different features to look out for. Aspects of design you may want to consider range from, recline angle to multi-dimensional armrests, from integrated lumbar support to various levels of gas hydraulics. If you've got sensitive or difficult flooring, you'll also want to pay special attention to caster design.
On an audio front, what you need to look out for is a wide frequency range, good placement, and rumbly bass for that additional immersion.
Materials
Gaming chairs take a fair amount of abuse, so they need to be made of the toughest materials to survive. High-quality PU leather is commonly used for gaming chair upholstery, offering a great combination of strength and comfort, and it's fairly water-resistant too.
If you live in a hot climate or spend long hours sitting down, you need to focus on finding a chair with breathable materials. In this case, vented or mesh fabrics are your best bet.
The base of your chair matters too. Nylon is the cheapest option, steel is durable but heavy, but the best bases are aluminum.
Comfort
Long Term comfort is less to do with big squishy cushions, and more to do with foam density. Most companies kit their gaming chairs out with some form of high resiliency foam, but there are a few different types. Standard HR foam can support roughly 2.5lbs per cubic foot, but cold-cure or super high resilience foams are even more supportive.
Most chairs come with high-quality lumbar and neck supports, but they're not all made equal. Try a few out if you can, but if not, you should look for height adjustability and firm but comfortable memory foam.
The best gaming chairs with speakers
GTPlayer Gaming Chair with Footrest
Manufacturer's Suggested Maximum Weight
Good quality full-range speakers with 6 hours of charge

Position of the speakers is perfect

USB powered lumbar support offers a massage function
Speakers distort at very high volume
Crafted from a sturdy metal frame designed to support up to 300lbs, a major highlight of this chair is the ergonomic flexibility. Able to recline to a near-horizontal position (170°), with the aid of the flip-up footrest, it could easily facilitate some dynamite pre or post-game naps. What's more, 3D armrests provide support for almost any body type.
We've all needed a massage mid-way through a hard day's work or intensive Starcraft match and that's exactly what this chair provides. The massage function of the lumbar support is strong enough to really get your blood flowing, relieving stress in what can be a problem area, and affording you a few more key hours of comfortable gameplay.
With the patented design, full-range speakers located in the wings can hit some surprisingly high volumes before the low end gets a little flappy or the mids become boomy, which is great. Don't expect the most detailed sound profile ever, but considering their size and 5-meter range, they provide some rich and immersive audio.
Beneath this chair's devilishly smooth PU coat is a generous lining of HD (or HR…same thing) foam, supplying shed loads of support while large nylon casters keep movement over most floor types buttery smooth.
---
the best ergonomic gaming chair with speakers
Hbada Ergonomic High Back Racer-Style Gaming Chair
27.5″(L) x 27.5″(W) x 47.2″-50.4″(H)
Fantastic price

Sturdy base with great 150° recline

HD foam is breathable and retains its shape
PU is a little thin and loose
Suitable for any gamers between 5ft 2" and 6ft, able to support up to 300lbs, this Hbada chair has a wide appeal, but it has so much more to offer than its support range. Featuring 3D armrests, 360° swivel, adjustable height, and 150° of strong reclining power, Hbada proves that you don't always get what you pay for…sometimes, you get more.
Comfortability-wise, this chair continues to impress. The wings are far enough apart to accommodate fairly broad shoulders with a little wiggle room to spare. Although it could stand to be thicker, the HD foam lining is firm but inviting with a shape that refuses to crumble no matter how intense your gaming sessions get, and it's breathable too.
The PU outer seems well made, if a little thin, but our one major caveat is that it's a bit loose over the foam, which means it might wear faster as it shifts more than usual underweight. The base, on the other hand, is spectacular. It feels sturdy even as you tilt and rock your way to victory in nail-biting showdowns.
The more time you spend on this chair, the more you start to notice where costs may have been cut: minor things: the odd click when you swivel or tilt. For the price, though, you really can't sweat the small stuff.
---
Best gaming chair with speakers for absolute units
Southern Wolf SW2 Gaming Chair
27.56″D×22.05″W×48.82″-52.56″H
400lbs capacity

Deep seat

Supportive HD foam
If you have a foot and a half on most other gamers you know, you'll be very interested in the SW2. With a sturdy steel frame, a deep 21.6" x 22" seat, and a 400lbs weight capacity, this chair likely has room for you and then some.
Featuring a wide-angle recline function that takes you from 90° all the way back to 165°, high-quality PU coating, gliding casters, and mechanically produced HD foam lining, it's an incredibly comfortable prospect. Designed to support more weight than the average gaming chair, the foam holds its shape remarkably well.
The memory foam cushions are incredibly comfortable, and the footrest and lumbar massage function is great for easing build-ups of tension after a long day's work or long night's gaming.
The speakers connect via Bluetooth which is great. No wires is always a plus in our book. Tangles equal stress, and this chair is about anything but. With realistic expectations of the audio quality, there's no doubt you'll be sonically satisfied. Strategically placed in the shoulders of the wings, the speakers invite you into the world presented by your game.
---
Best gaming chair with subwoofer
X Rocker 51396 Pro Series Pedestal 2.1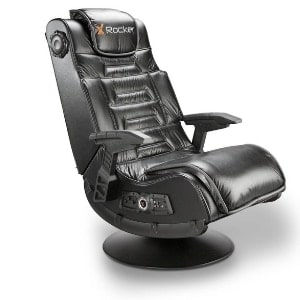 The elevation is more comfortable for taller people

Wireless audio setup

Offers comfortable sitting experience
Only has 2 colors to choose from

Inconsistent price; often too expensive

The pedestal will wear down some time
With a 4" subwoofer cradled in the body of the chair, this Rocker X design is the first on our list to provide anything close to a full audio spectrum, but it gets better. It also features vibration motors that sync up with the sub to give you a truly mind-bending full-body experience. It's about as VR as gaming can get without actually being VR.
Upholstered in PU leather, this chair has a great skin-feel, but it could do with a little bit of extra padding for long-scale gaming. We'd also recommend investing in a quality lumbar support too, because although it is ergonomically shaped, there's more of a kink in the lower region of the spine than the chair accounts for.
Measuring 28.5" x 23" x 23.5", it's more suited to people below 6ft. The armrests are a stabilizer design meant to prevent exaggerated lateral leaning, thereby improving posture and keeping you pain-free as you game.
Being a pedestal design, it's not particularly mobile, nor can you adjust the height, which may be a deal-breaker for some, but the base has a great tilt and swivel function that eliminates any stiffness and allows you to express yourself as you play.
---
Best budget gaming chair with subwoofer
X Rocker Vibe 2.1 Pedestal Gaming Chair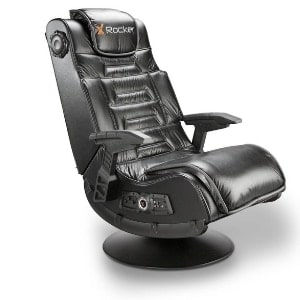 33.86 x 40.55 x 23.62 inches
Manufacturer's Suggested Maximum Weight
Great speakers and subwoofer

Vibrations sync with sub

Breathable mesh prevents sweating and discomfort

Very deep seat
Plastic components aren't that durable
This chair is very similar to the X Rocker 51396, but it has a much deeper seat for relaxing into, making it ideal not just for gaming, but for kicking back and watching a movie or listening to your favorite albums.
Much like its more traditionally shaped X Rocker sibling, it has two standard speakers and a 4" sub nestled within the chair that spreads its low-end growl nicely through your body. It also features the same motors that vibrate in sync with your sub which makes for more of a visceral gaming experience, and as a happy consequence, makes the sub feel that much more powerful.
The backrest doesn't recline all that far, but the seat is so deep, that you feel further back than you actually are, and thanks to a form-fitting ergonomic design and super comfortable 'deep padding', you're well supported too.
The X Rocker Vibe is mostly upholstered with high-quality PU faux leather, but the central seat and backrest are fitted with a mesh material that brings essential breathability to the equation and helps to maintain comfort hour after hour.
---
Final Word
Gaming chairs with speakers give themselves a real challenge. Not only are support and audio two of the most important parts of any gaming experience, but both disciplines are situated within vast sciences of their own. If a company gets it just right, though, there's nothing better!
There's some serious potential on this list and something for just about everyone. The GTracing chair is the best all-rounder chair in terms of comfort and performance, and it's great value for money too. If you're looking for something with more impactful audio, the X Rocker pedestal chairs with their integrated subs are a great place to start.
---