Is the ROG SWIFT PG27AQDM 4K?
Does the latest PG27AQDM feature a 4K UHD resolution? Let's find out.
Updated: Apr 11, 2023 4:45 pm
The ROG Swift PG27AQDM has been making more waves in the gaming community since we're awfully close to its release and it's hardly a surprise why. But now, to answer your question, is the ROG SWIFT PG27AQDM 4K? Unfortunately, the ROG Swift OLED PG27AQDM is not 4k, but it does come with a 2560×1440 pixel native resolution – which is more than enough for most gamers.
Don't worry, though, because this monitor makes up for it in other ways. However, not everyone needs a 4K display, and for some, the ROG Swift OLED PG27AQDM's 2K is more than enough.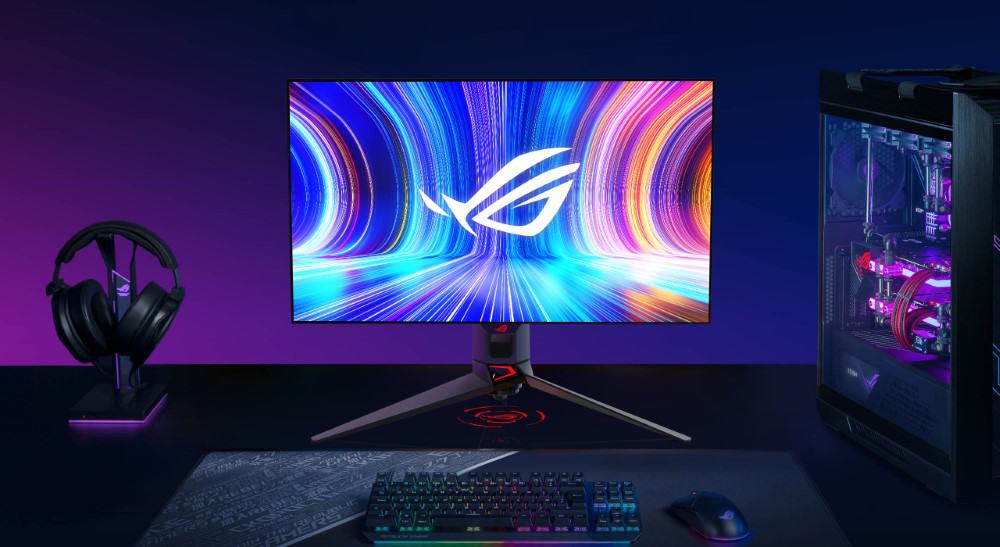 ROG's latest OLED gaming monitor
Let's talk about that OLED technology. If you're not familiar with OLED, it stands for Organic Light Emitting Diode. In simpler terms, it means that each pixel on the screen can emit its own light, resulting in incredibly deep blacks and vivid colors. And let me tell you, the ROG Swift OLED PG27AQDM does not disappoint in this department. With a peak brightness of 1000 nits and a 99% DCI-P3 color gamut, this monitor will make your games and movies look absolutely breathtaking.
But wait, you asked about 4K, didn't you? One obvious advantage of a 4K display is the greater pixel density, which prompts images and text to appear much sharper. This is useful for photo and video editing, for gaming as well, as it allows you to see finer details in games. Depends on what games you play – for some, frame rates are key, while for others everything is about imagery.
Is the ROG SWIFT PG27AQDM 4K?
Unfortunately, the ROG Swift OLED PG27AQDM is not a 4K monitor, but don't let that discourage you. With its high pixel density and awesome 240Hz refresh rate, this monitor is still primed for a fantastic gaming experience.
Sure, 4K monitors have four times the number of pixels as the PG27AQDM, which means they can display even more details and textures. However, 4K monitors also require more processing power to run games smoothly at such a high resolution. Plus, 4K monitors often come with a considerably higher price tag, so you'll have to weigh the benefits against the cost.
In summary, while the ROG Swift OLED PG27AQDM isn't a 4K monitor, it still has a great resolution that is more than capable of delivering stunning visuals, especially on its OLED panel. So, if you're looking for a top-of-the-line gaming monitor that is both fast and with gorgeous colors, the ROG Swift OLED PG27AQDM should be the top place on your wishlist.
---
Interested in some of the market's latest gaming monitors? Why not check out our guides on OLED monitors, mini LED monitors, and 8K monitors.
---