CyberpowerPC showcases the Kinetic series case
Living and breathing, living in a machine sense...
Updated: Jan 6, 2022 10:06 am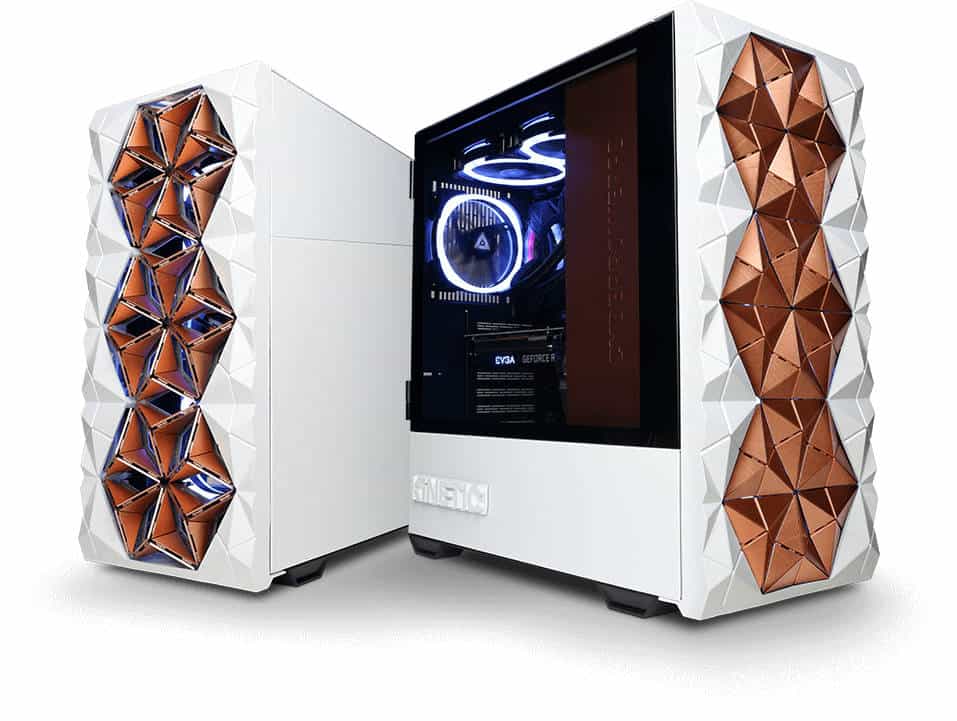 In more CES invention news, CyberpowerPC showcased something new and innovative with its new Kinetic Series PC case. The new Kinetic chassis is designed with 18 individual vents that rely on temperature readings to operate. A very fitting product for CES which has been home to many innovative designs and why not bring it to the PC world.
This newly imagined case from CyberpowerPC simulates what looks like a breathing machine, and with some sounds, it even may simulate that behavior. The vents at the front are controlled with a twisting screw drive, which is told when to activate after the temperature probe takes a sample and it is above 70°C. A sample is taken every 5 seconds so you can be sure it will be responsive to your hardware.
So when you don't need the airflow the case is compromised of a solid panel to minimize the sound and dust accumulating in your system. Once it all gets warm in there the vents begin to open up slightly to allow the fans to do their job more effectively. The mechanism contains compact actuators to impede any cooling solutions as it can still fit a 360mm radiator in front. As well as hopefully being on the quieter side, but with no samples, we will have to wait and see how they turn out.
Kinetic series case longevity
We do worry about what kind of lifespan these actuators will have. There are no specifications or words on them yet but with constant usage of closing and opening they will wear out sooner or later. Cases have been moving away from including moving parts as they're always an easy failure point requiring maintenance and fixing so it might be an annoying feature. As well as not having any filter meshes it could get quite dusty inside if the vents stay open for longer periods of time.
Although it might be something that a can of WD40 might be able to fix for you, loosening and silencing the more prominent sounds and stiffness. As the concept and design are still very imaginative, it gives something new and interesting with a prominent and stand-out design. Even if it may not be as popular as it could, it's still thought-provoking and good to see new ideas instead of just a standard box with a see-through side panel.
If you are interested in a cool sci-fi-looking design you will have to wait until Q3 of this year and it will cost you $249.
---