FIFA 23: Man United's New Man Lisandro Martinez predicted ratings
Man United's main target looks set to go up in this year's FIFA 23
Updated: Oct 14, 2022 4:13 pm
FIFA 23 is set for release this September and will be the end of the 'FIFA' era. Ahead of the game's launch, EA will unveil the official player ratings, causing mass debate across various social channels.
As this hasn't happened yet, we'll be predicting some of the latest FIFA 23 player ratings – with Man United new signing Lisandro Martinez being the latest name on the list.
The Argentinian defender was on the radars of both United and Arsenal, however, he eventually optedd to be re-united with former manager Ten Hag. 24-year-old Martinez who used to play with Ajax, once again, lifted the Eredivisie trophy above PSV Eindhoven. He played a crucial part in the team's defense, solidifying the back 4 who only conceded 19 goals in the league.
With so much interest around the player, and off the back of a great season, we'll be predicting Lisandro Martinez's FIFA 23 rating.
Lisandro Martinez FIFA 23 player rating predictions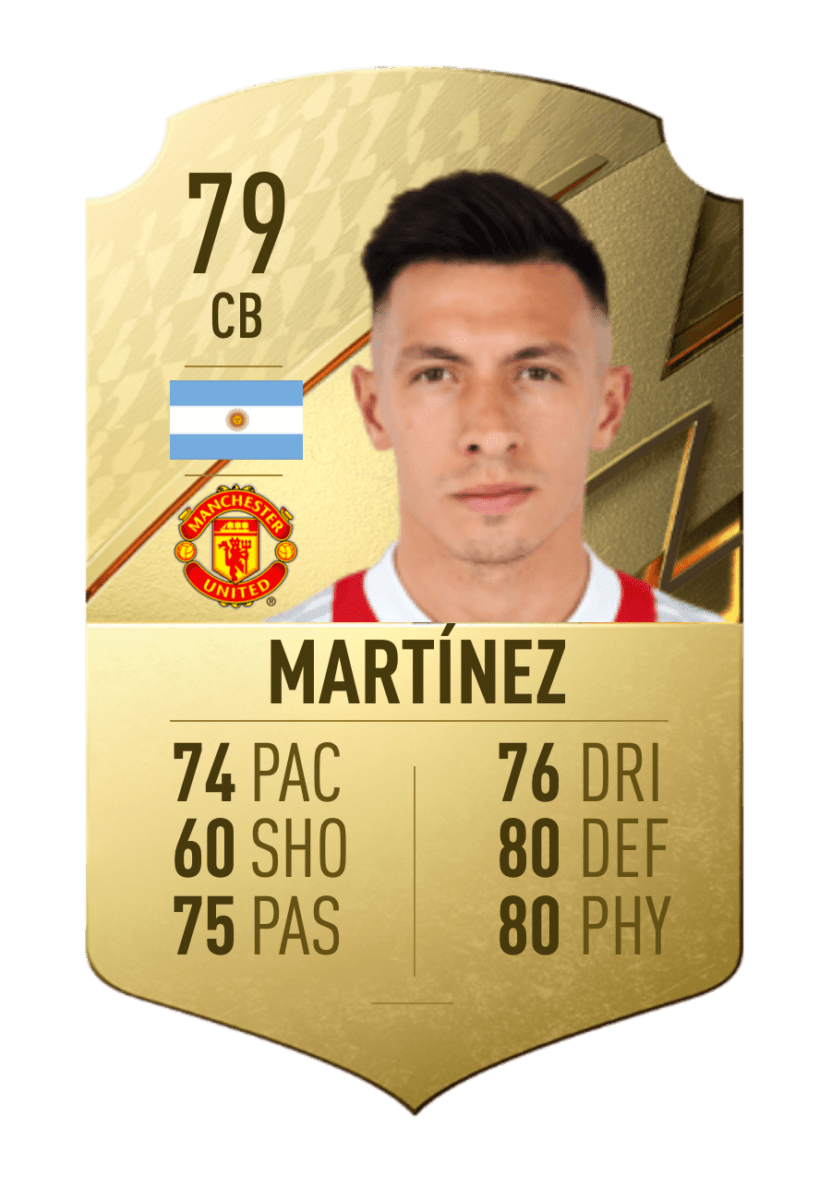 Overall Rating 80 (+1)
Martinez played almost every game for the club's 21/22 campaign, creating a good partnership with fellow colleagues which boasted the lowest conceded goals in the Eredivisie.
The wanted defender was injured at the backend of the season after playing in a fierce 3-2 win over Feyenoord, however, his impression had already been made on various clubs – most notably Man United and Arsenal.
What has also ensured he should get a well earned boost in FIFA 23, is his versatility. He can play just as effectively in the heart of defence, despite his small stature, or as a defensive midfielder.
Manchester United have potentially signed a huge asset, who's biggest strength might just be his versatility.
Pace 74 (+3)
Martinez is by no means a speed demon, he will be left by players like Alphonso Davies and Kylian Mbappé, but that doesn't mean he is slow.
A small boost going into FIFA 23, seems very likely, it may even be a bit more. After the last couple of seasons he has had, it's an exciting time to be a Manchester United fan.
Shooting 60 (+2)
Martinez actually gets some decent chances for a defensive player. He may not be the most dominant from set pieces, but he can find himself a yard of space if need be. Also when a player moves to a new club, FIFA always gives them a few boosts to some of their stats, especially if they have been performing well.
So it makes sense for his shooting to get a slight boost.
Passing 75 (+2)
Martinez is incredibly accomplished with the ball and his passing ability, is the reason why he can successfully play a variety of different positions. Even is crossing isn't horrendous, in case you did want to utilise him in a back five with an overlapping centre back.
Dribbling 76 (-)
His dribbling in FIFA is already very good by a defenders standards, so it seems unlikely it will go up going into FIFA 23, but never say never.
Once again, his ability to play in midfield shows just how comfortable he is with the ball at this feet. It's no doubt already reflected in his stats.
Defending 80 (+1)
Just a small boost for his defending, but a well deserved one. Since moving back into the defence he has never looked out of place, looking incredibly accomplished with everything he does. The Premier League is a different animal, so it's important he has a good start.
If he has a bad season, his boosts he will get on FIFA 23, will no doubt be taken away before the next game releases.
Physicality 80 (-)
This is about right already going into FIFA 23, if his physicals do get upgraded they will be minute boosts at most.
He has always given good impression of himself in Europe as well as in the Netherlands, so it will be really interesting to see how he gets on with a league as physical as the Premier League.
Despite being injured, it's hard to argue against another positive improvement for the Argentinian centre-back. With that in mind, below we will list Lisandro Martinez's recent FIFA ratings, finished by our own predictions for the coming FIFA 23 game.
| | | | | |
| --- | --- | --- | --- | --- |
| Year | Player name | Team | Upgrade / Downgrade | Rating |
| 2020 | Lisandro Martinez | Ajax | – | 79 |
| 2021 | Lisandro Martinez | Ajax | -1 | 78 |
| 2022 | Lisandro Martinez | Ajax | +1 | 79 |
| 2023 | Lisandro Martinez | ? | +1 | 80 |
More FIFA 23 guides
---