Best RTX 2080 Super graphics card in 2023
Looking to buy a new 2080 Super graphics card? Let's find the best!
Updated: Feb 2, 2023 3:28 pm
01

MSI GeForce RTX 2080 Super Gaming X Trio

02

Gigabyte AORUS GeForce RTX 2080 Super Waterforce 8G

03

EVGA GeForce RTX 2080 Super FTW3 Hybrid Gaming
Building a new gaming computer can be a difficult task for anyone. It's a bit of a balancing act, trying to find the best components out there and then making sure they're all compatible with each other.
One of the most important components of any PC build, if you're a gamer, is the graphics card. With so many graphics cards out there, the choice is overwhelming. Even if you do manage to narrow it down to a model, you still need to decide which card to go with as different manufacturers will bring their own flair to each card they build.
So, before you part with your hard-earned cash, you'll no doubt want to make sure of a few things. Will the card run as fast as you need it to? Will it fit my budget? Can it run the games I want to play? These are all important questions to consider when shopping around for a new graphics card.
That's why we have put together this handy guide on the best RTX 2080 Super graphics cards. We will look at the best cards and give you an honest review of each of their pros and cons.
With that in mind, let's dive into it and take a quick first look at the cards we will be discussing in this article.
How we choose
Here at WePC, we put a lot of thought, research and testing into our hardware recommendations. We know that getting the right components is extremely important and can make or break a gaming experience. That's why we aim to be as fair and accurate as possible.
Choosing a graphics card can be tough, but that's why we aim to make the choice as easy as possible for you. We cut through the technical jargon and assess just what makes the best graphics cards out there. Once we have tested and are happy with our recommendations, we put them together in a comprehensive review such as this.
How we test
Key to the components we choose is our testing phase. We try to personally test all the components we recommend as that's the fairest way to say which pieces of hardware are worth your time.
However, if we can't test them ourselves, we make sure to conduct thorough research into each component to make sure we're only ever recommending the best.
We aim to only recommend the best components – pieces of hardware we would be happy to put in our own PC builds at home. In order to be considered the best, it must perform excellently and blow the competition out of the water.
When it comes to graphics cards specifically, we look at the build quality, power efficiency, clock speed, price, cooling system, and size of the card. We then lay out our findings for you to make the best choice for your circumstances and needs.
Things to consider
Performance
This is usually the first thing that most people look at. No one wants a slow graphics card, after all! If you are trying to upgrade your graphics card, you need to know it will perform better than your previous one.
Modern games now put an increasing amount of pressure on your GPU, so it's important that your new graphics card can comfortably run the type of games you typically play.
You may not need the world's most powerful graphics card. However, if your budget can stretch, it's always worth going for something a little better than you need right now in order to future-proof your gaming system so it can carry you into the future for years to come.
Cooling System
When discussing the power and performance of a graphics card, you should also think carefully about the cooling system in place too. Great performance often means greater temperatures that need to be kept under control. If your PC overheats, this can lead to reduced hardware efficiency or even some damage to fix.
GPUs will come with their own cooling system on board, usually in the form of 1 to 3 fans and other features. If you are using these graphics cards as intended, these cooling systems should be enough to keep things at a safe temperature.
However, if you intend on overclocking your GPU, you may find that temperatures run higher, and your onboard cooling system might not be able to handle this. In this case, it might be worth investing in an additional cooling system to install in your case.
Size
Another thing to consider, particularly after mentioning the performance and cooling system, is the physical size of the graphics card. If you are going for high-performance cards, the chances are that they will be a bit larger than less powerful graphics cards. This is usually because they require more cooling and the GPU may allow space for up to three fans.
It pays to spend just a few minutes to measure inside your PC case to see how much space you have to work with. The last thing you want is to order a shiny new graphics card online only to find out that you can't fit it in your case and you have to start your search all over again. Checking the size alone might help you to narrow down your search for graphics cards.
What Budget Should I Set for an Nvidia GeForce RTX 2080 Super Graphics Card?
The first thing to note about budget, in relation to this card, is that it's a very expensive graphics card to invest in.
Each manufacturer has its own pricing points and will offer several versions of the same card at different prices, so there's a lot of research to do here.
You will be looking at a price of around £600 to £700 for most models. Some of the higher-end models can be $800+ though if you want water cooling systems included. The cheaper graphics cards in this range will typically have a couple of decent fans onboard for cooling. The more expensive ones either have three fans or a separate water cooling system which pushes the price up.
Best RTX 2080 Super
Best RTX 2080 Super graphics card
MSI GeForce RTX 2080 Super Gaming X Trio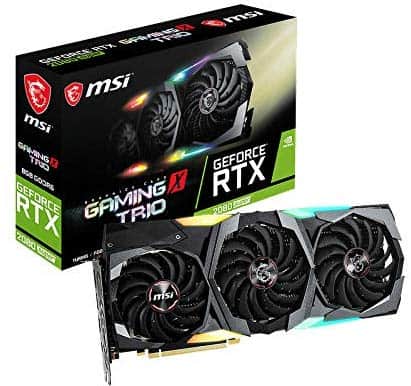 Great design with RGB lighting

Solid cooling system
MSI is well known for great-looking graphics cards, and this is a prime example. Featuring a triple fan design, the RGB lighting on this card is great and looks smart against the gunmetal grey and black body. The RGB lighting is all controlled through MSI's Mystic Light software, which allows you to customize the lighting color and effects as well as synchronize it with other RGB components in your build.
MSI's triple-fan design uses TORX 3.0 fans and ZERO FROZR technology to keep things as cool as possible but also as quiet as they can be. Behind this are a power cooling plate, concentrated heatpipes, and thermal padding, which all work together to produce an impressive cooling system.
With a decent clock speed of 1845 MHz, this should be more than enough to run your games on the highest settings. This card comes VR-ready and is designed to handle 4K resolution, so you shouldn't have too much of a problem when it comes to performance.
Although it's not the highest clock speed on the list, most people will find they don't need any more performance than this. However, MSI's Afterburner software can be used for overclocking if you wish to boost performance.
Best watercooling RTX 2080 Super
Gigabyte AORUS GeForce RTX 2080 Super Waterforce 8G
Water cooling system

Great RGB
Another one with a fantastic design is Gigabyte's Waterforce model. This model features two fans that fully make use of Gigabyte's RGB lighting. This lighting can be fully customized in terms of color and lighting effects.
There is also an all-in-one water cooling system that has its own RGB lighting in the shape of a wing. This design really stands out in terms of efficiency and aesthetics, so it will look great in any PC. Gigabyte's winged design takes inspiration from a falcon's aerodynamic wings, which they have incorporated into a multilayered, futuristic design.
The Waterforce cooling system is a step up from Gigabyte's already-great Windforce cooling system. It ensures that you get a stable overclock and a longer lifespan for the card. The cooling system features an efficient pump, a large copper base plate, and a metal backplate. It's certainly built with strong materials to ensure durability.
Aside from the unique design, this card features a total of seven video outputs for better connectivity. The performance is just as impressive on top of everything else. It's built for extreme overclocking, so you can really push this card to the limits no matter what type of game you're loading up.
EVGA GeForce RTX 2080 Super FTW3 Hybrid Gaming
Just one fan

Not the most interesting design
The EVGA GeForce RTX Super FTW3 Hybrid Gaming model doesn't quite live up to the other cards on this list in terms of design. It's a pretty simple and minimalistic design, but there is some RGB detailing which stops it looking completely bare.
While it might not win in the design area, it is a powerful graphics card that hits clock speeds of up to 1845 MHz, so you will be able to play all of your demanding games without worry.
Helping to keep temperatures low, the EVGA graphics card features a hybrid, all-in-one water cooling system. The card's cooling system features a next-generation pump, which allows it to remain quiet, and an impressive hydrodynamic bearing fan, which keeps the VRM cool and operating quietly.
The built-in 120mm radiator and fan help to dissipate heat to keep the GPU cool; however, these can be switched for different components or customized, which gives you a bit more flexibility.
For those looking to overclock, you can make use of EVGA's Precision X1 software, which will help you get the most performance out of this graphics card to run your favorite games on the best graphics.
Best performance RTX 2080 Super
ASUS ROG Strix GeForce RTX 2080 SUPER Advanced Edition 8GB
Simple and stylish black design

Great performance
Expensive and no water cooling
This card offers similar styling to the rest of the cards in the ASUS ROG line. There are no fancy colors or distracting designs on this card. The design is simple but stylish, and apart from the RGB strips, the card is all black. This is great if you want something that looks fairly neutral for your build, with the option to turn on the lights if you wish.
While ASUS may not have gone overboard on the design for this card, they have managed to create a highly powerful graphics card which has the joint highest clock speed on the list. With all that power, we would imagine it would follow some of the others on this list and make use of water cooling. However, it stays traditional and uses three powerful fans instead. While this should be good enough for the card, if you want water cooling, you'll have to look elsewhere.
This card certainly doesn't come cheap and is on the high end of the RTX 2080 Super graphics cards, so it will require a hefty investment. However, if you are an ASUS fan, love all-white PC builds, and are looking for the best of the best when it comes to performance in this range, then the ASUS will be an excellent choice.
Final word
They're all the cards we have for you today. Going for any of the above selections will grant you a very powerful GPU that delivers excellent performance for your PC.
While it's always difficult trying to choose a graphics card, we hope this article has helped you understand more about the range of cards on offer and what each of their pros and cons are.
RTX 2080 Super FAQs
What is the best RTX 2080 Super?
For the top spot, the best choice is the MSI RTX 2080 Super Gaming X Trio. With a great cooling solution, the card offers great unhindered performance. The three-fan setup will ensure adequate cooling for longevity and framerate. Especially as it is an overclocked card, it performs better than other choices. As well as being a well-built card with good quality.
---