Is the iPad Pro 2022 Waterproof?
If you want to know if the iPad Pro 2022 is waterproof or not before you buy, we answer this vital question
Updated: Nov 17, 2022 10:12 am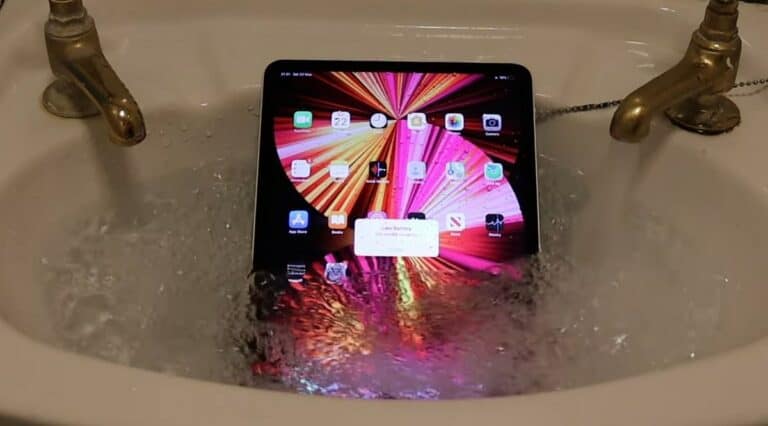 So, if you are going to get an expensive device, such as an iPad Pro 2022, and use it as your daily driver, you should expect it to be at least water-resistant, but is the iPad Pro 2022 Waterproof?
In short, No. The reality is none of the smartphones, tablets, or wearables in the market is truly waterproof. The term "waterproof" is used loosely alongside IP rating, which creates a misconception. Water-resistant is the more accurate term for the latest iPhones for instance, but the 11-inch and 12.9-inch iPad Pro 2022 are neither waterproof nor water-resistant.
(Credit to MyUnboxingsAndFun for the great featured image – do not try that at home unless you want to ruin your device)
Still, you can't go wrong with an iPad Pro 2022 if you are in the market for a tablet. The new iPad Pro is hands down the most powerful and sophisticated piece of hardware in the market. Apple even claims the iPad Pro 2022 can be used as a laptop replacement. 
READ NOW: Black Friday iPad deals 2022 & Black Friday tablet deals 2022
Waterproof vs Water Resistance: What's the difference?
These two terms are often used to describe the same quality, which is wrong as they have different meanings. If you are following the smartphone industry, you know that smartphones have had a water-resistance rating for the last few years. These are also referred to as IP ratings: it stands for Ingress Protection. 
A smartphone with a higher IP rating is always good, but that doesn't necessarily make the smartphone waterproof.
What is IP Rating?
The new iPhone 14 comes with an IP68 rating. It means the iPhone is water-resistant (not waterproof) when immersed in water for 30 minutes up to a depth of 6 meters. Remember, it says water-resistant and waterproof.
The iPhone has all the necessary rubber gaskets and mechanisms to prevent water from entering the device. If water finds its way, electronic circuits will be ruined. Apple doesn't even honor the terms of the warranty if your phone has water damage.
Hence, having an IP68 rating makes your smart device water-resistant with certain conditions but doesn't make them waterproof. Adding an IP certification also means extra cost. So, sometimes brands skimp it all together.
Is the iPad Pro 2022 Waterproof? : Final Word
We hope this short piece has sufficiently answered the question is the iPad Pro 2022 waterproof? (in case you haven't gathered yet, the answer is no). Whilst you're here, do have a gander at our various other tablet guides, plus our Black Friday iPad deals and Black Friday tablet deals pages.
---