Best Surround Sound Speakers – the best audio setup for 2023
Take a look at our top picks for the best sound systems to pair with your TV
Updated: Mar 13, 2023 3:51 pm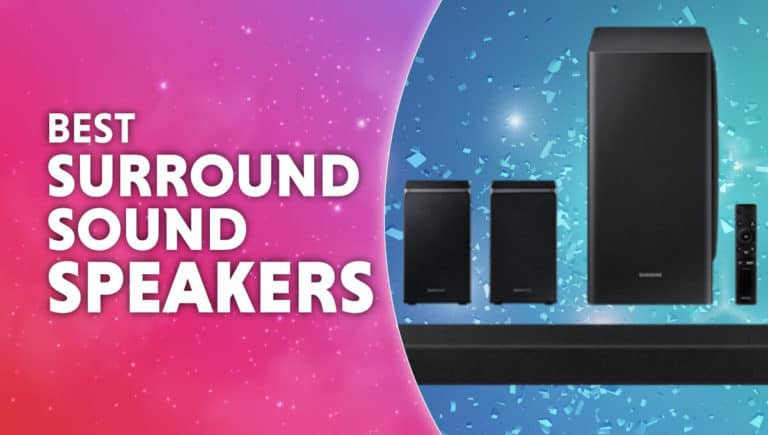 01
Best surround sound speakers
02
Best wireless surround sound speakers
03
Best budget surround sound speakers
Wharfedale Surround Sound System
Soundbars are getting a lot more powerful, but they still can't match the immersion you'll experience with a full surround sound system – especially one that has height drivers for Dolby Atmos to properly give you that 3D soundscape.
But there are a lot of things you need to consider with a home cinema system. There are a lot of different options available, and you need to decide whether a wired or wireless system is better, how many speakers you need, and how will it fit in your room.
Don't worry. While surround sound systems can be a little bit confusing if you're an audio novice, we're here to help. In this guide we'll break down the key features you need to be looking for, and give you our recommendations for the best surround sound speakers for different budgets and needs.
---
Best surround sound speakers 2022
Best surround sound speakers
SAMSUNG HW-Q950T
Two HDMI inputs, one HDMI output with eARC, optical digital-audio input, Bluetooth / Wi-Fi
9.1.4 sound with up-firing speakers

Adaptive Sound tailors levels to content

Q-Symphony lets you add your Samsung TV's speakers to the setup
No auto calibration options

Smaller rear speakers aren't the most powerful
The Samsung HW-Q950T is more of a soundbar-based system that includes a couple of rear speakers, so you're not actually getting the full surround effect in the same way that you would from having a true 5.1 or 7.1 setup. Instead, it relies on the soundbar to bounce the sound around the room using its directional speakers instead – of which there are 14 (!) packed into a slim soundbar that won't have trouble fitting underneath your TV.
What this system achieves with just a soundbar, a subwoofer and two rear speakers is pretty incredible. Sound is powerful and crisp, with very little distortion even when sound is complex and layered. You don't really feel the loss of the extra speakers, since you're getting so many distinctive channels anyway.
And the sound quality is maximized thanks to Samsung's Adaptive Sound technology. This analyzes the content that you're watching and automatically sets the levels for you, boosting dialogue volume in quieter moments while making sure every explosion or car chase is sharp and packed with punch.
Plus, if you pair this system with a high-end Samsung TV, you can take advantage of the Q-Symphony feature which incorporates your TV's speakers into the sound system, adding even more channels. This system works great with any TV but when it's paired with a Q-Symphony screen, you're really getting something special.
There aren't a lot of drawbacks – the only minor things are a lack of auto calibration options, so you'll need to mess with settings yourself to get things right (although you may prefer this anyway) and the rear speakers aren't very big and can lack a little power, but the soundbar more than compensates.
It's a little pricey too for a system that only includes four actual units (plus a remote) but it's worth it.
Best wirless surround sound speakers
Sony HT-A9
1 x HDMI, 1 x eARC, Wi-Fi, AirPlay, Bluetooth, Chromecast
Positioning is really flexible

Spatial Sound maps the room

Powerful performance
No subwoofer as standard

Not the best looking
Sony's HT-A9 surround sound speakers have some great benefits if you just want a system that works. It's a fully wireless option, but more importantly it's also really flexible when it comes to where you position the speakers.
While some systems will need speakers to sit in a certain location to really drive the audio in the right directions for your soundscape, these speakers are capable of working with your room setup more, so if you don't have the traditional spots for mounting rear or side speakers then these will still work a treat.
They use Sony's Spatial Sound tech to map the room once they're in place, which uses microphones and soundwaves to bounce sound around the room and detect the size, shape and obstacles such as furniture. It'll then tweak the settings, which ensures they can produce the best sound at all times.
They're powerful speakers, though they don't look the best. It's still a neutral gray color but they look a little like an original PlayStation throwback. And the real crime is the lack of a subwoofer – not the worst thing, since the speakers do a good job with bass, but if you do want the best low tones then Sony's own sub isn't cheap either.
Best surround sound speakers for ease
Bose Lifestyle 650 Home Entertainment System
1 HDMI™ output with Audio Return Channel (ARC), 5 HDMI inputs, 2 optical digital audio connections, 2 coaxial digital audio connections, 2 analog L/R audio inputs, 1 3.5 mm connection for the Acoustimass module, 1 data port, 1 IR repeater port, 1 Ethernet port, 1 USB connection
Really simple to setup and use

Sound is powerful and sharp

Sleek design
Eye-wateringly expensive

Not for the serious audiophile
Not everyone is an expert in sound, and there are some people who just want a system that they can plug in, and have everything work. The Bose Lifestyle 650 system is perfect for just that. It's a good quality system with a center channel, four side speakers, a subwoofer and a receiver included, and being wireless it's simple to connect everything together.
Once everything's hooked up, changing settings is relatively simple through the remote, while you've got full voice control via Alexa too. Which you might need to rely on, since the remote can be a little bit laggy at times.
And here's the problem with the system in general. It's relying a little too much on the Bose name, but for this price tag you should be expecting a really high-quality system that you can tweak and tailor to your heart's content, and a really smooth experience. And it just falls down a little.
It's not aimed at someone who knows their audio tech inside-out. It's aimed at the everyman who wants a powerful, punchy sound system without necessarily knowing how it all works. And for that, it's really good. Plus, it does look great too – the speakers are all sleek and minimalistic whilst still being big enough to give you that depth of sound you'd want from blockbuster movies.
However, we'd recommend this sound system only to people who are a little less experienced with sound systems or even soundbars in general, especially at this price. If you know more about how sound systems work, another (cheaper) alternative may work better for you.
Best Dolby Atmos surround sound speakers
Focal SIB Evo 5.1.2 Home Cinema System
2 coaxial digital audio connections
Great Dolby Atmos experience

Attractive, discreet speaker design

Easy to setup
Will struggle in larger rooms

Needs a receiver (not included)
If you want to enjoy the full benefits of Dolby Atmos from a high-quality speaker set without the expense of a huge number of extra speakers, then the Focal Sib Evo is a solid choice. It comes with two loudspeakers with separate up-firing drivers, along with three other satellite speakers to use around the room, which can be mounted horizontally or vertically. Ideally one would serve as a center channel and the others as rear speakers.
Compared to the Samsung HW-Q950T the actual audio quality is slightly better, but either one is going to give you a great surround sound experience including above you. The Focal Sib Evo might struggle in larger rooms due to the smaller speaker size but it's an overall fantastic package.
The only real drawback is that you are going to need to pick up a receiver separately in order to get the most out of these speakers. Make sure it's a 7.1.2 receiver so you can make the most of those upward firing drivers.
Best budget surround sound speakers
Wharfedale Surround Sound System
2 coaxial digital audio connections
If you aren't too worried about a fancy wireless surround sound system, and you're not too concerned about extra features, then you really can't go wrong with the excellent sound quality of these Wharfedale speakers.
They truly are excellent for the price, doing a fantastic job of layering sound on the higher ends while keeping the bass tight, ensuring sounds are still crisp and punchy without being lost to overwhelming depth.
With this pack you get a central subwoofer, a center channel speaker and then four satellite speakers, and when paired with a receiver you'll get some great distinction between the separate channels.
The price for a setup like this really is excellent, and makes it an easy choice to recommend.
---
How much does a surround sound system cost?
There's a huge disparity between the cost of surround sound systems. You could pay anywhere from $300 for the most basic setup, to $5,000 for something that's almost professional in quality – the kind of thing where you really are bring the cinema experience home.
If you're looking for a good estimate, a reasonable cheap surround sound system will be around the $500-600 mark. When you want quality you'll need to pay upwards of $1,000, though once of our recommendations is closer to the $4,000 price tag.
Are surround sound speakers worth it?
This is the big question – is it worth spending so much on surround sound speakers? And generally, the answer is yes. A surround sound system, when installed properly, will give you a much more immersive audio experience. But whether it's worth it to you or not depends on a few factors:
Improvements over TV
Dead simple – a surround sound system will be better than your TV's sound. The only exceptions would be if you compared some of the very best TVs (Samsungs with Object Tracking Sound Pro, or Sony OLED TVs with Acoustic Surface Audio+) against some of the worst surround sound systems – ones that are badly made.
A TV just cannot provide the same quality of sound as a surround sound system, because they have a flat audio profile and they don't have the depth to produce high quality sound. TVs are getting thinner and thinner – so speakers have to get smaller and smaller.
Of course, the counter to this is that a soundbar could be all that you need, and at a much lower price point than a surround sound system. But that's where the other considerations come into play.
Size of room
The size of the room that you'd install your surround sound system in definitely factors into whether it's worth it. If you have a smaller room, then you simply aren't going to enjoy the benefit of distinctive sound channels – everything's going to mesh together. It won't sound flat, but it won't sound like you're surrounded either.
Larger rooms justify a surround sound system more because you can hear the definition between the audio. In a smaller room, you may be better served by a soundbar.
Purpose
Surround sound systems are designed to create 3D audio that directs certain sounds in different ways. Helicopters overheard, explosions behind you, that sort of thing. Which makes them perfect for movies and gaming.
If you don't tend to watch many movies or action-oriented boxsets, and you aren't a gamer, then a surround sound system probably isn't right for you. If you mainly plan on using your TV for music then sure, multiple speakers are a good idea but you don't need a complex directional system, and so it probably isn't worth buying one of these recommendations.
Use frequency
Ultimately, do you want to spend $1k + on a surround sound system if you tend to watch a movie every three or four weeks at most?
You might. There's no definitive answer to this question, because value depends on your opinion. But a surround sound system is definitely a better choice for someone who watches movies every week or spend a lot of time gaming.If you don't plan on making the most of a surround sound system on a regular basis, then again you may prefer to save some money and buy a good soundbar, which will still do a much better job than your TV.
Do you need a receiver for a surround sound system?
The job of a receiver in a surround sound system is to act as the hub for all your home entertainment devices, managing the various audio inputs and then refining and amplifying the sound through your speakers. Essentially, it's the manager of your speaker system, making sure that sound is directed in the right channels and is as crisp and sharp as possible.
Whether you need a receiver depends on your particular system and whether it includes an active soundbar. Active soundbars are essentially the receiver, so you don't need a separate receiver to manage the sound being driven to the satellite speakers.
If your soundbar is passive or your system doesn't include one, then yes you'll still need a receiver. Most surround sound systems will come with the receiver included.
Things to consider when purchasing a surround sound speaker
Here are some of the things you'll need to bear in mind when choosing your surround sound system:
Number of speakers
Simple enough, but the number of speakers and subwoofers involved in a surround sound system is important. More speakers mean that your system can be even more selective in how it drives the audio, with more options available for relaying sound around the room in an authentic direction.
But having more speakers also comes with the logistical problem of fitting them in your room, and it means more cost too. So, rather than getting carried away, base your decision on the layout of your space and how many speakers you can comfortably fit, and go from there.
Features
Some speakers have extra features that can either improve the quality of your sound, or make using them a lot easier. Look out for things like voice control, or brand-specific features such as Samsung's Q-Symphony tech which let you incorporate your TV's speakers into your system.
A lot of surround sound systems also allow you to stream music via Bluetooth or even connect directly to your preferred streaming service, and while surround sound speakers aren't designed with music playlists in mind it is a nice feature to have.
Connectivity
How your system is wired up will have an impact on your buying decision too.
Generally, you'll find that the cheapest surround sound systems are wired because it's easier to manufacturer them this way, then mid-to-high range systems will be wireless for the benefit of having a cleaner setup. But the very best systems will be wired again, because you can't get the same professional-quality sound over a wireless signal.
Unless you're really serious about your audio quality, a wireless system will be fine, but it's something to consider if you are looking at the higher-priced options.
Brand
At WePC we wouldn't ever make a recommendation on a product just because it comes from a known brand. But in the world of audio, manufacturer is still something worth considering.
Take one quick look on a site like Amazon and you'll find countless surround sound systems from names you won't have heard of, and they'll seem like a great deal. But while there could be some hidden gems, most won't be anywhere near worth even their lower price tags.
So, if you don't like any of the recommendations on our list, we'd suggest going with a brand that you recognize, as that should at least guarantee a minimum level of quality.
Finish
The purpose of buying a surround sound system is definitely a technical one – you're looking to improve the quality of the sound you enjoy in your movies and games. That doesn't mean you should completely neglect how the speakers look though.
While a soundbar is a more discreet addition to your room, as soon as you add multiple speakers, they almost become a design feature. So, you'll want to make sure you're happy with the size and finish of your chosen speakers before you buy.
Best surround sound speaker: Understanding the specs
Here are the core specs to look out for when choosing surround sound speakers for your home.
Frequency response
The frequency response of a speaker measures its sound range. It's usually given from hertz (Hz) to kilohertz (kHz). The lower numbers tell you how much bass a speaker can produce. In reality the higher figure rarely matters – human hearing is limited to around 20kHz so anything higher than that is a gimmick.
Budget speakers will start at around 60Hz but a lower-end system will be able to reach lows of around 35Hz.
Subwoofer power
The power rating of a Subwoofer is given in Watts. Usually, subwoofers are measured in both their average (RMS) and peak wattages, and it's the average that we care about. If you only see on figure advertised it's normally the average.
A higher wattage means more power but that doesn't necessarily mean more volume. Instead, it's about how well it can maintain sound quality when you do crank it to a higher volume.
Anything above 100 watts is good. 150 watts and above is great.
Dolby Atmos height drivers
Dolby Atmos has become the standard audio format for 3D spatial sound. But while some sound systems may be compatible with Atmos, they may not give you the full capabilities.
You need a system that has height drivers. This means that it can accurately create sound on a vertical dimension as well as horizontal. So, if you want that bird to sound like it's actually flying overhead, and not just from left to right in the room, you need a system with height drivers included.
Related pages
Surround sound speaker FAQs
What is the best surround sound speaker?
For the best surround sound speaker system, you want something that is powerful and punchy, that ideally has everything you need included without an extra receiver and one that can handle fully surround tech like Dolby Atmos. Samsung's HW-Q950T with subwoofer and rear speakers is an excellent choice.
What is the best cheap surround sound speaker?
Cheap surround sound speakers don't have to sound poor. There are some fantastic quality speaker systems that just lack advanced features. Wharfedale's Diamond 12 speakers offer amazing sound quality, and the home cinema pack gives you a great sound experience – you'll just need an extra receiver.
What is the best wireless surround sound speaker?
When looking for wireless surround sound speakers, you'll want ones that are more flexible when it comes to positioning. Speaker power and performance matters too, but having a system you can set up around your room without compromising channels is key. We recommend the Sony HT-A9.
Are soundbars better than surround sound?
It depends on the soundbar and the speaker. Most high quality soundbars will produce a better sound than a single speaker, but having multiple speakers around the room will normally do a better job of creating a 3D soundscape. The best solution is a high-quality soundbar with extra speakers.
Can you use regular speakers for surround sound?
Yes, you can use regular speakers as part of a surround sound setup. You'll just need a receiver that they can connect to. The receiver does the job of managing the channel. It's good not to mix and match though, as you'll really notice the dip in quality from your worst speaker in a multi-channel setup.
Final word
Surround sound systems can seem complicated, but you don't need to be an audio expert to set one up. The Bose Lifestyle 650 makes things super-easy, but any of our chosen systems are easy enough if you take a little time.
When it comes to overall quality, Samsung's HW-Q950T edges it for us. The rear speakers aren't as good as other systems but that soundbar is something special, and the extra tech isn't just a gimmick. Everything comes together to create a stunning audio experience, especially when paired with a Samsung TV. But don't worry if your budget doesn't stretch – the Wharfdale system is outstanding value.
---