The winners of the European Hardware Awards have officially been announced by the European Hardware Association (EHA). AMD has received an impressive amount of recognition for its work in both the CPU and GPU sectors.
With over 400,000 articles written, the EHA is one of the most experienced associations which judges some of the best hardware in Europe. Over 100 of Europe's top journalists decide on what is currently the best hardware sold across the continent. This year the awards were announced online due to the current global crisis.
The European Hardware Awards covers more than just CPUs and GPUs though. They look at some of the best laptops, mice, headsets, chairs, and pretty much anything you can imagine that is tech-related. For a full list of winners, be sure to check out their official announcement.
AMD Sweeps Multiple Awards
As you might expect, AMD has had a pretty impressive showing this year, winning multiple awards – most notably in the CPU category.
Best CPU 2020
First off, AMD was awarded what is probably the most coveted award of this event, the "Best CPU" award. This was awarded to AMD's Ryzen 9 3950X processor which has 16 cores and 32 threads. The Ryzen 9 3950X processor has a base clock speed of 3.5 GHz and is capable of reaching boost clock speeds of up to 4.7 GHz.
Product of the Year 2020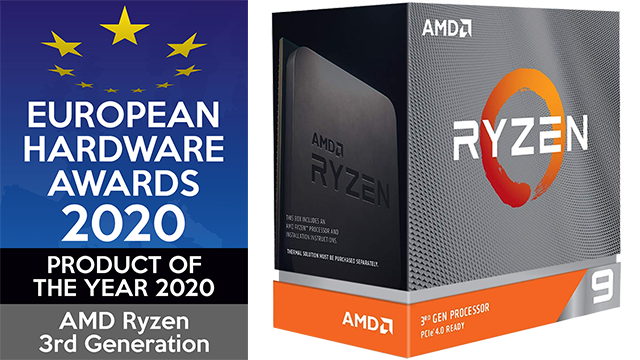 The next award that AMD grabbed was "Product of the year 2020". This was awarded to the AMD Ryzen 3000 series processors. The new technologies that this series offered and the increased levels of core counts makes them a very impressive product range.
There's no doubt that bringing processors based on the 7nm Zen 2 architecture to mainstream consumers without having to hike up prices also went a long way in securing AMD's win.
Best New Technology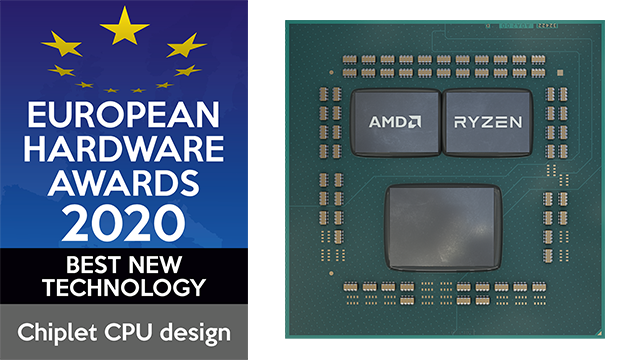 AMD won yet another award related to its impressive processors. The "Best New Technology" was awarded to AMD for its Ryzen Chiplet CPU design. This Chiplet CPU design has steadily allowed AMD to improve their hardware to compete with and finally overtake Intel's CPU offerings.
This work didn't happen overnight though, the technology has steadily evolved since the initial release of the first generation Ryzen processors back in 2017. Since then, AMD has offered quality products in the budget, mainstream, performance, and HEDT categories.
Best Gaming Product
Next up is an award for a processor that many of us are probably running in our own systems. The AMD Ryzen 5 3600 processor has won the award for being the "Best Gaming Product" of 2020.
The Ryzen 5 3600 quickly became a go-to CPU for those looking to build a gaming system without breaking the bank. The impressive levels of performance, overclocking capabilities and low cost made this a highly sought-after CPU. We're not surprised to see it take this award.
Best for Overclocking
For those who want to push their processor to the limits, the Ryzen 3 3300X takes this year's award as the CPU "Best for Overclocking". This 4 core, 8 thread processor comes with a base clock speed of 3.8 GHz with a listed max boost clock of up to 4.3 GHz.
It didn't take too long for articles to appear stating just how good this CPU is for overclocking. Some overclockers have even managed to push this chip to a 4.5 GHz overclock on all four cores.
Best Gaming Notebook
It wasn't just the processors that fared well for AMD this year, they also picked up an award for the "Best Gaming Notebook". The ASUS ROG Zephyrus G14 is a gaming notebook that features a Ryzen 4000 mobile series processor. Depending on specifications, this can be either the Ryzen 7 4800HS or the Ryzen 9 4900HS.
The notebook also comes with 32 GB of DDR4 memory running at 3200 MHz, an M.2 NVME with storage options of up to 1 TB, and an NVIDIA GeForce RTX 2060 GPU with 6 GB of GDDR6 VRAM.
All in all, it's been a very impressive year for AMD and there don't seem to be any signs of them slowing down. What do you think of these awards? Do you think AMD will have as much success next year? Let us know down in the comments section below.