If you're looking to overclock your PC with an Intel processor, your choice of processor is key. Intel's unlocked K series of CPUs allow you to adjust the multiplier in the BIOS which can boost the clock speed. However, a CPU like this can set you back a fair amount. A non-K series that has a locked multiplier will, therefore, save you a bit of money.
Wouldn't it be great though if you could save money and overclock at the same time? Well, it looks like ASRock has a solution.
ASRock's "Base Frequency Boost" technology could make it possible to overclock locked Intel CPUs.
"ASRock BFB (Base Frequency Boost) technology allows users to install non-K series CPUs on selected ASRock 300 and 400 series motherboards (even non Z models) and enjoy the base frequency boost with the hidden power of processors immediately."
How Does It Work?
It works by altering the thermal design point (TDP) of the CPU. The TDP is a value that is measured in the watts a CPU will run at while under load for an extended period. This is sometimes called a power level one rating (PL1). The power level two (PL2) rating designates the wattage for shorter-term frequency boosts.
ASRock's technology alters the PL1 level and essentially tricks the CPU into running at a faster base frequency than it's supposed to.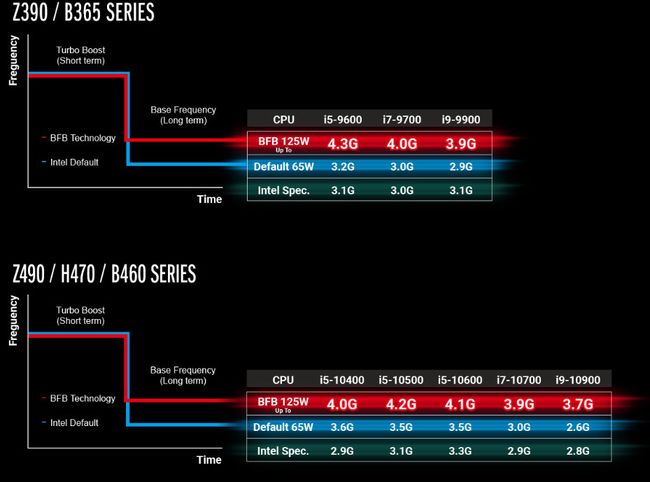 An example in the image given by ASRock shows the Intel Core i9-10900 which has a TDP of 65 W usually. When using the BFB technology, the processor kicks this up to 125 W instead. Therefore, the CPU can run at 3.7 GHz rather than 2.6 GHz. That's a huge 900 MHz overclock that's impossible to ignore.
Keeping Your CPU Cool
If you're thinking of using this method, there's one key thing you can't afford to ignore and that's the cooling. If you're going to be pushing a CPU beyond the maximum it's designed to handle, it's going to get much hotter and will need additional cooling.
"While ASRock BFB breathes life into non-K series CPUs and non-Z series motherboards, the boost frequency currently still depends on the cooling system applied on your rig," ASRock warns.
If you don't have a sufficient cooling system installed, you're probably not going to see the full potential of what your CPU and ASRock's technology have to offer. So bear in mind, your CPU's overclocking ability will only be as good as your cooling system.
How Do You Get Hold of BFB Technology from ASRock?
ASRock will make their BFB available on certain socket LGA 1200 motherboards for Comet Lake processors (Z490, B460, and H470 boards). It will also be available for some previous generation socket LGA 1151 motherboards such as the Z390 and B365 for Coffee Lake processors. If you have one of these boards, you will need to download the latest BIOS from ASRock.
All that's left to think about is what Intel will make of it all. We don't imagine they'll be too happy so it'll be interesting to see their response. If we hear any more about BFB technology, we'll keep you updated.