Ryzen 7000 series Zen 4 CPUs are listed online in Canada
All four known Ryzen 7000 series SKUs have been listed online by a Canadian retailer ahead of AMD's official launch date.
Updated: Oct 20, 2022 3:33 pm
Ryzen 7000 series Zen 4 CPUs are listed online: AMD is set to release its Ryzen 7000 series Zen 4 CPUs in exactly one month, the prices and specs of which were reportedly going to be revealed at Gamescom 2022. But thanks to Canadian retailer, PC-Canada, we have a preliminary price list ahead of the official announcements.
Now read: AMD Zen 4, what we know.
The prices were picked up by Twitter leaker @Momomo_US, coincidentally, this leak also confirms that the Ryzen 9 7950X, Ryzen 9 7900X, Ryzen 7 7700X, and the Ryzen 5 7600X are all releasing at the same time, without the 7800X. 
Latest news: AMD has pushed back the release of Zen 4 CPUs to the 27th of September, the same day as Intels unveil of its 13th generation "Raptor Lake" CPUs. Find out more in our article: AMD pushes back Ryzen 7000 series release to September 27th.
---
Video: Ryzen 7000 series Zen 4 CPUs are listed online
---
Ryzen 7000 series Zen 4 CPUs are listed online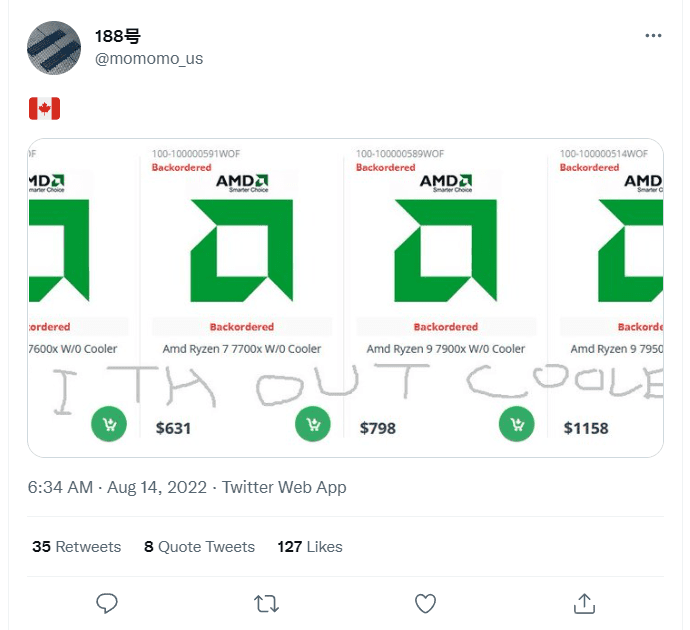 Bear in mind, that the prices are listed in Canadian dollars. The prices listed for each of the new Ryzen 7000 series according are as follows:
(The links to these products have since been removed or replaced by another product)
If we compare the prices of these 7000 series Zen 4 CPUs to that of the previous generation 5000 series CPUs, we can see that there are some quite considerable differences.
The Ryzen 9 7950X is priced $158 CAD higher than the 5950X.
The Ryzen 9 7900X is priced $13 CAD lower than the 5900X.
The Ryzen 7 7700X is priced $216 CAD higher than the 5700X.
The Ryzen 5 7600X is priced $15 CAD lower than the 5600X.
These are considerable price differences, but it's important to note that these are only preliminary prices and will be subject to change up until the 29th of August when AMD announces the final pricing for its Zen 4 7000 series CPUs at Gamescom 2022.
---
What's new with Zen 4?
Zen 4 is a new incredibly powerful platform from AMD, it is the successor to the Zen 3 CPUs AMD released back in 2020.
The Zen 4 architecture brings an IPC uplift of around 8-10%, all thanks to its smaller 5nm manufacturing process and smaller transistors. The smaller the transistors, the more you can pack into any given space.
However, most of the performance benefits arise from the much higher clock speeds and TDP integrated into each CPU. Compared to its predecessor, Zen 4, Zen 4 offers a performance increase of around 15% in Single-threaded workloads and around 35% in Multi-threaded workloads. Zen 4 also offers around a 25% performance per Watt increase over Zen 3 CPUs, making it much more efficient as a result.
The all-new Zen 4 processors also have increased L2 cache (double from 512KB to 1MB), support for the new DDR5 memory standard, AMD EXPO (Extended Profiles for Overclocking), and PCI Gen 5 support for both GPUs and M.2 SSD storage devices.
---
Zen 4 Ryzen 7000 series Specs
So, what are you getting when you're being asked to pay upwards of $800 USD for a CPU? We don't have any official announcements to go off, but here's what we know regarding the AMD Ryzen 7000 series CPU specifications.
Ryzen 9 7950X
The Ryzen 9 7950X is designed to be the best of the best. The 7950X has a core count of 16 cores and 32 threads, it will also have a very high base core frequency of 4.5GHz, and a boost clock speed of 5.7GHz – that's huge. The 7950X also has a huge 170W TDP (65W higher than any Ryzen 5000 series chip). As for Cache, the Ryzen 9 7950X comes with 80MB total, 64MB from L3, and 16MB from L2 (1MB per core).
Ryzen 9 7900X
The Ryzen 9 7900X is the little brother to the 7950X and will come equipped with a 12-core 32-thread setup, with base and boost frequencies topping 4.7GHz, and 5.6GHz respectively. The CPU retains the same 170W TDP as the 7950X. As for cache, the 7900X has 76MB of cache (64MB L3 and 12MB of L2)
Ryzen 7 7700X
The Ryzen 7 7700X come sporing an 8-core 16-thread configuration, this CPU is definitely for gamers with a smooth 4.5GHz base frequency and a boost frequency that tops out at 5.4GHz. The 7700X has a lower TDP of 105W (The same as the flagship 5950X). And as for cache, we have a total of 40MB, 32MB of L3 cache, and 8MB of L2.
Ryzen 5 7600X
The Ryzen 5 7600X is aimed more toward budget gamers, with a 6-core 12-thread configuration, this CPU certainly has plenty of power for its price point. The 7600X features base and boost core frequencies of 4.7GHz and 5.3GHz respectively, boasting a 105 TDP in the process. As for cache, the 7600X will sport 38MB of total cache (32MB of L3 and 6MB of L2).
---
All of these CPUs certainly seem like capable chips, but we won't find out until we get our hands on them in the near future. Roll on September 15th. We hope you enjoyed our "Ryzen 7000 series Zen 4 CPUs are listed online" article.
Yes, Zen 4 is the architecture that the Ryzen 7000 series is built upon.
How much is the Ryzen 9 7950X?
According to recent leaks, the price of the Ryzen 9 7950X will be around $1140 CAD ($892 US).
How much is the Ryzen 9 7900X?
According to a recent leak, the price of the Ryzen 9 7900X will be around $777 CAD ($608 US)
---