Top 10 topics to look out for at CES 2023
Everything you need to know about this year's CES 2023
Updated: Jan 4, 2023 2:10 pm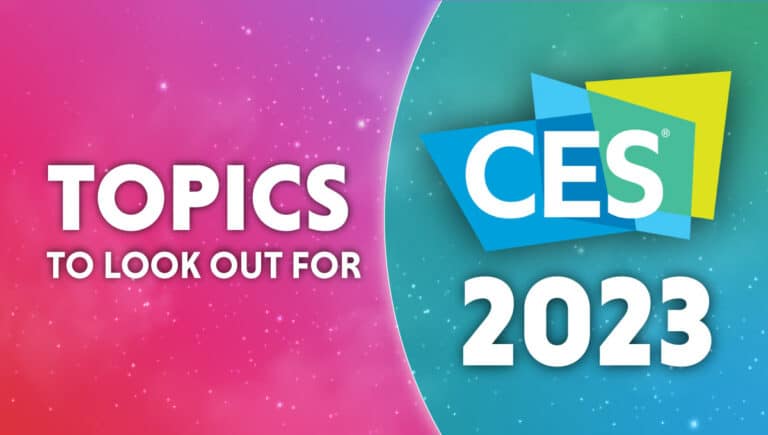 This year, the CES is shaping up to be one of the biggest and best yet, with brands like Sony, Google, LG, Samsung, and loads more unveiling their latest technological releases and keynote speakers addressing a range of important topics and developments across the consumer tech industries. The event runs from January 5th to January 8th, and there are plenty of specific releases to get excited about, from a Sony car to 3D laptops from Asus. However, there will also be broader topics addressed at the conference – we've rounded up the best ones here for you, so you can keep on top of all the crucial developments, announcements and news from the keynotes and product releases.
READ NOW: CES 2023 featured exhibitors
Unlike previous years, this year's conference has a theme – how technological innovation can help to solve some of the world's biggest problems. This means we can expect to see a range of exciting announcements that could potentially have a global impact for the good of humanity. Exciting stuff!
Read on for our guide to the top ten topics to look out for at CES 2023.
Here's the CES 2023 schedule.
AI and Robotics
AI is at the forefront of most development when it comes to innovation aiming to help solve some of the world's problems. The 2023 CES will showcase some of the latest AI tech from exhibitors like AI Nexus alongside talks and panels on the latest AI trends and how AI might impact enterprise and business. On a different scale, Samsung have unveiled an AI oven equipped with a camera allowing it to prevent burning and suggest cook times and temperatures.
We're expecting to see some fun and useful innovation appearing over the course of the event – keep up to date by checking back with WePC, as we'll be bringing you all the latest news.
Environment and Sustainability
In line with the wider theme of technological advancement aiming to target global problems, there are plenty of major tech companies displaying their efforts into conserving energy and creating more sustainable systems. With talks about the Future of Farming and Reinventing the FoodSystem and exhibitors ranging from household names like Panasonic and Sony to lesser known but influential brands like 3M, Bridger Aerospace and NexGen Power Systems.
Keep an eye on this topic over the week – there are bound to be some potentially massive stories.
READ NOW: Where is CES 2023 held?
Gaming and eSports
Gaming is one of the largest topics at every CES, and this year is no different. New 240Hz OLED gaming displays from Asus, LG and Corsair will be showcased alongside Nvidia's big unveiling of a new batch of RTX 40 series GPUs for laptops, including the RTX 4090, 4080 and 4070. Alienware teased an 18-inch laptop which will probably debut at the event, and a wide range of gaming monitors from brands like Samsung and Asus which will incorporate OLED technology for a brighter and higher-contrast display.
You can watch Nvidia's keynote speech here – take a look at our schedule for a guide to exactly which talks on gaming will be taking place across the convention and where to watch them.
The Metaverse and Web3
The expansion of the metaverse and prospective of a utopian 'Web3' is a topic many have been keeping an eye on over the last couple of years. The idea of an all-encompassing 3D virtual space in which blockchain-based finance and VR are used in novel and connecting ways is exciting, but has not seen a great deal of wide-ranging public usage since Mark Zuckerberg announced his vision for the Metaverse a while back. However, there are some major advancements being made in the field which will be showcased at a range of exhibitors and talks across the CES weekend.
At this year's CES, there will be a dedicated Web3 Studio in the LVCC, Central Hall. Influential speakers will discuss the most important developments, including Joe O'Rourke, Head of the Web3 Strategy Forum3, and there will be specialist exhibitors like eXchangily displaying some of their latest tech.
READ NOW: Is CES 2023 open to the public?
Digital health
Tying into the overarching theme of how innovation can help to solve pressing global problems, the topic of digital health is an important topic at this year's CES. Some of the best minds in the industry will be speaking, and exhibitions from companies like Abbott and CareSix promise to spark some exciting and useful conversations about how users might be able to start taking healthcare into their own hands.
Expect discussion-prompting presentations and events ranging from AI, Digital Health and the Future of Patient Care (January 6, 9:00 AM – 9:40 AM at LVCC, North Level 2, N250) to The Future of At-Home Testing and Diagnosis (January 6, 2:00-2:40PM, at LVCC, North Level 2, N250).
Vehicle Tech and Advanced Mobility
The big reveal of Sony's car might be high up on the priority list for many, but there's plenty of other exciting things on the agenda when it comes to vehicle technology at this year's CES. Cutting-edge autonomous vehicle innovations will be showcased at events like the talk on Autonomous Vehicles and Their Global Expansion (January 6, 2:00-2:40PM at LVCC, West Level 2, W219). Don't miss the Indy Autonomous Challenge (IAC) at the Las Vegas Motor Speedway on Saturday January 7 – nine university teams will be competing with fully automated vehicles operating at more than 190mph.
Stay tuned – here at WePC we'll be bringing all the latest updates on vehicle technology as news comes out of the CES.
Home entertainment and Streaming
TV brands usually dominate exhibition space at the CES, displaying the latest, biggest and brightest screens for attendees to gawk at. From new miniLED and a possible 77 inch QD-OLED TV from Samsung to a probable host of new LG and Sony OLED screens, there's bound to be lots of exciting announcements in store. A lot of the major TV brands (Sony, Samsung, LG) will be streaming their keynote talks, so check out our guide here to find out where to see them.
Smart Home
From Smart Fridges to $11,500 Smart Toilets, it seems there's an uptick in effort from companies to create a buzz around the 'smart home' idea, despite the fact that for most people, the tech is still pretty limited to Alexa turning on music and lights. However, new ways of looking at the idea will be presented at this year's CES, from security to Omdia's research summit on January 4th at 2:00-2:40PM.
There's bound to be some interesting new ideas on display, so make sure to keep up to date with the latest news here at WePC if you don't want to miss any crucial updates.
NFTs and Cryptocurrency
Love them or hate them, there was no way of avoiding news about NFTs last year, and although the buzz seems to have died down, there's plenty of discussion about this topic you won't want to miss out on at this year's CES. Important work is being put into finding software solutions to make crypto a more secure and viable option for more people, and a lot of the discussions at the conference will center around the risks and problems with the existing tech – and how we can improve it.
If you're at the event, check out exhibitors like AKT.10, iCoin Technology and Mytrix Technology LLC – for streaming options, look to the CES 2023 YouTube channel, where some of the talks will be live-streamed. Our schedule will show the best talks accessible to the public –
Augmented and Virtual Reality
Arguably one of the most exciting areas in the tech world right now, VR is advancing at an incredible rate, and we're expecting to see some big reveals from HTC, Meta and Sony, alongside smaller companies like Weezy VR and Seerslab.
There'll be plenty of opportunities to try out some of the most cutting edge tech in the VR sector at the convention itself, but for those who weren't lucky enough to get a ticket, we'd suggest tuning in to some of the streams available online. Sony's will go live on January 4th at 5PM (PST) on YouTube – you can find the stream here.
---