CES 2023 Schedule
All the biggest exhibits at this year's CES 2023
Updated: Jan 4, 2023 1:52 pm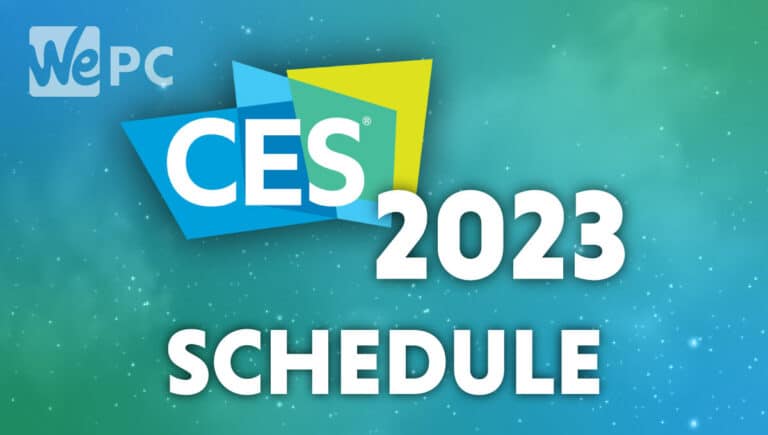 The most important and influential tech event of the year is finally here, and we've been working hard to bring you the most up-to-date CES 2023 schedule. The Consumer Electronics Show (CES) is a chance for the biggest and most respected tech brands in the world to show off some of their latest developments and cutting edge products.
This year, the CES runs from January 5th to January 8th, and we're expecting to see some major technological breakthroughs from names like Samsung, Amazon, Google, LG, Asus and many more. From mega speedy gaming monitors to smart fridges, a possible Sony Car and 3D laptops, there's plenty of new releases to get excited about, let alone a whole host of talks on the intersections between tech and sustainability, health, human security and tonnes more.
The conference is held in Las Vegas, Nevada, where the lucky ticketholders will be able to witness the exhibits in person. We will be providing a schedule of events right here, so read on if you're keen to find out more. However, if you missed out, do not fear – there are plenty of ways to stream the talks, product reveals and panels which will be taking place across the event. Read on to find out the schedule details and where to catch some of the best events both in person and online.
When is CES 2023?
This year's CES officially runs from Thursday, January 5 2023 to Sunday, January 8, although talks from major brands like Nvidia will be kicking off from Tuesday January 3. The bulk of talks, panels, keynotes and exhibits will take place in and around the Las Vegas Convention Centre, Nevada.
This year's show is the first with a proper theme – it will focus on how technological innovation can solve some of the world's problems. Expect big ideas and forward-thinking talks from industry leaders, with plenty of big unveilings and interesting discussion.
CES 2023 Schedule – PC & gaming tech
The 2023 CES will have a range of influential keynotes from major industry players, many of which will be livestreamed. For those lucky enough to attend the event in-person, we've listed some of the talks and panels which might reveal some exciting developments from across the tech industry on a range of topics.
Read on to see the CES 2023 Schedule, or see it on the CES website here.
Tuesday, January 3rd
Although the event doesn't officially kick off until Thursday January 5th, there will be some exciting keynotes from as early as January 3rd.
TABLE
Wednesday, January 4th
The show itself isn't fully open, but the attached media conference is in full swing. Sony, Panasonic, LG and AMD will all be busy with respective keynote announcements, and some of this will be on streaming services available to the public.
| | | | |
| --- | --- | --- | --- |
| LG Electronics | 8am PT | 11am EST | 4pm GMT |
| Hisense | 9am PT | 12pm EST | 5pm GMT |
| Panasonic | 10am PT | 1pm EST | 6pm GMT |
| TCL | 1pm PT | 4pm EST | 9pm GMT |
| Samsung | 2pm PT | 5pm EST | 10pm GMT |
| Sony | 5pm PT | 8pm EST | 1am GMT |
| AMD | 6.30pm PT | 9.30pm EST | 2.30am GMT |
Thursday, January 5th
Thursday will see the event kicking off fully, with a wide variety of talks and panels as well as exhibitors showing off their wares to attendees. The opening keynote starts proceedings first thing, and there are plenty of talks, panels and press conferences happening all day.
| | | | |
| --- | --- | --- | --- |
| Connected Vehicle Intel Rerport | 9am PT | 12pm EST | 5pm GMT |
| The modern Era of 5G | 9am PT | 12pm EST | 5pm GMT |
| Top tech trends in Travel | 9am PT | 12pm EST | 5pm GMT |
| How to safeguard your door at risk | 10am PT | 1pm EST | 6pm GMT |
| Women in Tech Q&A: Live at CES | 11.30am PT | 2.30pm EST | 7.30pm GMT |
| Samsung | 3pm PT | 6pm EST | 11pm GMT |
Friday, January 6th
The fun continues with more press conferences, keynotes and exhibits throughout the LVCC and the Venetian Expo.
| | | | |
| --- | --- | --- | --- |
| Highlights from Canon at CES 2023 | 9.30am PT | 12.30pm EST | 5.30pm GMT |
| Next-Gen streaming…Today | 9.45am PT | 12.45pm EST | 5.45pm GMT |
| Investing in space | 11am PT | 2pm EST | 6pm GMT |
| Space tech: In Orbit and Delivering | 1pm PT | 4pm EST | 9pm GMT |
CES 2023 Keynotes
Often the most anticipated events of the CES, the keynotes of industry leaders provide a taste of what's to come over the next year. Its's the time when some of the biggest releases are announced and new technology is unveiled. This year, the theme of how technological innovation can help solve global problems mean there will be a lot of discussion centred on large scale solutions to current issues, alongside the usual consumer tech reveals from brands like Samsung, LG and Asus.
This year is no different, with hype already building around the forthcoming speeches. Read on for our schedule detailing the most important keynotes at the 2023 CES.
Tuesday, January 3rd
Nvidia will be kicking off proceedings with their speech, which we expect to announce their latest range of GPUs – the RTX GeForce 4070 Ti being the most hyped.
Wednesday, January 4th
Wednesday will oversee the biggest hitters when it comes to keynote speakers: with press conferences from LG at 8:00AM, Panasonic at 10:00AM, Canon at 1:00PM, Samsung at 2:00PM, Sony at 5:00PM and a keynotes from AMD at 6:30PM and BMW at 8:00PM.
Thursday, January 5th
The big opening keynote on the theme of tech solving global problems comes today, from the CTA, including words from the head of agricultural tech giant John Deere – at 9:00AM. Others include the C Space Keynote: Building Connection & Community in a Non-Stop World at 11:00AM, and the Stellantis Keynote at 2:00PM, in which the Ram 1500 Revolution Battery Electric Vehicle Concept and the Peugeot Inception Concept will be unveiled. Later on, the Future of Care in America: A New Hybrid Model keynote will see leaders in medical tech talk about ways technological innovation is enabling a new patient care model, at 4:00PM.
Friday, January 6th
Elizabeth Gore, President of Hello Alice, will lead a keynote on Bold Solutions for a Changing World, at 10:00AM – the last large keynote for the event.
Exhibits
There are plenty of exhibits from countless tech brands which we are keen to take a look at. Find the interactive map guide to the exhibits here.
---