Best power supply for AMD Ryzen 7000
For your new CPU and MOBO you may also be thinking of a new PSU to pair it with
Updated: Feb 3, 2023 2:57 pm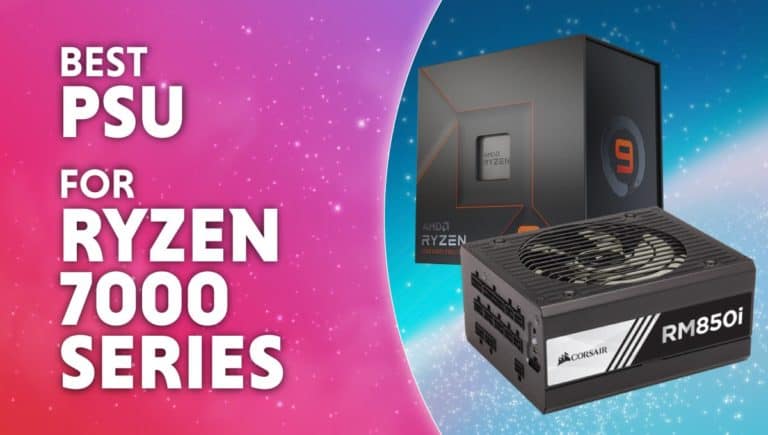 01

Editor's choice

Best power supply for AMD Ryzen 7000

02

Most efficient

Most efficient power supply for AMD Ryzen 7000

03

Runner up

Best EVGA power supply for Ryzen 7000
Now with AMD's new Ryzen 7000 series CPUs you may be looking at what the rest of your new build may include. So we bring you the best power supply for AMD Ryzen 7000.
Although they may not be the biggest factor in power consumption, they have seen an increase in TDP. With them running rather hot and powerful there is a lot of power to provide and dissipate.
Now read: Best CPU for the RTX 4080
So although a new graphics card might be the biggest consumer, each part adds up. So with the increasing TDPs, you have to consider a higher capacity power supply.
But with the rising power consumption of all these and rising costs, efficiency might be more important. So we bring you a range of options for you to pick from.
---
What are the Ryzen 7000 TDPs?
When it comes to looking at power supplies you want to know how much power you need. With one of the specifications of PSUs is how much power they can provide.
So to know how big of a power supply you need, you have to add up your components. So we first look at the TDPs of the new CPUs.
There we see 170W for the top two choices, Ryzen 9 7950X and 7900X. Whilst the lower two options, the Ryzen 7 7700X and Ryzen 5 7600X, have a rating of 105W.
Although in terms of AMDs spec, these tend to be the thermal design and not direct power consumption so it is likely higher than that.
---
Do I need a new power supply for Ryzen 7000?
If you already have a power supply to use then no you won't need to upgrade it just for these CPUs. You only have to consider it if it's not powerful enough.
The power connections are staying the same for motherboards and CPUs so no need to worry about that. You just have to make sure it can sustain the whole system and not cause shutdowns and issues.
---
What are power supply ratings?
When you're comparing different power supplies, they will tend to have different 80 PLUS certifications. This is a test to provide the efficiency of the PSU.
It is important as one of its jobs is to convert the AC power in your house supply to DC for your computer. This produces heat and inefficiency means a loss and waste of energy that you still pay for.
So a quick rating will give you an idea of how well it will do its job.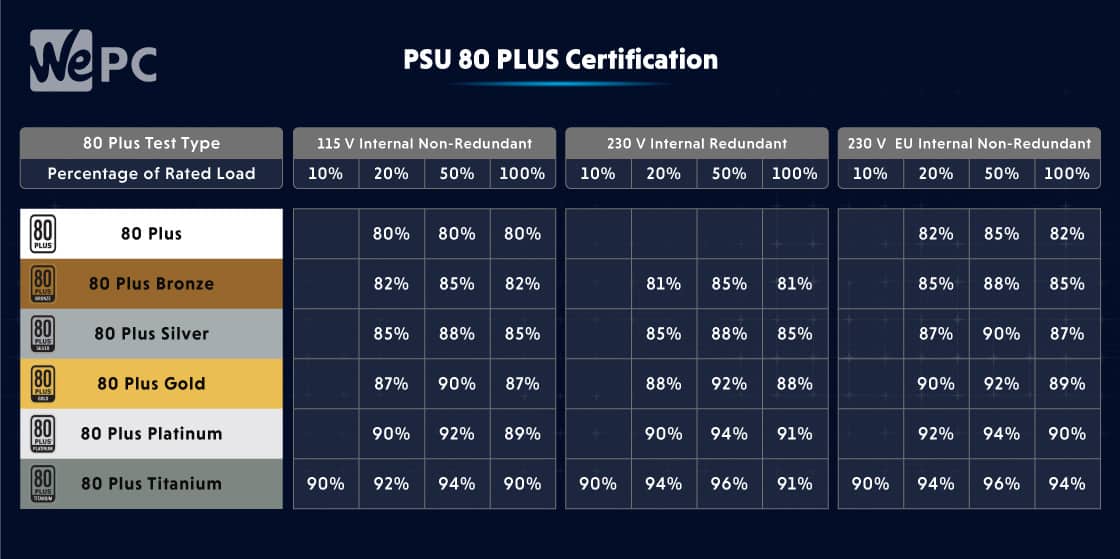 ---
Best power supply for AMD Ryzen 7000
So this is the top selection of power supplies for your Ryzen 7000 CPU
Corsair RM850x
Fully modular for customization and clean building

Features maglev fan for the quietest and longest performance

Hybrid mode keeps the fan off until its needed

10 year warranty to keep your PSU realiable and long lasting
Can be a more expensive option
For the best power supply for your Ryzen 7000 series CPU, we have the Corsair RM850x. One of the most popular choices is a versatile and efficient model.
It has a Gold 80 PLUS certification, an average but good spec to get. As it still saves you a bit of money with efficiency but doesn't come with the premium of higher models.
It is also a fully modular supply. This means all of the cables can be plugged in and not permanently attached. So you get the choice of personalization, as well as keeping your cable mess down.
But in terms of cables, it has ports for 5x SATA/PATA, 1x motherboard, and 5x PCIe/CPU. So there is also a lot of expandability for your build with GPU and CPU power as well as plenty of peripherals.
For its fan, it uses a 135mm maglev fan. This provides very quiet operation as well as long-lasting performance. That provides great stability over the years that are included with their warranty. With the fan only turning on at 340W so it can stay quiet for long.
Seasonic Prime TX-850
The most efficient PSU you can buy

Quiet operating fluid dynamic bearing

Longest 12 year warranty that really
By far the most expensive option that is more than most will require
Now if you're looking for the most efficient power supply for your Ryzen 7000 series CPU, the Seasonic Prime TX-850 has you covered.
It offers a Titanium 80 PLUS certification, that will definitely make sure your energy is being put to good use and not wasted too much.
This top-of-the-line supply is a lot more expensive than other options. But is meant to last with a promised 12-year warranty.
It also comes with a fluid dynamic fan bearing to keep it cool. Although this could wear out over time, it only comes on at 40/50% load to keep it going for longer.
And in terms of its connectivity, it offers 1x motherboard connector, 6x peripheral, and 8x CPU/PCIe.
EVGA SuperNOVA 850 GA
Full modular allows for best customization and cleanliness

Eco mode as standard

10 year warranty for a more trusted experience
The more expensive option for an average spec

A louder fan choice even with fan eco mode
Another great choice for a Ryzen 7000 power supply is the EVGA SuperNOVA 850 GA. As it is on par with the Corsair RM850x.
It also has a Gold 80 Plus certification for good efficiency in power conversion. Which also helps with its price point.
In terms of connections, it also is a fully modular supply. And so with that versatility, it offers 4x VGA, 2x CPU, 1x motherboard, 3x SATA, and 1x peripheral connectors.
For its cooling, it uses a 135mm ball-bearing fan that only starts at a 40% load. Keeping the noise down whilst the durability stays up longer.
This will help alongside the high-quality components and its long 10-year warranty.
---
Final word
So if you're looking out for a new power supply there's a wide selection that will suit your Ryzen 7000 processors. There is a lot of power to keep going so it is good to find the right fit. As well as making sure you have enough for your whole system.
All the PSUs in this list will happily support the Ryzen 7000 series CPUs with a high-end GPU like the 3080 – 4080. You may have to opt for something bigger if you're planning on pairing it with a 4090, however.
---
Best power supply for AMD Ryzen 7000 FAQs
What is the best power supply for AMD Ryzen 7000?
For the best choice of power supply for AMD Ryzen 7000, the Corsair RM850x is always a great choice of PSU. As a popular choice, it offers a good balance of price, quality, and performance. With a solid 850 W rating, it should be enough for most combinations of components. Whilst for efficiency, the Seasonic Prime TX-850 is a great choice. The Titanium, rating means you're not wasting too much energy to heat.
---