Best drawing tablet with a screen in 2023
There are many options when it comes to the best drawing tablets with a screen. To save you the headache of doing your own research, we've gone through the dozens of options and picked out the best of the best
Updated: Jan 26, 2023 10:52 am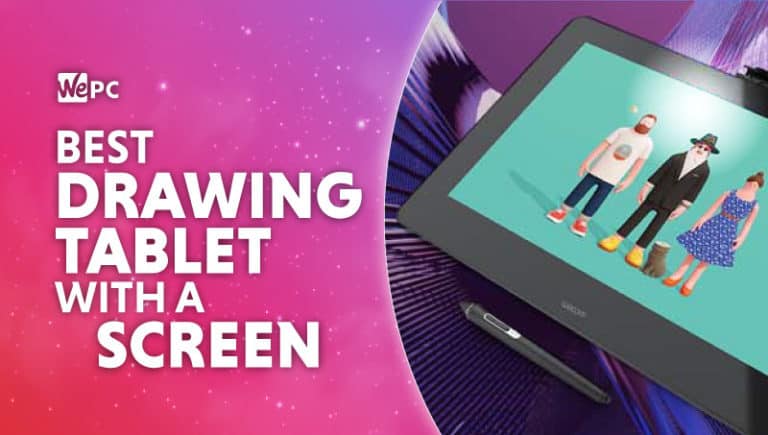 01
The best drawing tablet with a screen
02
A drawing tablet with great value
03
A versatile drawing tablet
If you're looking for the best drawing tablet with a screen, you are in for quite a journey. It is an interesting time to be an artist, as drawing tech is evolving at a rapid pace. Wacom is still the top choice for many, purely because of the brand's reliability. However, things have become quite diverse in the past few years.
Much of this is because the drawing experience on iPads and Android tablets has gotten a lot better. As such, traditional drawing tablets were forced to step up their game and provide an incentive to newcomers. It's a great time to be a drawing tablet buyer, as you're spoiled for choice in this market.
In fact, picking the right tablet for you is the hardest thing you have to do. Not everyone has the same needs, nor the same workflow. In the end, we decided that we'd include tablets that cater to different audiences.
---
01
The best drawing tablet with a screen
02
A drawing tablet with great value
03
A versatile drawing tablet
---
Best drawing tablet with screen: things to consider
As we discussed earlier, diversity is incredible when it comes to the best drawing tablets with a screen. We say this because traditional tablets have caught up quite quickly. Devices such as the iPad Pro and Galaxy Tab S8 are excellent if you want to get started with digital art.
They are also great for versatility. These aren't just drawing tablets, you can play games, write up documents, and do other stuff that you would normally do on a laptop. Styluses like the Apple Pencil and S-Pen are also on par with some of the best graphics tablets out there.
On the flip side, a traditional drawing tablet with a screen is still popular among professionals. This is because you don't need to worry about battery life, you plug them in and are ready to go, and you might get shortcut keys not found on traditional tablets.
However, these are more like external monitors and need to be connected to a PC or Mac to function.
Connectivity and OS Support
Generally speaking, most of the best drawing tablets with a screen will have no problem supporting both Windows and macOS. However, keep in mind that some tablets have drivers and firmware that can only be done via Windows. This is quite common on non-Wacom tablets.
Of course, this is a non-issue with iPads and drawing tablets. You're stuck with the OS installed on these devices. As for connectivity, some of the better tablets will be able to connect with a USB-C cable, while others may still use a traditional HDMI port for the display.
Does portability matter to you?
This is where the debate between pen tablets, the best drawing tablets with a screen, and traditional Android/iOS tablets gets interesting. A lot of artists prefer to have a dedicated space in which they can be creative. A lot of people might only work in this place, and portability may not matter as much.
This also means that they can go with larger screen sizes without any worries. If you're not moving the tablet around all the time, it's a good idea to buy a big tablet.
On the other hand, a lot of artists like to move around a lot. You'll find a lot of them in coffee shops, libraries, and other places, always on the hunt for inspiration. This is where devices such as the iPad come into play.
Again, either could be the right choice depending on how often you plan to move around while working on your projects.
Finding the right pen
It goes without saying, this is a really important when you're looking for the best drawing tablets with a screen. Different drawing tablets will come with different pens, and the experience might be different. Especially if there's a substantial difference in the price.
Some tablets come with pens that wear out quickly. These will usually come with a few replaceable nibs in the box. Most pens these days do not rely on battery power, so you don't need to worry about battery life.
The grip is also something you need to worry about. Drawing for hours on end is not good for your wrists, so you need to find a pen and tablet combo that is comfortable for those long sessions.
Best drawing tablets with a screen: in-depth review
Wacom Cintiq Pro 16
Gorgeous matte 4K display

Pro Pen 2 is great to work with

A tactile drawing experience

Expresskey shortcuts
When it comes to the best drawing tablets with a screen, you can't ignore Wacom tablets. The Wacom Cintiq Pro 16 is by far one of the best drawing tablets from Wacom. There is a reason why this is such a popular choice among both enthusiasts and professional digital artists.
The star of the show here is the matte 4K screen. It's incredibly impressive, as the colors are vibrant, which they should be since this covers 98% of the Adobe RGB spectrum. It features an etched-glass display, which allows for a unique and tactile experience while drawing.
Just like the tablet itself, the Pro Pen 2 here is also a premium tool for drawing. The pen has some weight to it but does not feel uncomfortable. The weight is distributed quite well, and this is what makes it comfortable.
It includes Expresskey shortcuts on the back, and these are programmable. You can map these to different shortcuts within different drawing apps. It's a clever feature, and their positioning means they don't take up any space in the front.
This truly is the best drawing tablet with a screen, especially if you need something with a sharp display.
---
Huion Kamvas Pro 13
Superb color-accurate screen

Precise and accurate pen

7 programmable keys

Versatile connectivity
Power adapter not included
Huion is often underrated and left out of the conversation of the best drawing tablets with a screen. However, don't let that skew your perception here. This is one of the best pen displays out there, and it's highly competitive in its pricing.
With this new Kamvas Pro 13, Huion is finally giving us a good reason to buy the pro model. That of course is the 2560 x 1600 display. It is sharper than most tablets in this range, and noticeably more color accurate as well. Not something you expect from a tablet that focuses on value.
The design is quite good as well. It has a laminated screen, and the matte surface is great to draw on. Other than that, the buttons for programmable shortcuts have symbols on them, and the surface allows you to distinguish between them.
This tablet includes a combo cable in the box. It has two USB-C connectors on one end, two USB-A connectors, and HDMI on the other end. You will need to plug this into a power adapter, but it does not come with one in the box.
All things considered, this is an excellent drawing tablet with a screen, at a competitive price.
---
iPad Pro 12.9″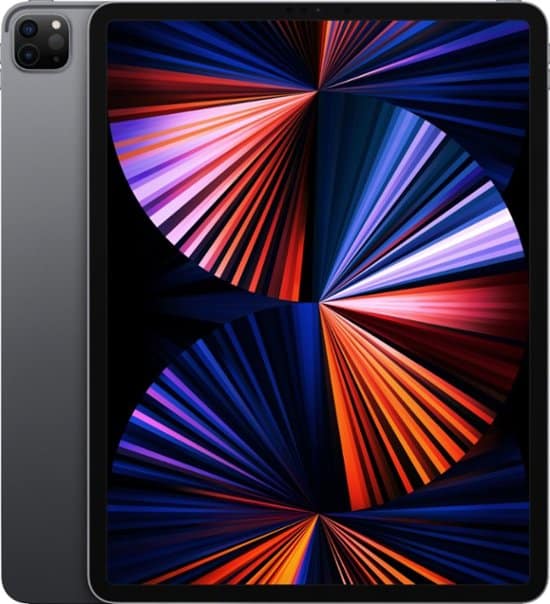 12.9-inch, 2388 x 1668 pixels, 120Hz
128GB / 256GB / 512GB / 1TB / 2TB
Promotion display is a joy to draw on

Beastly performance

Apple Pencil remains great for drawing
Very overpriced

iPad OS feels limiting for the M1
When we're talking about the best drawing tablets with a screen, the iPad Pro is something of an outlier. Most of the devices we're looking at are pen displays, and they work more like external monitors rather than traditional tablets.
Of course, the iPad is a far cry from that. This tablet runs on iPad OS, and that is what makes it so versatile. Apps like Procreate turn this into an amazing drawing tool. Other apps such as notability turn this into a productivity powerhouse.
Apart from its versatility, it is a premium experience for drawing. The 120Hz display feels excellent, and it's a game changer once you start drawing on it. Other than that, the Mini-LED panel here is punchy and vibrant. It stands proudly against some of the best drawing tablets with a screen.
Battery life is great, and so is the Apple Pencil. This second-generation pencil sticks magnetically to the sides of the iPad, and that's how it charges. This means you never need to worry about the battery.
Overall, if versatility is what you are looking for, this is the drawing tablet to get.
---
Microsoft Surface Pro 8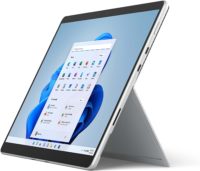 Intel Core i5-1135G7 / i7-1185G7
13-inch, 2280 x 1920 pixels, 120Hz
128GB / 256GB / 512GB / 1TB SSD
2x USB-C with Thunderbolt 4, Surface connect port, Headphone jack
Premium 120Hz display

Excellent form factor

Thin and light
Gets quite warm

Quite Expensive
Like the iPad Pro above it, the Microsoft Surface Pro 8 is quite different from the other best drawing tablets with a screen. For one, it runs Windows. Now, that immediately makes it more versatile than most traditional tablets, but that's not where it ends.
For starters, the display here is excellent. It covers 103% of the sRGB color gamut and even features a 120Hz refresh rate. With previous models, the Surface Pen was not good for drawing. Thankfully, it's been updated, and it works well with the high refresh rate.
Other than that, the form factor is fabulous. You can buy a keyboard cover for it, and it is still thin and light when attached. It almost feels like a notebook. The hinge is well designed, and everything about this design screams quality.
Other than that, this is a great experience for drawing and is a full-fledged Windows machine on top of that.
It is the best drawing tablet with a screen if you also want a laptop-like experience to boot.
---
XP-Pen Artist 12 (2nd Gen)
Highly affordable price

Fully laminated display

USB-C connectivity
Does not include a stand

Line quality is not the best
XP-Pen has long been trying to create some of the best drawing tablets with a screen. While they have enjoyed success with simple drawing tablets, it's been an uphill battle when it comes to pen displays. Thankfully, this is a much better attempt.
The XP-Pen Artist 12 is an entry-level pen display. It uses an 11.6-inch 1920 x 1080 screen, and it's good enough for the price. It supports USB-C, and the new stylus feels more comfortable to hold. The display is laminated, and that brings it up to par with similar devices.
Of course, there are a few corners cut here. For example, there is a bit of wobble while drawing slowly. This is noticeable when you are taking your time drawing those finer lines at a slow speed. You might have to turn up the smoothening a bit to fix this.
Fortunately, they get the pressure sensitivity just right. While the drawing experience is a bit poorer than some of the best drawing tablets with a screen, it's a decent starting point for beginners.
---
Related tablet guides
---
Best drawing tablet with a screen : Final word
We hope that this guide has helped you find the best drawing tablet with a screen in 2023 for your needs.
To recap If you are looking for the absolute best drawing tablet with a screen, the Wacom Cintiq Pro 16 is the one to get. It's worth mentioning that the Huion Kamvas Pro lineup is quite good as well, and they also sell a 16-inch model if that's what you fancy.
Both the iPad Pro and Surface Pro 8 are too versatile to ignore, and the XP-Pen Artist 12 is a decent enough experience for beginners on a budget.
Drawing tablets have certainly come a long way. We tried to keep this list as diverse as possible, just to show what a big choice there is in the game these days. With that said, depending on your use case, you can't go wrong with most of the tablets on this roundup.
---