Is the Samsung Neo G95NC 8K?
Let's talk about the impressively high resolution of the G95NC
Updated: Jan 24, 2023 9:53 am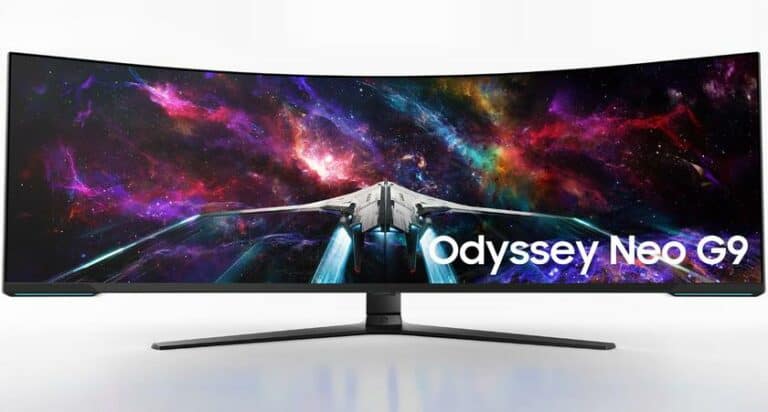 Samsung Neo G95NC, also known as the Samsung Odyssey Neo G9, is a recently-announced gaming monitor that proudly bears a resolution of 7680×2160, which is considered to be a form of 8K resolution. With a 32:9 aspect ratio, this monitor offers an unparalleled field of view and an incredibly detailed image.
READ NOW: Is the Samsung Neo G95NC worth it?
Samsung Neo G95NC 8K resolution
8K resolution is the latest and most advanced resolution available in the market, providing users with a level of detail and clarity that is unmatched by any other resolution (yet). With 7680 horizontal pixels and 2160 vertical pixels, the Neo G95NC offers a total of 16.6 million pixels, which is four times more than 4K resolution and sixteen times more than Full HD resolution. This means that images and videos will be otherworldly sharp, and text will be crisp and easy to read.
READ NOW: Does the Samsung Neo G95NC have burn-in?
8K resolution also allows for more precise color reproduction, thanks to the larger number of pixels. This means that colors will be more accurate, and images will be more lifelike. Additionally, the Neo G95NC comes with quantum Mini-LED technology and VESA Display HDR 1000 specification, which further adds to the refinement of the image.
Furthermore, 8K resolution also brings a more immersive experience when it comes to VR (Virtual Reality) and AR (Augmented Reality). The increased resolution and color accuracy create a more realistic virtual environment that can be more engaging and also gives in to more detailed and realistic objects in AR applications.
Is the Samsung Neo G95NC true 8K?
It's worth noting that while the Neo G95NC's resolution is often referred to as 8K, it is technically not a true 8K resolution, which is 7680×4320. However, the resolution it features is still incredibly high and offers a level of detail that is unmatched by most monitors on the market.
Albeit not the "true" 8K, Samsung Neo G95NC is it in all but technicalities and is the first ultrawide gaming monitor to offer that kind of resolution. So far, it's looking to be a bombshell when it releases. Turn your notifications on and listen carefully, because Samsung Neo G95NC will go places.
---