How to use a keyboard and mouse with PS5
We'll also explore the best keyboard and mouse for PS5, and what games are compatible.
Updated: Apr 6, 2023 9:00 am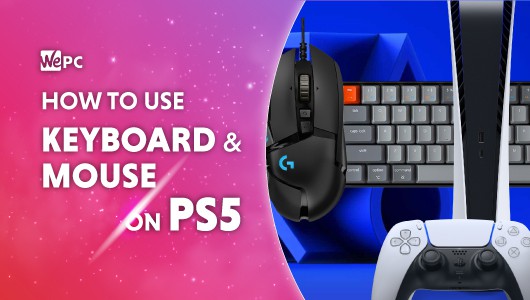 If you long for the use of a mouse and keyboard combo on console, let us show you how to use a keyboard and mouse with PS5. That's not to say that the PS5 DualSense controller isn't a fantastic bit of kit of course. The variable resistance triggers are one of the cleverest innovations we've seen in controllers over the last few years. Despite all that, sometimes you can't beat the higher level of control lent to you with a keyboard and mouse. Many people will agree that certain genres of games work best with a KB&M, namely first-person shooters.
The rise of cross-platform compatibility continues to help bridge the gap between console gamers and PC people. It does present a problem, however, as the PC players tend benefit from the advantage of a better control scheme for certain games. Although decent aim assist has become more frequent, many players simply prefer playing on keyboard and mouse.
Luckily for you, dear console gamer, there is hope, as the PS5 is compatible with keyboard and mouse. We'll go over how to connect both wireless and wired peripherals, and which games are able to take advantage of this feature.
How to use a keyboard and mouse with PS5 video tutorial
It's all well and good reading instruction from a webpage, but a video is the best way to visually illustrate the ins and outs more comprehensively. This video from RobinB360 shows all the steps well and will guide you to mouse and keyboard fame, success, and riches.
How to connect keyboard and mouse to PS5
This is going to be a speedy process, there's only a few steps, once we're done here you can get back to gaming!
Locate a couple of vacant USB ports on the console
Annoyingly, there's a total of only three USB ports on the PS5, so you may have to make some decisions and sacrifices here. The USB hard drive full of pirated movies might have to take a hike.
Plug the keyboard and mouse in
Not too much extra guidance needed for this step. For a cleaner aesthetic you might want to use the ports on the rear of the console.
Check that the PS5 has recognised the keyboard and mouse
Go to Settings > General > Accessories. Check here to make sure they are recognized.
Yes indeed, it's as simple as plugging them into a couple of USB ports on your PS5. It'll take a moment to recognize these peripherals, and after that, you're good to go!
The process is a little different for Bluetooth mice and keyboards. You might prefer this especially if you have a large TV as it allows you to maintain a sensible distance and avoid cluttering your living room with cables. It's still fairly simple, however, so follow the steps below and you'll be connected in no time.
How to connect Bluetooth keyboard and mouse to PS5
This process is marginally different, but the advantages of not having cables stretched across the room makes it more than worth it.
Check compatibility of your Bluetooth mouse and keyboard
Annoyingly, though the PS5 officially supports Bluetooth mice and keyboards on a system level, some have experienced compatibility problems. Luckily, those enterprising nerds over on reddit have put together a list of known keyboards and mice for your convenience.
Put your mouse and keyboard in pairing mode
The instructions provided with your peripherals should give you the guidance you need here. Usually it a case of simply holding a button for a few seconds.
Go into systems settings and confirm the connection
Go to settings > general > Bluetooth accessories. Here you should see the mouse and keyboard show up and you can get going.
Best mice and keyboards for PS5
ASUS ROG Strix Flare II Animate gaming keyboard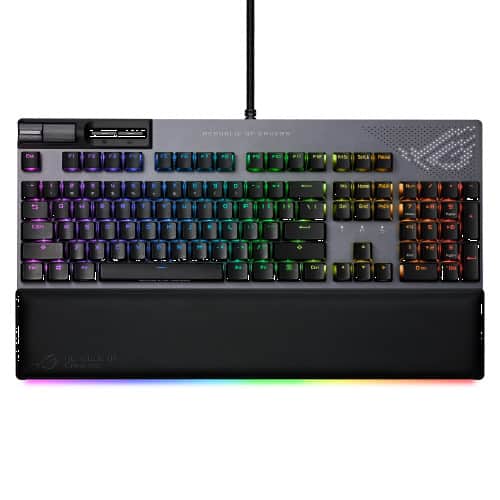 ROG NX Mechanical Switch / Cherry MX switch
Medium (120 x 63 x 36 mm)
Logitech G PRO X Superlight
Razer Opto-Mechanical Switch
Razer Chroma™ Backlighting with Underglow
Razer Opto-Mechanical Switch
Razer Viper Ultimate Wireless gaming mouse
What PS5 games support keyboard and mouse?
Unfortunately, not all PS5 games are compatible. Support isn't native yet so it's up to the developers to include support for mouse and keyboard. Here's a list of some popular PS5 games that can utilize your new peripherals.
Call Of Duty: Warzone
Call Of Duty: Black Ops Cold War
Call Of Duty: Modern Warfare
DayZ
Warframe
Elder Scrolls Online
DC Universe Online
DayZ
Assassin's Creed Valhalla
Final Fantasy XIV
Neverwinter
Overwatch
Planet Coaster
They Are Billions
Check out some more PS5 games that support keyboard and mouse if you like!
---