Mobile World Congress 2022, the best laptops revealed at MWC 2022
The biggest Lenovo MWC 2022, Samsung MWC 2022 reveals and more
Updated: Apr 25, 2022 9:48 am
The Mobile World Congress 2022 held in Barcelona (though attended digitally) has been and gone, and along with it there has been some great laptop reveals, particularly from the Lenovo MWC 2022 presentation, and the Samsung MWC 2022 presentation as well. Read below for a summary of everything you need to know about the biggest laptop reveals of the conference.
Lenovo MWC 2022: Lenovo ThinkPad X13s, IdeaPad Gaming 3 & 3i announcements
Lenovo made a few big announcements at MWC 2022, chief among these was their reveal of the Lenovo IdeaPad Gaming 3 laptop (with AMD CPU) or the IdeaPad Gaming 3i (with Intel CPU), the latter of which comes with an option for Intel Arc graphics. Read our Lenovo IdeaPad Gaming 3 piece for more info.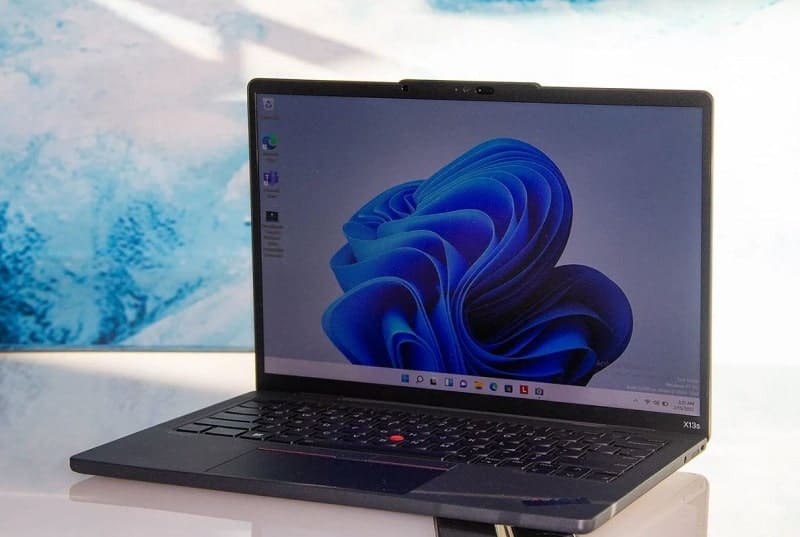 Secondly, the Lenovo ThinkPad X13s ultra-thin laptop was announced, which is the first to feature the Qualcomm Snapdragon 8cx Gen 3 CPU, an ARM-based architecture using a 5nm process that aims to take on Apple's M1 series of mobile processors.
Finally, the Lenovo IdeaPad Duet 3 Chromebook was revealed, to be released in May 2022, which is an improvement on the version of the previous year in that it has a larger 11-inch display, this time with 2K (2000 x 1200) resolution, compared to the 10.1″ 1920 x 1200 screen of the earlier version. Thinner bezels around the screen, and a more powerful Snapdragon 7c Gen 2 CPU round of the improvements nicely of this 1.14lb / 0.52kg portable machine, which measures 10.16″ x 6.48″ x 0.31″. With a starting price of $399, the Lenovo IdeaPad Duet 3 is targeted as a cheaper alternative to the upcoming Lenovo IdeaPad Duet 5 with OLED display.
Huawei MWC 2022: Huawei Super Device, MateBook X Pro, MateBook E 2-in-1, MateStation X
Huawei aren't a company that's enjoying a particularly good time of late, given political tensions between them and the U.S. government in particular, which means you'll struggle to buy one of their laptops in the U.S. at present. Still, European consumers can still usually pick them up.
The company announced the Huawei Super Device technology, which enables seamless connections between mobile phones, tablets, PC monitors as well as a new MateBook X Pro, which is the premium model in their laptop line, a 2-in-1 laptop in the form of the MateBook E (which can switch between tablet and laptop form factors), and a MateStation X all-in-one desktop.
Samsung MWC 2022: Samsung Galaxy Book 2 Pro 360 2-in-1
The big Samsung MWC announcement was for the upcoming Galaxy Book2 Pro release 2022 (scheduled for April) as well as the Galaxy Book 2 Pro 360, which is the 2-in-1 version of the machine. The new iterations come with improved screen brightness, camera quality, more powerful Intel 12th gen CPUs, LPDDR5 RAM, and generally improved connectivity including 5G support and Wi-Fi 6E.
Apple MWC 2022: Apple 2-in-1 MacBook iPad Hybrid
Finally, we come to Apple. Although Apple did not actually feature at the Mobile World Congress 2022 (which is typical of the company), rumors abound of an upcoming product that we feel we should mention. Specifically, we're talking about a 2-in-1 touchscreen laptop, a device that will combine elements of the MacBook and iPad, with a foldable hinge allowing you to switch from one form factor to another. Just to emphasize these are only rumors at this stage and have not been confirmed.
Final Word
This has been our summary of the biggest laptop news from the Mobile World Congress 2022, including Lenovo MWC and Samsung MWC announcements. Be sure to keep locked into WePC for all the info you need to know about the best laptops on the market.
---