Thinkpad X13s announced by Lenovo
The world's first Arm-based Snapdragon 8cx Gen 3 laptop, the Lenovo Thinkpad X13s
Updated: Mar 3, 2022 9:57 am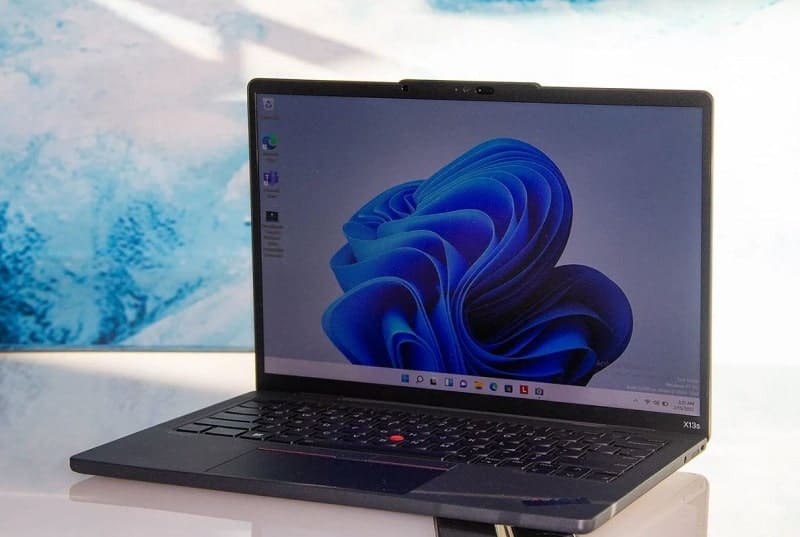 The new Thinkpad X13s has been revealed by Lenovo at the Mobile World Conference 2022. This ultra-light, ultra-thin laptop is the first to be powered by the ARM-based Snapdragon 8cx Gen 3 processor system, which is Qualcomm's answer to the dominant M1 architecture from Apple. Read on for all the information you need to know.
Thinkpad X13s features & updates
Ultra thin, Ultra light
Different display size options will apparently be available, but include 13.3-inch models with 16:10 displays. The laptop weighs a mere 1.06 kg / 2.35lb and is one of Lenovo's thinnest laptops yet, the dimensions coming in at: 13.4mm x 298.7mm x 206.4mm.
Fanless design
Helping to keep the size down, and noise, the design of the Thinkpad X13s is completely fanless, meaning it barely makes any audible noise at all.
Thinkpad X13s battery life
The efficiencies of the Snapdragon 8cx Gen 3 processor (which is the first to use the smaller 5nm process node in a Windows PC or laptop) mean that the Thinkpad X13s battery life is stated to last up to a whopping 28 hours, which, if true, is ridiculously long.
Other features
The new laptops will have ultra-fast 5G compatibility, a 5-megapixel camera with InfraRed technology, and processing speeds up to 57% faster compared to previous Snapdragon-powered machines, going up to 85% in multi-tasking scenarios.
Envrionmentally friendly
Lenovo are heavily pushing the environmental efficiencies of the Thinkpad X13s.
As Techpowerup reports the top and bottom covers are constructed from 90% certified recycled magnesium, the PCB cover and battery frame are made from 97% PCC plastic, and the packaging is designed to maximize the amount of recyclable materials and reduce waste.
The laptop itself has been manufactured using a low temperature solder method that can reduce carbon emissions up to 35%.
Low power modes are more efficient than ever.
Thinkpad X13s specifications
A full list of the Lenovo Thinkpad X13s specifications can be found below.
| | |
| --- | --- |
| CPU | Snapdragon 8cx Gen 3 (5nm) |
| GPU | integrated (iGPU) |
| Display | 1920 x 1200 IPS |
| RAM | Up to 32GB LPDDR4x |
| Storage | Up to 1TB PCIe 4.0 SSD |
| Ports | 2x USB-C 3.2, headphone jack, SIM slot |
| Webcam | 5MP RGB |
| Weight | 1.06 kg / 2.35lb |
| Dimensions | 13.4mm x 298.7mm x 206.4mm |
What is Snapdragon?
Snapdragon is a range of processors developed by Qualcomm Technologies Inc. which have been traditionally used to power mobile phones, Android phones in particular. Snapdragon architecture offers high power efficiency, as with most mobile CPU technology. More recently, Snapdragon architecture has been utilized in notebooks / thin general use laptops and tablets where battery life and portability are paramount, and the Thinkpad X13s is the latest of these, and the first to use the most powerful SPU of the range yet: the Snapdragon 8cx Gen 3.
Snapdragon vs M1
The majority of computers of recent years (be they desktop or laptop) are based on the x86 architecture, originally developed by Intel. Apple changed the game with the introduction of its M1 architecture. M1 systems offer great power and size efficiency for laptop devices, and this is what Snapdragon machines like the Thinkpad X13s will be compared against.
Up until now, most Snapdragon-powered systems have struggled to compete even with the lower-powered Apple A1 chips, which are used exclusively in phones. It will be interesting to see whether Qualcomm is aiming to compete with the different SKUs of the M1 series (M1, M1 Pro, and M1 Max in ascending order of power), or just the lower entires. Only time, and independent benchmarking of these systems against each other, will tell!
Thinkpad X13s price
The Thinkpad X13s will come with a starting MSRP of $1,100 / €1399, with upgraded options obviously costing more.
Thinkpad X13s release date
The Thinkpad X13s will be released in May 2022 in the US, though we don't have a more specific date than this just yet.
More Lenovo laptop news
Stay locked into WePC for all the latest Lenovo laptop news coming out of the Mobile World Conference 2022 on the Thinkpad X13s laptop and more.
---