Best router for Comcast in 2023
Do you wish your Comcast internet connection could be faster or more reliable? Well finding the best router for Comcast is a good way to achieve that dream
Updated: Oct 19, 2023 11:51 am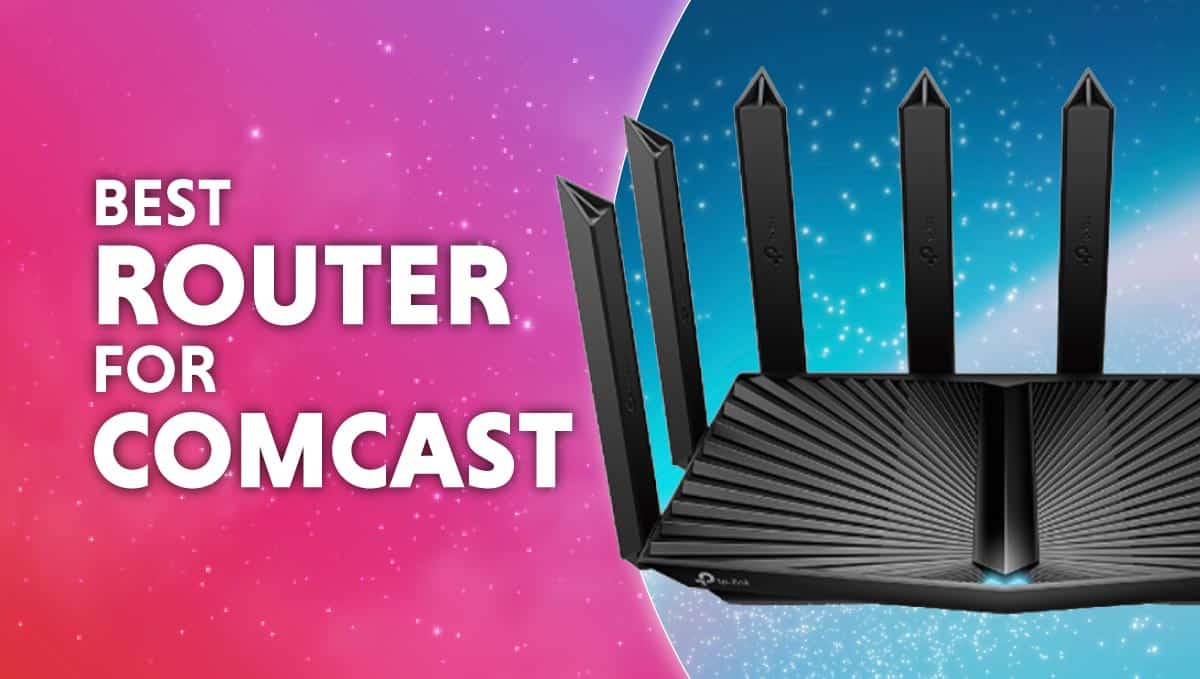 Comcast has been one of the biggest internet service providers in the United States for almost two decades now. As of right now, AT&T has the biggest market share, with Comcast not that far behind.
Whether your internet experience is good or bad with Comcast, it can always get better. Hooking yourself up with the best router for Comcast is a good way to do so. Comcast has decent plans for its Xfinity internet service.
They now offer Gigabit plans and even have plans that go up to 3Gbps which they call Gigabit Pro. If those services are available in your area and you want to take full advantage of them, then you need an upgrade to the best router for Comcast.
---
Best router for Comcast: top picks
01

Editor's pick

The best Comcast router

TP-Link AX6600 WiFi 6 Gaming Router

02

High-end pick

The best high-end router for Comcast

ASUS ZenWiFi AX6600 Mesh Wi-Fi System

03

Budget pick

The best budget router for Comcast

TP-Link Archer AX50 Wireless Gigabit Router
---
Related router content
Things to Consider when purchasing a router for Comcast
Comcast's Xfinity service will work with almost any router out there. The only time you have to worry about compatibility is when the router comes with a modem or has one built-in. Still, there are a few things you need to be aware of before you go on the search for the best router for Comcast.
Comcast Xfinity router vs third party routers
So, just about any router out there will work with Comcast Xfinity. The question then becomes if you should go with a third-party router over the one they provide.
Comcast has plans from 25Mbps up to Gigabit Pro, which is up to 3Gbps in some locations. When signing up for the Xfinity service, you'll have the option to rent a modem and router for them for $14/month. That does get a bit pricey, adding up to almost $170/year.
While expensive, going with Comcast's router does have its advantages. For example, Comcast's customer service will take care of any problems with the router. You also get better warranty support, and we can't say the same for all third-party routers.
On the flip side, a third-party router is certainly more appealing. If you aare tech-savvy and like to tinker with router settings and custom features, a third-party router will always be the more attractive option. You end up saving a good bit of money in the long run, and of course, you get 100% ownership of the router.
Will any router work with Comcast?
Like we said before, almost any router will technically work with the Xfinity service. This makes finding the best router for Comcast a bit easier since you don't need to worry too much about compatibility issues.
Again, as long as you are using the modem provided by Comcast and your third-party router, you should be good to go. Be aware that there are a few routers out there that come with a modem or have one built-in. Some of these are approved by the Xfinity service, while others are not.
You are better off staying away from these devices rather than dealing with the hassle of setting them up.
Look out for router and cable speeds
Now that you are on the hunt for the best router for Comcast, the first thing that you need to consider is speed. Comcast Xfinity plans can go from 25Mbps up to 3Gbps depending on the locality. As such, you need to make sure that you get all the equipment that matches or is above the speed of your internet connection.
For the router side, even if you're going with a lower-tier plan, your best bet is to go with a Gigabit router. This is because most of the latest and greatest routers out there now use Wi-Fi 6, which automatically makes them Gigabit routers.
A Gigabit router will have more bandwidth than most of the cheap routers out there that are under $50. You can take advantage of a Gigabit router if you have a fast internet connection, or even if you transfer a lot of files from something like a NAS server.
To sum it up, if a Gigabit router isn't something you need, just get a router that is 50-100Mbps faster than your internet connection. This way you'll avoid any bottlenecks.
The same goes for Ethernet cables. If you're connecting your TV, consoles, home theatre setup, or Desktop PC via Ethernet, you'll need the right cables. There are CAT5 cables out there that are 100Mbps, while CAT6 cables can easily support Gigabit supports.
What are the different types of routers?
Apart from speed and the number of features, routers can be differentiated by the method they use to talk to their devices. When it comes to consumer tech, there are two main types of routers out there that you want to worry about.
• Single Routers: Most of you will be familiar with a single router. This plugs into your modem via an Ethernet cable, then communicates with all of your devices either via Wi-Fi or a hardwired Ethernet connection.
• Mesh Routers: Mesh Routers are a relatively recent development in the world of Wi-Fi and home internet. A Mesh Wi-Fi system has a central hub that talks to other access points scattered across the home. These points are also called nodes.
As you can probably imagine, Mesh Wi-Fi systems provide more coverage, as they have more access points. They are excellent if you want a stable Wi-Fi connection all across your home without dropping speeds.
On the flip side, single routers are easier to set up and tend to be more reliable. Mesh Wi-Fi has gotten affordable, but single routers are still the best value out there right now.
Best router for Comcast: understanding the specs
For the most part, you are now aware of what to look out for when buying the best router for Comcast. However, a lot of the specs can be confusing to many people, so we'll quickly go over those just so you are better informed.
Wi-Fi standards explained
Currently, all of the new routers on the market work with the Wi-Fi 6 or 802.11ax standard. To take advantage of Wi-Fi 6, you need to have devices that have a Wi-Fi 6 chip built inside. Wi-FI 6 serves as the successor to Wi-Fi 5, also known as the 802.11ac Wi-Fi.
Wi-Fi 6 is up to 4 times faster than its predecessor, and also happens to be more efficient. Keep in mind that a Wi-Fi 6 router will still be backward compatible with most of your devices that use Wi-Fi 5. It's just that you won't be able to achieve the theoretical maximum speeds.
OFDMA & MU-MIMO
Wi-Fi 6 is mainly faster because of the optimization and refinement of these two technologies. MU-MIMO (Multi-user, Multiple Input/Output) allows Wi-Fi 6 routers to communicate with more devices efficiently. It gives 8 concurrent Wi-Fi streams spread across different devices.
OFDMA is quite similar. It allows data to travel more efficiently across multiple devices from one single transmission. Both of these technologies are actually what makes Wi-Fi 6 better than its predecessor.
Dual-Band Wi-Fi
Most older routers out there use the 2.4GHz band for communicating over Wi-Fi with different devices. The 2.4GHz band can be a bit slow, but it has great signal integrity and is quite reliable. However, the 5GHz band is much faster, and also has access to a wider bandwidth.
Dual-band routers support both of these channels. This allows you to connect the high-priority devices to the 5GHz band. Other devices such as tablets, kindle, printers, and smart home accessories can all connect to the 2.4GHz band
Splitting devices across both bands frees up a lot of space on both channels and prevents you from experiencing slowdowns caused by devices on the other band.
Best router for Comcast
01
Editor's pick
The best Comcast router
TP-Link AX6600 WiFi 6 Gaming Router
1x 2.5GbE LAN/WAN, 3x GbE LAN, 1xGbE LAN/WAN, 1x USB 2.0, 1x USB 3.0
Pros
Great value for Tri-Band
Phenomenal performance
Wide coverage
2.5Gb Ethernet Port
Supports Mesh Wi-Fi
Cons
QoS requires subscription
When it comes to the best router for Comcast, the TP-Link AX6600 Wi-Fi 6 router is by far one of the best choices out there. It's not cheap, but considering this is a Tri-band router, the overall value is not all that bad. The performance is on par with routers twice the price, and the number of features is quite good.
The Archer AX90 is a Tri-Band router. This means it has two 5GHz channels and one 2.4GHz channel. Both of the 5GHz channels are rated at 4804Mbps, and the 2.4GHz band is rated at 575Mbps.
Of course, this Wi-Fi router also includes excellent MU-MIMO and OFDMA integration. Connectivity is quite good on this router too. It has dual WAN ports, one of which is a 2.5 Gigabit port. We also get three standalone Gigabit LAN ports.
The 2.5Gbps port is quite good if you want to use it for LAN purposes. You can connect this to a NAS server to have the best possible performance. It's also quite good if you happen to have an internet connection that is over 2.5Gbps.
Thanks to the eight external antennas, the coverage is quite good as well. TP-Link also claims the operating temperature is rated at 40°C. It does tend to get hotter than that, but it never ends up affecting the signal stability.
However, there is one slight downside here. Some of the features such as QoS are locked behind a monthly paywall. If you are someone who likes to tinker around with their router settings, there's no way to get past that monthly subscription.
Still, considering the overall package, this is by far the best router for Comcast.
---
02
High-end pick
The best high-end router for Comcast
ASUS ZenWiFi AX6600 Mesh Wi-Fi System
1x 2.5GbE LAN/WAN, 3x GbE LAN, 1x USB 3.0
Pros
2.5G Ethernet Port
Impressive coverage
Good amount of Ethernet ports
Black and white color options
Superb performance
Mesh Wi-Fi and speedy performance are not things that go together quite well. Fortunately, the ASUS ZenWiFi is by far the most impressive Mesh Wi-Fi system out there on paper.
Mesh Wi-Fi tends to prioritize convenience and ease of use over performance. Well, that's not the case with Asus ZenWiFi. We get a maximum combined speed of 6.6Gbps split across the three bands. This is one of the very few Mesh Wi-Fi routers that have support for Tri-Band Wi-Fi.
These nodes are quite huge, and they come in either black or white color options. Even with the two-pack, the coverage is surprisingly great. This system can provide excellent Wi-Fi coverage of over 5500 sq. ft.
As this is a Wi-Fi 6 router, it supports refined MU-MIMO and OFDMA, allowing for communication across more devices efficiently. Setup and management are quite good as well, with nothing feeling like too much of a hassle.
The most impressive part, however, might be the number of ports that are accessible to the user. We get three Gigabit LAN ports, a USB 3.0 port, and even a 2.5G WAN port. Of course, that's just on one device. If you get the two-back, you'll double the number of those ports.
We don't quite often get to see Tri-Band routers when it comes to Mesh Wi-Fi, neither do we get performance that is usually good. Considering all of that, this might be the best router if you're looking for a hassle-free Wi-Fi experience.
---
03
Budget pick
The best budget router for Comcast
TP-Link Archer AX50 Wireless Gigabit Router
Pros
Compact and lightweight design
Great price to performance ratio
Coverage is quite good
Includes a USB 3.0 port
Cons
Misses some security features
The backup feature is finicky
Talking about tri-band routers, Mesh Wi-Fi, and 2.5 ports is interesting and all, but a lot of people don't care about those advanced features. Many Comcast users just need something affordable and reliable. If that fits your description, the Archer AX50 might be the best Comcast router for you.
The TP-Link Archer AX50 is quite a popular router. That's mostly because it's reliable, fast, and affordable. That's all that most buyers are looking out for. It does lack a few bells and whistles but tries to include enough advanced features to please some of the tech-savvy people out there.
The Archer AX50 is one of the cheapest Dual-Band Gigabit routers out there. Because this is a Wi-Fi 6 router it also supports MU-MIMO and OFDMA. Thanks to this, the Archer AX50 is a much better performer than most of its predecessors.
Despite the affordable price, connectivity options are quite good here. We get access to four Gigabit ports and a single WAN port to connect to the Comcast modem. Thanks to the TP-Link app, the setup process happens to be quite intuitive.
As for the speed, this router can achieve a theoretical maximum of 3Gbps. In terms of the coverage, the Archer AX50 performs admirably in this department as well. We also get a few features such as QoS and parental controls that are quite robust.
Features such as game optimization and network monitoring among others are missing, but that's to be expected for the price. Thanks to the USB 3.0 port, this thing does have a backup feature. However, it can be a bit of a hit and miss if you are using macOS.
If you're looking for an excellent value, then this might be the best router for Comcast out there.
---
04
Gaming pick
Best gaming router for Comcast
ASUS TUF Gaming Wi-Fi 6 Router
4x GbE LAN, 1xGbE WAN, 1x USB 3.0
Pros
Subtle RGB lighting
Handles multiple devices without issue
Excellent performance
VPN Fusion is a clever feature
Cons
Unattractive design
Coverage could be better
If you are a gamer and are looking for the best router for Comcast, then we highly recommend checking out the TUF Gaming Wi-Fi 6 Router. This Dual-Band router is highly interesting because of its overall value and excellent feature set.
For the price, it's great that this Wi-Fi 6 router performs so well. It supports a theoretical maximum speed of 5.4Gbps. It has 4 times the network efficiency of Wi-Fi routers and even has a 160MHz radio channel frequency. This wider bandwidth means it's great at handling multiple devices.
Since this is a gaming router, it does have a few features catered toward gaming. It has a dedicated gaming port that prioritizes the devices connected to it. Optimization of the network through this port allows for lower latency and an overall better experience.
The VPN fusion feature is quite interesting as well. For example, if one user wants to use a VPN with the network, it will create a separate network for that. This allows both users to be unaffected by the loss of speed by having a VPN turned on.
This router also supports port forwarding, free internet security, WAN aggregation, and much more. Considering the price, this is a great router for gaming. The only downside is the somewhat disappointing coverage.
Still, if you're looking for the best Comcast router for gaming, this is the one we recommend.
---
05
Reliable pick
A reliable router for Comcast
Netgear Nighthawk WI-Fi 6 Router (RAX70)
1x GbE WAN, 4x GbE LAN, 1x USB 3.0
Pros
Superb performance
Decent coverage
Supports voice controls
Cons
Lacks 2.5 Gigabit port
Quite expensive
Troubles with VPN
If you're looking for reliability and good security features, Netgear is the brand most famous for that. The Nighthawk RAX70 is one of the best routers out there if you can look past the price.
In terms of the design, the RAX70 does not look similar to many of the routers out there on the market. The external antennas have a uniform style of design that blends in with the main body of the router. This router has 8 antennas that are hidden internally.
This router does not look like it would have good coverage, but it manages to provide good Wi-Fi coverage at up to 2500 sq. ft.
Performance-wise, this Tri-Band router is quite impressive. Performance-wise it can deliver a maximum combined speed of 6.6Gbps. It works quite well if you have multiple devices and also happens to have a Gigabit connection.
Another interesting thing about this Netgear router is the fact that it supports voice controls. For the price, it is missing a few features like a 2.5G port, and using it with a VPN can be a bit of a hassle.
Still, all things considered, this is a solid router and one of the best for Comcast.
---
Comcast router FAQs
Do I need a router for Comcast?
Like any other internet service, you will need a router for Comcast if you want to connect to more than one device. The router directly connects to the modem, and Comcast does provide you with one for a monthly charge.
Can I connect my own router to Comcast?
You can easily connect your own router to Comcast. As long as the router matches the speed of your internet connection, you should have no problems while setting up.
Is it better to have a separate modem and router?
Modem and router combos are convenient and save space, but it's better to have a separate modem and router. This way you'll get more control over the settings and get better performance
What is the difference between a modem and a router?
A modem is a device that connects the home network to your ISP. The router then carries that connection from the modem and carries it over to all of your devices via Wi-Fi or Ethernet.
Final word
That about sums it up for the best routers for Comcast. Their Xfinity internet service is up to some scrutiny, but we won't get into that right now. If you're happy with your internet service from Comcast, we hope this roundup helped in finding you a better router so you can experience even better internet at your home.
---