Best cable modem for Xfinity in 2023
Want to get an Xfinity package, but unsure of the right cable modem for you? Don't panic – we've lined up five of the best.
Updated: Oct 19, 2023 11:51 am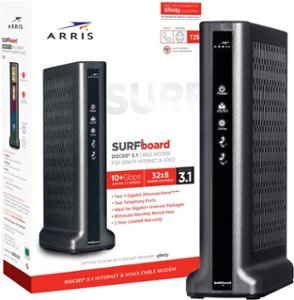 Xfinity is a popular internet and phone service provider, with packages that can put you on the cutting edge of connectivity.
But to get the most out of it, you need a cable modem that can handle – and process – the speeds, the data density, and the multi-service nature of the company's packages.
That's where the best cable modems come in. We're a generation on from traditional cable modems. The products on our list here are not your daddy's modems. They can handle mind-boggling amounts of data at speeds that wouldn't have been conceivable 20, 10, or even 5 years ago – that's the rate of progress in the modem market. In particular, the five modems we've lined up stand pretty far apart from the rest of the market, and each leads its field as the best modem for a particular Xfinity service.
Related router content
---
01

Editor's Pick

Netgear Nighthawk Cable Modem CM1200

NETGEAR Nighthawk Cable Modem CM1200

02

Enthusiast Pick

ARRIS Surfboard SB8200

ARRIS SURFboard SB8200 DOCSIS 3.1 Gigabit Cable Modem

03

Mid Range Pick

Motorola MB8600

Motorola MB8600 DOCSIS 3.1 Cable Modem
---
Best cable modem for Xfinity: things to consider
When looking at the best cable modems for Xfinity as you experience it, there are a few things to keep in mind.
Download speed
Bottom line, the download speed is more or less what determines the 'class' of cable router you have. That's because each Xfinity package or service has minimum and ideal operating download speeds. It's useless trying to run a Gigabit package on a DOCSIS 3.0 modem, for instance – it's simply not doing to give you the speed that will be able to make the most of the package. You might still conceivably be able to buy a chronically underpowered cable modem for the Xfinity package you have, but you'd be better advised to simply set fire to your money and punch yourself in the face – the effect will be about the same.
Flexibility
If you want to get the most out of your cable modem, the question becomes whether you want one that dedicated delivers you the download speeds you need, or one that does a little dance, makes a little love, and gets down to all sorts of multi-functional fun, bringing in phone packages to your data and so on. How flexible do you need your cable modem to be?
Price/speed balance
We know you can get every ounce of download speed you need to run Xfinity's Gigabit package from a cable modem. But is it actually worth going all in and buying a modem that can do that? Especially as they're sometimes eye-wateringly expensive. This is an evolution of our simple download speed consideration – this takes in the practical balance between speed and price, and asks exactly how much you have to spend to get the service level you really need from your cable modem.
How we choose
When it comes to choosing the best cable modems for Xfinity, the process is a little different than normal. We're not so much comparing like for like and declaring an outright winner. Because Xfinity has a whole range of packages, there's room in the world for several winners – best for the Gigabit package, best for Extreme Pro, best for Performance Starter level, and so on. That means all the cable modems on our list are the best in their individual 'class,' with the possibility of some contention between the Nighthawk and the Surfboard S33.
But those we've chosen have each been compared and contrasted with others in their class before battling their way to the title of 'Best for…' their particular Xfinity package.
Best cable modem for Xfinity: in-depth review
01
Editor's Pick
Netgear Nighthawk Cable Modem CM1200
NETGEAR Nighthawk Cable Modem CM1200
Cable Provider Compatibility
All Major Cable Providers and Xfinity by Comcast, Spectrum, COX
Cable Internet Plan Speed Compatibility
4 x 1G (with multi-gig port aggregation)
DOCSIS 3.1, 32×8 Channel Bonding, OFDM 2×2
Pros
Plenty of download speed to deal with Xfinity's highest level package
4x 1 Gigabit ethernet connector ports for wired connection
32×8 channel bonding gives you extra upload and download speed
Using the latest DOCSIS 3.1 protocol opens up more potential
Cons
The cost could make some people wince, especially when it comes to channel bonding
One of the two big daddies on our list, the Netgear Nighthawk is perfectly suited for the Xfinity Gigabit package. In fact, it has significant room to cope with any future expansions to the Gigabit package, as it will currently happily download up to 2,000Mbps, compared to the Gigabit package's 1,200.
If you want to add a voice service in, you'll need to pay slightly more for the Nighthawk with voice option, but there's every indication it would be worth doing, as it stops you needing an additional package or supplier to deal with your voice service.
With 4x 1 Gigabit ethernet connector ports, you can have rapid wired connectivity to a range of devices, including your computer, games console, separate wi-fi router, and the like.
Using the latest DOCSIS 3.1 protocol, you can get some of the fastest download speeds around on the Netgear Nighthawk, and it also comes with 32×8 channel bonding. Channel bonding is a method of crunching more data in uploads and downloads per second, which means the Netgear Nighthawk has its speeds artificially boosted in addition to being naturally fast.
---
02
Enthusiast Pick
ARRIS Surfboard SB8200
ARRIS SURFboard SB8200 DOCSIS 3.1 Gigabit Cable Modem
Best for cable internet speed plans
Downstream x Upstream Channels
DOCSIS 3.1 Advanced Technology
Pros
Uncomplicated delivery of enough download speed to match the Blast! level of Xfinity package
Now available in a DOCSIS 3.1 version (at a cost) for faster downloads
2x 1 Gigabit ethernet ports allow for some pieces of technology to be wired up for charging or use
Cons
DOCSIS 3.1 by no means standard on this model
Service delivery gets complicated when – as here – you need two IP addresses to make the most of it
If you don't need to run a small intercontinental nuclear war from your den, you can more than happily get away with using the ARRIS Surfboard SB8200. Mostly sold on the DOCSIS 3.0 protocol (though now including an upgraded 3.1 option if you want to access those higher download speeds), you'll easily have enough download speed on the standard version to run the Blast! Or Blast! Pro Plus plans, while costing you a lot less than the likes of the Nighthawk or the other Surfboard in our list, the S33.
That said, the new DOCSIS 3.1 version is a way of punching through to the higher download speeds without necessarily paying built-in higher download speed prices.
It comes with 2x 1 Gigabit ethernet ports, for wiring up connections to your absolutely favorite technology.
Crushingly though, you won't be able to access a cable digital voice service through this modem, and things can quickly get technical when you have to have two separate IP addresses to make the most of the Surfboard.
---
03
Mid Range Pick
Motorola MB8600
Motorola MB8600 DOCSIS 3.1 Cable Modem
DOCSIS 3.1 plus 32×8 DOCSIS 3.0
Works With Any WiFi Router That Has an Ethernet WAN port
Pros
1,000Mbps download speeds
Built-in security against denial-of-service attacks
Active queue management helps strip out some internet lag
A lot of modem for not that much cash
Cons
A single ethernet port limits the user's wired options
The Motorola MB8600 has the feeling of a cable modem built for great things – specifically the Gigabit package from Xfinity. It's slick, has a download speed of 1,000Mbps – more than enough for the Xfinity Extreme Pro package – and is compatible with a large range of wi-fi routers.
The Motorola MB8600 also has a built-in security system to prevent denial-of-service attacks – the special bane of gamer lives – so it brings an added incentive for that audience.
In addition, it screens out some natural internet latency with its active queue management system, meaning it can frequently feel faster than its actual 1,000Mbps download speed – a bonus if you're streaming data-heavy movies or live action gameplay.
Where it falls down is in only having a single dedicated ethernet port. That can make it look weak compared with some of the game-changers in the market.
---
04
Netgear Cable Modem CM400
Download and upload speed
Pros
Easy to connect and leave alone while it works
Good enough for the Xfinity Performance Starter level package
Delivers HD video quality and some channel bonding to boost download speed
Price – you get a lot of good elements for a smaller price point
Cons
DOCSIS 3.0 means you'll never get cutting-edge speeds or gameplay from the CM400
An honest-to-goodness old-fashioned workhorse of a cable modem, still stubbornly running DOCSIS 3.0, rather than 3.1, the CM400 is a minimum-stress cable modem that will still deliver Xfinity Performance Starter level performance.
While you won't get 4K Ultra HD video out of the CM400, you'll still get standard HD out of it, which is probably just fine unless you have specific gaming requirements or have 4K eyeballs.
Even at DOCSIS 3.0, the CM400 will give you some channel bonding to boost its downloading and data-crunching speeds, albeit we're talking about 8×4, rather than the likes of 32×8. The huge upside of the CM400 of course is that because of its older protocols, you're not paying the cutting-edge price of some other cable modems for the service you get.
---
Budget Pick
ARRIS Surfboard S33
ARRIS Surfboard S33 DOCSIS 3.1 Multi-Gigabit Cable Modem
Best for cable internet speed plans
Downstream x Upstream Channels
Pros
Slick performance at the maximum level demanded by Xfinity – with room to spare
DOCSIS 3.1 allows for the highest speed downloads and uploads
32×8 channel bonding for impressive data streamlining
Cons
The price is uncommonly like being mugged
The ARRIS Surfboard S33 is an alternative to the Netgear Nighthawk, inasmuch as it's more than capable of coping with and delivering Xfinity's Gigabit package without stopping to catch its breath.
Making use of both DOCSIS 3.1 and 32×8 channel bonding, the Surfboard S33 is among the fastest cable modems on the market, and will give you access to those speeds however your Xfinity package is configured.
The only fly in the S33's ointment is the price point – though this is expected to go down to a more friendly level over time. If you want a full-service cable modem though, you're either looking at the Netgear Nighthawk, or the ARRIS Surfboard S33.
Cable modem FAQs
What is the best cable modem for Xfinity?
The NETGEAR Nighthawk cable modem CM1200 is one of the best cable modems on the market – a fine choice for Xfinity.
It offers plenty of download speed, 4 x 1GB ethernet connections, and uses the latest DOCSIS 3.1 protocol.
Are cable modems expensive?
There are a bunch of cable modems in today's market, many of which reside across the spectrum of pricing.
On average, cable modems are considered reasonably priced. However, some are much more expensive than others, falling firmly in the expensive bracket.
---
Final word
There's a perfect cable modem out there for every level of Xfinity package.
Finding the right one for you should be significantly easier after reading this piece, but always keep in mind the degree of power and sophistication you actually need in a cable modem – and never knowingly pay for performance you don't need and won't use.
---