Best router for multiple devices in 2023
Connecting multiple devices to a single internet connection lowers the bandwidth. An upgrade to a better router can be a solution to that problem
Updated: Jun 29, 2022 3:14 pm
In our ever-growing world of consumer technology, our homes are filled with more devices than ever before. These devices make our lives easier, but they don't come without their issues.
For example, we all need way too many chargers these days and worry about a dozen devices that need to be charged. Another issue is that a good number of these devices need to be connected to Wi-Fi at all times. This is where the need for the best router for multiple devices comes in.
Think about it, if you're ever felt you're Wi-Fi is slow, it's probably because you have way too many devices connected. Now, disconnecting and reconnecting these devices all the time is a hassle, so buying a router that supports those devices better is a great idea.
However, there are too many options to pick from, and that creates much confusion. Fortunately, we did most of the work for you to find the best router for multiple devices.
---
Best router for multiple devices: top picks
01

Editor's Pick

Best router for multiple devices

NETGEAR Nighthawk WiFi 6 Router (RAX200)

02

Mesh Pick

Best Mesh router for multiple devices

03

Budget Pick

Best Budget router for multiple devices
---
Related router content
Things to consider when purchasing a router for multiple devices
Like we said earlier, there are so many routers out there that it can be difficult for the average consumer to figure out the right one for them. However, being aware of a few features and things you need can help you easily find the best router for multiple devices. Here's what you need to look out for.
Why Wi-Fi 6 is the best for multiple devices
There are a lot of routers that are great for multiple devices. However, your best bet is to go with a router that supports Wi-Fi 6. Wi-Fi 6 is not only faster than its predecessor, but it's also more reliable.
Wi-Fi 6 brings significant upgrades to tech like MU-MIMO and OFDMA, we'll touch on both of those later. In a nutshell, both of these technologies are built in a way so that your router communicates with multiple devices more efficiently.
Other than that, Wi-Fi 6 brings speeds that can go well above 1Gbps. These routers have more bandwidth, which makes it easier to connect more devices without experiencing slowdowns.
Features for multiple devices and gaming
A lot of routers out there have features that help if you are streaming, playing games, or just have a lot of devices connected. A lot of routers include features that help in reducing packet loss while gaming, overall latency, and optimizing the network as a whole. Of course, you need to know what you are looking for.
The general feature that you are looking for is called QoS (Quality of Service). This feature allows you to configure the priority of the internet connection for all of your devices. If you have your PC set as the highest priority, the router makes sure it gets minimal packet loss and the best latency via some optimization.
With the help of this feature, you can configure your devices in a way so that devices that you use rarely don't take up too much bandwidth.
For gaming, there are multiple features such as game detection and game acceleration. These work in a similar way to QoS, and they detect game streams to provide better optimization.
This is just another form of Dynamic QoS. Dynamic QoS detects the devices that you are using at that time and prioritizes those.
Consider upgrading your connection
If we're getting technical, just a simple router upgrade is not going to fix your internet problem. Say, for example, that you have an 8Mbps connection for your internet. If you have 25-30 devices in the house, then the bandwidth may be a bigger issue than the router.
An 8Mbps connection is decent enough for light usage but connecting over 20 devices to that single connection is going to slow it down significantly. In cases like this, upgrading your internet should be more of a priority than upgrading your router.
This is even more important if you happen to upload videos on YouTube or stream on Twitch. Upload speeds are more important here than ever, so if you feel like your router is slow, check your upload speeds first.
A router upgrade does help, but we recommend checking your internet connection first if you feel like that's where the problem might lie.
Why is gigabit internet so popular?
Gigabit Internet is self-explanatory thanks to the name. It has a theoretical speed of up to 1Gbps. This is usually for the download speeds, but some ISPs will also match that with the upload speed. These days, the cost is not all that bad, depending on the area.
Now, most people do not need a Gigabit connection, but who would say no to faster internet? While something like 50-100Mbps is ludicrous for most households, Gigabit internet is a significant upgrade if you download files a lot.
Also, while shopping around for the best router for multiple devices, a lot of them will be Gigabit routers. This is only because newer routers have support for Wi-Fi 6, which can easily achieve Gigabit speeds.
Buying a Gigabit router is not that expensive, and you can benefit from it if you want to set up a home NAS server, or even if you just want to have more headroom for bandwidth.
More ethernet ports are always better
When shopping around for a new router, make sure that you are getting a minimum of 2 Ethernet ports. Fortunately, most new single routers these days will commonly include 3-4 of these ports.
Connecting all of your devices to Wi-Fi is not a good idea. Devices such as your TV, gaming consoles, home theatre setup, and desktop PC should be connected via Ethernet when possible.
This frees up some room on the Wi-Fi site and makes it better if you have numerous devices that you want to connect. You can also get a cheap Ethernet switch to help solve this problem.
Best router for multiple devices: understanding the specs
Now you have quite a broad idea of what to look for when shopping for the best router for multiple devices. While it's good to be aware of what to look for, you should also have a basic understanding of what the specs mean for any Wi-Fi Router out there.
Wi-Fi 6 vs the rest
Wi-Fi 6 or 802.11ax Wi-Fi is the newest standard of wireless communication. You'll be seeing Wi-Fi 6 or 802.11ax branding on a lot of the boxes for new routers these days. Wi-Fi is a spiritual successor to 802.11ac Wi-Fi. Also known as Wi-Fi 5.
Wi-Fi 6 also brings a few improvements to techniques known as MU-MIMO (Multi-User, Multiple Input/Output) and OFDMA. Without going into too much depth, both of these technologies allow more devices to be connected, minus the interference.
Transmission of data is more seamless thanks to both, and you'll note that you have a lot more free bandwidth at the end of the day.
Router coverage
Router coverage is something more people need to pay attention to. The wireless signal is strongest near the router and drops off as one moves further away. The spec sheet for most routers will tell you about their coverage.
Some routers can cover an area of 2500 sq. ft, while some can go even higher. Take this with a grain of salt, however. These numbers don't take interference, thick walls, and the number of devices connected into account.
Wi-Fi frequency bands
Last but not least, you need to know about different Wi-Fi frequency bands. One is called 2.4GHz Wi-Fi, and the other is 5GHz Wi-Fi. Usually, 2.4GHz Wi-FI is slower but provides better signal integrity. On the flip side, 5GHz Wi-Fi is twice as fast, while also having more bandwidth.
Single-band routers will only have a 2.4GHz connection, while dual-band routers will support both 2.4GHz and 5GHz Wi-Fi. Dual-band routers are the best routers for multiple devices since you can connect high-priority devices to the 5GHz connection.
For devices where high speeds are not a big concern, you can switch to the 2.4GHz connection. This frees up a lot of space on both of the Wi-Fi connections.
Best router for multiple devices
NETGEAR Nighthawk WiFi 6 Router (RAX200)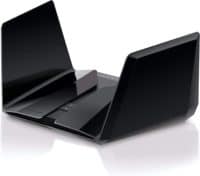 1 x 2.5GbE LAN, 1x GbE WAN, 4x GbE LAN, 2x USB 3.0
Multi-Gig Ethernet ports

Excellent speeds on all 3 bands

Support for 160MHz channel

Superb parental controls

Dynamic QoS works well
The Netgear AX1000 Wi-Fi 6 router (RAX200) might just be the holy grail of Netgear's routers. This is hands down the best router for multiple devices thanks to its coverage, Tri-Band Wi-Fi, and overall performance.
Of course, Netgear routers tend to come at a premium compared to the rest of the market. This is mostly because Netgear has become sort of a household name, so they can charge those premium prices.
With that said, a Tri-Band Wi-Fi 6 router with numerous features might just be worth the cost for a lot of people. This router supports 12 simultaneous streams, making it great for households that have a lot of tablets, phones, and laptops.
The overall speed here is rated to be at a jaw-dropping 10.8Gbps. This means that the 2.4GHz band can deliver 1.2Gbps speeds, while both of the 5GHz bands can go up to 4.8Gbps. Of course, real-world usage will vary, but the numbers are impressive even if they aren't accurate.
We also get interesting features such as the support of a 160MHz channel, which gives us more bandwidth. Netgear has also included Multi-Gig Ethernet ports, allowing you to combine two Ethernet ports into one link for faster speeds.
The number of Ethernet ports is quite good as well, and we even get two USB 3.0 ports to set up a local cloud server.
---
Extremely easy setup process

Dual-Band works well

Supports up to 75 devices

Compact and portable

Works with Zigbee
When it comes to the best router for multiple devices, your best bet might actually be to go with a Mesh-Wifi system. Unfortunately, a lot of the Mesh Wi-Fi routers out there are not all that reliable. As such, Amazon's Eero 6+ router stands out as the best mesh Wi-Fi system out right now.
Mesh Wi-Fi works differently compared to single routers. Mesh Wi-Fi usually has a central hub and that hub talks to different nodes or satellites scattered throughout the home. This provides excellent coverage and makes connecting to Wi-Fi easier.
The Eero 6+ is the best version of this. First off, the coverage is quite good, and the speed does not drop off thanks to the intuitive node system. Speeds are also quite good, as you can easily achieve Gigabit speeds with ease.
When it comes to Mesh Gigabit routers, the Eero 6+ is quite affordable too. Especially considering since you get access to the 160MHz radio channel. Their TrueMesh technology works well, and the setup process is intuitive compared to other Mesh routers.
Apart from that, you of course get access to Alexa support and integration with other smart home devices. This router uses Zigbee to talk to smart home devices such as lights, speakers, doorbells, etc. Zigbee is more efficient than Wi-Fi, so this is a very welcome feature.
---
RJ45 for Gigabits BaseT for WAN x 1, RJ45 for Gigabits BaseT for LAN x 4 USB 3.2 Gen 1 x 1
Superb coverage

Affordable

Easy to use

Support for mesh networking
Some features require a subscription

No USB connectivity
TP-Link has consistently made routers that are popular with the masses. That is because these routers are feature-rich and affordable. The TP-Link AX5400 router is a prime example of that. If you're on a budget, this might be the best router for multiple devices.
Now, this router does lack a few features we see on other more expensive routers. However, it does nail the fundamentals. This Wi-Fi 6 router has support for Dual-Band Wi-Fi and can provide speeds of up to 5400Mbps.
The 5GHz channel can support speeds of up to 4800Mbps. On the other side, the 2.4GHz channel is significantly slower, at 575Mbps. Still, that's not too bad considering you won't be connecting high-priority devices to the 2.4GHz channel.
Coverage here is also quite good thanks to beamforming, six high-performance antennas, and a high-power FEM. This router connects to multiple devices seamlessly, thanks to refined MU-MIMO and OFDMA.
This router also has a good number of vents, that lower the heat significantly. A lot of these cheap routers tend to overheat easily, which causes stability issues. Fortunately, that truly isn't an issue here.
Furthermore, this router supports Mesh systems, meaning you can connect TP-Link supported routers or range extenders. Unfortunately, a few features such as security features and dynamic QoS are locked behind a monthly paywall.
---
RJ45 for Gigabits BaseT for WAN x 1, RJ45 for Gigabits BaseT for LAN x 4 USB 3.2 Gen 1 x 1
Adaptive QoS works well

Excellent Mesh network features

Intuitive VPN features

Sleek and attractive design
Pricey for a dual-band router
If you're looking for a high-performance Wi-Fi 6 router that fits into your gaming setup, this is the one. For many people like that, the ASUS ROG Strix AX5400 might be the best router for multiple devices out there. However, this router is much more than just an attractive design.
This Dual-Band WI-Fi 6 router has a lot of features built inside. First off, let's talk about the exterior. We get four external antennas, subtle ambient lighting on the front, and a ROG logo at the top. Of course, like any other ROG device, this thing has customizable RGB.
Around the back, we get four Gigabit Ethernet ports and a Gigabit WAN port. We also get a USB 3.2 Gen 1 port. In terms of speeds, we get up to 5400Mbps across both of the bands. This router also supports the 160MHz Wi-Fi channel.
Apart from that, this router has excellent dynamic QoS, which is great for prioritizing your devices across the network. The Mesh network features work surprisingly great as well.
Finally, it has a VPN feature that creates a separate network for it, so you can still enjoy a high-speed network if another user needs to use the VPN. It is quite pricey for a dual-band router, but it has more features compared to some of the more affordable options out there.
---
TP-Link AX1800 (Archer AX21)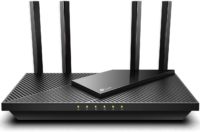 1x GbE WAN, 4x GbE LAN, 1x USB 3.0
Easy setup and controls

Support for Alexa

Phenomenal value
No mention of QoS

Coverage could be better

Not for power users
If you're not the type of person who wants to deal with the hassle of numerous features that come with many high-end routers, this is what you need. The TP-Link Archer AX1800 is one of the best routers for multiple devices, if you want an easy setup process and want to save some money.
Let's talk about the good stuff first. First off, this router has an excellent web interface which makes it easy to set up. Controlling settings from here is quite easy as well. Another smart feature is the fact that it works with Alexa.
You even get the option to set up daily reboots within this web interface. Unfortunately, if you want to do more advanced stuff, like set up a Mesh system or play around with DNS settings, you will be a bit disappointed. It works, but things can be a bit buggy for power users.
After all, this router is intended for people who don't want the hassle of dealing with those features. Speeds are great at 1.2Gbps, and you're getting dual-band Wi-Fi for an excellent bargain here.
The coverage will bother some people, so some might end up getting a range extender. Apart from that, this is a great router considering it's as cheap as most Wi-Fi 5 routers on the market.
---
Multiple device router FAQs
What type of router is best for multiple devices?
Routers that are dual-band or tri-band happen to be the best type of router for multiple devices. This is because you get more than one channel to which your devices can connect.
How many devices is too many for a router?
Realistically speaking, you can't have too many devices connected to a router with real-world usage. Most routers have support for up to 45 devices, which is more than enough for most households.
Will a better router handle more devices?
A better router won't necessarily handle more devices. It's just that it might be more efficient than your old routers. Newer Wi-Fi 6 routers are smarter when talking to numerous devices.
What is a modem vs a router?
A modem is what connects to your ISP via cable or fiber optics, providing internet to your router. The router then carries this connection and provides it to your devices via Ethernet and Wi-Fi.
Final word
These are some of the best routers out there for multiple devices and technically speaking, a router upgrade is not going to be the most efficient way to have a better connection across all your devices.
You need to know specifically what your use case is and what features benefit you to get a better internet experience. This is why we elaborated on what things you should be looking out for. Hopefully, our roundup helped you find the best router for multiple devices.
---