Best router for streaming in 2023
Streaming can be quite annoying if your internet connection is unreliable. Finding the best router for streaming is a quick yet permanent fix to that problem
Updated: Jun 29, 2022 3:14 pm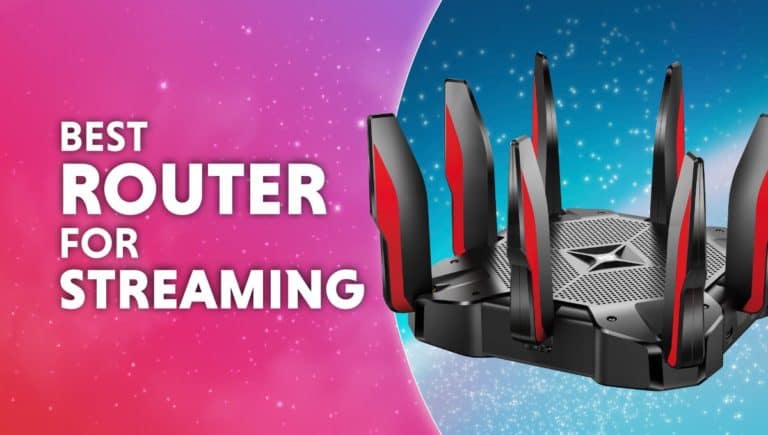 These days, thanks to the popularity of Twitch and streaming in general, more people are starting to stream their gaming sessions online. Not only that, but a lot of folks are also streaming content other than gaming. As such, streaming is starting to become something everyone wants to do, kind of like the Youtube situation a few years ago.
However, streaming requires a lot more effort than uploading videos online, you need good internet speeds and reliable equipment.
Once you have a fast internet connection, the next step is to find the best router for streaming. There are thousands of options out there, with varying prices and features. Fortunately, we've cherry-picked some of the best.
---
Best router for streaming: top picks
01
Editor's Pick
The best router for streaming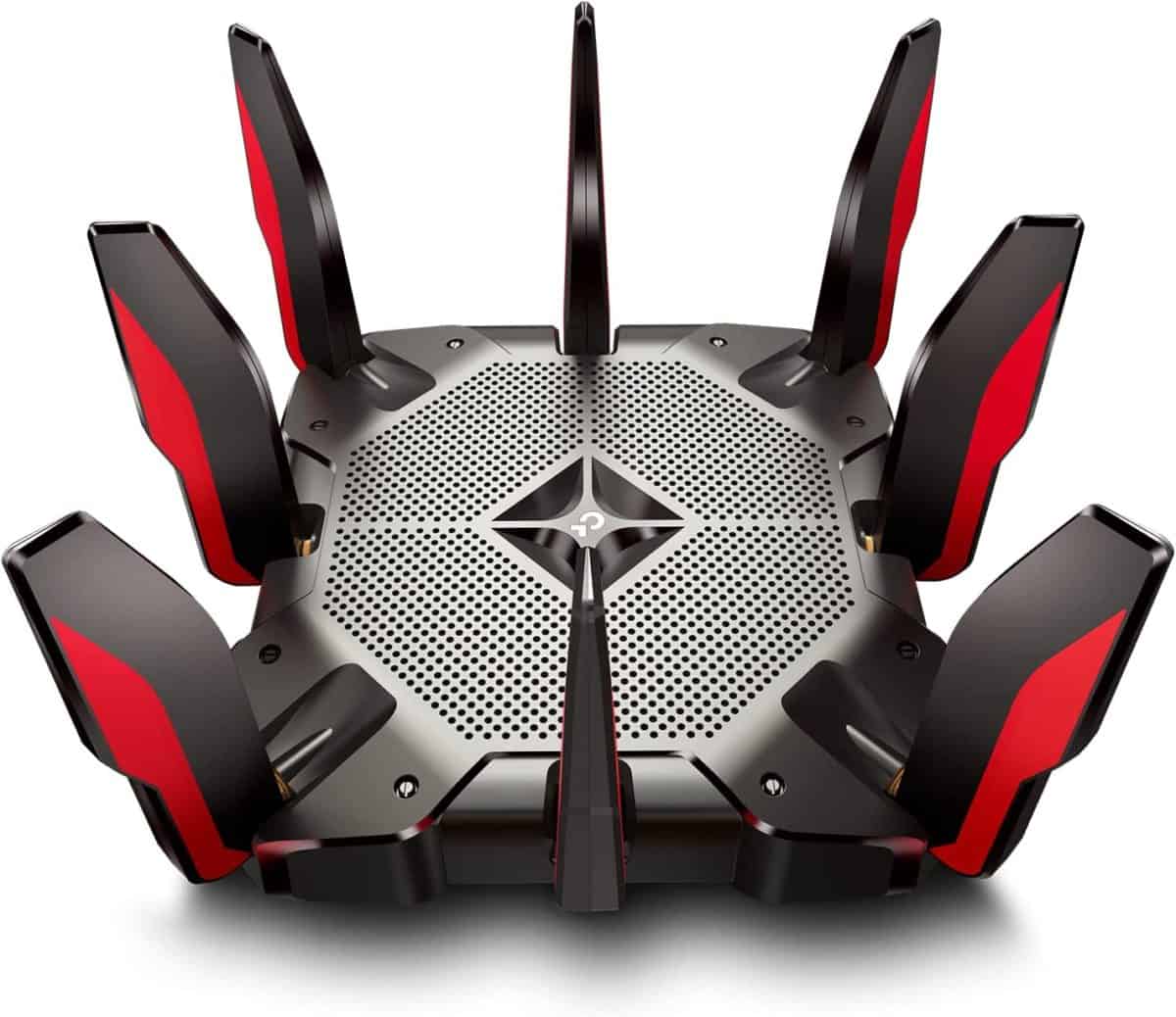 02
High-end Pick
Best premium router for streaming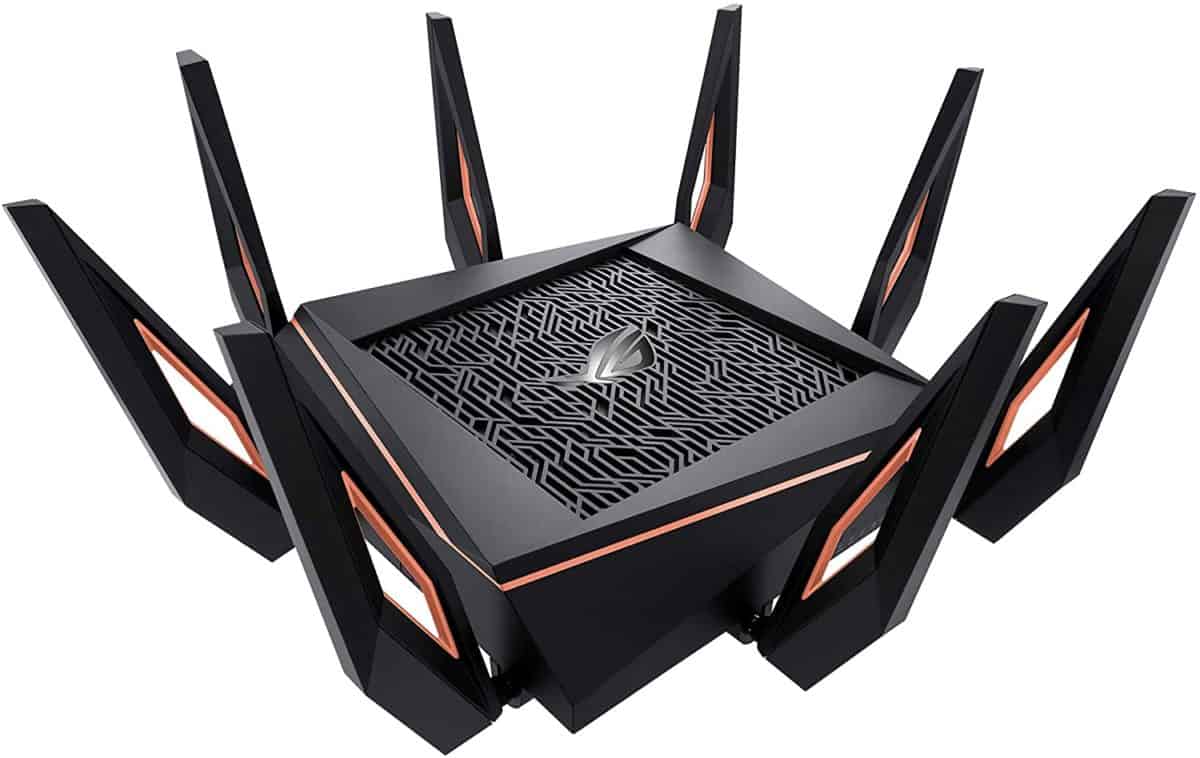 ASUS ROG Rapture GT-AX11000
03
Budget Pick
Best budget router for streaming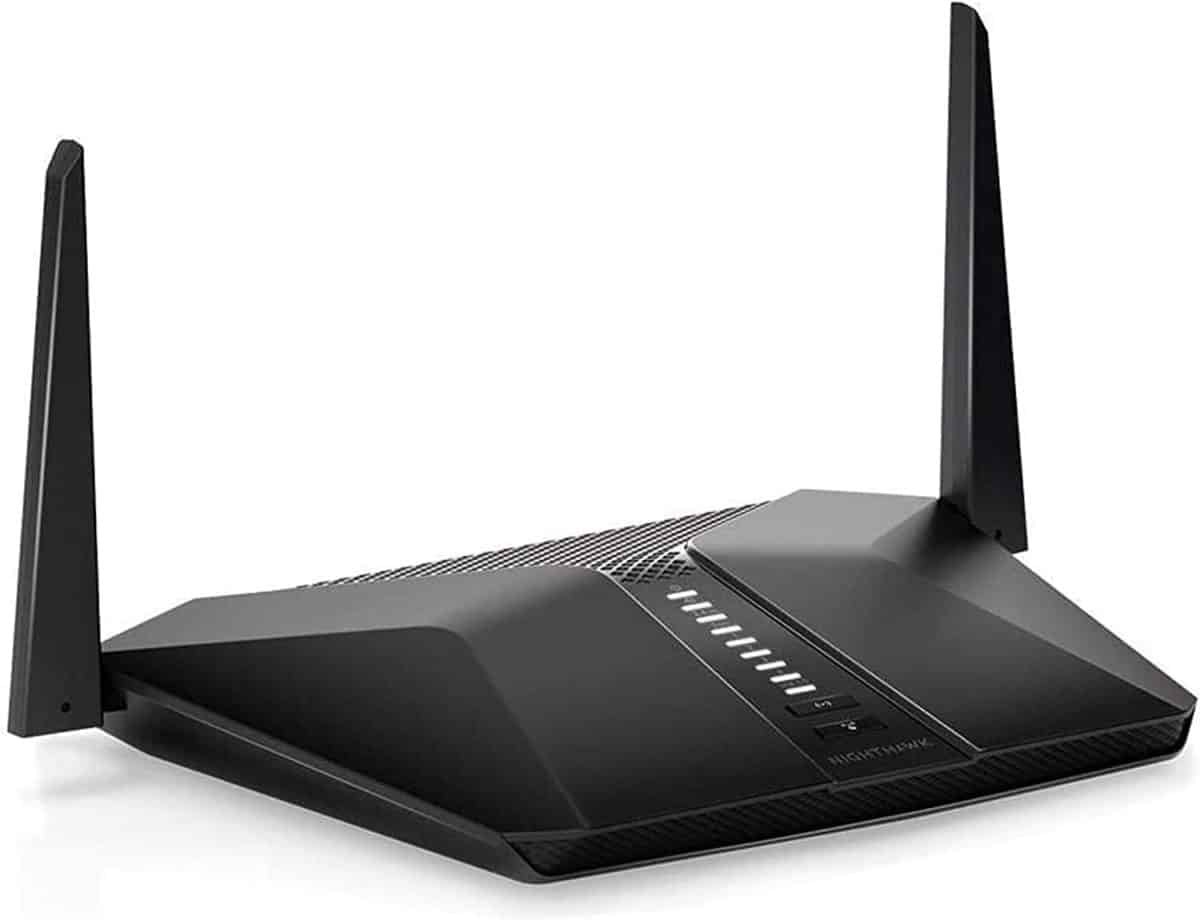 NETGEAR Nighthawk 4-Stream AX4 RAX40
---
Related router content
Things to consider when purchasing a router for streaming
If you're someone who is relatively new to streaming or knows next to nothing about routers, there are a few things you should know before buying. Being aware of the following will allow you to make a better decision when on the hunt for the best router for streaming.
Upgrade your internet before the router
Technically speaking, yes, almost any router out there will be good enough for streaming provided your internet connection is already fast enough. Streaming live usually requires a good bit of bandwidth. You may think you have a good enough connection if your download speeds are high.
However, it's the upload speeds that truly matter. The upload rate or bitrate of your internet connection matters the most. Twitch recommends a 2500 – 4000 Kbps connection when you are streaming live. Of course, depending on the resolution, this will only go higher.
That's number is just the bare minimum. If you are doing simultaneous downloads and have a lot of devices connected while streaming, you will need higher speeds. We recommend somewhere between a 25-50Mbps connection for most households.
Fortunately, fast internet is not as expensive as it once, which brings us to the next point you need to look out for.
What is gigabit internet and do I need it?
As the name implies, Gigabit internet has a theoretical speed of up to 1000Mbps or 1Gbps. Some ISPs will match the download speeds with the upload speeds, which is something you'll need to check beforehand. Gigabit Internet is great if someone in your area provides it.
Who doesn't want faster internet? Of course, a Gigabit connection will be quite pricey, but it's not as bad as you may think. Not many people truly need Gigabit Internet, as even something like a 100-200Mbps connection would be more than sufficient for most.
However, it's great to have, especially if you'll be uploading to Youtube a lot as well as streaming.
Why are there so many gigabit routers these days?
While on the hunt for the best routers for streaming, you'll often find that many of these are Gigabit routers. This has a direct correlation with the fact that many routers now support Wi-Fi 6.
Wi-Fi 6 not only brings speed improvements, but it also happens to be more stable and reliable. Now, not everyone has a Gigabit connection, nor do they intend to. Maybe it's because of the high costs, or maybe because of the fact that a Gigabit connection is not available everywhere yet.
Still, since making a Gigabit router does not cost that much more than making a slower one, it's easy to see why Gigabit routers are so popular. Even if you don't have a Gigabit connection, you can still benefit from a Gigabit router.
If you have an external file server such as a NAS setup, it is better to connect it directly to a Gigabit router as this lowers the latency. Since a Gigabit router will have more leeway, you are less likely to notice a fluctuation in speed when transferring files.
What about ethernet ports?
Let's switch back to some practical stuff for the average consumer. More ethernet ports are what you really want to worry about when buying a new router. You already might have your workstation PC, TV, and console connected with an ethernet cable to your router.
In situations like this, it is most likely that you are going to have a separate dedicated space for streaming/gaming in your home. So, it is important that you plan accordingly.
A wired ethernet connection is always going to give you less latency, better speeds, and an overall more reliable connection compared to Wi-Fi. Many of the "gaming" routers will have more than two Ethernet ports at the bare minimum, so you can hook up as many devices as needed.
If that's not the case for whatever router you go with, you can always buy a separate ethernet switch to make up for the lack of ports on your router.
Router features important for gaming
Most routers won't exactly have features that are important for or crucial to streaming. This is because there's not much you can do on the router side to make the streaming experience better. Well, that was the case a couple of years ago anyway.
Some routers will incorporate features that reduce latency and packet loss while optimizing your network for gaming. Of course, not all routers will have these features, so you will need to know what you are looking for.
Different manufacturers will have different names for these features. Some call it game/streaming optimization, others call it game acceleration. However, the general term that you are looking for is known as QoS (Quality of Service).
Quality of Service allows you to configure the priority of all of your devices. For example, if you have your gaming PC's priority at the highest, the router will make sure it receives minimal packet loss and the best latency. It will route the transmission to the PC first.
Some routers will also have a feature such as a "game detection" mode that directly correlates with QoS. Whenever you are streaming or playing a game, the router might automatically detect it and prioritize it in the QoS list.
Best router for streaming – understanding the specs
Since you'll likely have an idea of what to look for, it's also important to understand some of the specs so you don't get confused with technical jargon when looking at product pages.
Here's what you should know:
Router Coverage
The Wi-Fi signal will be closest to the router, and it will drop off as you move further away. This is a given. However, many people are not aware of the fact that a router's spec sheet tells you how much of an area it can cover.
Some routers can provide coverage of up to 2500 sq. ft, while others can only cover 1400 sq. ft house. Of course, these details are to be taken with a grain of salt.
Single-band vs dual-band vs tri-band routers
When looking around the best router for streaming, you'll come across these terms frequently. Simply put, these are distinct radio frequency bands used in Wi-Fi. Single-band routers use a 2.4GHz connection.
A Dual-Band router will have a 2.4GHz connection, as well as one with a 5GHz connection. Finally, a Tri-Band router will have two 5GHz connections and a single 2.4GHz connection.
The 5GHz Band is faster and has more bandwidth, making it perfect for streaming. On the flip side, 2.4GHz Wi-Fi comes in handy if you need better signal integrity, while being slower.
This is important for streaming. You can prioritize your PC and other gaming devices to use the 5GHz band, while your portable devices are connected to the 2.4GHz connection. This reduces interference and provides lower latency while streaming.
What is Wi-Fi 6
These days, the best router for streaming is going to have a Wi-Fi 6 connection. Wi-Fi 6 is also known as 802.11ax, a number you'll often see on the box. It is the successor to Wi-Fi 5, also known as 802.11ac.
Wi-Fi 6 brings various improvements such as Multi-User, Multiple Input/Output (MU-MIMO), and OFDMA. Both of these features allow more devices to be connected without much interference. Transferring data is also more seamless.
Best router for streaming
Wi-Fi Protocol
802.11ax Wi-Fi 6
Ports
1 x 2.5GbE WAN, 8x GbE LAN, 2x USB 3.0
Truly impressive performance

Tri-Band Wi-Fi

Superb range and coverage

Game accelerator works well

Easy and fast setup
The TP-Link Archer AX10000 surely is not a router that we recommend to the average user. It has a lot of features, costs quite a bit, and has performed most folks can't take advantage of. Fortunately, it's just so over the top that it happens to be the perfect router for streaming.
The TP-Link Archer AX10000 is a Wi-Fi 6 router with a Tri-Band frequency. Not only is this thing quite fast, but it also has features that make it perfect for people who want to take their streaming passion seriously.
First off, this router has a combined total speed of up to 6.6Gbps. This is split across the three bands. The Two 5GHz bands can go up to 4804Mbps, while the 2.4GHz band is rated at 1148Mbps. Since the 2.4GHz channel is quite fast as well, you won't even notice a difference in speeds.
Even the connectivity is quite impressive. The single WAN/LAN port is rated at 2.5Gbps, so you can take advantage of any device that benefits from that speed. Other than that, you get 8 Gigabit LAN ports and two USB 3.0 ports, one of which is Type-C.
These eight ports mean you can connect the router to your consoles, TV, gaming PC, and even NAS file server. It's great for streamers who will prefer to use Ethernet.
Another killer feature here is the game accelerator. This works well with QoS to recognize game streams and prioritize the networks towards them.
Apart from that, it comes with a lifetime subscription to TP-Link Homecare. This features an anti-virus, parental controls, and QoS.
Because of those features and the relatively reasonable price, this is the best router for streaming by far.
---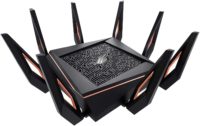 ASUS ROG Rapture GT-AX11000
Wi-Fi Protocol
802.11ax Wi-Fi 6
Ports
1x 2.5GbE WAN, 4x GbE LAN, 1x GbE WAN, 2x USB 3.1 Gen 1
Futuristic design

Impressive gaming features

Fantastic performance

Great coverage
If you want to take your streaming and overall gaming experience to the next level, getting this router is a great way to do so. While the price will drive some people away, we can't ignore the amazing features and impressive performance of this router.
Like any other high-end router these days, this one uses Wi-Fi 6. It also happens to be a Tri-Band router. ASUS routes the speed of this router at a ridiculous 11000Mbps. Of course, no consumer has the internet speed to fully take advantage of that.
However, all of that headroom will come in handy if you have an online file server or NAS connected to your PC. Since this is a Tri-Band router, you can dedicate one of the bands to just your gaming PC, so it always has the best possible performance.
The design here is quite interesting as well. It looks like a futuristic piece of tech, with RGB and aggressive styling all around. Yes, an ASUS ROG project would be incomplete without some RGB magic.
Moving on, the most impressive thing here is the amount of gaming-focused features. First off, you get GameFirst V which recognizes ASUS ROG devices and optimizes the network on them.
Then, we have a game boost. This automatically detects game streams and delivers the most optimized packets to those devices first. It also analyzes network traffic. Finally, you get access to WTFast, a private network for gamers. This provides optimized connections to game servers for the lowest ping.
All of these features and the performance make this high-end beast the best router for streaming, if you can afford it.
---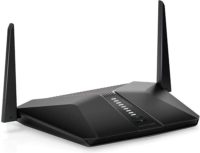 NETGEAR Nighthawk 4-Stream AX4 RAX40
Wi-Fi Protocol
802.11ax Wi-Fi 6
Ports
1x GbE WAN, 4x GbE LAN, 1x USB 3.0
Intuitive setup process

Great performance

Quite affordable

Alexa voice control
Most streamers will not be comfortable when it comes to playing around with router settings to get the best possible performance. If you're the type who wants to set it and forget, and want to save money, the Nighthawk RAX40 is your best bet.
The Netgear Nighthawk RAX40 is a simple yet powerful device. It does not have the aggressive design we see in many gaming routers. Nor does it have the ridiculous spec sheet to match them. Instead, this is a router that is easy to set up, and also happens to be quite fast.
This is a Dual-Band Wi-Fi 6 router. You can still take advantage of that by dedicating your gaming PC to the 5GHz frequency band. Of course, this is not as effective as a Tri-Band router, but it will do for many people.
Despite the affordable price, this router is still quite fast and rated at 3000Mbps. Coverage is decent enough as it can provide Wi-Fi to a 1500 sq. ft house without much issue. Of course, we've seen better, but hard to complain for the price.
We also get an excellent feature missing on routers twice the price: voice control. You can use Alexa to speak commands directly to the router. You also get access to a settings menu that is easy to navigate and manage things from.
For the average consumer not interested in gimmicky features, it's the best router for streaming out there.
---
Wi-Fi Protocol
802.11ax Wi-Fi 6
Ports
1x GbE WAN, 8x GbE LAN, 2x USB 3.1 Gen 1
Official Alexa support

Easy to set up and manage

Features a Type-C port
Expensive for a dual-band router
Think of this router as quite a humbler version of the ASUS ROG router we just talked about above. While this one is quite expensive for a dual-band router, it still has features that make it great for gaming. It also has subtler looks.
While the ROG router looks like it belongs purely in a dedicated gaming space, the ASUS RT-AX88U could fit in almost anywhere. It is mostly black with some gold accents here and there.
This Dual-Band router is still quite fast as it supports speeds of up to 6000Mbps. It has a good number of Gigabit Ethernet ports, and even two USB 3.1 Gen 1 ports, one of which is Type-C.
While this router does not have the same gaming features as its more expensive brother, it still does well. It features adaptive QoS, which does most of the same job as a game mode or game accelerator as other routers.
---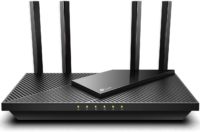 TP-Link AX1800 (Archer AX21)
Wi-Fi Protocol
802.11ax Wi-Fi 6
Ports
1x GbE WAN, 4x GbE LAN, 1x USB 3.0
Easy to set up

Works with Alexa

Excellent value
Lacks some bells and whistles

No mention of QoS

Disappointing coverage
If the routers above are too expensive for what you're looking for, the TP-Link Archer AX21 is by far one of the cheapest Dual-Band Wi-Fi 6 routers. It does come with its compromises, but it's one of the better routers for its cheap price.
This is a dual-band Wi-Fi 6 router, and one that supports speeds of up to 1.8Gbps. It comes with four Gigabit LAN ports and even a USB 3.0 port. Not bad at all for a cheap router.
Since this is a Wi-Fi 6 router, it also brings obvious improvements to OFDMA and MU-MIMO. This router does lack a lot of gaming-oriented features, but that is to be expected at the price.
It seems like Amazon is working with a lot of different manufacturers to bring Alexa over to as many devices as possible. This is another one of those routers with Alexa voice control built-in.
It does feature QoS, but it is hidden behind many menus and does not exactly work as you might expect. Coverage is a major point of worry, as it's good enough for apartments but not exactly for large homes.
---
Streaming router FAQs
Will a better router help with streaming?
A better router will help if you are having connection issues and don't think it is linked to your ISP. A good router will clean up that interference and even provide better speeds at times.
What speed do I need for streaming video?
If you're watching videos on 4K on Netflix, you will need at least a 25Mbps connection to do that comfortably. As for streaming a 25-50Mbps connection is what you want to aim for.
How can I boost my Wi-Fi signal?
The best way to boost your Wi-Fi signal is by changing the placement of the router, and using a different channel if possible to avoid interference.
Do I need a new router for 4K streaming?
First, you need to make sure that you have an internet connection fast enough for streaming in 4K. Once that's down, you need a new router with enough features and fast speeds.
Final word
It is quite interesting just how far streaming has come. What was once looked at as a hobby has now become a professional career for many people. Of course, you need decent gear to start your streaming career, and finding the best router for streaming is a good place to start. Hopefully, we made your search a bit easier.
---