Overclockers UK Refract prebuilt gaming PC range comes to market
High quality, plug-and-play prebuilt gaming systems with Windows 11 pre-installed
Updated: Sep 22, 2022 1:53 pm
Overclockers UK is a brand synonymous with gaming PCs in the UK, offering quality options no matter the budget. The major PC retailer recently introduced its latest range of gaming PCs to the world – Refract. The Refract lineup brings the same quality we have come to expect from OCUK, only now with Windows 11 pre-installed in every system.
OCUK, based out of Staffordshire, is famous in the PC enthusiast community, and generally offers hardware with superb performance at competitive prices. Overclockers have a solid reputation in the gaming industry, with excellent customer service and a long history of quality PC building practice.
The Refract gaming PC lineup
The Refract systems in question are OCUKs latest custom-built range, with six differently spec'd systems to choose from. Regardless if you are looking for an entry-level gaming PC or an all-singing-all-dancing 4K machine, Spectra has you covered. These systems are built using off-the-shelf parts and ship with three years of warranty, covering parts and labour.
These plug-and-play computers are designed for the casual gamer, and you hardcore nerds too, working straight out of the box with no fuss, and Windows 11 pre-installed. As you can probably tell by the name 'Refract', each model is split into a spectrum of colors and named accordingly.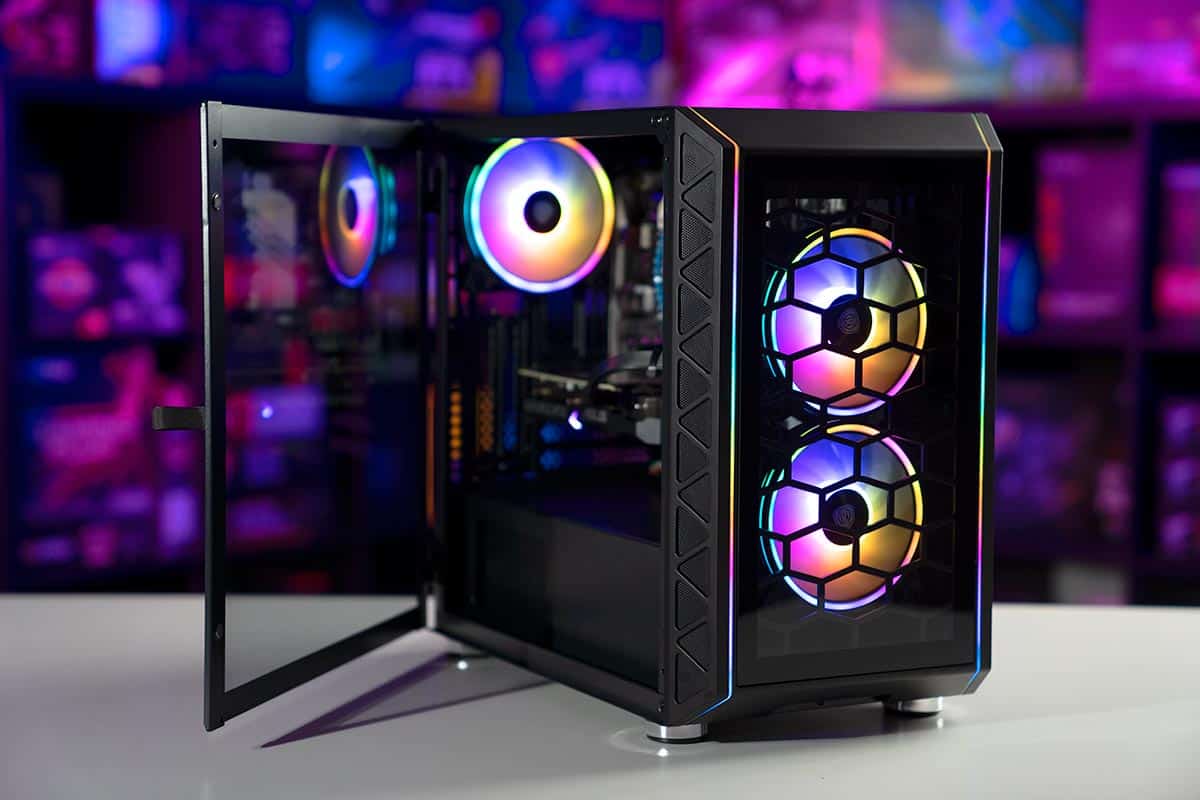 Refract range:
Crimson – Entry-level 1080p gaming
Amber – Budget 1080p gaming
Jade – Mid-tier 1440p gaming
Celeste – Premium 1440p gaming
Azure – Affordable 4K gaming
Indigo – High-end 4K gaming
View the entire Refract gaming PC range here
While obviously every system in the lineup can run games in 1080p, the Crimson and Amber prebuilts are the two go-to options for those who need something affordable.
Refract Crimson gaming PC
The Crimson PC is the cheapest in the lineup, featuring everything you need for an entry-level experience. This is ideal for new PC gamers and best suited for those who game casually.
Specifications:
CPU: AMD Ryzen 5 5600G APU
RAM: 16GB (2 x 8GB) DDR4 3200MHz
Motherboard: AMD A520
Storage: 250GB SSD & 1TB HDD
Case: Kolink Inspire Series K6 ARGB Mirco-ATX
PSU: 600W
Operating system: Windows 11 Home 64-bit
Costing just £599.99, the Refract Crimson can be upgraded down the line, however, you can easily hit decent frame rates in esports titles with the onboard RX Vega graphics alone.
---
Refract Amber gaming PC
The Amber is a budget gaming PC and a setup up from the Crimson, offering a dedicated GPU. If you are looking to hit high frames in your favorite esports titles, or play AAA games in 1080p, this is going to be the perfect prebuilt gaming PC for you.
Specifications:
CPU: Intel Core i3 12100F
GPU: Nvidia RTX 3050 OC
RAM: 16GB (2 x 8GB) DDR4 3200MHz
Motherboard: Intel H610
Storage: 1TB SSD
Case: Kolink Citadel Mesh RGB
PSU: 500W
Operating system: Windows 11 Home 64-bit
Retailing at £949.99, the Refract Amber is well-positioned as a strong budget gaming computer. The RTX 3050 has Nvidia's DLSS technology, enabling you to push frames further when playing your favorite AAA title. This system is also capable of high frame rates in competitive esports titles, meaning you can take advantage of a higher refresh rate monitor.
---
Refract Jade gaming PC
The Refract Jade gaming PC is a mid-range beast that performs exceptionally well in 1440p and below. This system also has some 4K performance but is ideal for those who want high frames in 2K. So, if you are looking to play your favorite AAA titles in glorious detail, or want to push the highest FPS in esports titles, the Jade is the perfect mid-tier option.
Specifications:
CPU: Intel Core i5-12400F
GPU: Asus RTX 3060 Dual OC (12GB)
RAM: Team Group Vulcan Z T-Force 16GB (2X8) DDR4 3200MHz
Motherboard: Asus Prime B660M-A wifi
Storage: 1TB WD Blue 2.5″ SSD
PSU: Kolink Classic 600w 80-Plus Bronze
Case: Kolink Citadel Glass SE Micro-ATX
Operating system: Windows 11 Home 64-bit
The Refract Jade retails at £1,149.95 and offers the best balance in terms of price to performance.
What we had to say about the Refract Jade:
"Overall the OCUK Refract Jade prebuilt gaming PC performed higher than our first expectations, giving fabulous results in 1080p and 1440p. The fact there is clearly some performance in 4K without setting optimization and DLSS means this is going to provide you with an incredible gaming experience for years to come. "
---
Refract Celeste gaming PC
The Refract Celeste sits on the cusp of high-end gaming. This machine is packed with high-quality components for gaming in 1440p, with some noticeable 4K performance too. This system is perfect for gaming and streaming, with hand-picked components that guarantee a solid gaming experience.
Specifications:
CPU: AMD Ryzen 5 5600G APU
GPU: Nvidia RTX 3060 Ti OC
RAM: 16GB (2 x 8GB) DDR4 3200MHz
Motherboard: AMD B550
Storage: 500GB M.2 SSD & 1TB HDD
Case: Phanteks Eclipse P360 Air
PSU: 700W
Operating system: Windows 11 Home 64-bit
The Celeste is the first prebuilt in the Refract range to feature an AIO cooling solution, meaning no matter how far you push this it will perform. Retailing at £1,399.99, this system is for those that love to play AAA games. You can expect high frame rates in every game you play at 1440p, with surprising results in 4K too.
---
Refract Azure gaming PC
The Refract Azure is Overclocker's affordable way into seamless 4K gaming. Featuring some of the latest components to hit the market, there is no game the Azure cant handle. If you're looking to play AAA titles in great detail without having to tweak your settings, this PC can achieve that without breaking the bank.
Specifications:
CPU: Intel Core i7 12700F
GPU: Nvidia RTX 3070 Ti OC
RAM: 16GB (2 x 8GB) DDR4 3200MHz
Motherboard: Intel B660
Storage: 500GB M.2 SSD & 1TB HDD
Case: Lian Li LANCOOL II MESH
PSU: 750W
Operating system: Windows 11 Home 64-bit
The Azure retails at £1,999.99, which is widely considered high-end, so this is best suited for the hardcore gamers and streamers out there. Aside from the blistering performance you get from the Intel i7 and RTX 3070 Ti, you are treated to an efficient AIO cooling solution and a high-quality PC case.
---
Refract Indigo gaming PC
Now on to the Indigo, the pinnacle of the Refract lineup. This ultra-high-end PC is for those that want the best performance available, which the Indigo delivers. Every game, no matter the resolution, no matter the settings, can be played without breaking a sweat with this machine.
Specifications:
CPU: Intel Core i9 12900KF
GPU: Nvidia RTX 3080 OC
RAM: 32GB (2 x 16GB) DDR4 3200MHz
Motherboard: Intel Z690
Storage: 1TB M.2 SSD
Case: Phanteks Eclipse P500
PSU: 850W
Operating system: Windows 11 Home 64-bit
Retailing at £2,499.95, the Indigo system offers the best performance in the Refract range. While it isn't particularly affordable, this is ideal for those who want the best out of their PC and take gaming seriously. With one of the best processors and GPUs available inside, you can do a lot more than just game with this PC. So, no matter if you are streaming, performing heavy workloads, or rendering, the Indigo can handle it all.
---