The Best Nvidia GeForce GTX 1060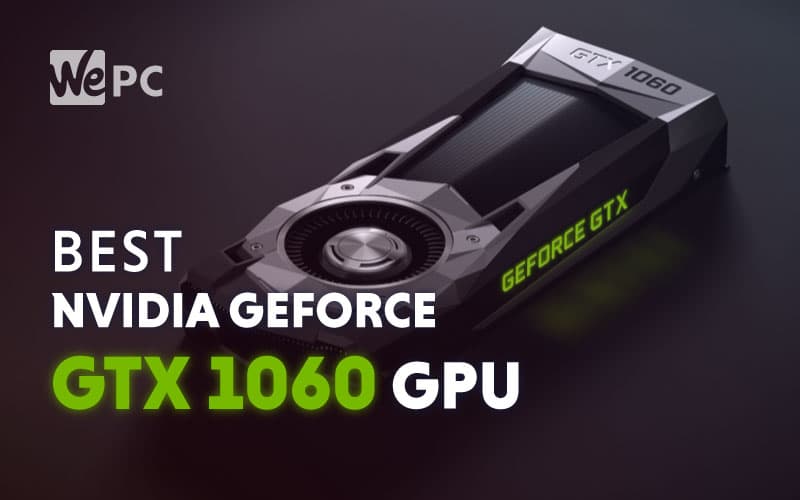 When you are planning a brand new PC build, there's so much choice out there for all the components you have to consider. However, your choice of graphics card is likely one of your main concerns if you are a gamer. 
While it's not the only component to consider when you're aiming for high performance for your games, it is one of the most important ones. 
When it comes to deciding on the best graphics card, it can be a difficult choice. However, if you are considering the Nvidia GeForce GTX 1060, you still have one more decision to make. There isn't just one GTX 1060 card for you to buy, there are lots of different versions offered by different manufacturers, each with their own set of pros and cons. 
That makes the choice a bit more difficult. However, this comprehensive guide will help you choose the best GTX 1060 graphics card for you. We will help you navigate all the different types of GTX 1060 and everything you should consider before purchasing your next graphics card. 
You will need to weigh up the price of the card, whether it will be powerful enough to run your games and whether it will last you long into the future. 
With all that in mind, we will kick off this article by taking a look at the cards we'll be discussing.
First Look: Best Nvidia GeForce GTX 1060 Graphics Cards
The Gigabyte AORUS Xtreme Edition is the most powerful card on the list and combines great design and efficient cooling in one great package.
ASUS's powerful OC Edition packs a powerful punch despite having just 3 GB VRAM. This card is VR ready and will run almost any game you throw at it.
MSI's signature look appears prominently on this card which comes with powerful performance, a good amount of ports for VR games, and also a great cooling system.
This card, while not the most powerful on the list, provides an impressive cooling system and a slightly compact design which is perfect for those looking for a smaller graphics card.
We recommend lots of products at WePC, so it's important to us, and you, that we get it right. We always want to make sure each and every product we list is worth your time and investment. To be considered one of the best of any component, we put a lot of research and time into testing them. 
It's hard to narrow down any list of computer components with so much choice out there, but we try to make that choice a lot easier with comprehensive reviews like this. 
Once we have our selections, we aim to describe and compare them, so you have an easier final choice to make. In this post, we will be listing the top four GTX 1060 graphics cards on the market today. We will talk about the pros and cons, what makes them stand out, and what their performance is like so you can get a good idea of how they will perform in your system.
While we always conduct in-depth research on any component we choose, we also try to test the components out ourselves wherever possible. The WePC office is always full of empty boxes and PC enthusiasts pushing components to the limit to see how well they perform. 
To make sure the products we recommend are the best, they must show great performance in our testing and offer something that the competition doesn't include.
Most of the products we recommend have been through a strict testing process where we look at everything from the price to the performance, build, and design. 
By testing these products, we ensure our reviews are accurate and fair before you need to part with your cash to buy one to test out for yourself.
The performance of any graphics card is the most important thing to look at first. This is particularly important if you are going to be running games on your PC - just how well they will run will depend on a number of things, including your choice of graphics card.
Better performance from your graphics card will allow you more options when it comes to running games now and in the future. You'll be able to push for better graphics, smoother frame rates, and higher resolutions with the right card.
Having a good idea of the type of games you want to play before you buy a graphics card is a good move. You don't necessarily need the world's most powerful graphics cards if the type of games you play aren't very demanding. There's no need to waste time on graphics cards that are $500 and above if all you're going to play is a low-requirement simulation or virtual tabletop game.
The other side of performance and power in the graphics card world is cooling. If you are going to run a graphics card, you will need to make sure that things are kept cool in your PC case. 
The more powerful your graphics card is, the more cooling power it will need. This is particularly the case if you are planning to overclock your graphics card to squeeze even more performance out of it. 
While graphics cards will all come with their own built-in cooling systems, you may want to go one step further and invest in additional cooling, particularly if you're going to be overclocking. 
Not having adequate cooling can decrease the efficiency of your graphics card and can even lead to hardware damage in some cases.
Whether you have already purchased a PC case or not, measuring the size of the graphics cards you're considering is really important. Many people overlook this part, thinking that graphics cards have a standard size. 
However, if you're looking at more powerful graphics cards or cards with triple-fan cooling systems, you may find that they are longer than regular graphics cards and may not even fit in your case. 
Besides the graphics card, you also need to work out whether everything else will fit in the case too. Do you have room for a CPU cooler and additional fans to keep everything cool?
What Budget Do I Need For An Nvidia GeForce GTX 1060 Graphics Card?
Budget is, of course, another key point to consider when you're looking to buy a new graphics card. The good news is that you don't need to spend a fortune to get a graphics card if your needs are not too demanding. This will depend on what type of games and activities you intend to use the graphics card for, of course.
If you're looking at the GeForce GTX 1060, the prices vary between manufacturers. 
The price ranges between $350 to $400 mostly, so it will be a fairly big purchase that you'll need to consider carefully. Luckily, there are plenty of choices to consider in this price range from different manufacturers.
Gigabyte AORUS GeForce GTX 1060 Xtreme Edition
PROS
Highest clock speed
Good RGB options
To start off this list, we have gone with Gigabyte's GTX 1060 Xtreme Edition, and that's mostly for the high clock speed, which is the best we've seen in this range. 
Gigabyte has created an impressive graphics card here that looks and performs great, making it an excellent choice for any PC build. This card comes VR-ready with the AORUS VR Link, which ensures any VR equipment you own will hook up to this card brilliantly. 
The cooling system is Gigabyte's powerful Windforce system, which consists of two 100mm fans, which spin in alternate directions to provide great cooling. There's also a large copper base plate that provides direct contact between the GPU and the VRAM and also helps to transfer heat effectively to the heat sink.
In terms of design, there's a nice RGB detail across the top and the side of the card, which can be fully customized. Gigabyte's RGB Fusion 2.0 allows you to choose up to 16.7 million color options, which can also be synchronized with other AORUS devices. 
This all comes together to make the Gigabyte GTX 1060 a solid choice of graphics card, which will run a variety of games without breaking a sweat.
ASUS Dual Series GeForce GTX 1060 OC Edition 3 GB
Next on the list is the sleek, white ASUS GTX 1060 OC Edition graphics card. The design is what stands out from first glance. This will be perfect for those looking to complete an all-white build in their PC. 
This is a powerful card with an 1809 MHz boost clock speed and a VR-ready HDMI port for a quick link up to your VR equipment. The card comes with ASUS's powerful GPU Tweak II with the Xsplit Gamecaster, which works together to provide instant gameplay streaming and fantastic performance.
The cooling system comes with ASUS's patented Wing-Blade fans, which boost airflow with 105% more air pressure so you won't have to worry about overheating. The fans may be powerful, but they also operate at 3x quieter volume than the reference cards manage. 
The ASUS card is built with ASUS' Auto-Extreme Technology, which is a 100% automated production process that boosts efficiency, reduces power loss, and decreases noise while keeping temperatures low. This is a very impressive package of powerful components that will run your games with great performance levels. 
The card comes with just 3 GB of GDDR5 VRAM. However, it packs a powerful punch and stands up well against the other cards on this list.
MSI GeForce GTX 1060 Gaming X 6G
By now, MSI graphics cards are pretty recognizable as they usually go for the red branding on the top. This card is a good example of that. It definitely stands out as the most recognizable card on the list for the bright red detailing. 
The great design and style don't stop there, though. There's plenty of interesting lighting and customization on this card, with the side panel logo and red, LED slashes on top around the fan. You can take your pick of colors and styles here to make the card really stand out. 
Underneath that design is a powerful card that operates with a high boost clock of 1809 MHz. This card also comes VR ready for you, so it's perfect for those looking to future-proof their gaming systems and break into the world of VR.
This card uses MSI's well-known TORX 2.0 Fan technology, which helps to generate 22% more air pressure to provide cooling when it's needed the most. Alongside this is MSI's Twin Frozr VI technology, which helps to eliminate fan noise by stopping them automatically in low load scenarios. That means you can concentrate on gaming without distracting fan noises when they're simply not needed.
This card typically comes more expensive than others on the list. However, if you are an MSI lover and can't resist the good design, you'll get a good card for your money.
ZOTAC GeForce GTX 1060 AMP Edition
PROS
Classic black and white design
CONS
Lowest clock speed on the list
No RGB customisation
Last on the list is the ZOTAC GTX 1060 AMP Edition. This has the lowest clock speed on the list, but it still achieves a great 1771 MHz, so you won't be missing much. This card will be able to run many games with high system requirements perfectly fine. In fact, this card also comes to VR ready, so you'll even be able to handle VR titles too.
The ZOTAC has a simple and classy monochrome design similar to that of the ASUS model. It comes in a compact case which should be able to fit in most PC cases without worry; this is something to bear in mind if you've struggled to fit in other graphics cards. However, there is also a mini version of this card if you need an even smaller model.
In terms of cooling, ZOTAC has its ICESTORM technology, helping to keep things cool. This includes two wide blade fans, an aluminum fin stack, and a copper cold block. The ZOTAC also comes with a specially designed sunflower style heatsink, which provides direct GPU contact to evenly distribute heat throughout the card. 
These fans are also able to start and stop depending on what processes you're running. This helps to extend the fan life as well as keep things quiet
There you have four solid card recommendations for the best GeForce GTX 1060 graphics cards currently available on the market. If you don't have much time to go through the whole guide, we've summarised some of the best points to consider below and which card is best for each one.
If you are looking for the best performing card, then the Gigabyte AORUS GTX 1060 Xtreme Edition is the best one for you - featuring the highest clock speed on the list. 
All of the cards on the list look great but it's hard to ignore MSI's bright red design with RGB slashes across the top of the card.
If you are looking for a solid all-rounder, then the ASUS card blends good design, performance, and price. 
Of course, these aren't the only GeForce GTX 1060 graphics cards on the market, so here are a few others which didn't make it on the list:
That ends our list today of the top GeForce GTX 1060 graphics cards on the market today. As you can see, there are a few interesting options and great designs to choose from. We hope this article has helped you narrow down your choices and make a difficult decision on purchasing your new graphics card. 
Of course, like with any list of the best, there are bound to be a couple of things we've missed out. If there's something we haven't mentioned or a card that didn't make it on the list, feel free to let us know in the comments section below and we will look into it.
If you would like to chat with our gamers about GPUs or anything else PC-related, we have a Community Hub which is a great place to get to know other PC enthusiasts and learn more.