How to connect iPad to MacBook Pro & MacBook Air
Connect your iPad to your MacBook with our step-by-step guide
Updated: Apr 24, 2023 2:38 pm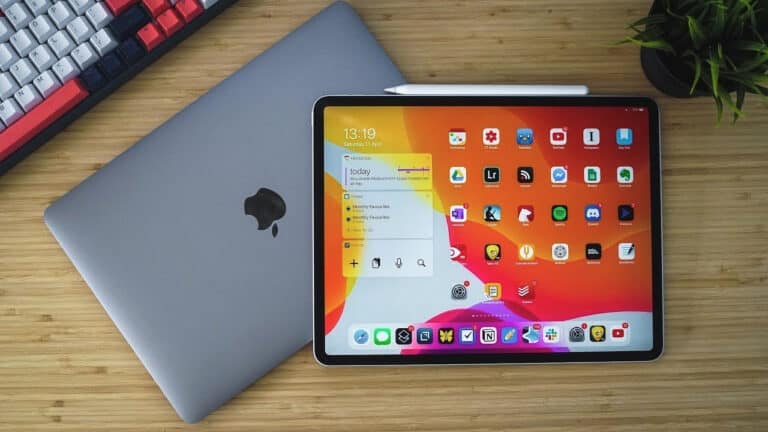 If you've been wondering how to connect iPad to MacBook Pro & MacBook Air, you're in the right place. Sometimes, your computer's display is simply insufficient. That's why most people buy a second monitor to have extra room for streaming, gaming, and organizing. Although having multiple screens is good, you don't always have to spend more money to have one.
You can easily and quickly connect your iPad to your MacBook, and use the iPad as an additional display for your Mac computer. You can then extend your MacBook or simply mirror it onto your iPad using Sidecar, which is built into compatible devices. This allows you to operate the two devices in harmony.
This article discusses everything you need to know about connecting your iPad to your MacBook.
How do I connect my iPad to my MacBook Pro/Air?
There are many different ways to connect your iPad to your MacBook Pro/Air, but we will discuss the most efficient ones.
Using AirPlay
Apple's AirPlay wireless protocol enables the transmission of audio and video across devices like Apple TV and HomePod.
With the release of macOS Monterey, customers can easily turn their MacBook Pro or Air into an AirPlay server, enabling seamless screen streaming from their iPhone or iPad to their MacBook.
Look for sharing options on your Mac computer in the system settings menu bar.
Go to the Airplay section of the sharing menu, then turn on the AirPlay receiver.
Choose the Airplay receiver's screen-sharing option.
Click on "anyone" to wirelessly share your Mac's screen.
Pick the screen mirror option from the iPad control center.
You must accept a pop-up notification that appears on your Mac's screen.
Your iPad is now connected to your MacBook Pro/Air and you can start using it as your second screen.
If you want to disconnect both devices, simply hit the AirPlay button once more and choose Disconnect.
Alternatively, you can screen-share only one window from your MacBook. For instance, you could share your Safari web browser or any comments you've made in Notes. Simply place your mouse on the green full-screen button, which is located in the upper left corner of windows, to accomplish this. You should notice a "Move to iPad" option after a short time of hovering, which will share that window with your iPad.
Using Mac Reflector
A reflector is a file-sharing and screen-mirroring application that allows you to sync your iPad and MacBook Pro/Air. Reflector links to your devices using the Miracast, Google Cast, and AirPlay protocols to screen-mirror and transmit videos without external hardware.
You may use Reflector to connect an iPad to a Mac by following these steps:
Download and install Reflector first.
Then, launch Reflector and select the Plus button in the window's lower left corner.
Choose Apple from the Device Type menu.
Choose your iPad under Model.
Check to see if your Mac and iPad are connected to the same network.
From the list, choose your iPad, then click the Connect option.
Lastly, click the blue Mirror button located in the window's bottom right corner.
You can disconnect both devices by clicking on the Stop Mirroring button from the bottom right corner of the software window.
Using QuickTime Player
Users can share the screen of an iPad with a Mac using QuickTime Player, an application that comes preinstalled on Macs. Here are the steps to use it:
Use a USB cable to link your iPad to your Mac.
Launch QuickTime on Mac.
Choose New Screen Recording from the File menu.
From the list of devices, choose your iPad.
Start screen sharing with your iPad on the Mac by selecting the Record button.
Click on "Stop" in the QuickTime toolbar to end sharing.
Using Sidecar
When you need to share multimedia files, you can mirror the Mac screen to the iPad using the built-in Apple Sidecar function.
Before mirroring from a Mac to an iPad, confirm that both devices are connected to the same Wi-Fi network and Apple ID. Then begin mirroring with the following steps:
Select the Display option from the control center or settings menu in the top right corner of your Mac.
Click the Airplay icon from the option bar and choose iPad from the menu.
If your Airplay icon is not visible, click the Apple symbol in the upper left corner.
Choose Sidecar in the system preferences.
Choose iPad under the connect to button in the pop-up sidecar.
Click on Display from the control panel.
The Sidecar symbol will turn blue, indicating that the function has started functioning.
How to connect iPad to MacBook Pro & MacBook Air FAQs
Can my iPad be used on my iMac as a screen?
You may use your iMac as an iPad's second screen, thanks to a feature in macOS Mojave called Target Display Mode.
To access the Control Center on your iPad, swipe up from the display.
Choose the Screen Mirroring button, which looks like a tiny TV screen.
From the list of devices, pick your iMac.
Now your iMac's screen will be mirrored on your iPad.
Why are my iPad and MacBook Pro not connecting?
You could have difficulty in mirroring your iPad to your MacBook Pro for a few different reasons. Firstly, confirm that both devices are connected to the same network. Next, make sure your MacBook and iPad are on and close to each other.
How to connect iPad to MacBook Pro & MacBook Air : Final word
That concludes our 'how to connect iPad to MacBook Pro & MacBook Air' guide! There are plenty of uses for hooking up your iPad to your MacBook. It gives you additional screen space for whatever you need. If you're curious about over tablet how-tos and tablet guides, make sure you check out one or more of our wide-ranging topics.
---