How To Record Discord Audio
We discuss the two best methods for recording audio in Discord using Craig Bot and OBS
Updated: Apr 3, 2023 11:27 am
This handy guide is here to teach you how to record Discord audio, and there are two main ways we'll be covering right here.
Recording Discord audio is useful for a bunch of reasons – from creating content for social media, livestreaming, or even educational purposes. That's why this guide will come handy for a wide range of Discord users.
READ NOW: If you're interested in streaming, you'll want to take a look at the best Stream decks right now
So, what are these two main ways of recording Discord audio? The method you choose depends on whether you are the owner/admin of the server, have a manage server role assigned to your account, or if you are just a member. In the case of the former we would recommend using the Craig Chat Bot, if not then you cannot actually record the audio using Discord itself, but the free third party software OBS (Open Broadcaster Software) can be used. This is a massively popular software among the likes of streamers, so it's definitely resourceful and backed up by years and years of improvements.
Disclaimer: In many countries, it's illegal to record other people without their permission. Even if it's not illegal where you are, it is certainly of questionable morality to do so! Make sure that you have the consent of all parties you might end up recording before you use any of the methods we describe.
How to use Craig Chat Bot to record audio in Discord
One of the big advantages of using the Craig Chat Bot is that it records each user as a separate audio track, which makes it much easier to edit and/or remove certain users from the recording, should they (for example) decide they don't want to be in the recording. The Craig Chat Bot also has a clearly visible recording icon that all parties can see whenever it is set to record, so it removes the option for sneaky covert recording of conversations. The Craig Bot can record up to 6 hours in one recording.
Make sure you're an admin on the server OR have the "Manage Server" role
If you are the server owner or admin then you automatically have the permissions needed for the following steps. If you are not then you will need to get yourself the powers granted by having a Mange Server Role. If you are unsure about how to do this, please read our handy guide on How To Add Roles In Discord.
When you get to Part 1, Step 3 of the guide, you will want to make sure you have the Manage Server permissions slider switched to green (meaning it's selected). Click Save Changes at the bottom and then follow the rest of the guide to add it to your account.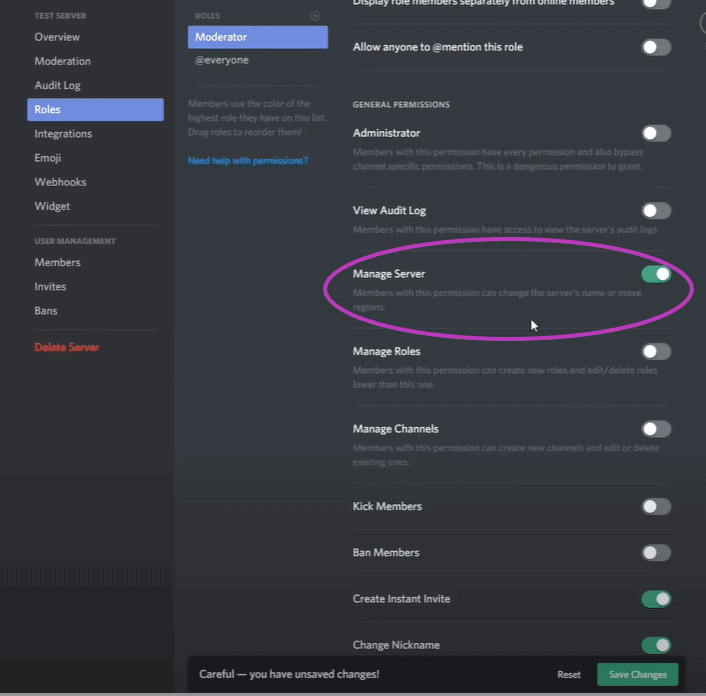 Invite Craig Chat Bot to your server
Navigate to the Craig Chat Bot webpage and click to invite the bot into your server.
Once you have clicked to invite the bot a pop-up window should appear such as the one pictured asking you to pick a specific server from a dropdown box. Choose your preferred server, make sure the Administrator tick box is selected and then click Authorize. If this process is successful, you should see a message in your server telling you that Craig Bot has joined.
All you have to do to get the Craig Bot recording is to enter an audio channel and type the following command :craig:, join
You should hear an audio alert confirming that recording has commenced, as well as notice that the username of the bot should have changed to:
![RECORDING] Craig.
You can set Craig Bot to record in multiple channels simultaneously.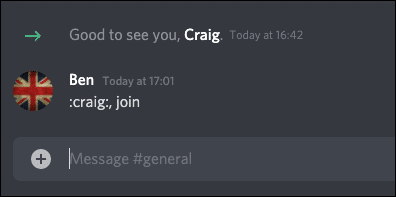 To stop Craig Bot from recording in only one audio channel specifically, enter that channel and type the following command :craig:, leave
To stop Craig Bot from recording in all channels at the same time type the following command :craig:, stop
Accessing Craig Bot recordings
As soon as you begin recording you should receive a private message from the Craig bot, containing links to download or delete your conversations as you see fit.
You can find a full list of the possible commands you can use with the Craig Bot here. Or alternatively type the following command in a Discord channel will bring up the link :craig:, help
How to record audio in Discord using OBS
Open Broadcaster Software (OBS) is free to use for Windows, Mac and Linux and is often utilised by online creatives to stream content – be it gaming related or otherwise.
The software functions through "capturing" audio and video channels, the source of which can come from your desktop, the output of a particular piece of software, or indeed an external mic input. This being the case you can record the audio from a Discord channel as well as your personal microphone input.
To record Discord audio in OBS, press the plus icon (+) in the Sources area of the OBS window. From the menu, choose Audio Output Capture to select your desktop audio output for recording. If you want to pick up your own microphone separately, press the plus icon (+) again and select Audio Input Capture.
Name the source and confirm
After adding a source, you'll be prompted to 'Create new' or 'Add existing'. If you're creating a new source, make sure you name it appropriately to avoid confusion later down the line – then hit 'OK'.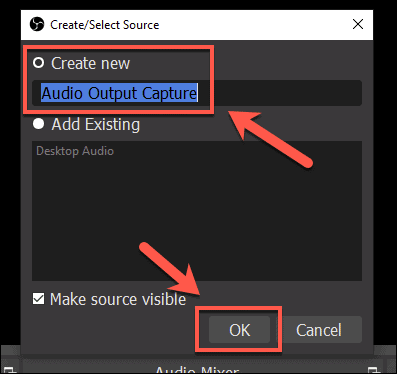 If you only have a single output device (for example your headphones) then leaving this option set to Default should be fine. If not, then from within the Properties menu, pick whichever device you would like and click OK to confirm.
Check to make sure audio is being captured before you record
If you look for the Audio Mixer in OBS, you should see the levels under Audio Output Capture move in response to the audio input (e.g. someone's voice). If not then it may be there is an issue with your device and it is not picking up the audio.
From the Audio Mixer window you can use the blue sliding control to change the recording volume to your desired level, enabling you some control over the audio mix.
The Mic/Aux section shows what audio is being picked up from your microphone, assuming you have selected this as a Source (if not, repeat Step 1 and add it should you want to). If you wish to stop your microphone from being recorded, click to mute the speaker icon next to Mic/Aux (pictured).
To begin recording, click the Start Recording button under the Controls section in the bottom-right area of the OBS window.
Even if you're only recording audio, OBS will save the recording as a blank video file, using the MKV file format as default. These can be converted to audio-only formats such as MP3 should you wish, by using free software like VLC.
Click File then Show Recordings within the OBS menu, where each file should be named and listed according to the time and date they were recorded. Job done!
Final word
This has been our guide on how to record audio in Discord. If you wish to learn more about the Discord app, please take a look at some of our other articles which relate to the platform.
---