Best Wireless Keyboard 2023
The Best Wireless Gaming Non-Gaming Keyboards Available
Updated: Apr 18, 2023 10:59 am
01

A Superb Wireless Gaming Keyboard With Cherry MX Red Keys And Anti-Ghosting

02

A Compact TKL Wireless Keyboard

03

A Great Value Wireless Keyboard With Excellent Battery Life
As we've mentioned in previous articles, keyboards are now widely considered to be one of the most essential additions to any gaming rig. The number of features you can pack onto a keyboard is at an all-time high, and you can gain a serious edge over the competition by having them.
The latest hurdle in the quest for the ultimate keyboard is to try and make the best gaming keyboards wireless. Now, I know what you're thinking. Wireless keyboards don't bring the same performance levels as wired, mechanical boards. They don't have the same responsiveness, and they definitely come with latency issues.
Best Wireless Keyboard 2023: products at a glance
CORSAIR K63 Wireless Mechanical Gaming Keyboard
Macro keys, Media keys, Windows key lock mode, anti-ghosting
Great battery life, Wired/wireless, unlimited customisable options
Logitech G613 Lightspeed Wireless Mechanical keyboard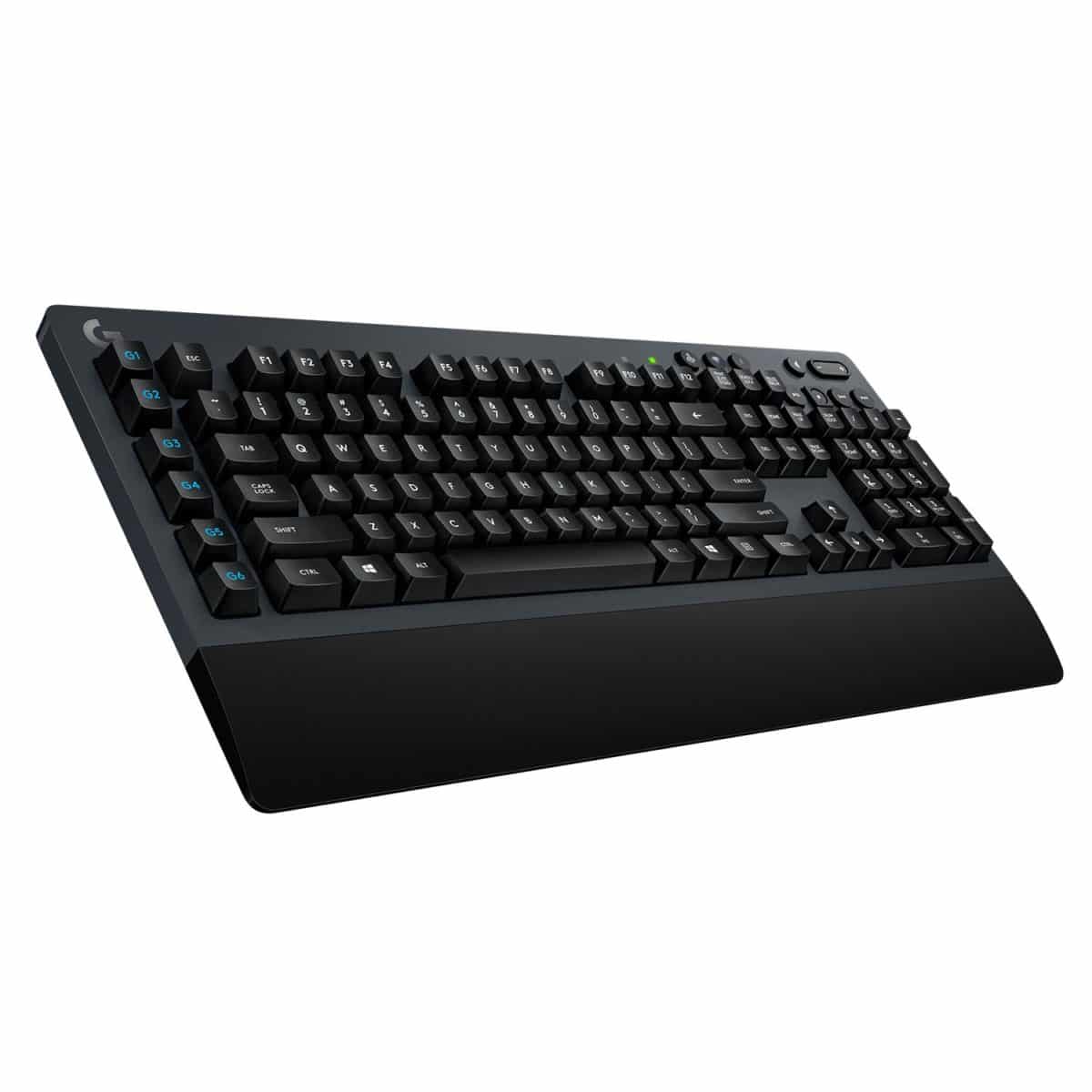 Multimedia keys, Macro keys, programmable G keys, lightspeed wireless
Logitech G915 Wireless Mechanical Gaming Keyboard
G-keys, onboard memory, LIGHTSYNC RGB
Multimedia keys, light & compact design,
Well, historically, that would have been true. However, in today's peripheral marketplace, brands such as Logitech and Corsair would definitely have something to say to those doubters. Let's take a first look at what's in store.
---
Best Wireless Keyboard 2023: our top picks
01

A Superb Wireless Gaming Keyboard With Cherry MX Red Keys And Anti-Ghosting

02

A Compact TKL Wireless Keyboard

03

A Great Value Wireless Keyboard With Excellent Battery Life
---
Best Wireless Keyboard: Reviews
A Superb Wireless Gaming Keyboard With Cherry MX Red Keys And Anti-Ghosting
CORSAIR K63 Wireless Mechanical Gaming Keyboard
Macro keys, Media keys, Windows key lock mode, anti-ghosting
1m 2.4GHz Wireless technology

100% Anti-ghosting with full key rollover

Comes with dedicated volume and multimedia controls

Excellent Cherry MX red mechanical switches
Battery life runs out at 15hours
The Corsair K63, once again, makes an appearance in one of our best-of keyboard guides. This is the second time we've seen the K63 and for good reason – it's a superb little gaming keyboard.
Corsair has designed the K63 with a subtle gaming look that takes advantage of its already popular brushed aluminum and blue LED lighting theme. We've seen this design on other keyboards in the range before, and it's clearly something the consumer is right on board with. Sorry for the pun. The board comes with a decent wrist rest and some high-profile keys which (for me) felt great. The keys are tactile and offer good actuation pressure for someone typing or gaming. The feel of these switches is well balanced, making them ideal for both gaming and typing.
The wireless technology in the K63 features an ultra-fast 1ms 2.4GHz connection which provides excellent responsiveness. I used this board for a couple of weeks and experienced no latency issues what so ever.
It's not just wireless technology that gives this keyboard the number one spot though. It also comes with some cool gamer specific features such as Cherry MX switches, Macro keys, Corsairs iCUE software, dedicated media keys, windows lock key, a detachable wrist rest, and 100% anti-ghosting with key rollover.
If you're looking for the best wireless gaming keyboard then look no further, Corsair has once again knocked it out the park with this superb offering.
A Compact TKL Wireless Keyboard
Great battery life, Wired/wireless, unlimited customisable options
Sleek TKL design

Responsive keys

Nice audible key clicks

Vibrant RGB
Build quality feels questionable
The Anne Pro 2 from Obinslab was a new keyboard to us, but one that had been gathering an online reputation. For this reason, we decided to purchase one and test it. The results were quite surprising; in a good way.
The price of this keyboard isn't exactly low, and it currently retails for just under $150, that being said though, this keyboard feels and looks pretty damn good. The Anne Pro 2 is a 60% keyboard that leaves no room for unnecessary space. Every inch of this board is used for a key. I like the design.
We wasted no time at all and threw the Anne Pro 2 into a gaming scenario, and to my surprise, it handled itself very well. Key presses felt responsive, and the actuation required to get a reaction was pretty much bang on. I suppose you would expect nothing less at this price point though.
Obinslab has given you the choice of several different switches, so you chose exactly how you want this thing to feel and perform before you purchase it.
It comes with some functionality and media keys to boot. In-game binds can be easily customized using the software provided and allows consumers to change everything from binds to RGB.
The Anne Pro 2 gets our runner up spot and for good reason. It really is a superb board.
A Great Value Wireless Keyboard With Excellent Battery Life
Logitech G613 Lightspeed Wireless Mechanical keyboard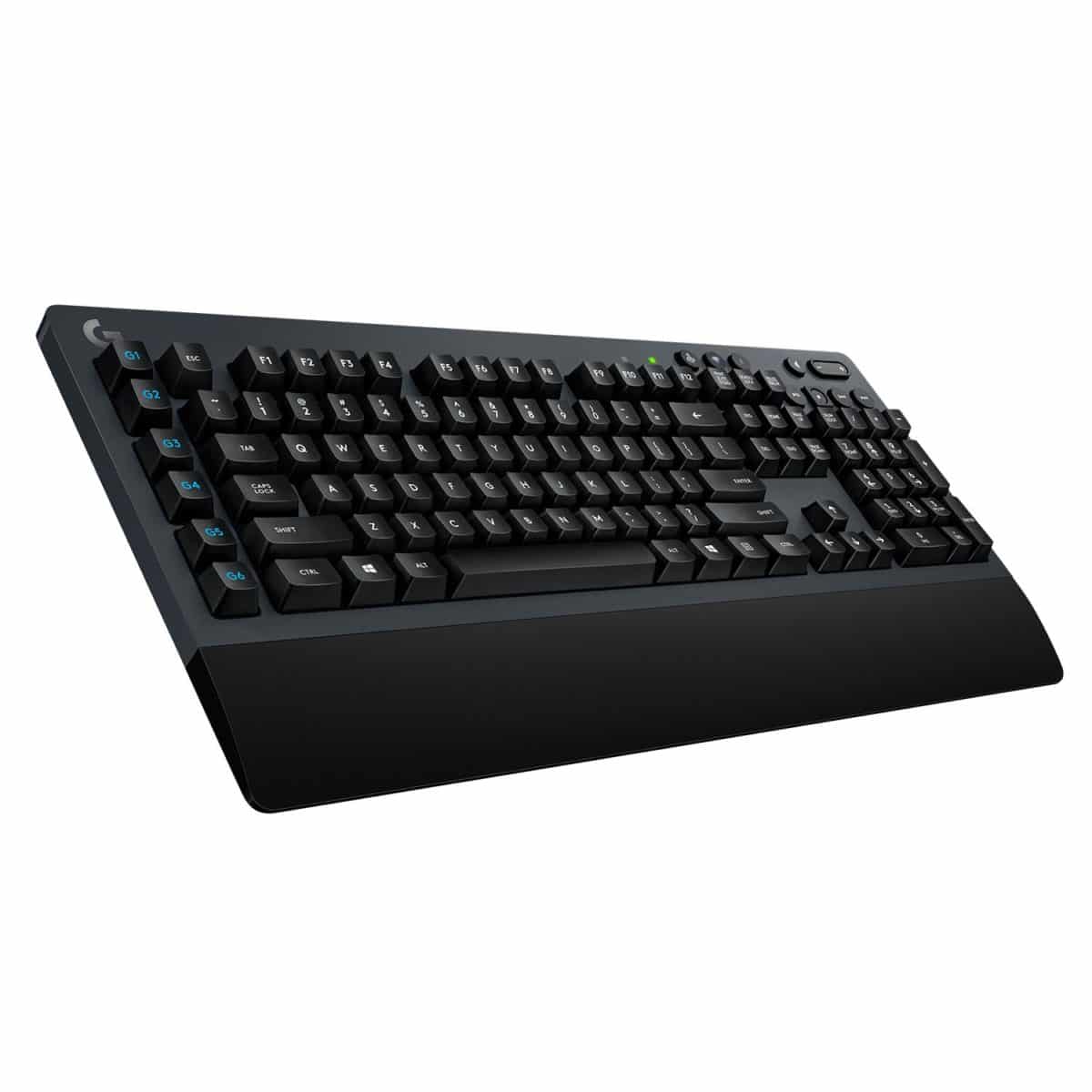 Multimedia keys, Macro keys, programmable G keys, lightspeed wireless
LIGHTSPEED wireless technology

Excellent battery life

Classy and subtle design

Very responsive key actuation
Not overly gamer oriented
Logitech's G613 is their first entry in this list of best wireless keyboards and one that offers up excellent performance at an affordable price point.
The G613 is, for lack of a better term, an all-round keyboard which would be great for both gaming and office use. It has a design that doesn't lean towards one or the other and has enough functionality to accommodate all of your gaming needs.
The wrist rest feels great and offers good support for those long gaming sessions. However, if you intend to use this for office use, don't worry, the rest feels great for that too. Not to mention the quiet Romer-G mechanical switches that aren't going to annoy the entire office block.
The six programmable macro keys have been positioned down the left-hand side of the board and can be used for in-game binds. By adding these extra keys, the board does look quite bulky when compared to other keyboards out there though.
The main feature of this board is undoubtedly the LIGHTSPEED wireless connection that it comes equipped with. It offers extremely high responsiveness, which is great for gaming scenarios where accuracy and reactions are key.
Overall, a board that displays superb value for money and one that should be high on anyone's wireless keyboard wishlist.
A Premium Ergonomic WIreless Gaming Keyboard
Logitech G915 Wireless Mechanical Gaming Keyboard
G-keys, onboard memory, LIGHTSYNC RGB
Fantastic ergonomic design

5 well placed G-keys

Feels like a luxury product

LIGHTSPEED wireless
Logitech's second entry into this guide of best wireless keyboards is the massively impressive G915. This is by far the most expensive board on this list, but what you get for that price is unrivaled durability, superb aesthetics, and brilliant performance. This really is a Rolls Royce keyboard.
Unlike the G613 where the LIGHTSPEED wireless feature was the main draw, on the G915, it's just another premium feature to add to the never-ending list. Features of this board include *deep breath*; LIGHTSPEED wireless, LIGHTSYNC technology, Low profile GL mechanical switches, fantastic aesthetics, dedicated G-keys, versatile connectivity, 30hour+ battery life, newly designed multimedia keys, and onboard memory profiles. That's without touching on in-game performance or build quality either.
I primarily used this board in the office for typing and light gaming. It's safe to say that the low-profile design did take a little bit of time to get used to, however, if you've ever used a laptop you'll feel comfortable from the word go. Once I got used to the board, I found typing quite pleasurable. This was mostly thanks to the switches I chose prior to purchase. You have the option to choose between clicky, linear, and tactile switches.
I only had a chance to use the G915 for a short period of time for gaming, but when I did, it's quality soon shined through. Even with the office relevant switches, it still gave excellent responsiveness and accuracy. I didn't manage to make use of the G-keys. However, their positioning was perfect for gamers wanting to add additional key binds to their arsenal.
Ultimately, the G915 is the luxury keyboard on this list. The build quality and feature scream premium standards. As with all things premium though, they usually come with a high price tag to boot. This is certainly the case with the G915.
An Elegant, Light Wireless Keyboard For Mac Only
Multimedia keys, light & compact design,
Nice aesthetic design

Great board for typing

Smooth actuation

Extremely light
Doesn't operate with Windows

No numberpad
The Apple Magic keyboard is something we decided to showcase because it's the best Apple have offered their customers in a long time.
From a design point of view, the latest Magic keyboard offers an extremely sleek style that suits their branding perfectly. Of course, they've stuck with their white-on-silver theme, which we think looks excellent. The keyboard looks pretty compact which again, fits into their style quite nicely, and offers a luxurious feel.
The scissor-switch keys offer a pretty snappy feel which feels great no matter how long you plan on typing for. The addition of the multimedia keys adds further functionality.
If you're in the market for a wireless Apple keyboard, we highly recommend the new Magic keyboard.
How We Choose
Whether we're reviewing new monitors or the best GPU on the market, choosing the right hardware can always be a tricky task.
It requires hours of product research, performance benchmarking, and reviewing user feedback to get anywhere close to a definitive conclusion on what to recommend.
If you aren't tech-savvy and struggle to put the time aside to go through the above requirements, you may end up purchasing a keyboard that simply isn't right for you.
Fear not though, friends! Here at WePC, we like to take the stress of research away, and transform the whole process into an easy-to-follow, complete buyers guide. That's right, our team of PC enthusiasts has done all the hard work for you!
How We Test
Testing the products we recommend is a huge part of the overall selection process in our best of guides. It's a way to make sure what we recommend is, without a doubt, the best option in its specific category.
To be sure a product is "the best," it must show excellent performance in our tests, and display better qualities and features than the competition it faces.
Most of the products we recommend here at WePC have gone through a strict testing process that involves everything from the price and performance, to build quality, efficiency, and aesthetics. Each product is pushed to the limit to see how it performs in numerous different scenarios before being placed in one of our guides.
Doing this enables us to provide you with the most accurate review of how the product performs and, ultimately, whether it's worth your hard-earned cash.
Things To Consider Before Buying A New Wireless Keyboard
Choosing a new piece of hardware is never easy. To make the purchasing process that much easier, we've outlined the main aspects of a wireless keyboard that we feel need to be considered beforehand. This will ensure your next wireless keyboard is right for your specific needs, saving you time, stress, and a few bucks as well.
So, with that in mind, let's take a closer look at the main things to consider:
Keyboard Form Factor
First up, is the size. Keyboards come in a number of different form factors, all designed to suit individual needs and scenarios. Now, what I mean by form factor, is how many keys your keyboard comes with. There are many different keyboard sizes, and each one has a different purpose. For example:
A full-sized keyboard is best suited to people who are using their keyboard for everything from gaming to creative workflows. It offers a full range of letters, function keys, and a number pad. These keyboards often come with additional features like macro and media keys – something we'll touch upon shortly.
TKL stands for Tenkeyless keyboard. These keyboards often lose the number pad on the right but still have most of their function keys. Great for gamers or people looking to save a bit of desk real-estate.
A 60% board is pretty much what it says on the tin, it's a keyboard that is 60% the size of a full-sized keyboard. These boards offer much less versatility and are targeted towards games who like to play FPS titles such as CS:GO and Rainbow Six Siege. They also offer a much smaller footprint meaning they are compact, versatile, and easy to transport.
Keyboards do actually get smaller than this, but for me, this enters into the ridiculous. 40% keyboards are about as small as you want to go while still offering a decent amount of functionality. These keyboards tend to lose all numbers and many of the function keys. Tailored towards specific scenarios only.
Switches
Switches are something you should definitely take into consideration before looking to buy a keyboard. A switch can change the entire feel of a board depending on which ones you go for. They play a huge role in how good your keyboard is for gaming, as mechanical switches offer much better performance over any membrane switch.
The main mechanical switches used in most of today's gaming keyboards are the Cherry MX switches. They come in a number of different varieties and all have unique characteristics. A lot of keyboard manufacturers give consumers a choice of several different switches to choose from, allowing you to customize the feel to your exact requirements.
While most of today's keyboards come with Cherry MX switches, some manufacturers have gone one step further and are now designing their own proprietary switches.
Having said that, the main Cherry MX switches are as follows:
Cherry MX Red
Cherry MX Blue
Cherry MX Brown
Cherry MX Speed Silver
Cherry MX Black
Membrane Vs. Mechanical Keys
While we're on the topic of switches, the main two types of switches are membrane and mechanical. As mentioned above, they differ significantly and offer their own unique set of pros and cons. Gamers have always leaned towards the mechanical switch as they offer better durability and higher responsiveness. The membrane switch, on the other hand, offers a quieter, mushier feel which is more tailored towards typing over gaming.
Both come to the table at very different ends of the price spectrum, with membrane finding itself towards the lower end. Having said that, the membrane rubber dome switch does offer unique features that aren't normally found on mechanical boards – such as water-resistance and low noise levels.
Aesthetics Vs. Comfort: RGB And Wrist Rests
Aesthetics, although not massively important, still has a big impact on your purchasing decision. It may have all the bells and whistles, but if it doesn't look right, you aren't buying it.
Choosing a keyboard that suits your specific design needs can come down to form factor, RGB, materials used, shape, and keycaps. There are a lot of things that can make a keyboard more appealing than others, so finding one that is right for you can be a little tricky.
You might also want to make sure your keyboard matches your surroundings. For example, most gaming keyboards come with an edgy gaming aesthetic that doesn't always suit an office environment. So, just keep that in mind before your next keyboard purchase.
Other Features: Macros, Keycaps, Etc.
One of the major factors that separate the many keyboards that currently populate the peripheral market are additional features. Additional features can be a number of different things, but mainly it comes down to Macro keys, keycaps, RGB, dedicated media keys, and anti-ghosting.
Having additional features makes the keyboard much more versatile, and not just for gaming. Macro keys and key rollover obviously play a huge role in MMO titles, whereas media keys are very handy to have for general purpose use.
Weighing up whether to go for a keyboard that offers all-out performance or finding one that is more balanced between features and responsiveness is something you'll have to do before your next keyboard purchase.
Price
The last thing you must consider before finalizing a keyboard purchase is the price. Now, the price of a keyboard can vary dramatically, with budget options ranging from $30-60, whilst high-end can be anything from $150 upwards.
All the above factors will have a major impact on the price of your keyboard, so working out which factors you require will help dictate how much you'll have to spend.
Thankfully, all the keyboards we showcase fit into a certain price spectrum – whether it be budget or high-end. So, all you have to do is decide which one best suits your needs.
Final Word
We never thought we'd see the day when we would actually recommend wireless keyboards to the gaming community. That being said, here we are. We're pretty happy with the selection we've chosen and feel they do actually offer great performance for both office or gaming purposes.
The wireless keyboard has finally come up to speed in a time where technology is moving faster than ever. I firmly believe they have a real place within the gaming sector.
Let us know what you thought of our selections by leaving us a comment in the section below.
---