Our Best Wireless Keyboards of 2020
As we've mentioned in previous articles, keyboards are now widely considered to be one of the most essential additions to any gaming rig. It's true. The number of features you can pack onto a keyboard is at an all-time high, and you can gain a serious edge over the competition by having them.
The latest hurdle in the quest for the ultimate keyboard is to try and make the best gaming keyboards wireless. Now, I know what you're thinking. Wireless keyboards don't bring the same performance levels as wired, mechanical boards. They don't have the same responsiveness, and they definitely come with latency issues. And historically, that would have been true.
However, today, brands such as Logitech and Corsair would definitely have something to say to those doubters. Let's take a first look at what's in store.
Best wireless Keyboards: First Look
Best Wireless Gaming Keyboard
CORSAIR K63 Wireless Mechanical Gaming Keyboard
The Corsair K63 has been crowned the best gaming wireless keyboard and for good reaosn. It not only brings super-fast, highly responsive wireless technology to the table, it also comes equipped with a mass of features and benefits all geared towards gamers.
Best Budget Wireless Keyboard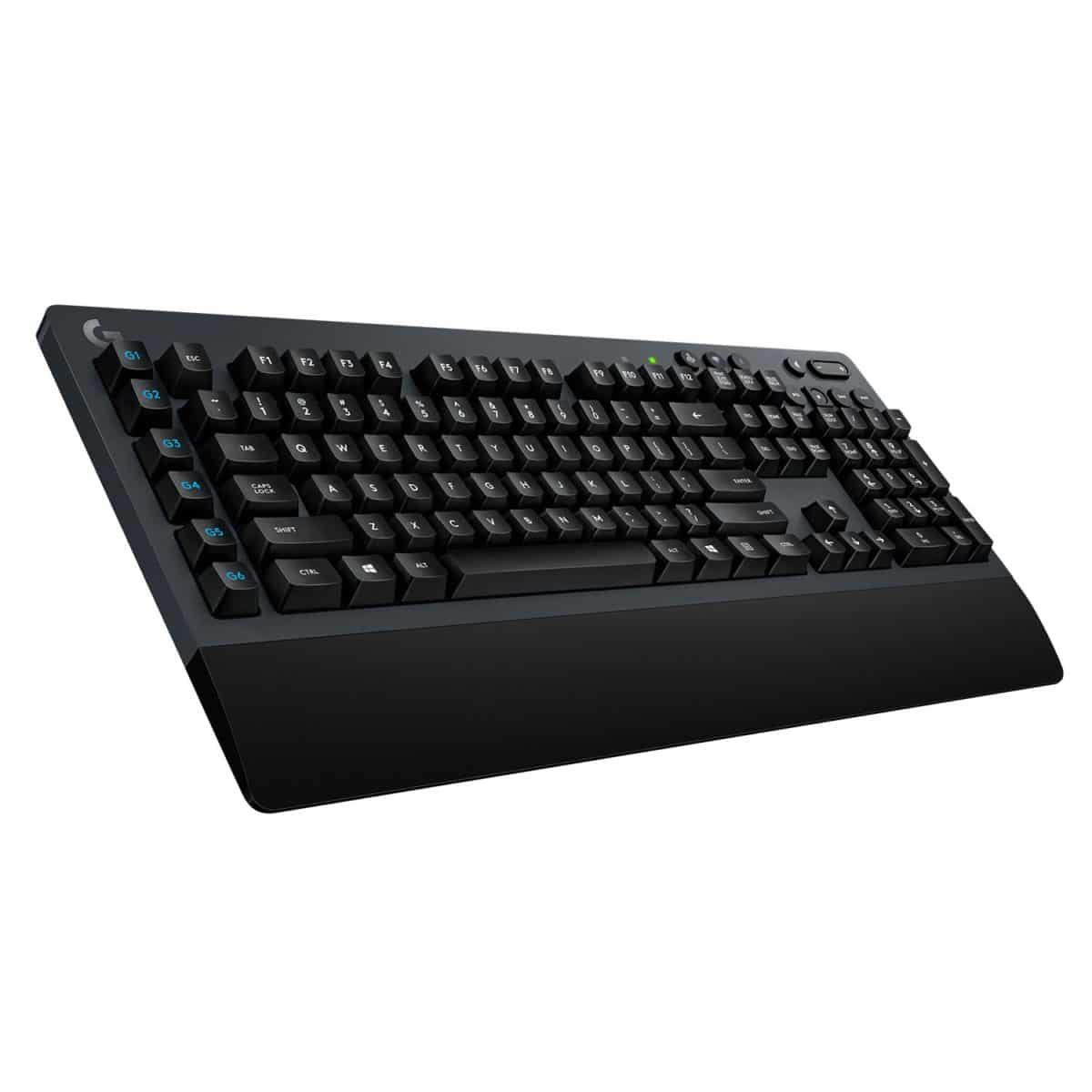 Logitech G613 Lightspeed Wireless Mechanical
Logitech gives us the bottom and the top end of the price spectrum in this best-of guide. The Logitech G613 is the budget though. However, don't let that price fool you, this board comes with some excellent features which are going to make your life a whole lot easier.
Best Luxury Wireless Keyboard
Logitech G915 Wireless Mechanical Gaming Keyboard
This is the upper end of the price spectrum, it's the Logitech G915. This keyboard comes with everything you would want from a gaming/office keyboard. It's the all-singing, all-dancing board, which is one feature away from playing the game for you.
Things To Consider Before Buying A New Wireless Keyboard
Whenever you're thinking of purchasing a new piece of hardware, you must understand that certain aspects of that hardware need to be taken into consideration to judge whether it's right for you.
In this section, we are going to look at a few of the possible variables you may come across to help you make a more informed decision.
Sizes
Another important area to consider before purchasing any keyboard is the size. Now, what I mean by size, is how many keys your keyboard comes with. There are many different keyboard sizes, and each one has a different purpose. For example:
A full-sized keyboard is best suited towards people who are using their board for everything from gaming to typing.
A 60% board, however, targets the gaming market by removing unnecessary keys.
Switches
Switches are something you should definitely take into consideration before looking to buy a keyboard. A switch can change the entire feel of a board depending on which ones you go for.
The main switches that are used in most gaming keyboards are the Cherry MX switches. They come in a number of different varieties and have different aspects, respectively. If you're lucky, the keyboard manufacturer will give you a selection of switches to choose from before you purchase.
The main Cherry MX switches are as below:
Cherry MX Red
Cherry MX Blue
Cherry MX Brown
Cherry MX Speed Silver
Cherry MX Black
The list goes on, but those are the most commonly used.
Manufacturers are now starting to design their own switches which have their own unique set of qualities and features.
The Best 5 Wireless Keyboards
Product
Details

Best Wireless Gaming Keyboard

CORSAIR K63 Wireless Mechanical Gaming Keyboard

switch: Cherry MX Red
backlight: LED Blue
wrist rest: Detachable Wrist rest

Check Current Price

Best Runner up Wireless Keyboard

OBINSLAB ANNE PRO 2

switch: Cherry Mx switches
backlight: RGB
wrist rest: Not included

Check Current Price

Best Budget Wireless Keyboard

Logitech G613 Lightspeed Wireless Mechanical

switch: Romer-G Mechanical
backlight: RGB
wrist rest: Not included

Check Current Price

Best Luxury Wireless Keyboard

Logitech G915 Wireless Mechanical Gaming Keyboard

switch: Low-Profile GL Switches
backlight: RGB
wrist rest: Not included

Check Current Price

Best Wireless Apple Keyboard

Apple Magic Keyboard

switch: Scissor-switch keys
backlight: None
wrist rest: Not included

Check Current Price
#1
CORSAIR K63 Wireless Mechanical Gaming Keyboard
TECH SPECS
Switch

Cherry MX Red

Backlight

LED Blue

Wrist Rest

Detachable Wrist rest

Other Features

Macro keys, Media keys, Windows key lock mode, anti-ghosting
PROS
1m 2.4GHz Wireless technology
100% Anti-ghosting with full key rollover
Comes with dedicated volume and multimedia controls
Excellent Cherry MX red mechanical switches
CONS
Battery life runs out at 15hours
The Corsair K63 once again makes an appearance in one of our best-of-keyboard guides. This is the second time we've seen the K63, and for good reason, it is a superb little gaming keyboard.
Corsair has designed the K63 with a subtle gaming look that takes advantage of their already popular brushed aluminum and blue LED lighting theme. We've seen this design on other keyboards in the range before, and it's clearly something the consumer is right on board with. Sorry for the pun. The board comes with a decent wrist rest and some high-profile keys which for me felt great. The keys are tactile and offer good actuation pressure for someone typing or gaming. They seem to have found a good balance between a gaming and an office feel.
The wireless technology in the K63 features an ultra-fast 1ms 2.4GHz connection which provides excellent responsiveness. I used this board for a couple of weeks and experienced no latency issues.
It's not just wireless technology that gives this keyboard the number one spot though. It also comes with some cool gamer specific features such as Cherry MX switches, Macro keys, Corsairs iCUE software, dedicated media keys, windows lock key, a detachable wrist rest, and 100% anti-ghosting with key rollover.
If you're looking for the best wireless gaming keyboard then look no further, Corsair has once again knocked it out the park with this superb offering.
TECH SPECS
Switch

Cherry Mx switches

Backlight

RGB

Wrist Rest

Not included

Other Features

Great battery life, Wired/wireless, unlimited customisable options
PROS
Sleek TKL design
Responsive keys
Nice audible key clicks
Vibrant RGB
CONS
Build quality feels questionable
The Anne Pro 2 from Obinlabs was a new keyboard to us, but one that had been gathering an online reputation. For this reason, we decided to purchase one and test it. The results were quite surprising; in a good way.
The price of this keyboard isn't exactly low, and it currently retails for just under $150, that being said though, this keyboard feels and looks pretty damn good. The Anne Pro 2 is a 60% keyboard which leaves no room for unnecessary space. Every inch of this board is used for a key. I like the design.
We wasted no time at all and threw the Anne Pro 2 into a gaming scenario, and to my surprise, it handled itself very well. Key presses felt responsive, and the actuation required to get a reaction was pretty much bang on.
Obinslab has given you the choice of several different switches, so you chose exactly how you want this thing to feel and perform before you purchase it.
It comes with some functionality and media keys to boot. In-game binds can be easily customized using the software provided and allows consumers to change everything from binds to RGB.
The Anne Pro 2 gets our runner up spot and for good reason. It really is a superb board.
#3
Logitech G613 Lightspeed Wireless Mechanical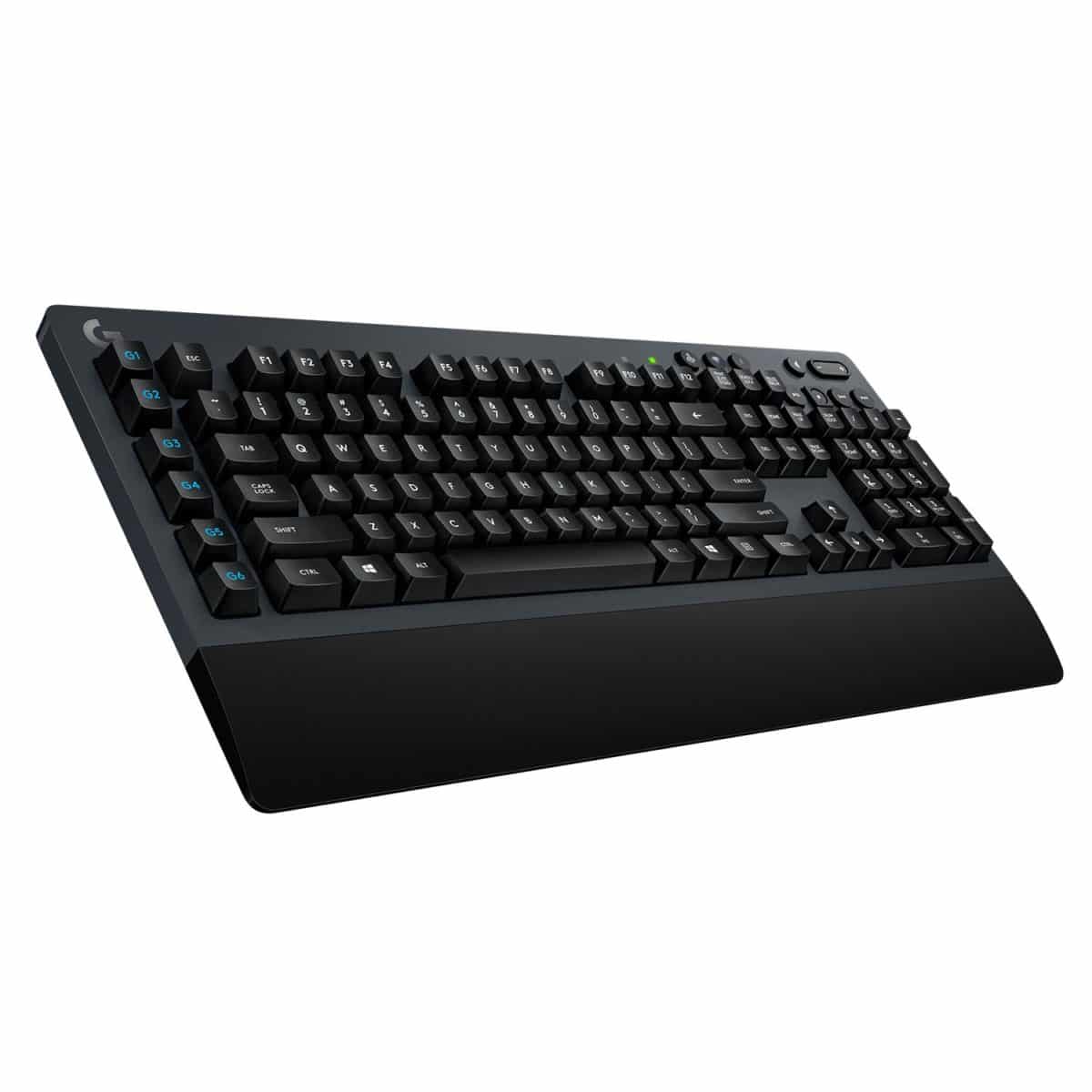 TECH SPECS
Switch

Romer-G Mechanical

Backlight

RGB

Wrist Rest

Not included

Other Features

Multimedia keys, Macro keys, programmable G keys, lightspeed wireless
PROS
LIGHTSPEED wireless technology
Excellent battery life
Classy and subtle design
Very responsive key actuation
CONS
Not overly gamer oriented
Logitech's G613 is their first entry in this list of best wireless keyboards and one that offers us excellent performance at an affordable price point.
The G613 is, for lack of a better term, an all-round keyboard which would be great for both gaming and office use. It has a design that doesn't lean towards one of the other and has enough functionality to accommodate all of your gaming needs.
The wrist rest feels great and offers good support for those long gaming sessions. However, if you intend to use this for office use, don't worry, the rest feels great for that too. Not to mention the quiet Romer-G mechanical switches that aren't going to annoy the entire office block.
The six programmable G keys have been positioned down the left-hand side of the board and can be used for in-game binds. By adding these extra keys, the board does look quite bulky when comparing to other keyboards out there.
The main feature of this board is undoubtedly the LIGHTSPEED wireless connection that it comes equipped with. It offers extremely high responsiveness, which is great for gaming scenarios where accuracy and reactions are key.
Overall, a board that displays superb value for money and one that should be high on any one's wireless keyboard wishlist.
#4
Logitech G915 Wireless Mechanical Gaming Keyboard
TECH SPECS
Switch

Low-Profile GL Switches

Backlight

RGB

Wrist Rest

Not included

Other Features

G-keys, onboard memory, LIGHTSYNC RGB
PROS
Fantastic ergonomic design
5 well placed G-keys
Feels like a luxury product
LIGHTSPEED wireless
Logitech's second entry into this guide of best wireless keyboards is the massively impressive G915.  This is by far the most expensive board on this list, but what you get for that price is unrivaled durability, superb aesthetics, and brilliant performance. This really is a rolls Royce keyboard.
Unlike the G613 where the LIGHTSPEED wireless feature was the main draw, on the G915, it's just another premium feature to add to the never-ending list. Features of this board include *deep breath*; LIGHTSPEED wireless, LIGHTSYNC technology, Low profile GL mechanical switches, fantastic aesthetics, dedicated G-keys, versatile connectivity, 30hour+ battery life, newly designed multimedia keys, and onboard memory profiles. That's without touching on in-game performance or build quality either.
I primarily used this board in the office for typing and light gaming. It's safe to say that the low-profile design did take a little bit of time to get used to, however, if you've ever used a laptop you'll feel comfortable from the word go. Once I got used to the board, I found typing quite pleasurable. This was mostly thanks to the switches I chose prior to purchase. You have the option to choose between clicky, linear, and tactile switches.
I only had a chance to use the G915 for a short period of time for gaming, but when I did, it's quality soon shined through. Even with the office relevant switches, it still gave excellent responsiveness and accuracy. I didn't manage to make use of the G-keys. However, their positioning was perfect for gamers wanting to add additional key binds to their arsenal.
Ultimately, the G915 is the luxury keyboard on this list. The build quality and feature scream premium standards. As with all things premium though, they usually come with a high price tag to boot. This is certainly the case with the G915.
TECH SPECS
Switch

Scissor-switch keys

Backlight

None

Wrist Rest

Not included

Other Features

Multimedia keys, light & compact design,
PROS
Nice aesthetic design
Great board for typing
Smooth actuation
Extremely light
CONS
Doesn't operate with Windows
No numberpad
The Apple Magic keyboard is something we decided to showcase because it's the best Apple have offered their customers in a long time.
From a design point of view, the latest Magic keyboard offers an extremely sleek style that suits their branding perfectly. Of course, they've stuck with their white on silver theme, which we think looks excellent. The keyboard looks pretty compact which again, fits into their style quite nicely, and offers a luxurious feel.
The scissor-switch keys offer a pretty snappy feel which feels great no matter how long you plan on typing for. The addition of the multimedia keys adds further functionality.
If you're in the market for a wireless Apple keyboard, we highly recommend the new Magic keyboard.
How to Choose the Best Wireless Keyboard in 2019
Certain aspects of a keyboard need to meet your requirements to ensure that the keyboard you are looking at is the right option for you.  These aspects include the following areas:
The first thing you need to set before beginning your search for a new wireless keyboard is a price budget. There's no point aimlessly hitting the market without a budget in mind. It's not practical, and it's going to end up costing you more in the long run.
There are hundreds of keyboard offerings out there, and if you plan to attack the market without a budget in mind, you're going to spend hours looking at keyboards that aren't even close to your budget. Set one early, stick to it, and save yourself time.
Membrane vs Mechanical Keys
The main two types of switches are membrane and mechanical. They differ significantly and offer their own unique set of pros and cons. Gamers have always leaned towards the mechanical switch as they offer better durability and responsiveness. The membrane switch, on the other hand, offers a quiet, more enjoyable feel when typing so office workers would naturally use them.
Depending on your requirements will ultimately decide which switch will be best suited to your needs.
Aesthetics vs Comfort: RGB and Wrist Rests
Aesthetics can be something that could ultimately stop you from buying a product. It may have all the bells and whistles, but if it doesn't look right, you aren't buying it. There are a tonne of cool-looking keyboards out there, and aesthetics come down to style, materials used, finish, RGB, and keycap styles. Making sure the keyboard you buy is aesthetically pleasing is a must.
You also need to make sure your keyboard matches your surroundings. For example, a hardcore gamer keyboard is going to look a bit bizarre at your office desk.
Other Features: Macros, Keycaps, etc.
Another area that separates the good from the bad is additional features. Additional features can be a number of different things, but mainly it comes down to Macro keys, keycaps, RGB, dedicated media keys, and anti-ghosting.
Picking a keyboard that is right for you can come down to the additional features because a lot of the more common features are already incorporated in newer boards.
We never thought we'd see the day when we would actually recommend wireless keyboards to the gaming community. That day is upon us, though, and we're pretty happy with the selection we have chosen.
They aren't all gaming choices. However, some are for office use, some MAC use and some all-round use. We feel their qualities are what bring them together.
The wireless keyboard has finally come up to speed in a time where technology is moving faster than ever.
Let us know what you thought of our selections by leaving us a comment in the section below!