Discord Not Updating
Discord is the gamers champion VOIP service and for a good reason too. The service offers gamers an easy to use application with excellent functionality, that has Ventrilo and Teamspeak turning in their graves. The development team at Discord are brilliant, and the app pumps out regular updates for bug fixes and software changes.
Despite the constant development, the application can still be held back by bugs, which can irritate gamers to no end. Whether your microphone isn't being picked up, you can't hear your teammates, or Discord isn't updating; it can be a headache that tilts you before you even join a server.
It's time to stop worrying. We are going to go over a few fixes for when the Discord update fails/ gets stuck and we will have you back in the server communicating in no time.
Launch Discord As Admin
Before we start uninstalling stuff, there is a simple trick that a lot of computer users out there will know about when an application isn't playing ball. To give discord that little nudge, we can try and run the program as an administrator. It may sound severe, but it's not, and it may just be the key to getting you back in the mix.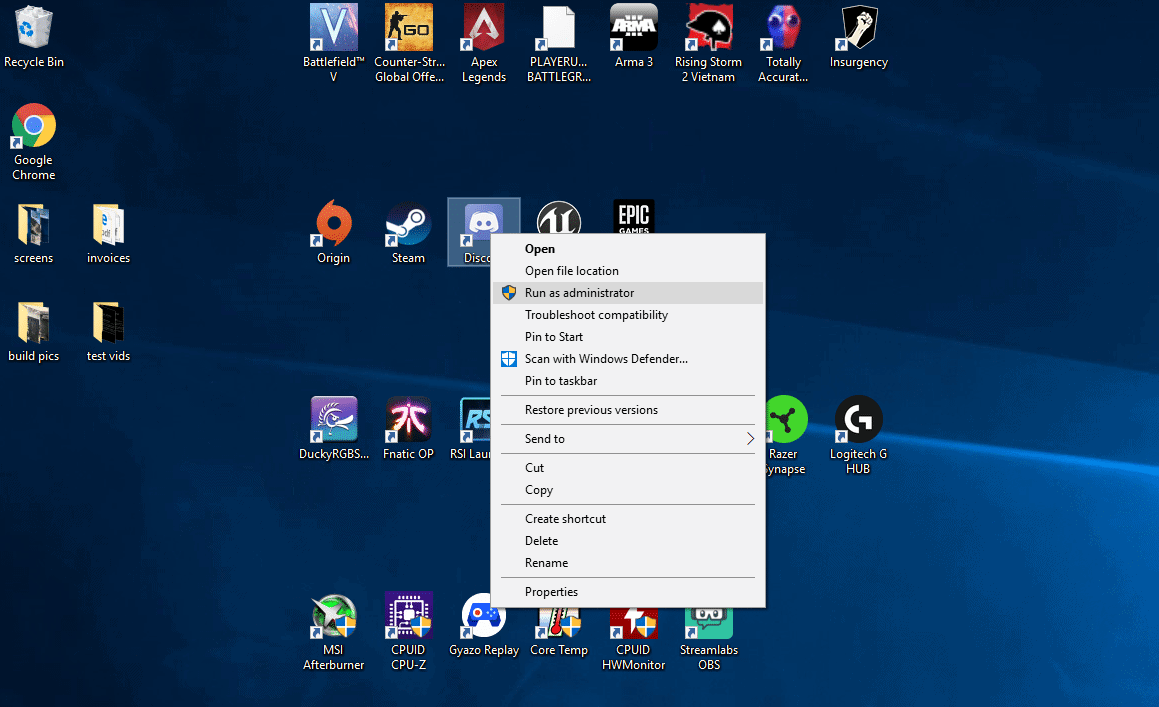 Right-click on the Discord icon on your desktop and you will see "Run as administrator".
Click "Run as administrator" and a window will open asking if you are ok with the app making changes to your device. Once you see this new window, click "Yes".
Discord will launch and the update should complete.
Reinstall Discord
If running as administrator failed and you still seem to get the Discord not updating issue then it is worth just reinstalling the application.
Download a new installer from https://discordapp.com/ and run it. If that does not fix the issue, you need to reinstall Discord completely.
If for some reason there is an issue reinstalling Discord then close it down in task manager and try again.
Disable Windows Defender
If you are using Windows 10, it can sometimes be worth turning off Windows Defender. Windows Defender is a built-in antivirus system which uses classifiers that can sometimes misclassify files as dangerous threats.
In the Cortana search bar next to your Windows button, type and run "Settings"
Navigate to "Update & Security" then click " Windows Security" > Virus & Threat Protection> Manage Settings
Toggle the "Turn on real-time protection" off
Save & Exit
Try installing Discord again!
If you have reached the bottom of this article and nothing works, then it is worth contacting Discord themselves who will be happy help.
If you managed to find a different fix for your issue, please share below in the comments section!