Last Updated:
Shopping for a new gaming monitor can be a pretty stressful experience. There are so many brands out there, each offering its own unique product with its own set of features that makes it 'the best'. Don't worry if you aren't too sure what to look for, that's where we come in.
Today we're going to be looking at some of the best Samsung gaming monitors out there, what makes them worth your attention and what key features to look for when making your decision. Samsung monitors are the focus of this list, but be sure to check out our roundups of manufacturers such as LG and MSI for even more buying tips.
Why Buy A Samsung Gaming Monitor?
Grabbing a quality gaming monitor can really help transform your gaming experience, not only will you have smoother gameplay, but you'll have the ability to run at higher resolutions or even turn on HDR.
Choosing a high-quality gaming monitor that will last a long time is a must. That's why many people turn towards leading electronics brands such as LG, Samsung, Dell, and HP as their first choice. All of these companies have years of experience in creating great products and Samsung is no exception. Whether it's your mobile phone, television, laptop, or even your dishwasher, you've no doubt had a great experience with Samsung in the past.
Where Can You Buy A Samsung Gaming Monitor?
If you want to get a good idea of the types of monitors out there, starting your search off on an online marketplace such as Amazon is a great way to discover products. You'll be able to filter down your search, compare products, and even add items to a wishlist to keep an eye on sale prices.
If you want to see the latest products available, the official Samsung website is the go-to place to find out. You'll be able to narrow your search down from set categories that include high resolution, curved, gaming, and business. There are a variety of options available that are suitable for different types of budgets, each product page also has a detailed explanation of what you can expect from the monitor as well as some flashy infographics.
Which Samsung Gaming Monitor Is Best for You?
Samsung CRG5
Tech Specs
Size – 27"
Panel – VA
Resolution – 1920 x 1080
Refresh Rate – 240 Hz
Response Time – 4 ms
We're going to start off our list with a great little monitor for those who are looking for one of the highest refresh rates possible. Offering a refresh rate of up to 240 Hz, the Samsung CRG5 monitor is great for esports professionals and those who value a high level of speed. There's often some debate on the benefits of high refresh rates, but if you're looking for something fast, it's a great choice.
One of the ways this monitor falls short is that it does have a slightly higher response time than we'd like for a dedicated gaming monitor. That doesn't detract too much from its performance though. You'll still get a smooth image on screen, especially when running at the higher refresh rates.
Aside from the great levels of performance, the colors and contrast this monitor displays are also excellent. This could easily be used as a monitor for your entertainment media as well as your gaming. While the 1080p resolution may put some people off, it's important to remember that this is a monitor designed primarily for gaming.
As with most Samsung products, this monitor has a sleek professional design and doesn't have any gimmicky bright colors or flashing lights to put you off your game. The thin bezels and 1500R curve go a long way in making this monitor look outstanding.
Samsung CHG70
Tech Specs
Size – 32"
Panel – VA
Resolution – 2560 x 1440
Refresh Rate – 144 Hz
Response Time – 1 ms
Sometimes having a larger monitor can really make a difference to your setup. Depending on how far away you sit from your monitor, having something as large as 32 inches can provide an immersive and even cinematic experience.
This monitor would make a great companion to those who enjoy a healthy dose of media to go along with their gaming habit which this monitor handles with ease. There is excellent HDR performance, impressive color accuracy and the slight curve to the monitor really helps with immersion.
When it comes to gaming, the 1 ms response time paired with a high refresh rate of 144 Hz will make all your games as smooth as butter. This combo lets you play your games at the highest frame rates – as long as your system is up to the task. There aren't any built-in speakers on this model however, but we don't imagine that's a problem if you already have a gaming headset.
The monitor has a simple but sleek design that won't draw too much attention. A great benefit of this monitor is that there is an elbow-style stand that allows you to adjust the height and angle of the monitor to fit your setup perfectly. You can also rotate this monitor a full 90° if you want to use it as part of a dedicated streaming setup.
Samsung C27HG70
Tech Specs
Size – 27"
Panel – VA
Resolution – 2560 x 1440
Refresh Rate – 144 Hz
Response Time – 1 ms
If you want to go a little bit higher than a 1080p resolution, try the excellent Samsung C27HG70 which offers 1440p gaming at a great price.
This 27-inch monitor is the perfect size for any desk and gives gamers the ability to play their games at higher resolutions at a silky refresh rate of 144 Hz. This goes a long way in ensuring that your games remain as smooth as possible during playtime and is quickly becoming the norm in the world of monitors.
This isn't the cheapest gaming monitor however, but it does have the specifications to back up the price. The inclusion of HDR is one of the main selling points and simply makes your games look stunning with a wide range of vivid colors and impeccable detail.
The tiny bezels and swivel mount make this monitor practical as well as looking great, there is also a tiny bit of lighting provided by a strip of LEDs to provide a subtle backlight to the monitor. At this price, you'll definitely be using this as your primary monitor, and the ability to adjust the height, tilt, and swivel to almost millimeter precision is perfect for adjustability.
Samsung LC27F398
Tech Specs
Size – 27"
Panel – VA
Resolution – 1920 x 1080
Refresh Rate – 60 Hz
Response Time – 4 ms
If you want to pick up a curved monitor but would prefer not to spend a fortune on it, the Samsung LC27F298 is a great option. You do make a bit of a compromise on the resolution and refresh rate on this monitor for the lower price, but if you're only interested in 1080p gaming then it's not the end of the world.
This monitor has primary support for AMD's FreeSync technology which will keep those screen tears to a minimum. As well as this, there is also support for Nvidia GPUs which means you can still take advantage of the technology if you don't have an AMD graphics card.
One of the areas this monitor doesn't compromise is its display. It does a great job picking out even dark colors and performs especially well when it comes to gaming. While you won't be able to hit crazy high FPS on this monitor, there is still some room for improvement if you decide to overclock.
One of the benefits of going with Samsung is that you'll be getting a well-built product. This monitor is no different, the thin bezels, fixed stand, and construction quality all feel sturdy. It also has VESA support on the rear which means you can mount this monitor to a wall if you want to.
Things To Consider
Price Range
The first thing that most people think about when shopping around for any piece of hardware is how much it costs. It's a good starting point because it can help you to narrow down your focus only to those within your price range.
With so many monitors on the market, there are lots of different prices to consider. The first step is to decide how much you're willing to spend and focusing on those monitors in your price range. One good way to set a budget is to think about exactly what you want in a gaming monitor. Budget monitors will suffer from poorer refresh rates whereas more expensive ones will feature IPS panels with great response and refresh rates.
Size And Screen Resolution
A common mistake that people make when shopping around for a monitor is to go for the biggest screen size possible. However, we're not talking about TVs here. With a gaming monitor, you're likely to be sitting pretty close to the screen, and having a massive monitor isn't going to be as good as it sounds in reality.
Besides eye strain, having a large monitor doesn't help your gameplay when you're struggling to see everything at once because the screen is far too big.
A 27-inch monitor is usually more than enough for most people. Of course, if your monitor is sat further away, then a bigger screen might be fine. However, bear in mind that a massive monitor might be overkill for your system and you could be better off saving some money and focusing on resolution instead.
Resolution is usually a better thing to focus on. Most monitors come in either 1080p, 1440p or 4K resolution. 1080p is what most people are fine with and it's great for those on a budget. 4K monitors will set you back a lot of money but could be worth the investment particularly if you'll also be using it for watching movies.
Refresh And Response Rates
The next important things to consider are the refresh and response rates of the monitor. A refresh rate refers to the number of times a monitor refreshes an image. With a higher refresh rate, you will get a much smoother image on the screen. The rates come down to a difference in milliseconds but they can make all the difference for those with a keen eye. A bad refresh rate can be very distracting and affect your gaming experience.
When looking at refresh rates, you'll notice that they come in either 60 Hz, 120 Hz, 144 Hz, or 240 Hz refresh rates. If budget is tight, you might have to stick with a 60 Hz monitor. However, you'll be much better off aiming for 120 Hz or above if you can. Most people will find the difference between 144 Hz and 240 Hz hard to notice but the difference between 60 Hz and 144Hz will be enough to distract most people.
Response rate is often confused with refresh rate but they're a bit different. A response rate is the rate at which the monitor can switch from one color to another and back again. For example, from black to white to black again. Also measured in milliseconds, you want this rate to be as low as possible. Anything higher than 5 ms will be noticeable by most people so aim for above that.
Panel Type
Another thing to consider when looking at which monitor to buy is the panel type. There are three main panel types to choose from including TN, IPS, and VA monitors.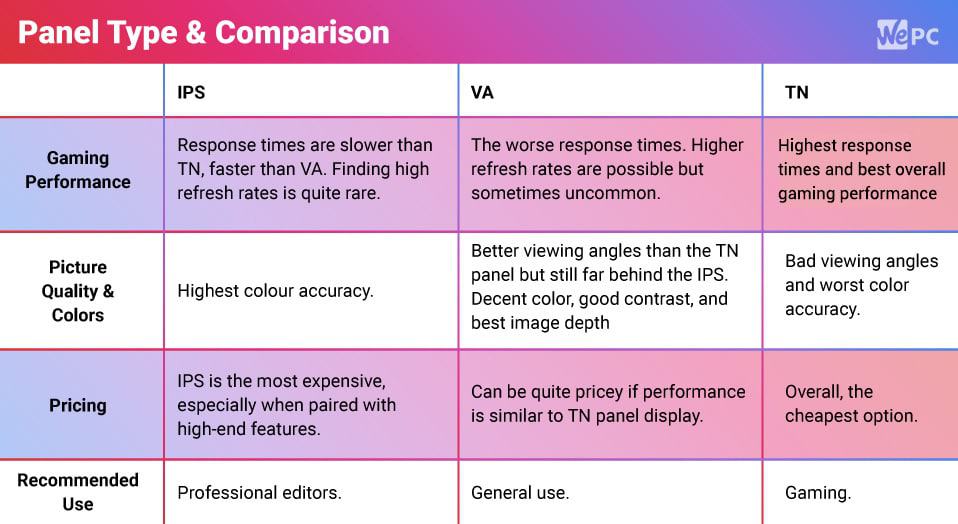 TN Panels
Pros – High performance and low cost. High refresh rates and low response rates.
Cons – Not usually the best image quality and poor viewing angles.
IPS Panels
Pros – Wide viewing angles and greater color reproduction and coverage
Cons – More expensive and some of the cheaper models have backlight issues.
VA Panels
Pros – Great viewing angles and deep contrasts
Cons – Can sometimes have issues with blur and ghosting. Poorer response times.
Adaptive Sync
Most modern monitors also include some type of Adaptive-Sync technology. This allows gamers to keep their games stutter and tear-free when being displayed by the monitor. This makes games a lot more enjoyable, especially on higher refresh rate monitors.
Two of the main ways you'll see this implemented is with AMD's FreeSync and Nvidia's G-Sync technology. These both work in slightly different ways but the end product remains the same. In order to get the best experience out of your monitor, you'll need to have the same make of graphics card as the Adaptive-Sync technology found in the monitor.
This is slowly starting to change with some FreeSync monitors now having support for G-Sync, but you'll usually get greater levels of performance from a matching GPU.
Our Verdict
We hope that we've given you some ideas on the highlights of Samsung's gaming monitor range and identified some of the key things to consider when making your final decision.
For the average gamer on a budget, we think the Samsung LC27F398 will tick most boxes for most people.
If you're willing to spend a little extra, the Samsung CHG70 offers a bigger screen, higher resolution, and excellent refresh and response rates, making it a savvy long term investment.
Did we pick a good batch of monitors today? Have you been impressed by a Samsung monitor in the past? Let us know down in the comments section below which monitors you think deserve a spot on the list. Better yet, why not check out our Community Hub where you can catch up with fellow users on all the latest tech news and reviews.