The best TVs under $1000 – Aug 2022 (4K, OLED, mini-LED)
Enjoy spectacular visual performance without breaking the bank.
Updated: Feb 28, 2023 2:56 pm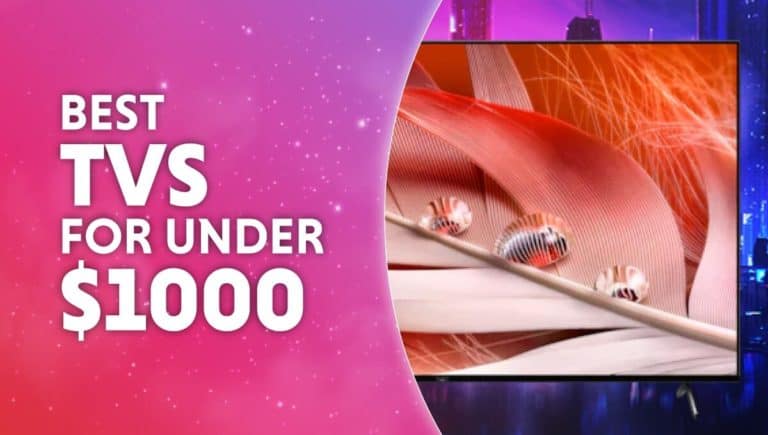 01
Best TV under $1000
02
Best OLED TV under $1000
03
Best gaming TV under $1000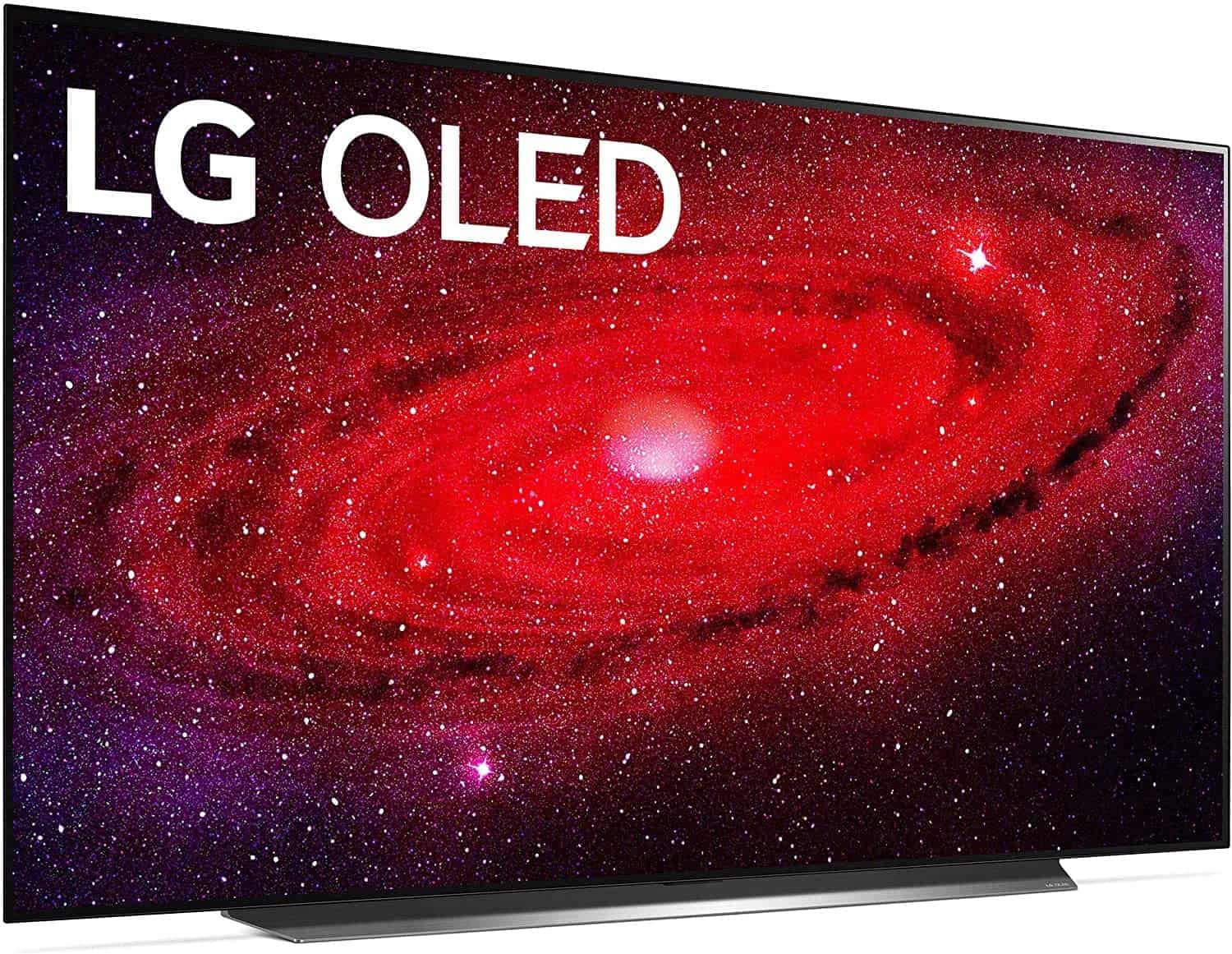 Nowadays, you don't have to pay a fortune for a great TV. The display market is constantly evolving and expanding, meaning high-end TVs are now available for well under $1000. Better yet, you no longer have to compromise on size or display technology, with numerous 65+ inch TVs falling under the $1000 mark.
Additionally, with the arrival of QD-OLED technology – and a new wave of high-performance OLED screens – OLED TVs are now well within reach of the $1000 price point. As you'd expect, this also means LED TVs are a safe bet for budget-restricted individuals, with a tonne of choices from a variety of manufacturers available.
All being said, we'll be scouring the web to find only the best TVs for under $1000. Whether you're looking for a gaming TV, a larger 4K TV, or an OLED TV for under $1000, this guide will recommend something that suits your needs.
So, if you're looking for a great TV under $1000, look no further, we have all the most up-to-date options.
---
Best TV under $1000: our top picks
01
Best TV under $1000
02
Best OLED TV under $1000
03
Best gaming TV under $1000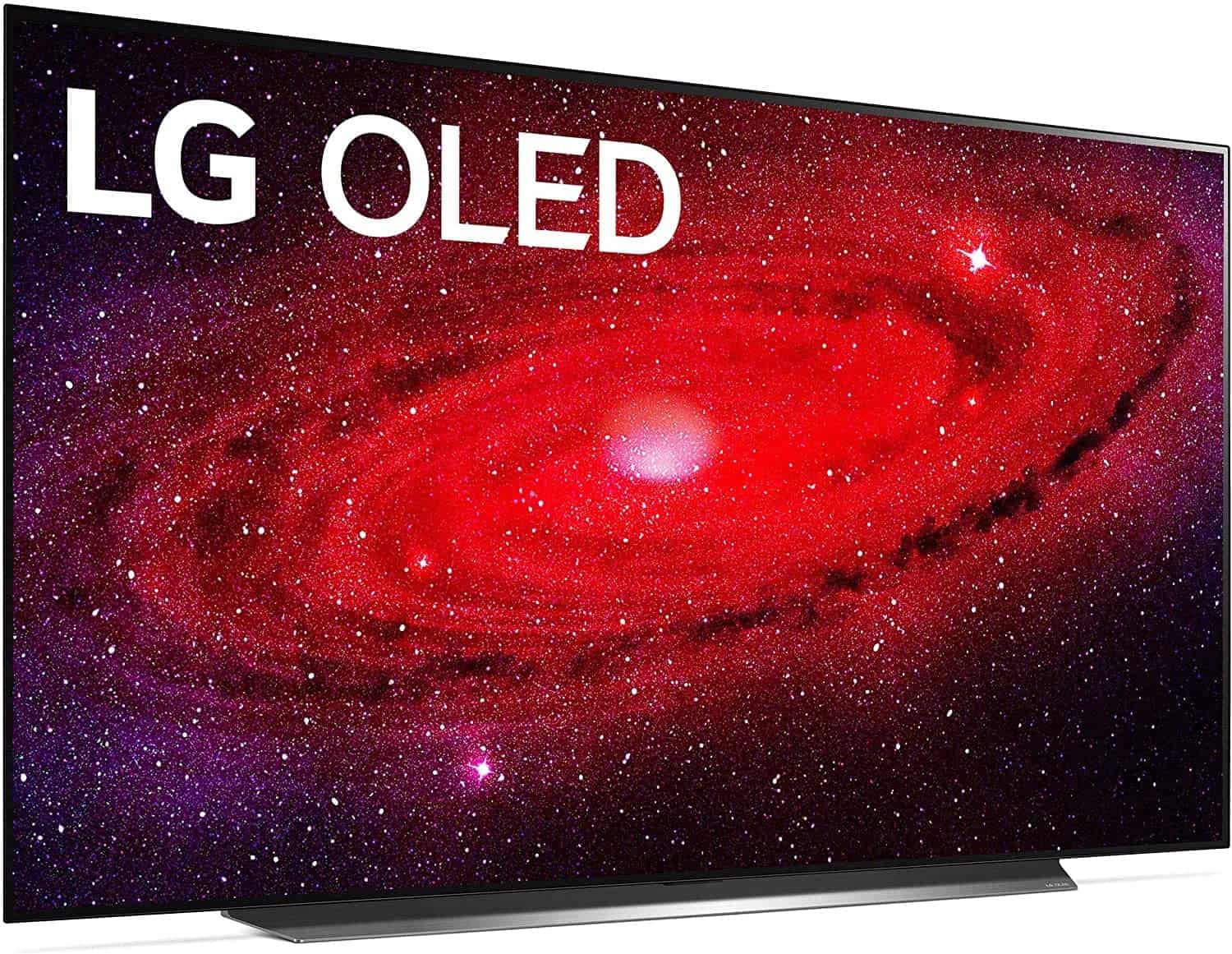 ---
Best TVs under $1000
Sony X90J 65″
4K Ultra HD (3,840 x 2,160)
Fantastic HDR performance

Exceptional upscaling

Impressive sound

Feature-packed interface

Great for gamers
Doesn't support HDR10+

Viewing angles could be better
Our best TV under $1000 goes to the hugely impressive Sony X90J – a superb all-round 65″ TV that offers up incredible value for money. At the time of writing this, the X90J (predecessor to the X95K) 65″ is indeed under $1000, but only just – so keep that in mind if you are considering this stunning TV.
Price aside, the X90J delivers incredible image quality thanks to a plethora of high-performance features and specifications – most of which are only available thanks to the new Cognitive XR processor that sits at the heart of this TV. The X90J delivers excellent upscaling and contrast control, with an array of additional features that help with image handling and blur.
The Sony X90J is also futureproofed thanks to its HDMI 2.1 support which allows it to fully support next-gen consoles such as the Xbox Series X and PS5. It also offers 120hz refresh rate, 4K screen resolution, and VRR support for both FreeSync and G-Sync systems. The VA panel at its heart offers a high peak luminance, inky blacks, and a wide contrast ratio – however, viewing angles are limited and it doesn't feature Sony's X-Wide angle technology.
Best gaming TV under $1000
LG OLED48C1PUB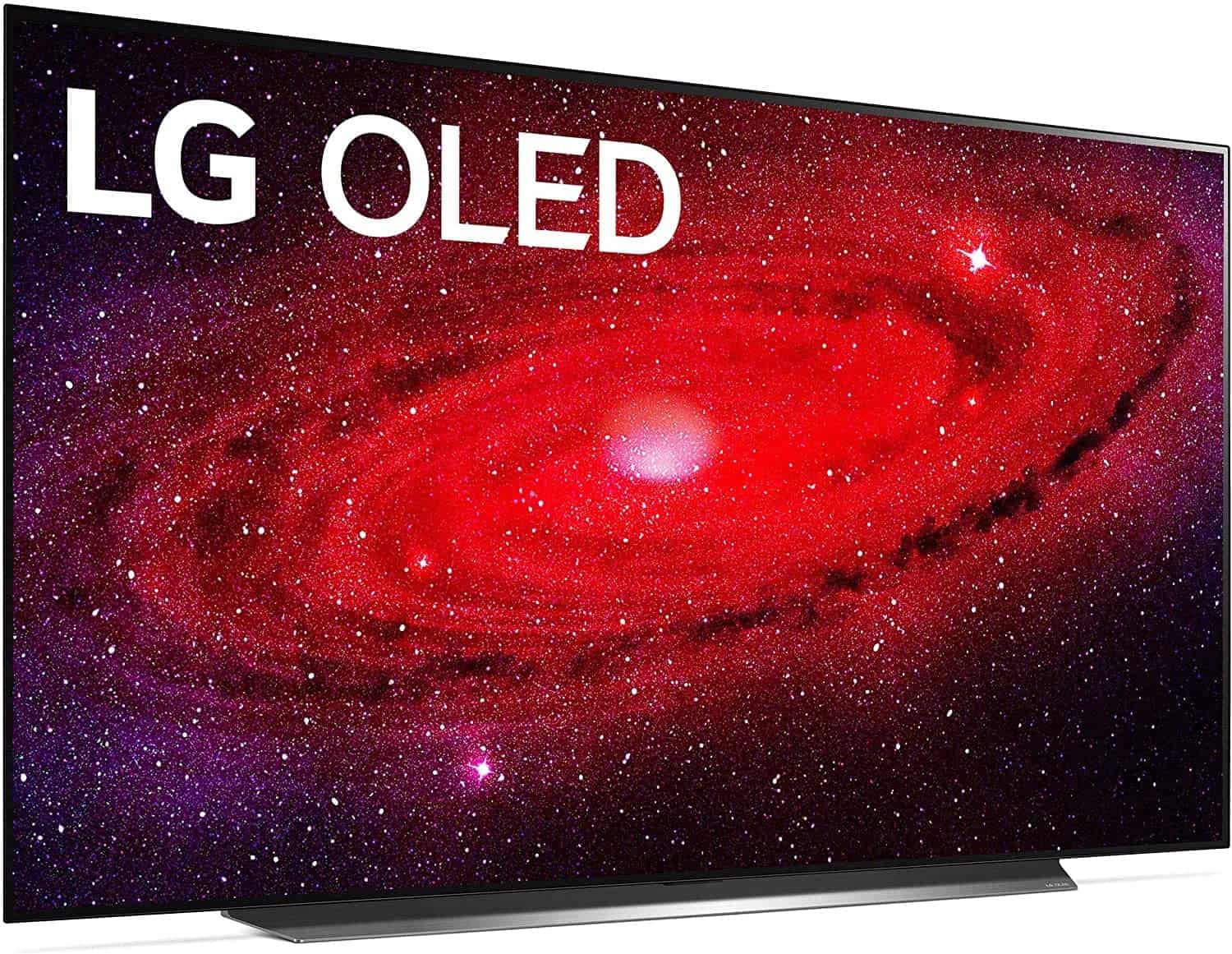 4K Ultra HD (3,840 x 2,160)
[email protected] support for next-gen consoles

OLED image quality

HDMI 2.1 support

Great value for money
While the LG C1PUB is now superseded by the even more impressive LG C2 OLED, it still offers impressive performance at the 'under $1000' price spectrum. Better still, with a tonne of gaming-tailored features, including HDMI 2.1 support, VRR, ALLM, and an entire dedicated Game Mode, the LG C1PUB gets our number gaming monitor in this price range.
Aesthetically, the LG C1 is almost identical to previous (and newer) version of the C-series lineup. It's characterized by a thin, stylish design that is certainly on the premium side. The stand protrudes slightly, but nothing to be overly concerned with – especially when you consider the stability it adds to the panel.
Looks aside, while this TV is most certainly geared towards gaming, it still delivers an excellent visual experience to everyday users. Movies, TV shows, and everyday TV all look absolutely stunning on this TV, mainly thanks to the OLED technology found at the heart of its design. Users can expect an infinite contrast ratio, perfect blacks, and stunning viewing angles from this TV, not to mention an easy-to-use interface that houses a tonne of apps.
Gamers will be incredibly happy with the LG C1PUB thanks to HDMI 2.1 support for next-gen [email protected] console gaming. The C1 also features VRR for both FreeSync and G-Sync systems, an incredibly low input lag, and near-instantaneous pixel response time – offering up very limited perceived blur and smearing. Better still, if blur is an issue in certain titles, the LG C1 features a backlight strobing feature that will see to that relatively quickly.
On the downside, out the box accuracy is relatively poor and peak luminance is lacking when it comes to daytime viewing. That being said, it's still one of the best TVs for under $1000 and one that exceeds expectations for gamers.
LG OLED55A1
4K Ultra HD (3,840 x 2,160)
OLED image quality

Easy to use interface

Fantastic viewing angles

webOS platform
Not great for gamers

Does not support HDMI 2.1
If you're looking for all the perks of OLED TV technology without the gaming features, look no further, the LG A155″ is the perfect entry-level OLED TV for under $1000.
Aesthetically, while the A1 does differ slightly from the C-series, there isn't much separating the two models. And despite the A1's price tag, it still provides a stylish design that certainly offers premium quality.
Looks aside, this is one of the largest TVs in this guide, offering up the excellent immersive qualities that come with a slim-bezel large-screen TV. Like all OLEDs, this TV features a WOLED panel at its heart that delivers perfect contrast, blacks, and viewing angles. HDR quality is fantastic on this TV, however, due to its limited peak luminance, there are better HDR-ready TVs out there.
Unlike the C2, a TV that features a 120Hz refresh rate, the A1 only offers 60Hz refresh rates. While this is fine for general entertainment, it does leave a little to be desired when it comes to fast-moving images and gaming. Additionally, the A1 only provides HDMI 2.0 support, meaning it will become outdated at some stage.
Best budget TV under $1000
Samsung 43AU7100
Decent 4K detail

Decent colors and wide contrast ratio

Smart TV platform
The Samsung AU7100 is by far one of the cheapest in this guide, however, it still delivers on all fronts when it comes to general entertainment and content consumption.
At its heart lies a very efficient VA panel that offers up deep inky blacks and a wide contrast ratio – two traits associated with VA panel technology. It also supports a rich color gamut and solid HDR performance thanks to its high peak brightness and HDR 10+ support. Like all TVs in this guide, the AU7100 also features crips image quality (thanks to its 4K UHD screen resolution) and solid upscaling capabilities.
Sadly, the AU7100 does struggle when it comes to SDR content – especially if you were to compare this panel against some of the more premium options in this price spectrum. Furthermore, with this being a budget-tailored panel, you won't get the same perfect blacks as you'll find in OLED alternatives – with dark scenes featuring a slight greyish tint.
Like most modern TVs, the AU7100 also features a whole plethora of apps thanks to its Tizen smart TV platform.
Best 55inch TV under $1000
Hisense U8G
Great contrast

Decent black uniformity

Excellent peak luminance

Solid HDR performance
Some issues with its Game Mode

Limited viewing angles
Lastly, we have the ever-popular Hisense U8G – an impressive mid-tier TV that offers up excellent value for money. This display features fantastic contrast ratio and decent black uniformity thanks to the VA panel that sits at its heart. Pair these features with the high peak brightness of this TV for a fantastic HDR experience. The high peak brightness also means daytime viewing isn't affected by glare either.
This is also an Android TV that utilizes the smart platform built-in, allowing users to download any number of apps with ease. The entire user interface is incredibly easy-to-use, no matter how new to display tech you are. More impressive, however, is the Tv's HDR10+ and Dolby Vision support, only strengthening the HDR experience of this panel.
The U8G also offers great reflection handling and high SDR peak luminance, making it one of the better TVs in this guide for daylight viewing. This TV also features excellent performance for gamers, featuring HDMI 2.1 bandwidth via an update. Users will be able to utilize the full [email protected] performance of next-gen consoles on this TV, with VRR built in. The U8G also features low input lag, FreeSync/G-Sync support, and a comprehensive Game Mode too.
Unfortunately, there are some issues with the Game Mode, however – including some ghosting and motion artifacts.
What to look for in a budget TV?
If you're new to display technology, you might be asking yourself, what specifications are most important in a TV under $1000. It seems like manufacturers try to make the buying process as difficult as possible these days, with a variety of terms used that can really confuse things if you aren't up to scratch on the latest display technology.
For that reason, we'll be looking at some of the main factors that could not only affect your purchasing decision, but could also dictate; performance, longevity, and price.
HDMI 2.1
HDMI 2.1 is the latest standard of the HDMI interface, allowing TVs to take full advantage of devices that offer 4K screen resolution and 120Hz refresh rates – primarily next-gen consoles (PS5 & Xbox Series X).
While HDMI 2.1 used to be associated with high-end TVs, a drop in market price for high refresh rate TVs has opened the floodgates for a sea of HDMI 2.1 TVs priced under $1000. Brands such as LG, Samsung, Sony, Hisense, and TCL all offer HDMI 2.1 TVs that aren't nearly as expensive as you might expect – providing a wide variety of affordable panels in today's market.
Of course, the lower you fall down the theoretical price ladder the less likely you are to find HDMI 2.1 support. Older generation TVs that reside in this part of the price spectrum will likely feature older HDMI standards. While this isn't an issue for most everyday users, gamers will want to prioritize this specification as it allows them to get the most out of their consoles.
Below is a breakdown of both DisplayPort and HDMI versions over the years to give you an idea of what they can and can't support.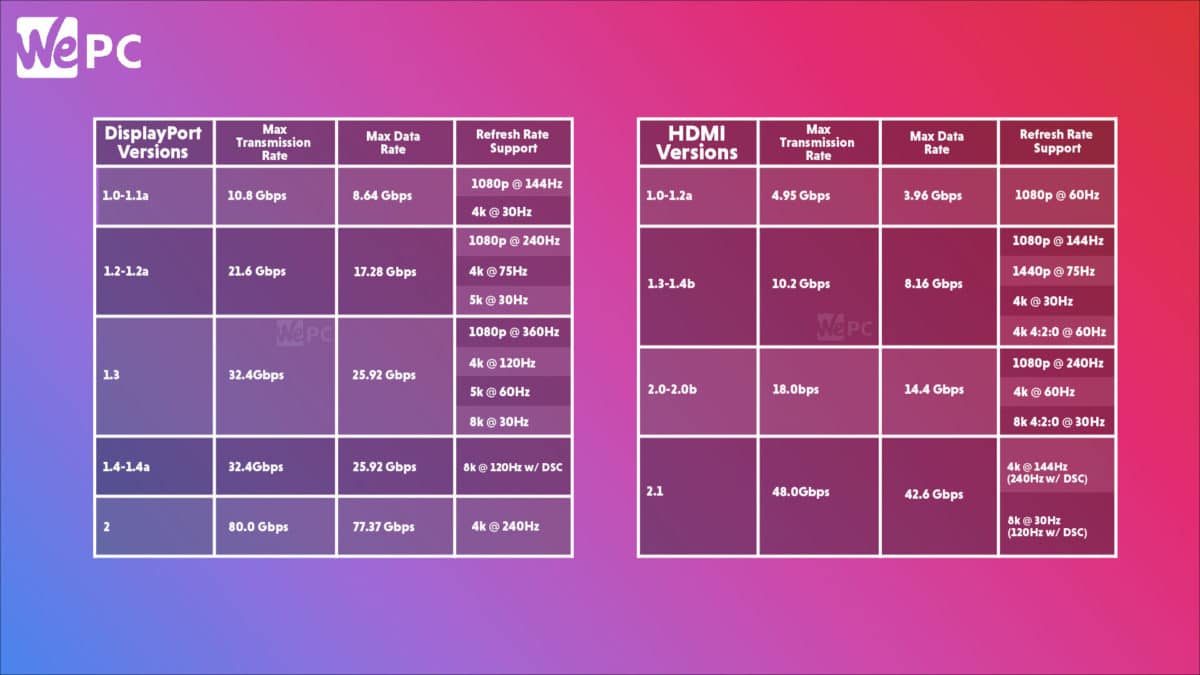 Resolution
Your screen resolution, or maximum resolution, is the number of pixels your TV physically uses to display images. The higher the resolution, the more pixels your TV has – translating into better picture quality and sharpness.
Unlike gaming monitors where resolution varies wildly, the main screen resolutions in modern TVs are 4K (UHD) and 1080p (FHD). Having said that, the majority of modern TVs actually feature 4K screen resolutions, with only aging panels (or smaller variants) offering 1080p.
At this price point, you can pretty much guarantee the TV you choose will have a 4K UHD screen resolution. You can find 8K TVs and monitors in today's market, however, they are incredibly expensive and do not feature at this price point.
Panel/ display technology
When it comes to picture quality and color accuracy, a TV's panel type and display technology couldn't be more important. They work together to create the images you see on screen, each providing unique features and benefits that define a display's image quality.
The main panel types used in modern LED displays are VA (vertical alignment) and IPS (in-plane switching). They both offer their own unique set of pros and cons, with IPS leaning more towards color accuracy and viewing angles – whereas VA delivers inky blacks and excellent contrast ratio.
OLED TVs, on the other hand, use a WOLED panel type – which again, offers up a unique set of pros and cons. The main benefit of a WOLED panel is its ability to deliver perfect blacks an and infinite contrast ratio – both of which are highly advantageous when it comes to HDR performance.
Backlight technology is slightly different to panel type – referring to the TV's main light source. The two main types of backlight technology today are LED and OLED. While OLED TVs offer up superior contrast and blacks, LED panels are still king when it comes to peak luminance and HDR performance. They also provide richer, more accurate colors too.
These fundamental backlight technology differences are the main reason why Samsung has created the QD-OLED technology – merging the best features of both QD (Quantum Dot) and OLED( Organic light-emitting diode). There are only a few QD-OLED displays available right now, with Samsung seemingly only manufacturing 55″ and 65″ variations. That said, recent leaks suggest that Samsung will start mass production of 49″ and 77″ QD-OLED variants.
How we choose the best TVs under $1000
Choosing the best TVs under $1000 can often be a tricky task, especially when you consider just how many great TVs reside in today's market. Luckily, our veteran team of display enthusiasts has a tonne of experience when it comes to gaming TVs and monitors, allowing us to handpick the best options out there.
Like every component we recommend, every budget-tailored TV we choose also goes through a strict testing process that allows us to determine which is the best when it comes to console gaming and general content consumption. We run numerous tests using purpose-built equipment, enabling us to confidently recommend the best TVs across the web.
TVs under $1000 FAQs
What is the best TV under $1000?
The Sony X90J is the best TV for under $1000 right now, delivering excellent picture quality thanks to an array of high-end specifications.
The model in question is the 55-inch X90J, equipped with FALD, 4K screen resolution, and a speedy 120Hz refresh rate.
If you're looking for a great all-round TV for under $1000, this could be exactly what you're looking for.
Are TVs under $1000 good for gaming?
With the arrival of new display technology arriving, older generation TV prices start to fall. This is great news for console gamers as many of last generation's TVs are excellent choices for gaming – equipped with fast 120Hz refresh rates, HDMI 2.1 support, and 4K screen resolutions.
Better yet, if you opt for a smaller variation (42-55″), you might even be able to snag yourself a new model with the latest display technology.
---
Related TV pages
---
Final word
So, there you have it, our comprehensive guide to the best TVs for under $1000. We've listed some of the market's leading options to save you the hassle of browsing numerous retailers yourself. We've also given you all the necessary tools needed to go out there and choose the best TVs under $1000 for your specific needs.
For us, the Sony Bravia X90J is the best of the bunch here, featuring all the perks of a great gaming and content consumption TV. Despite its high price tag, it still falls shy of the $1000 price mark, offering up excellent image quality and value, respectively.
If you have any questions regarding budget TVs, feel free to drop us a comment in the section below.
---