Black Friday Gaming PCs: Save $100 on HP Gaming pre-builds and grab a 3080 GPU for Christmas
Get yourself an Omen 30L and secure yourself a 3080 GPU for Christmas
Updated: Nov 26, 2021 6:12 pm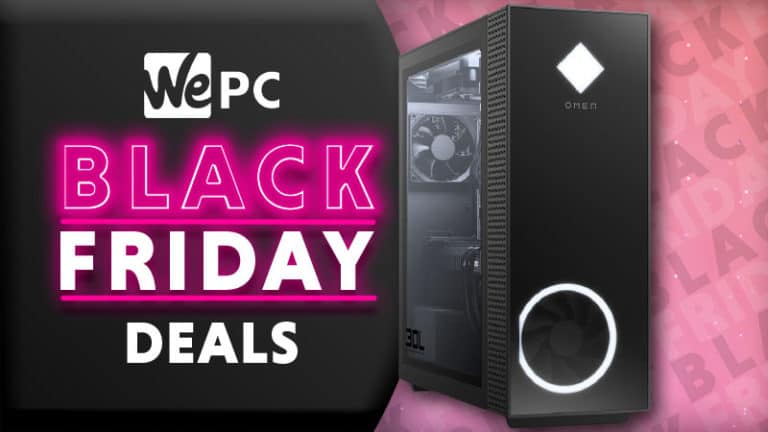 The HP Gaming Black Friday deals are now live, offering gamers the chance to grab and customise some pre-builds ahead of the Christmas rush and stock shortage. As it stands, the Black Friday HP Gaming PC pre-builds have some flexibility, offering players a variety of different options with a product, allowing you to save between $100 and $150 depending on the product and the extra bonuses of warranty you can get for your purchase.
Save $100 on Black Friday Gaming PCs at HP
As it stands, there are two different pre-built gaming PCs available at HP direct. The lower end gaming pc is the HP Pavilion Gaming Desktop TG01-2260xt PC. There are a variety of lower-end gaming options you can pick, featuring a mixture of I5 Intel CPUs, combined with Nvidia's 16**series card. However, their top-performing build is the 3060, which is the budget gaming card of this generation's Nvidia GPUs.
However, if you want something with a bit more power, then you can go for the OMEN 30L Desktop GT13-0380t Bundle PC. The Black Friday pre-build deal features Nvidia's 3080, with Intel I7 CPU inside, along with a variety of HDD and SSD storage drives. You can even customize the build to suit your preferred spec, albeit slightly since this is a beast of a gaming PC pre-build anyway. Such examples include getting even better CPUs, replacing the default I7-10700K for potentially bigger beasts like the i9 10850k instead.
As it stands, it is very unlikely you'll get yourself a decent deal on Black Friday Gaming PC deals. The stock shortage for graphics cards is still rather potent. As a result, there's no real reason to discount PC hardware just yet. The only deals you're going to find is on the pre-build assembly cost that typically comes with the pre-built market. If you do want an upgrade, the way to go by far is through the pre-build purchase options. Hopefully, these pre-build Black Friday deals give you an incentive to outright buy a new PC, rather than wait and hopefully grab yourself a decent machine on this gen's technology. We've also linked some older gen machines too, so you can check the full range of HP machines and see what deals are worth it to you.
---