The Best Cyber Monday Secretlab Deals | Huge Savings!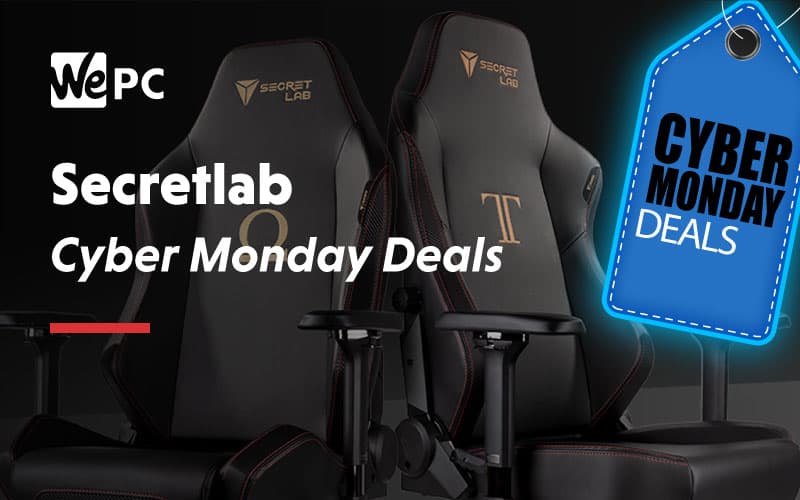 Choosing the right gaming chair is no easy feat, especially when you consider all the factors that add up to the perfect sitting experience for your specific requirements. A bad chair can be the difference between long, enjoyable gaming sessions, and a painstaking battle between your spinal column and poorly designed ergonomics. A battle that is rarely won might I add. Luckily, Secretlab will be hosting a whole host of massive savings on some of their best-performing gaming chairs this Cyber Monday. That means luxury, just became affordable!
Having said that, let's waste no further time and jump into the biggest and best deals Secretlab will be hosting this Cyber Monday.
Secretlab Cyber Monday Deals
Black Friday came and went like a bat out of hell yesterday meaning the Secretlab Black Friday deals are now over. I know, bummer. Don't worry though, Secretlab are quick out the gate this year and have already gone live with some excellent Cyber Monday deals! If you thought the Black Friday deals were good, you'll be happy to hear that similar levels of discount can be snapped up over the next couple of days thanks to their Cyber Monday deals!
To get the deals in your basket faster, we have the inside scoop from Secretlabs and will be continuously updating this page with the very best Secretlab deals they have on offer.
Current SecretLab Cyber Monday Deals
US store:
USD$65 off 2018 models
USD$35 off 2020 models
USD$100 off all NAPA black models
USD$40 off all NeueChair products
Shop the SecretLab US Store here
EU store:
€75 off all NAPA black models
Store-wide discount of €30 for other models
€80 off if you buy 2 chairs + Free Shipping
Shop the SecretLab EU Store here
UK store:
£70 off all NAPA black models
Store-wide discount of £30 for other models
£80 off if you buy 2 chairs + Free Shipping
Shop the SecretLab UK Store here
Australia store:
AUD$65 off 2018 models
AUD$35 off 2020 models
AUD$150 off NAPA 2018 models
AUD$100 off if you buy 2 chairs + Free Shipping
Shop the SecretLab Australian Store here
Canada store:
CAD$55 off 2018 models
CAD$35 off 2020 models
CAD$150 off NAPA 2018 models
CAD$100 off if you buy 2 chairs + Free Shipping
Shop the SecretLab Canada Store here
Where To Find The Best Cyber Monday Secretlab Deals
Cyber Monday has always been considered as Black Friday's little brother. The underdog that doesn't quite offer the same big money savings as the older counterpart. However, that is no longer the case. Cyber Monday has risen from the depths to join Black Friday in the super saving bonanza that we now consider as the biggest deals weekend of the year. Having said that, a whole host of retailers will be taking part in Cyber Monday which makes finding the best deals that little bit harder.
Don't worry though, WePC are here to help. We have a dedicated team of PC enthusiasts who scour the web looking for the best deals the internet has to offer on a whole variety of products. If there's a deal to be had, we'll be hosting it right here! That means all you have to do is sit back, relax, and enjoy browsing the best Cyber Monday Secretlab deals on offer.
Secretlab Direct
Secretlab gaming chairs aren't currently available on retailer sites like Amazon, but they can be purchased directly from Secretlab themselves.
All 2018 models come with $65 off – that includes both the SecretLab Titan, available in "Stealth" and "Team Secret" designs and SecretLab Throne, available in "Spectre White" and "Flash Red."
For their 2020 models, you can enjoy $35 off on the Throne, Omega, and Titan models. But, if you opt for one of those chairs in the "NAPA leather – Black" designs, you can snag $100 off instead.
The Best Cyber Monday Secretlab Deals 2019
Finally, Secretlab Cyber Monday deals are now live! Huge savings can be had on some of their best chairs ranging from their 2018 lineup right up to the new 2020 models as well. Below is what we can expect from this Cyber Monday 2019.
Secretlab 2018 models
The 2018 Secretlab gaming chairs are extremely desirable thanks to their incredible build quality and comfortable, ergonomic design. Below are the latest deals we have for their 2018 chairs.
Secretlab 2020 series
The Secretlab 2020 models were released earlier this year and showcase a host of impressive features and benefits for superb levels of luxury and comfort. Savings on their top 2020 chairs are now live and can be found right here, below.
Final Thoughts
So, there you have it, our comprehensive round-up of all this year's Cyber Monday Secretlab deals. Currently, we're seeing the exact same savings that Black Friday had to offer, meaning all those people that missed out now have a second chance to grab one of these luxury gaming chairs at a fraction of the price! What Secretlab chair are you looking to get this Cyber Monday? Jump over to the WePC community and let us know what deals you have gone for!