Save £139 on the Refract Jade gaming PC bundle this Black Friday
Overclockers UK Black Friday deals are now live and you can save money on this holiday bundle including: PC, monitor, keyboard, & mouse
Updated: Nov 24, 2022 9:41 am
Overclockers UK is very well known for its prebuilt gaming PCs and some of its latest models are going on sale for Black Friday.
One of three deals is the Overclockers UK Refract Jade Prebuilt gaming PC, a rig that will handle 1080p gaming with ease. The entire range offers plug and play, with Windows 11 pre-installed but with this bundle, you will be ready to go, thanks to the accompanying monitor, mouse, and keyboard.
Overclockers UK Refract Jade gaming PC bundle Black Friday deal
So what do you get? The bundle offers the recipient instant enjoyment out of this gift and here's why.
Included:
Refract Jade Pre-built gaming PC crafted for 1080p gameplay
ASUS TUF Gaming K1 keyboard with tactile switches and RGB lighting
ASUS TUF Gaming M3 mouse with 7000 DPI and on-the-fly adjustments
ASUS TUF Gaming VG279Q1A 27" IPS monitor with 165Hz refresh rate
Save £139 here on the Overclockers UK Refract Jade gaming PC bundle Black Friday deal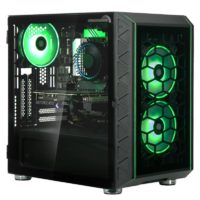 SAVE 13%
OcUK Gaming Firefly Enthusiast – Intel Core i7 11700KF, GeForce RTX 3070 Ti Gaming PC
£50 OFF
Refract Azure Gaming PC – Complete Bundle (inc. monitor, keyboard, mouse)
*Prices are subject to change. WePC is reader-supported. When you buy through links on our site, we may earn an affiliate commission.
Learn more
Here is what we had to say about the Refract Jade gaming PC:
Aside from the small negatives, we have a great gaming PC for beginners and hardcore gamers alike here. No matter if you prefer immersive, graphically intensive single-player games or fast-paced multiplayer FPS titles, you can play anything you desire to great effect.

The main points to look at with any prebuilt computer are whether it performs as it should, is the value reasonable, and how well is the machine put together. Overclockers have met and exceeded these main points to create a great little machine. In addition to the prebuilt scoring well in our tests, there is the added advantage of OCUK's customer service and reputation, both of which are highly regarded.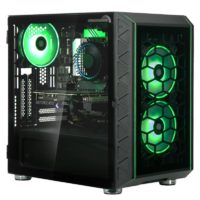 RAM
16GB (2 x 8GB) DDR4 3200MHz
---