Best RAM for AMD Ryzen 7 7800X3D
Best RAM for AMD Ryzen 7 7800X3D? Let's find the best for AMD's best
Updated: Jun 30, 2023 11:53 am
The AMD Ryzen 7 7800X3D is set for release on February 28th, and we can't wait for it to come out. It's the most affordable option in the Ryzen 7000X3D lineup and will likely be the go-to option for gamers looking to experience the performance boosts offered by AMD's 3D V-cache technology but on the latest hardware. What is the best RAM for AMD Ryzen 7 7800X3D?
Now Read: Best DDR5 RAM for gaming
If that sounds like you, you may be wondering what RAM to pair the 7800X3D up with for optimal performance. Today, we're talking about the best RAM for AMD Ryzen 7 7800X3D.
---
Best RAM for AMD Ryzen 7 7800X3D: Top picks
01

Best RAM for AMD Ryzen 7 7800X3D

Corsair Dominator DDR5

Corsair Dominator Platinum RGB 32GB 5200MHz DDR5

02

Runner-up RAM for AMD Ryzen 7 7800X3D

G.skill Trident Z5 NEO

G.Skill Trident Z5 NEO RGB (AMD Expo)

03

Wildcard

G.skill Trident Z

G.Skill Trident Z RGB 32GB 6600MHz DDR5
---
What to look for when choosing RAM for a Ryzen processor
Here's what goes into choosing a RAM kit for any particular processor – in this case, the Ryzen 7 7800X3D.
Wondering what the best RAM is for another 7000 series processor? Check out our best RAM for AMD 7000 series guide.
Compatibility
First and foremost, you want to make sure the RAM you're getting is actually compatible with your processor and motherboard. You've probably heard the terms DDR3, DDR4, and DDR5 before. They refer to generations of RAM. DDR3 is the oldest and used to be popular nearly a decade ago. DDR5 is the latest and is what the Ryzen 7 7800X3D uses.
You must get DDR5 RAM sticks for the 7800X3D since it is not compatible with DDR4 RAM. Because of the recency of DDR5, RAM kits tend to cost a fair bit. But, in exchange for paying the extra, you get various new features, much better performance out of the box and improved system stability. The right DDR5 RAM kit will give you your money's worth, and we'll tell you what kit that is in just a moment.
Here's more on DDR4 vs DDR5.
RAM speed
The next most important factor in choosing a RAM kit is the speed of the memory. DDR5 is naturally very fast, but you have some options here as well. Entry-level DDR5 RAM has a 4400MHz clock (one way to measure RAM speed, the other is transfers/second – both are almost always the same value). But high-end DDR5 RAM can offer you speeds as high as 7600MHz.
Faster RAM is particularly beneficial for Ryzen processors since their CPU cores communicate via the infinity fabric interface. The clock speed at which this infinity fabric operates is tied directly to the speed of the RAM used.
AMD tells us that the sweet spot for Ryzen 7000 series processors is 6000MHz RAM. We believe that's a fair call, but truth be told, you see only marginally worse results with 5200MHz RAM. Going any lower than 5200MHz is suboptimal in terms of performance, and going any higher than 6000MHz yields near-negligible results while also being pretty expensive.
Latency timings
Timings are a lesser-known RAM metric that greatly determines performance, especially in CPU-intensive activities such as gaming, where the processor constantly needs to access the memory.
Latency is the amount of time it takes for your RAM stick to fetch data and then deliver it to the processor upon request. You often see it represented by "CAS" or "CL."
DDR5 RAM usually has a CAS value ranging from 30 to 40. The lower, the better.
Support for AMD's EXPO technology
And lastly, you want your RAM to support AMD EXPO so you can overclock it in case you want to. This is a recently introduced technology very similar in nature to Intel's XMP, and it allows you to fine-tune your RAM settings to better suit your system, either manually or by allowing your system to choose the best values.
---
Best RAM for the Ryzen 7 7800X3D
With the above criteria in mind, here's our recommendation for the best RAM for the Ryzen 7 7800X3D.
Corsair Dominator Platinum RGB DDR5 32GB
The Corsair Dominator Platinum RGB is one of the best DDR5 kits available right now, and it's perfect for a high-end gaming processor such as the 7800X3D. The kit we're going for has a 6000MHz clock speed, which, as we discussed above, is optimal for use with Ryzen 7000 series processors.
Corsair Dominator Platinum RGB 32GB 5200MHz DDR5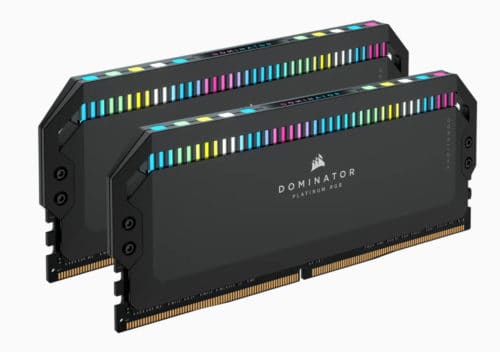 If you'd like to save a few bucks, the kit is also available in 5200 and 5200MHz speeds.
The Corsair Dominator Platinum RGB includes two 16GB RAM modules, totaling 32 gigs of lightning-fast DDR5 RAM. Whether you're gaming, creating content, engaging in productivity work, or trying to open a gazillion tabs of Google Chrome, 32 gigs is all you need.
If gaming is the only goal, you could get away with using 16 gigs of RAM (8+8), but we recommend going with 32 gigs in this case since the 7800X3D is a mighty powerful processor that deserves to be paired with equally powerful components.
The RAM has a CAS latency of 36, which is very respectable by modern standards. It comes equipped with Custom AMD Expo Profiles making overclocking and fine-tuning all the more convenient for you, features Corsair's Patented DHX Cooling for cool temperatures, has a fashionable design that will complement any PC nicely, and has controllable RGB.
---