Black Friday Razer monitor deals 2022
If you need a new gaming monitor, then check out these Razer Black Friday deals!
Updated: Oct 3, 2022 4:44 pm
Are you looking for the best Razer monitor Black Friday deals? Bookmark this page and stick around as we leverage our sharp eye for the best bargains to help you score arguably one of the best 1440p monitors on the market today for cheaper than any other time throughout the year.
Best Razer monitor deals 2022
With Black Friday nearly here, you might finally want to change your gaming monitor and get yourself a brand new monitor to fit all your gaming needs. Well here we'll list some of the best Razer monitor deals out there for you.
Where to expect the best Razer monitor Black Friday deals this year?
You'll find the best Razer monitor Black Friday deals on a number of retailers' websites, for example Amazon or Best Buy, but it'll also be worth checking out the various brand websites too. For example, Razer's own website might be sharing some exclusive deals on their own websites. Make sure to keep your options open!
Razer monitor Black Friday sales shortlist:
Last year's Black Friday Razer monitor deals
As we approach Black Friday and various retailers finally release their deals, here is where we will share all the best Razer monitor deals. Bookmark us so that when the Black Friday deals start, you can find them all here.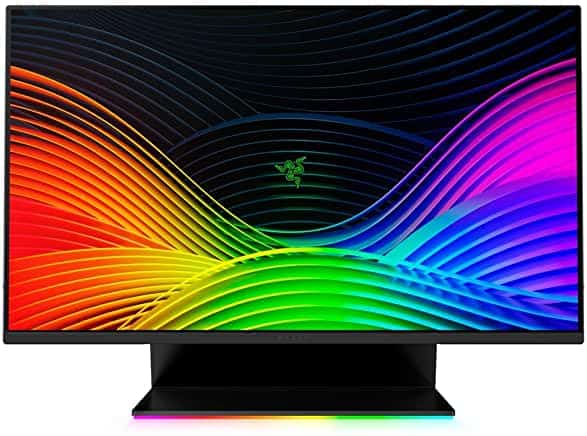 Razer Raptor 27″ 144Hz Gaming Monitor – Non-Glare WQHD IPS Display – 90° Tilt
*Prices are subject to change. WePC is reader-supported. When you buy through links on our site, we may earn an affiliate commission.
Learn more
When will Razer monitor Black Friday sales start in 2022?
Black Friday officially starts on Friday 25th of November, with Cyber Monday on the 28th of November. But keep in mind, many retailers might start their Black Friday deals as early as the 21st of November, lasting the whole week.
How to get the best Black Friday Razer monitor deals in 2022?
To make sure you get the best Black Friday Razer monitor deals this year, don't restrict your deal searches to just one retailer. Although Amazon might be convenient, there are dozens of other websites and retailers that might be offering far better deals. Don't feel pressured into buying one because of a limited-time deal, Black Friday might take place on Friday but a lot of places will have their November sales last a whole week, giving you plenty of time to consider which deal is the best for you.
Features to consider when looking for a Black Friday Razer monitor deal
Razer made its tentative first steps into the crowded monitors market in late 2019 with the Razer Raptor. There's been nothing since, but the Razer Raptor is something special in the 1440p range. So there's been no need for the company to flesh out its monitor arsenal further
A 27″ monitor sporting an IPS panel capable of resolutions up to QHD 2560×1440, THX-certification, and a blisteringly fast 165 Hz refresh rate. The Raptor has all the hallmarks of a screen fit for the most demanding gamers. This being a Razer product, the Raptor oozes effortless style. Not least thanks to a clever cable channel system built into the single aluminum base, fabric-finished back casing, and some fancy RGB work.
Weighed down by a hefty asking price, Razer Raptor isn't exactly flying off the shelves due to stiff competition from more affordable but equally impressive 1440p screens. As such, we wouldn't be surprised to see Razer use Black Friday to drop the price by anywhere from 10% to 25%, as we saw last year.
Black Friday Razer monitor FAQs
What size monitors does Razer offer?
Razer monitors can come in a variety of sizes but the majority of their monitors are 27".
Some Razer monitors are indeed OLED screens, though they are a lot pricier.
More Black Friday deals
Interested in other technology deals this Black Friday? Fear not, we've got a tonne of pages dedicated to finding the best Black Friday deals on the web:
Check out all our Black Friday deals here.
---