Razer monitor Black Friday deals 2021
If you need a new gaming monitor, then check out these Razer Black Friday deals!
Updated: Nov 26, 2021 5:49 pm
Are you looking for the best Razer monitor Black Friday deals? Bookmark this page and stick around as we leverage our sharp eye for the best bargains to help you score arguably one of the best 1440p monitors on the market today for cheaper than any other time throughout the year.
Where to expect the best Razer monitor Black Friday deals this year?
Razer made its tentative first steps into the crowded monitors market in late 2019 with the Razer Raptor. There's been nothing since, but the Razer Raptor is something special in the 1440p range. So there's been no need for the company to flesh out its monitor arsenal further.
A 27″ monitor sporting an IPS panel capable of resolutions up to QHD 2560×1440, THX-certification, and a blisteringly fast 165 Hz refresh rate. The Raptor has all the hallmarks of a screen fit for the most demanding gamers. This being a Razer product, the Raptor oozes effortless style. Not least thanks to a clever cable channel system built into the single aluminum base, fabric-finished back casing, and some fancy RGB work.
Weighed down by a hefty asking price, Razer Raptor isn't exactly flying off the shelves due to stiff competition from more affordable but equally impressive 1440p screens. As such, we wouldn't be surprised to see Razer use Black Friday to drop the price by anywhere from 10% to 25%, as we saw last year.
Where to find the best Razer monitor Black Friday deals?
If a Razer monitor is the last piece required to complete your gaming setup, then be sure to check regularly. We'll analyze any deals that pop up this November. Then add those offering the steepest discounts to our list of the best Razer monitor Black Friday deals below.
*Prices are subject to change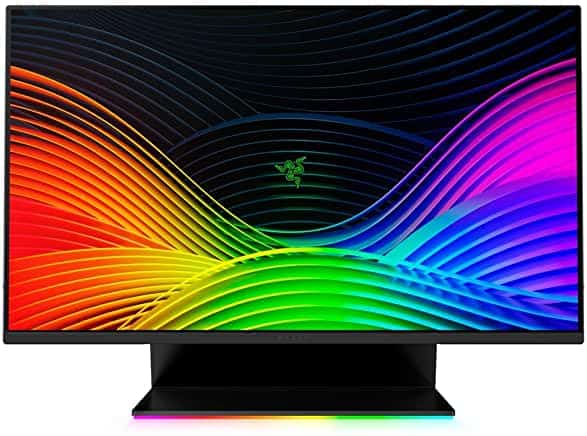 Razer Raptor 27″ 144Hz Gaming Monitor – Non-Glare WQHD IPS Display – 90° Tilt
Current Best Sellers on Amazon
---